Returning from Italy with a dog soon? Sniffing for what's needed for your dog to return to the U.S.A. from Italy? As a former Italian Yorkie who has traveled quite a few times between Italy and the U.S. since 2016, I'm wagging my stylish rat tail to bark out my experiences and what your dog needs to return home to the U.S.!
ARF, so you and your dog made it to Italy, PAWS DOWN, one of the most dog-friendly country in my Yorkie eyes (and trust me, I've marked around the block). All that work and preparation paid off, and your pack has been prancing around the cobbled streets of Rome, stuffing your mouth with pizza in Naples, and admiring the David replica at the Piazza della Signoria in Florence. BUT, as the saying goes, all good things must come to an end, which means it's time to go home soon.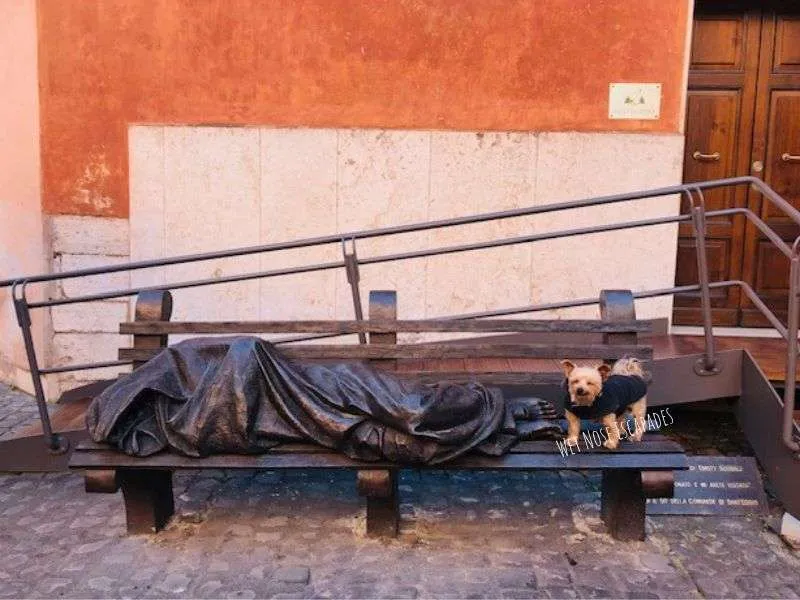 What's needed to return from Italy with a dog to the U.S.A.? Can you just show up at the airport with your dog and expect to hop on an international flight – no pawblem? ARF-ter traveling in and out of Italy many times (and did I bark that I used to live in Florence?), I can bark with an upright tail that Italy is one of the most lax countries I've ever set my tiny alpha paws on.
Hence, what's in theory may not necessarily be in practice. From my experience, entering and exiting Italy has been a breeze as the Italian officials have never asked to see any paperwork. Additionally, upon landing in the U.S., I've always been able to breeze through Customs without much scrutiny, pawbably because Italy is considered rabies-controlled (plus free of gross things like screwworms and foot and mouth disease that may lead to closer scrutiny otherwise).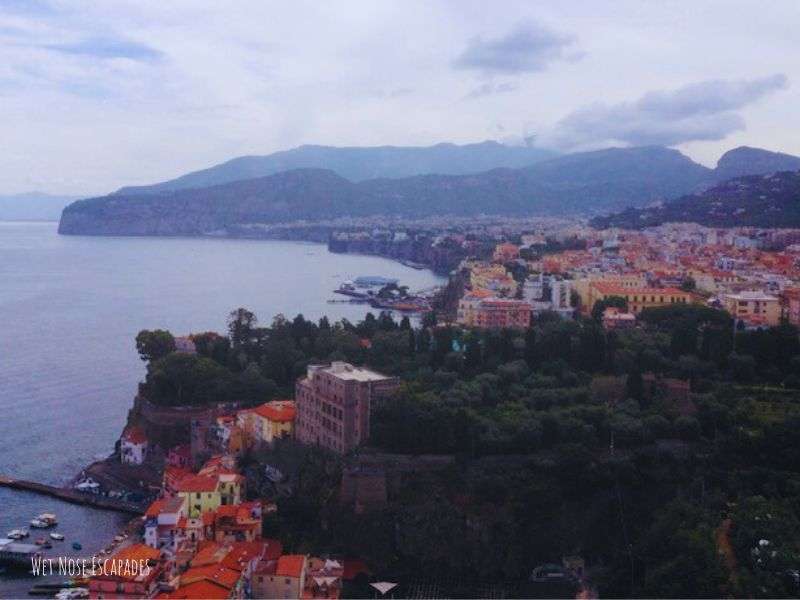 With that barked, technically there may be exit requirements for your dog to leave Italy even though the U.S. may not require them.
I've gotten quite a few questions from fellow dog travelers about the following "Pet Export Certificate" requirement found on the official U.S. Embassy website about pets traveling from Italy:
"The Italian Government requires that all cats and dogs traveling from Italy to the U.S. must have a Pet Export Certificate that can be obtained from an authorized veterinarian of the local ASL (Azienda Sanitaria Locale), who will check the validity of the vaccination against rabies.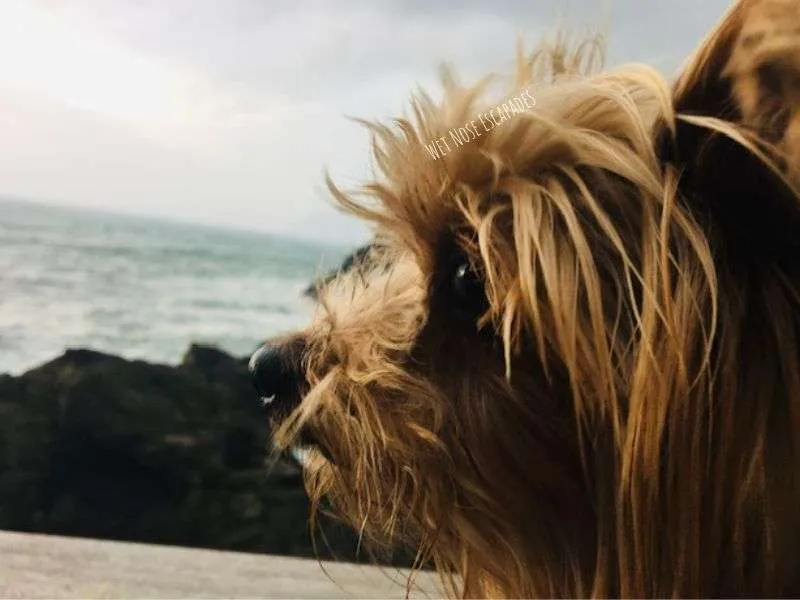 The Pet Export Certificate must be written in Italian and English and bear the following information:
Information pertaining to the animal (breed, sex, date of birth, color and characteristics of the coat);
Name and address of the owner;
Health conditions of the animal
The certificate must report that the animal was examined on the day the certificate was issued and was found to be clinically healthy, and that the animal was vaccinated against rabies at least 20 days and not more than 11 months before the certificate was issued."
It goes on to state that the pet export certificate issued by the Azienda Sanitaria Locale (ASL) is valid for only six days. Alternatively, you can arrange for the ASL veterinarian to examine your dog and issue a certificate of good health valid for international travel.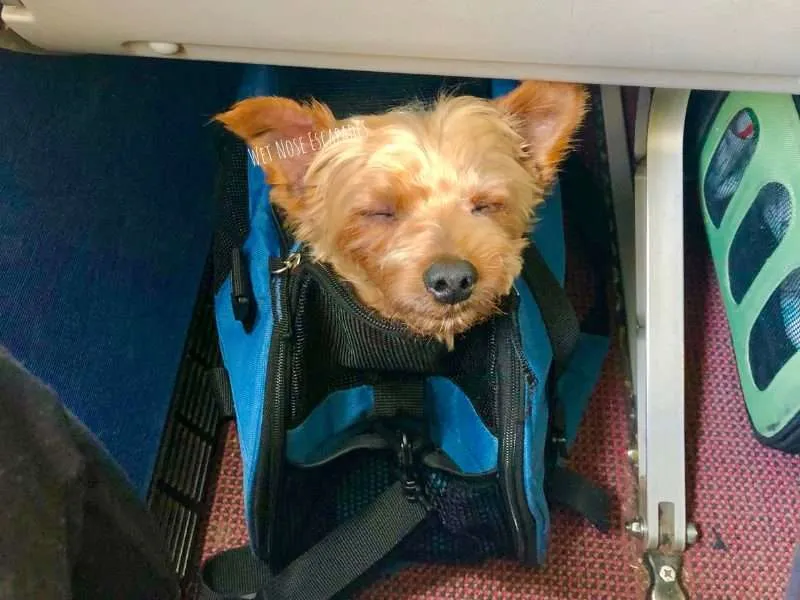 So, do you need a Pet Export Certificate to leave Italy with your dog?
REAL BARKS: Me, personally – I've never had to do anything to leave Italy, whether going home to the U.S. or another country in the E.U.! I'm not barking that such a requirement for a Pet Export Certificate is inaccurate, but I can only bark from my own experiences over the years. As barked earlier, I've sniffed that Italy is one of the most lax countries for dog travel, as well as one of the most dog-friendly countries in the world. For instance, I've sat my furry buttocks on human chairs at fancy trattorias, stood in line for aperitivo, marched on all fours into countless pharmacies, traveled all over the country by train FOR FREE, and even went grocery shopping in a dog-designated shopping cart.
Since I've gotten my E.U. Pet Passport during my first visit to the E.U., that precious little blue booklet is all I've ever had to flash at the airline counter staff before hopping on a flight to leave the country. Getting an E.U. Pet Passport is easy, and it only requires a quick visit to the veterinarian upon arrival to any country in the E.U. (for instance, I got mine in Budapest, Hungary).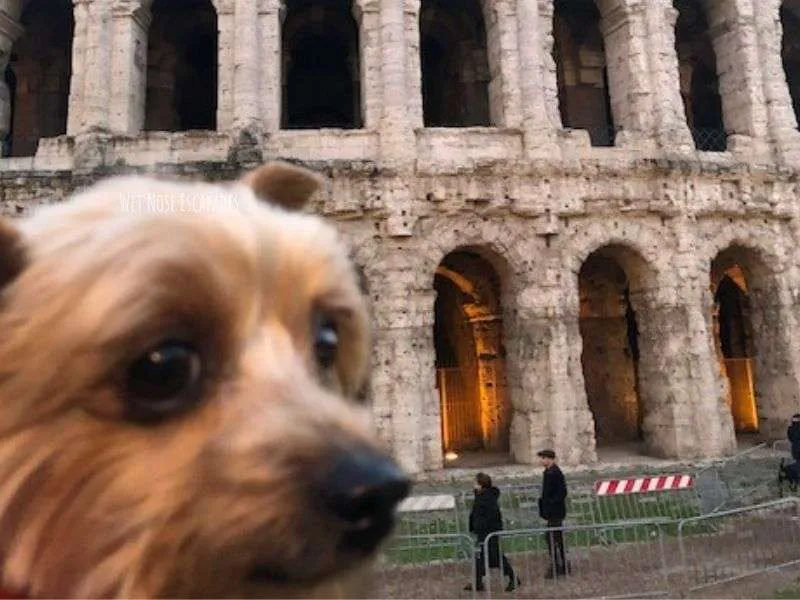 The E.U. veterinarian will transfer pertinent information about your dog (e.g. microchip and rabies vaccination) found on the CVI or Vet Health Certificate onto the E.U. Pet Passport booklet. From there on, you can freely travel in, out, and around the E.U. – as long as your dog's rabies vaccination remains valid. Be careful – only an E.U. vet can complete the rabies vaccination section, meaning it should NEVER be completed by your American vet back home.
If you don't have time to get an E.U. Pet Passport, don't put that tail between your legs! The Vet Health Certificate used to enter Italy or the E.U. with your dog is valid for up to 4 months of travel within the E.U. – as long as your dog's rabies vaccination remains valid, whichever expires first. My fellow dog travelers who were initially unsure if they needed the export certificate subsequently reported back to me that they were only asked to present a valid rabies vaccination certificate at the airline counter for their flight home to the U.S.
Hence, my exit experiences have been quite similar to theirs – that a CVI was not requested. It seems as though the only documentation needed to leave Italy is proof of a rabies vaccination, whether in the form of an E.U. Pet Passport that shows a valid rabies vaccination OR a valid rabies vaccination certificate.
Watch me take Circus Maximus in Rome:
What is Needed to Return to the U.S. with a Dog from Italy (or France, Spain, and other E.U. countries)?
What if you flew your dog into Italy and are now flying out of another E.U. country (or vice versa)?
TOP DOG HOWL: The U.S. technically doesn't require a health certificate for dogs arriving from Italy. Yet, that goes for France, Spain, and other E.U. countries. The comprehensive list of E.U. countries is below:
Austria, Belgium, Bulgaria, Croatia, Cyprus, Czech Republic, Denmark, Estonia, Finland, France, Germany, Greece, Hungary, Ireland (opt-out from Schengen), Italy, Latvia, Lithuania, Luxembourg, Malta, Netherlands, Poland, Portugal, Romania, Slovakia, Slovenia, Spain, and Sweden.
Again, Italy (and other E.U. countries barked above) are NOT considered high-risk for rabies like Brazil, which makes bringing your dog home easy peasy – well, for the most part. The requirements stated on the U.S. Consulate website for dog import to the U.S. from Italy also coincide with the experiences that other dog travelers and I had: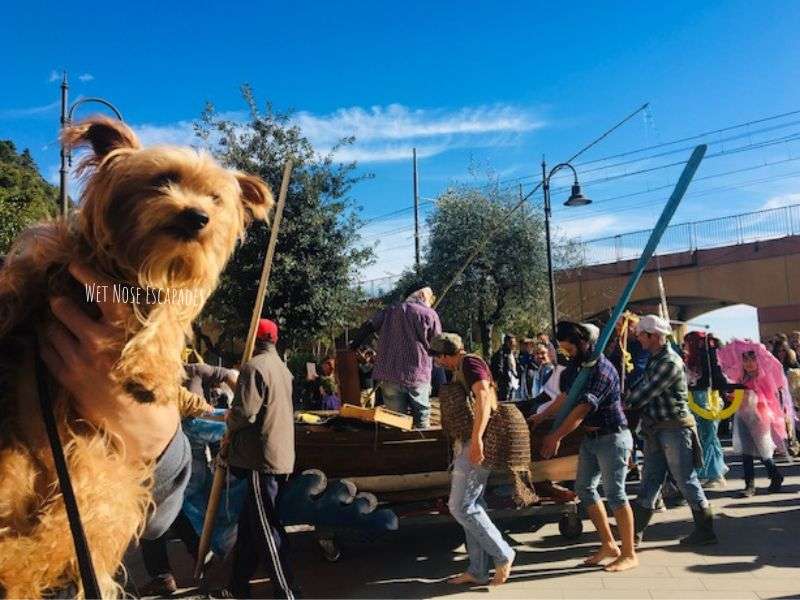 "Dogs must have a certificate showing they have been vaccinated against rabies at least 30 days prior to entry into the United States. These requirements apply equally to service animals such as Seeing Eye dogs."
So there you have it – you better have that rabies certificate handy!
Upon arrival, your dog may be inspected by the U.S. Customs officials, and could be denied entry if found with evidence of infectious diseases (that could be spread to humans). If your dog appears to be ill, there may also be further evaluation by a licensed veterinarian at your expense.
REAL BARKS: You should never attempt to fly an ill dog (unless he suddenly became ill on the flight)! Even though a physical inspection is PAWsible, I've never been physically inspected by anyone upon arrival to the U.S., and I've flown (internationally) into Los Angeles (countless times), San Francisco, Houston, and New York City. As a matter of bark, the only time Penny and I have ever been physically "inspected" was upon arrival in Cancun, Mexico. Grr.
Even though I'm barking you should have that rabies certificate handy, I only had to present it once upon arrival, which happened at JFK some years ago. At the time, I received my rabies booster in Bratislava, Slovakia, which did not come with a certificate translated in English. Come to think of it, the paperwork provided by the Slovakian vet didn't look like a certificate at all. ARF-ter shuffling a bunch of papers around, my humans told the officer that we didn't have it and continued to show my unexpired rabies booster record from my E.U. Pet Passport. Thankfully, the officer was lenient and allowed us to go our merry way.
ARF-terwards, we found out that New York State has clear rules that a Pet Passport is NOT accepted, so I guess we were pretty lucky (to be fair, we were NOT asked for anything at all when we flew into JFK the second time a few years later).
Per the State of New York Agriculture website, dogs imported to the state outside from the U.S. must be accompanied by a Certificate of Veterinary Inspection (CVI) or Health Certificate issued 30 days or less prior to arrival by your veterinarian.
*This means if you're only going to Italy with your dog for a few weeks before returning to New York before 30 days, you can technically use the same CVI or Health Certificate. Nonetheless, on both occasions when I flew into JFK, I had been abroad for well over 30 days – the first time was over eight months, and the second time was almost a whole year! Pure luck or leniency? Who knows?!?!
The website avows that the State will accept the required information on the veterinarian's letterhead if your country of origin does not have a CVI or Health Certificate (which is not the case of Italy). The information must be in English, and the paperwork should include your full New York destination address and a statement that your dog has no evidence of infectious or communicable diseases, including external parasites and fungi, AND was not exposed to such diseases.
Regarding the rabies vaccine, New York states that either the 1-year or 3-year vaccine is accepted for dogs three months of age or older – as long as it's current or unexpired with the product name and vaccination date recorded on the CVI or Health Certificate.
It also states that the CDC requirements for dog import must be met, which aren't applicable for Italy (and other countries in the E.U.) due to its rabies-controlled status.
Lastly, it states that New York does NOT accept the Pet Passport. ARF-my-DOG!
Sniff out more information on New York state dog import requirements here.
*Again, my E.U. Pet Passport was all I presented to the Customs officer upon arrival during the first time to JFK. Nothing was asked from me the second time! It's hard to say that I was lucky or JFK was just lax both times. My Yorkie hunch is that it was a little bit of both – had I gotten a strict Customs official, my experience may have been different – who knows? Once again, a few of my fellow dog travelers have also reported that they were not asked for a CVI or an inspection as they breezed through JFK or La Guardia.
TOP DOG HOWL: If you're returning to New York from Italy with a dog for more than 30 days and want peace of mind, get that Pet Export Certificate! It'll help you sleep better at night with one less thing to worry about on a long travel day. However, if you choose to take the risk, chances are you should pawbably be OK with just a valid rabies certificate.
Nonetheless, bear in mind your airline may still require a CVI or Health Certificate within 10 days of the flight to ensure your dog is healthy enough for air travel. My human faced this annoying PAWsibility when she received conflicting information from United Airlines about flying to Mexico with a dog. Therefore, be sure to check with your airline upon booking a reservation for your dog.
On the other paw, returning to my home state California does NOT technically require a CVI. Based on the California Department of Food and Agriculture website, all domestic dogs must be healthy and accompanied by documentation proving current rabies vaccination (for dogs older than 4 months). A Certificate of Veterinary Inspection (CVI) or Health Certificate is NOT required for privately owned dogs entering California. However, a CVI within 10 days of travel is required for dogs entering California for the purpose of being sold or changing ownership. Grr, all I can bark is #adoptdontshop.
The same goes for Texas – a CVI is not needed for dogs entering the state. It does, however, state that most airlines require a health certificate issued by a veterinarian within 7 to 10 days of travel despite not being required by Texas law. Again, be sure to check! Per state law, dogs older than 12 weeks must be vaccinated against rabies and accompanied by a rabies vaccination certificate (or pet passport containing the required information).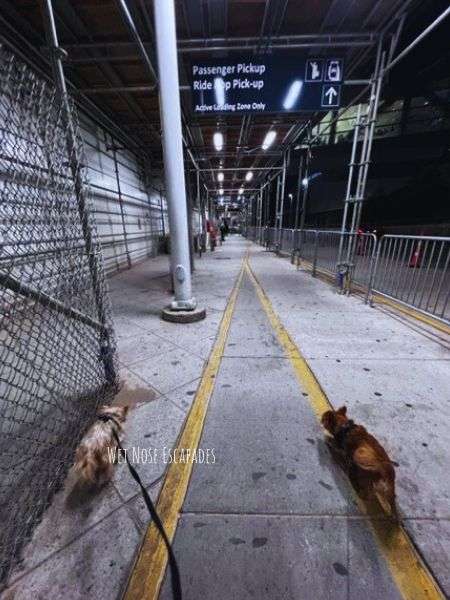 Thus, it sounds like Texas does accept the pet passport, which is nice. AWOOO, just a howl that besides a few questions about the flight, I've never been asked anything or to present any documents upon landing at IAH in Houston. Not even a rabies vaccination certificate.
Sniff out any additional requirements based on your state of arrival.
WOOF, should you get the Pet Export Certificate or CVI to return from Italy with a dog to the U.S.A.? This is a decision that only YOU can make based on the information presented. Based on my experiences, exiting Italy and re-entering the U.S. has been smooth-sailing without one. BUT, if you'd rather be on the safe side, get one to lower your anxiety level leading up to travel day. Regardless, always have your dog's rabies vaccination certificate handy and accessible.
WOOF, hope you like perking your ears to my barks about returning from Italy with a DOG to the U.S.A.! Feel free to share your experience with me. BARK AT ME!
Need some paw holding? Sniff out my expert guide on how to travel internationally with your dog or book a consultation call with my human staff!
Markin' it up,
Roger Wellington a.k.a. The Doob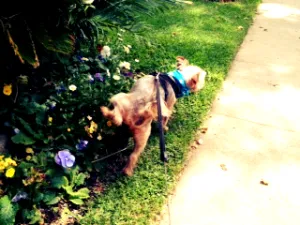 –
Like my post "Returning from Italy with a DOG to the U.S.A. – What You MUST Know"? CLICK TO PIN!