WOOF, wondering if Rio de Janeiro is dog-friendly? Sniff out everything you need to know before you take your dog to Rio!
Arf-ter markin' up Rio for nearly 5 months (and counting), I'm wagging my stylish undocked tail as I bark out what it's like for dogs in Brazil's most arf-citing city. From world-renowned beaches like Copacabana and Ipanema to the wonder of Christ the Redeemer statue to the arf-so-rowdy Carnival festival, Rio is an international destination attracting millions of visitors from all over the world. Coming from California, getting to Rio was no easy feat as there were no direct flights (and currently none).
From Los Angeles to Cancun to Panama City, I took the supaw low and slow route to this magnificent seaside city, ensuring I left my alpha marks along the way (and that my Yorkie belly was satisfied). Once I set my furry paws on the grounds of Galeão Airport, I was ready to sniff out everything this pawbulous city has to offer for furry residents and travelers.
Dog Culture in Rio de Janeiro, Brazil
Overall, I must bark that Rio is a VERY dog-friendly city, especially in Zona Sul (South Zone), the beachfront zone where most tourists and expats stay due to safety, nightlife, and proximity to attractions. With a pawpulation of over 6.7 million humans, Rio is also known for its favelas, slums or shanty towns that tourists or foreigners are discouraged to visit (not even on a guided tour) by the Brazilian government due to violence and crime.
When my friends back home hear that I'm in Rio, safety is always brought up as a concern. Heck, my human was a bit concerned herself when making travel plans to get us here. Luckily, her fears of safety were put to rest by my pals Boogie & Marcelo, furry New Yorkers who lived in Rio for 2 years. Upon arrival, we quickly confirmed that the South Zone is, for the most part, safe (although it's still wise to practice precautions, especially at night). From Copacabana to Leme to Ipanema to Botafogo to Flamengo/Catete, my humans and I were fortunate to make different neighborhoods in the zone our home away from home.
In the South Zone, dogs are everywhere! ARF-my-DOG! Brazilians are dog lovers, and frankly, I haven't come across one who doesn't like dogs. At the very least, they are dog-tolerant with many being dog-loving. As I roam the streets and eat out at restaurants, I'm constantly approached by sweet Brazilians who want to give me a gentle scratch on my Yorkie head.
From hotels to restaurants, dog-friendly establishments in Rio will have a blue "PET-FRIENDLY" sticker in front. I also have to bark that Brazilians seem to be warm and kind people – like genuinely kind, not just nice because they want a tip or get your business like other places. Most dog pawrents also appear to genuinely care about their dogs. 🙂
Despite coming across a pawful of stray dogs during my stay, I think it's safe to bark that most dogs in Rio are well taken care of. Well, except for numerous dogs of homeless people subjected to a life of hunger and filth on the streets. But even then, Rio's homeless situation is not nearly half as bad as in California, where homeless tents and encampments conquer blocks on end in every major city.
Unlike in Spain where I frequently saw people hitting their dogs in public, I've really only seen acts of blatant abuse twice. Now, that's not to bark that abuse doesn't exist behind closed doors like anywhere else in the world, but at least it's not blatant or seem acceptable. Upon entering the elevator at my first apartment in Copacabana, I dropped my little jaws into an open-mouth smiley face to see a flyer on the elevator calling for reports of animal cruelty and abuse. As we know, awareness is the first step to change.
However, not all is dandy in Rio. Disturbing scenes of puppies for sale fail to escape my mind as I see them pant miserably in the heat without any shade (or water) on busy streets. At times, they look too young to be separated from their mothers. Not to bark, cats and kittens to be sold are locked up in small cages. Yet, I always wonder what happens to the ones who aren't sold. I couldn't find anything online about the legal age minimum for the sale of puppies, so I'm assuming no Brazilian law exists (but I hope I'm wrong).
But I think one thing is for sure – the sale of puppies from unlicensed breeders is pawfectly legal. People who run these money-hungry operations obviously don't care for the animal's well-being as they only see them as pure commodities. 🙁 With animal homelessness being a global issue, I just wished there were stricter protections to prevent more breeding, which would help save furry lives.
Restaurants & Bars
Wining and dining with your dog is easy peasy in Rio! Outdoor dining is guaranteed to be dog-friendly with many restaurants and bars welcoming canine patrons with communal water bowls. Other places also provide personal water bowls (with filtered water) without or upon request.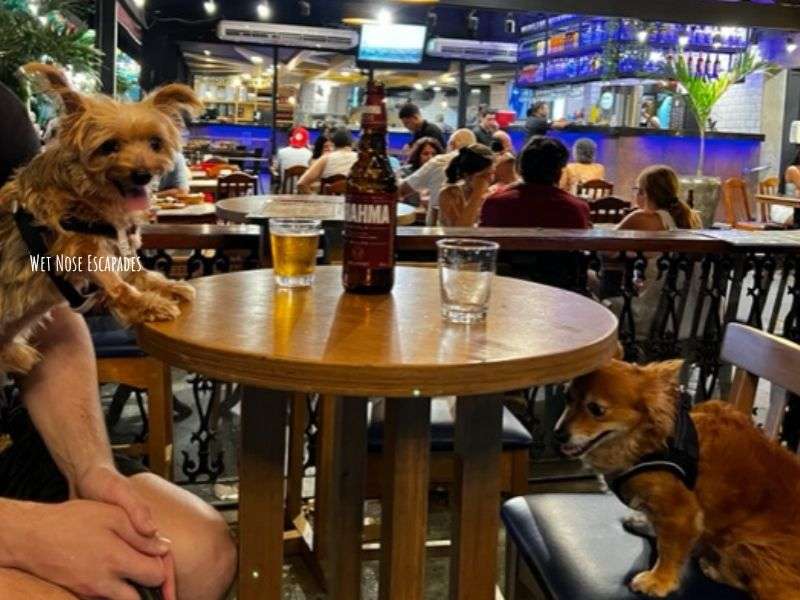 Some establishments will make an exception and allow dogs to dine indoors, which is a real treat for me since it can get hot and humid during the day. I've also sniffed out that dogs are more likely to be accepted inside bars than in restaurants.
I've sat my furry butt on many human chairs at restaurants all over the world, but only at Boteco Da Garrafa (in Copacabana) did a waiter actually offer a seat to me! SCORE!
I also remember sitting outside of the Waffle King in Botafogo (Rua da Passagem, 159 – loja B) when the sweet employee motioned me to go inside for some air conditioning.
Any restaurant along the beachfront in Copacabana and Ipanema will make a pleasant outing with your dog, like Garota (Av. Atlântica, 3744 – Copacabana) and Boteco Belmonte (Av. Vieira Souto, 236 – Ipanema).
Sniff out my other favorite dog-friendly SPAWTS for food and drinks in Rio: Pizzeria Gambino (R. Dois de Dezembro, 81 – Catete), Boteco Colarinho Escondido (R. Francisco Otaviano, 30 – Copacabana), Hocus Pocus – dogs allowed inside (R. Dezenove de Fevereiro, 186 – Botafogo), and Osorio Bar – dogs allowed inside (R. Gomes Carneiro, 130 – Loja A – Ipanema)
Retail Shops
While I've marched my furry paws into many stores with no pawblem, not all retail stores are dog-friendly, such as pharmacies (which have clear signs prohibiting dogs). GRR. Be sure to check. If there are no signs indicating otherwise, it's a safe bet that dogs are allowed.
Shopping Malls
Besides being able to march around with an upright tail at outdoor shopping centers, I was surprised to sniff just how dog-friendly indoor shopping malls are in Rio. As a matter of bark, they're pawbably the most dog-friendly places I've ever set my furry paws on (and I've been around, to bark to least). It's not just that dogs are allowed to shop alongside their humans, but these dog-friendly malls really cater to dogs with dog stroller rentals, communal dog bowls, and poop bag stations. Sniff out Rio Sul, Shopping Leblon, and my favorite Botafogo Praia, where dog-themed Christmas decorations take over the mall during the holidays. As there are usually size limitations, be sure to sniff out their rules before you go.
Pet Supply Stores
Pet supply stores of all sizes are ubiquitous in Rio! Some of them are connected to a veterinarian clinic, which makes things supaw convenient. In addition to small pet supply shops sprinkled throughout the city, Rio boasts giant chain pet supply stores like American Pet and my favorite Petz. Wherever you are in the South Zone, you're bound to run into a location – arf-ter all, their storefronts are huge and not easily missed. Without fail, I always lead my humans into a store and spend at least an hour or two sniffing furry butts and whatever beta marks are left.
Essentially, they're equivalent to Petco and Petsmart (often equipped with a grooming section but without the sale of live animals). You can even find U.S.-brand dog food like Hills or European brands like Royal Canin. Most markets also carry generic dog food (both wet and dry), a pawful of dog toys, and some treats.
Grocery Stores
OK, I guess this isn't Italy, where I used to shop for groceries alongside my human. There are clear signs banning the entry of dogs, except for guide or service dogs. GRRR. Even though most dogs are tethered or "parked" outside while their humans shop for groceries, my humans never dare to leave me and Penny Gurl unattended, in case of abuse or theft. But good news may be on the way; the market chain Zona Sul issued a statement indicating that they hope to change their dog policy in the future. Hopefully, sooner rather than later, dogs in Rio can join their humans to grab some frozen Portuguese pizzas and freshly baked bread.
Hotels & Accommodations
During the first few weeks, we stayed in various dog-friendly hotels in Copacabana, Botafogo, and Flamengo (booked on Hotels.com to earn some free nights) while searching for a dog-friendly apartment. Compared to the U.S., hotel pet fees are affordable at around $10 per dog per night, often at a cap of two dogs.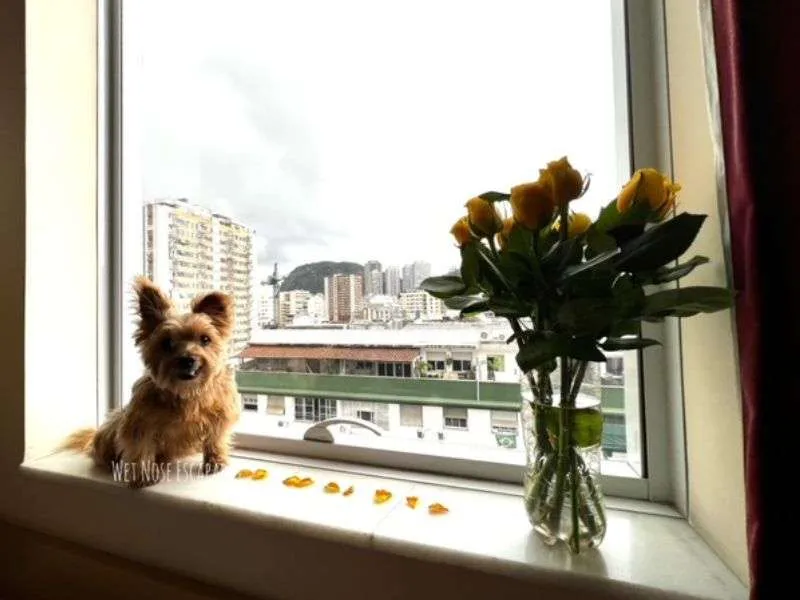 Eventually, we secured several different apartments in Copacabana and Ipanema through Booking.com, all of which we did not have to pay any extra fees for me and Penny. Pet-friendly apartments are plentiful and easy to find. Just remember to inform the host that you'll be bringing a dog, and you're all set. Upon arrival, the guard/lobby attendant will lead you through the side entrance (vs. main), designated for dogs.
Weather
Rio is warm year round, and can be very humid with sudden (short-lived) tropical storms. Hence, long walks or outings can be a real challenge here, so my human has to keep it supaw strategic with my time spent outside.
Dog Parks
Although there are quite a few in the South Zone, many dog parks in Rio do NOT look clean or well-maintained. So they're usually PAWS OFF for me. Often next to a children's playground, the dog parks I've sniffed out (from a distance) have visibly dirty grounds, mangled fences, and graffitied walls. Also, there isn't another section to separate dogs of different sizes. Interestingly enough, I've sniffed out many dog pawrents taking their dogs into a children's playground instead of a dog park.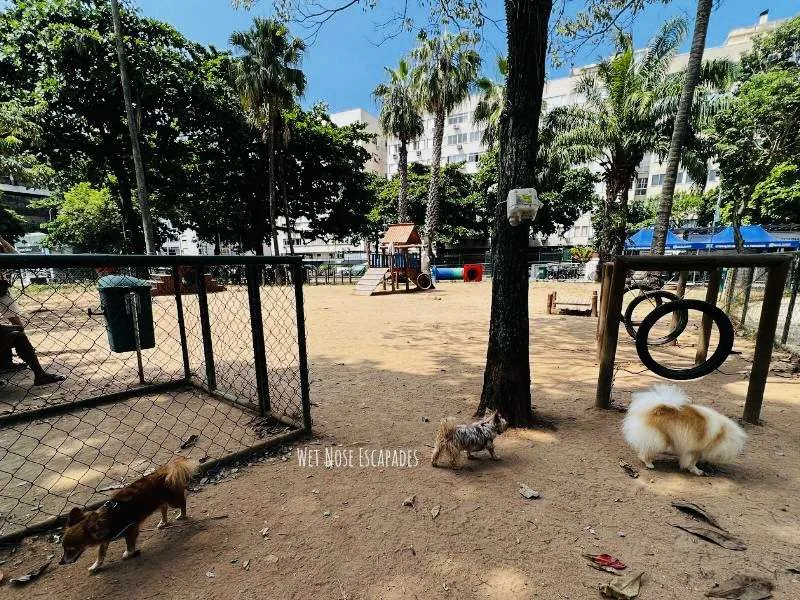 With that barked, best dog park I've sniffed out in Rio is in Ipanema at Praca General Osorio. My tail was waggin' as I sniffed out a bigger, cleaner, better maintained park with agility obstacle courses. Plus, it has double gates.
Beaches
Rio's incredible, world-famous beaches may not (technically) allow dogs, but I've still sniffed out plenty of doggies chasing butts and getting their paws sandy. And yep, I've done my fair share of sniffing and digging for gold at Copacabana beach myself (SHHH), even in front of the beach-patrolling authorities who don't take a second look at me, Penny, or the many other furry creatures frolicking on the beach.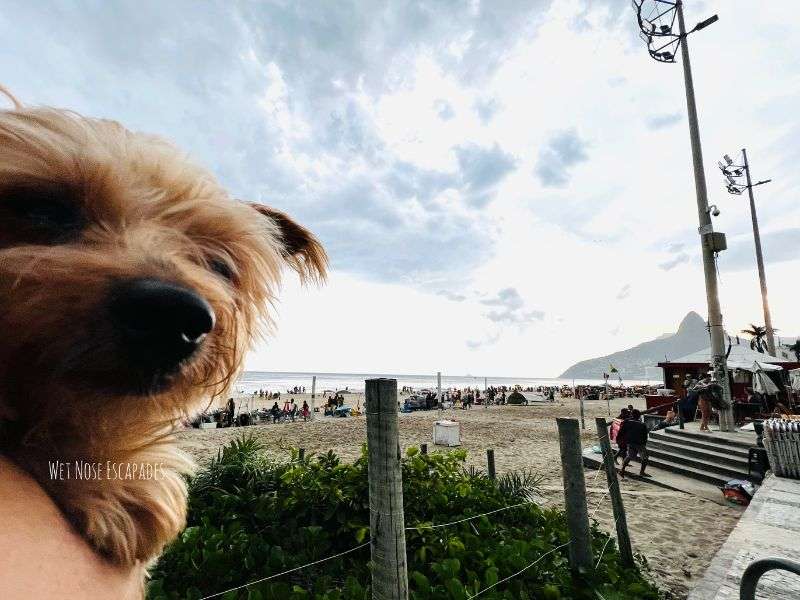 Besides the famous ones like Copacabana and Ipanema, furry beachgoers can enjoy the sun on beaches at Botafogo and Flamengo. As always, be a good visitor by cleaning up arf-ter your dog.
Public Transportation
Generally barking, dogs are allowed to travel on public transportation as long as they're properly secured or transported in a carrier. WOOF, this is yet another reason that makes Rio de Janeiro dog-friendly.
Uber
Uber here is not only affordable, but also dog-tolerant. The drivers have been great – no growls there! Penny Gurl and I have never been denied a ride, even when out of our carriers.
Christ the Redeemer
Except for service dogs with proper paperwork, dogs are NOT allowed to go on the Corcovado cog train that takes you up to Christ the Redeemer. The good news is that the spectacular statue can be easily SPAWTED in the backdrop, especially in Botafogo.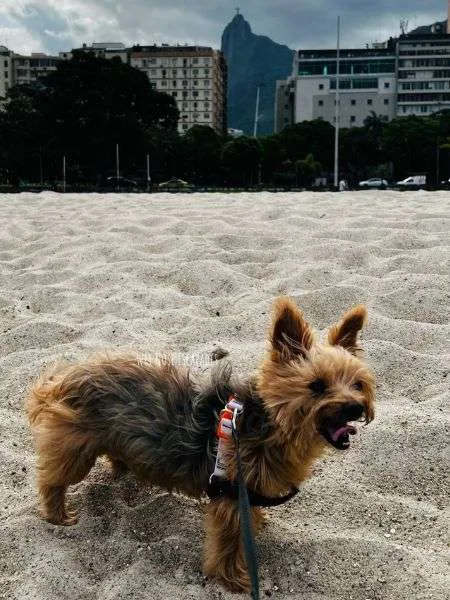 Veterinary Care
ARF, I know first paw about veterinary care here because I've only been to the vet over 10 times in the last 5 months, including three emergency visits (one of which was caused by the hospital's treatment). Due to respiratory distress caused by collapsed trachea, I was first admitted to the ER, a specialty veterinarian hospital that my human carefully selected online based on reviews. 🙁 Despite still being monitored by a pulmonologist there, my journey with them has had more downs than ups.
I'll bark out some pawsitives – first, vet care in Rio is accessible and widespread. If your dog is sick, you don't have to travel very far to seek help, even when it comes to 24-hour emergency care. In Zona Sul, veterinarian clinics are often located within walking distance of one another. Second, vet care is extremely affordable here. For instance, my human only paid $38 (US) for a regular consultation, $48 for an emergency consultation, $68 for a specialist consultation, $63 for an echogram, and $84 for a 4-position X-ray (of my lungs and trachea). And yet, this hospital in Rio is known to be more on the expensive side since it's a "specialty" hospital.
This is a huge bargain compared to San Francisco or Los Angeles, where a regular consultation easily starts at $90. Third, dog pawrents can talk to the vet directly via WhatsApp, which helps get questions answered quickly without going through the front desk staff or impatiently waiting for a call back. Fourth, unlike the vets in the U.S. who tend to take your dog to the "back" for any treatment, vaccine, or exam, Brazilian vets are more transparent and will do (most) things to your dog right in front of you.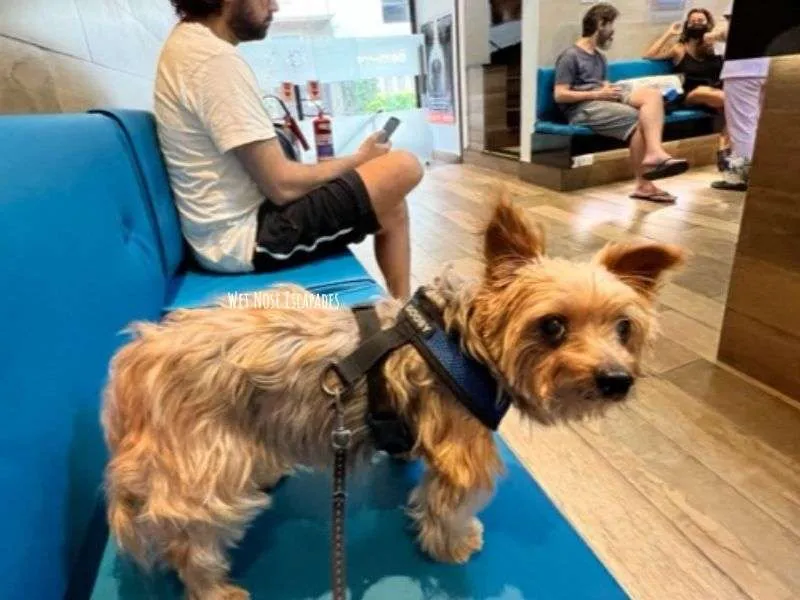 Now, for some negatives. GRRR. First, Brazilian vets don't necessarily have all the same medicine or different forms that we have back home. For instance, they don't have Hydrocodone, which is the most pawpular opioid to treat collapsed trachea in the U.S. While they have Codeine, another controlled substance similar to Hydrocodone but not as potent, they are very conservative with the dosage and frequency (perhaps that explains why we have the opioid crisis back home). They also don't have Adequan (the injectable Polysulfated glycosaminoglycan commonly used to alleviate symptoms of arthritis in dogs) or Butorphanol (another opioid used to treat coughing) available in an oral form.
In treating collapsed trachea, the vets here seem to be more concerned with side effects and prefer to prescribe inhalers and mucolytics over heavy duty drugs like opioids and oral steroids, which is great – if it only worked in severe cases. Unfortunately, their conservative treatment plan caused me to revert back to an unstable condition, which brought me to the ER for the second time. And yet, just 16 hours arf-ter my second discharge, I was admitted to the ER for the third time! GRRR. Against my human's warning, they fed me the wrong food during my second hospitalization and triggered a horrific episode of pancreatitis.
Another downfall of Brazilian veterinary care is that they usually do not dispense medicine for patients to take home – not even at this "specialty" hospital. They would only send me home with a prescription. Such inconvenient practice is definitely not the norm with Californians. It sucks when if I get discharged in the late evening when all the drug stores are closed. To get all my prescribed meds, my human must make at least two stops – a pharmacy (for humans) and a pet pharmacy inside a pet store (like Petz or American Pet). And, that's on top of ordering meds through a manipulation pharmacy like DragoVet, in which she has to drop off the prescription in-person or meet with the courier.
Sniff out more about my experience with Brazilian veterinarians HERE.
Sniff out my long battle with collapsed trachea HERE.
Carnival
Penny Gurl and I survived Carnival (oops, I mean Carnaval) in Rio! ARF-my-DOG! It was arf-solutely crazy. At first, Penny wasn't nearly as excited as I was, and I really had to show her what this weeklong festival is all about! From endless parades of vibrant samba dancers and arf-mazing music to block pawties GALORE to elaborate costumes that put Halloween to shame, Carnival in Rio is more than just a massive event. ARF, it's a real Brazilian experience. Or as they bark, "The GREATEST Show on Earth."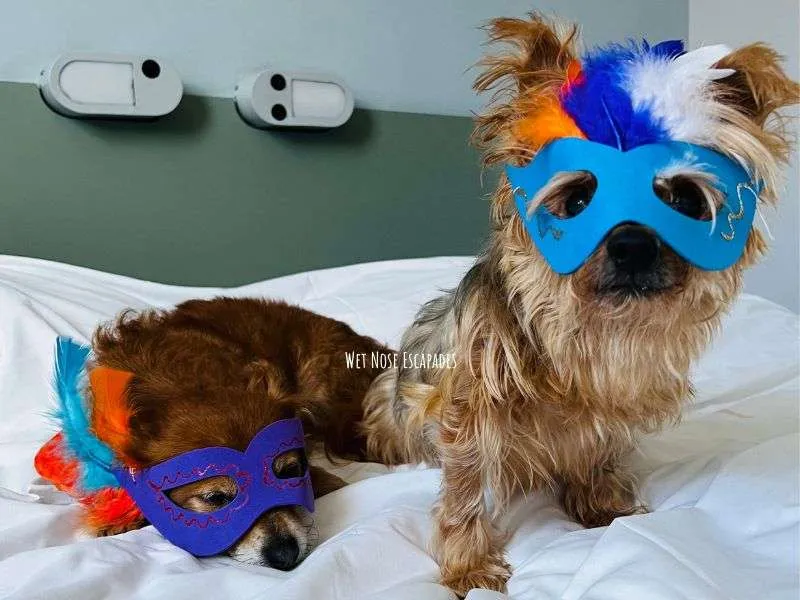 OK, I'll be honest with you. Penny and I didn't actually pawty it up with the crazy humans at Carnival. Dogs are not allowed at the dazzling formal balls or inside the Sambodromo, where the most pawpular parades are held. While dogs are allowed at block pawties or "blocos" (heck, there are only more than 600 of them during Carnival), the intoxicated crowd, madness, and debauchery can make it utterly dangerous and stressful for any dog to visit, regardless of how big your dog is. I mean, unless you're OK with standing at a lonely corner with little traffic the entire time. I don't know about you, but I don't like being squished by the crowd or getting my paws stepped on. NO THANKS. Unfortunately, my humans reported back to me that they did see a few dogs having to RUFF it out through a few crowded blocos. :/
In the midst of Rio's heat and humidity, about 100 dogs were panting in costumes at the dog-themed block pawty "Blocao" (bloco + cao, which means "dog" in Portuguese) the past Saturday. Being a senior Yorkie with a collapsed trachea, I declined my invitation to that butt-sniffin' pawty. However, that doesn't stop me and Penny from celebrating Carnival on our own.
BARKS OF CAUTION
*Thanks to the humidity, there are mosquitoes galore here! GRR. Make sure your dog stays protected with a monthly heartworm preventative.
*At most laundry mats, it is against the rules to put dog bedding and items inside the washer and dryer. Be sure to check the rules.
*On a daily basis, the streets of Rio are cleaned and disinfected. Often, these streets or corners are not fully rinsed, which means harmful chemicals can be ingested by your dog on walks. Erring on the side of caution, my humans would pick me up when encountering noticeably wet areas or corners with strange blue-looking chemicals or crystals (which my pals Boogie & Marcelo confirmed to be disinfectants).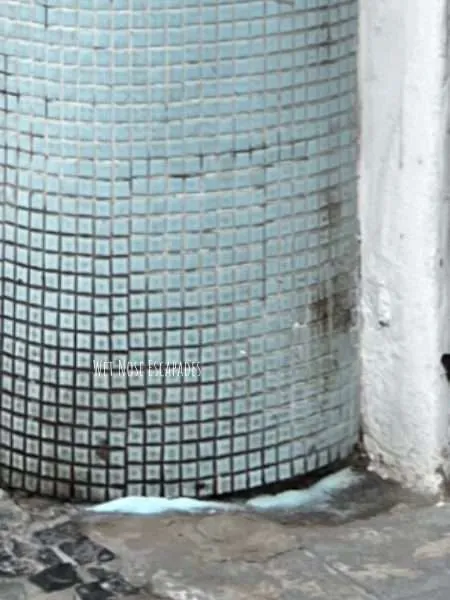 WOOF, that's all I have! So is Rio de Janeiro dog-friendly? YES, ARF-solutely! Feel free to share your dog-friendly Rio de Janeiro experience with me. BARK AT ME!
Don't forget to follow me on YouTube: Wet Nose Escapades by Roger Wellington for more fun dog videos!
Markin' it up,
Roger Wellington a.k.a. The Doob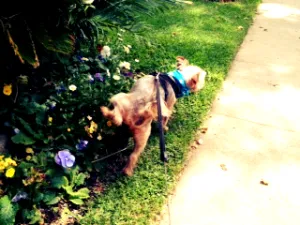 —
Like my post on "Is Rio de Janeiro, Brazil Dog-Friendly? A Yorkie's Guide to Visiting Dog-Friendly Rio de Janeiro"? CLICK TO PIN!