WOOF, my pawfectly groomed undocked tail is wagging as I bark about one of the best dog-friendly places in Rio de Janeiro. Botafogo Praia is, PAWS DOWN, the most dog-friendly mall I've ever set my furry alpha paws in. I was lucky to sniff it out during the holiday season – AWOOO, it caters to furry patrons and their pawrents so much that their exterior and interior holiday decorations are dog-themed! Follow my furry buttocks to find out more…
Posted 12/8/22
First, let's bark about the location: Botafogo Praia lies in the pawsome Botafogo neighborhood, a primarily middle to upper middle-class area in the prestigious South Zone (Zona Sul). Although not as known as Copacabana or Ipanema, the nearby Botafogo is a safe beachfront neighborhood boasting high-rises, hipster eateries, and front-row views of Sugarloaf Mountain. Largely non-touristy, Botafogo started becoming pawpular over the years as Rio residents migrated to escape expensive rent in Copacabana and Ipanema. To show how desirable and up-and-coming this neighborhood is, it has even garnered the nickname "BotaSOHO." For a more local experience in Rio, Botafogo is the place to mark.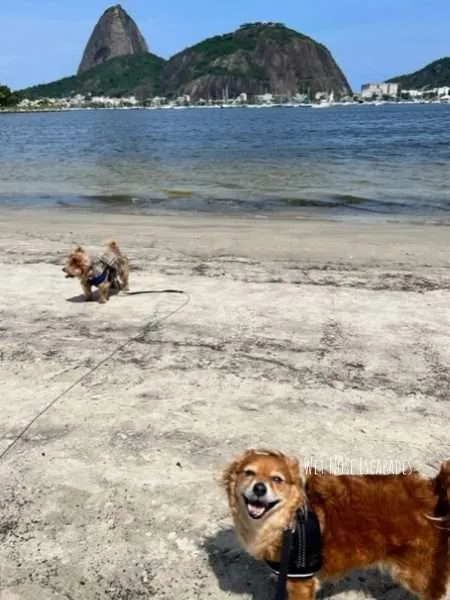 During my first month in Rio, my pack and I bounced between Botafogo and Copacabana to immerse ourselves in different neighborhoods. My honest barks – ARF, I'd choose Botafogo in a Yorkie heartbeat! It's undoubtedly cleaner, more laid-back, more authentic, and more local – a much more comfortable experience for dog travelers (especially those who don't like getting their paws dirty). Plus, it's close enough to Copacabana, which means you can still easily access the world's famous beach – just paws away!
If you're not staying in Botafogo, you can still walk here from Copacabana, roughly a 2.5-mile walk. Depending on how fit or athletic you are, this can take anywhere from 35 minutes to an hour. Not up for a walk? From the rides I've hopped on thus far, Uber is very cheap and safe to use. And, none of the drivers had a pawblem with my furry self (and my crab-legged sidekick Penny Gurl) getting into the car. Going to and from Copacabana will only cost a few dollars – USD, that is. The mall is also conveniently located just a few blocks from the Botafogo metro station, making it accessible to everyone in the city.
Established in 1999 and under new management in 2009, Botafogo Praia Shopping sits on the former site of an iconic Sears building which saw a lot of success in Rio for nearly 40 years before closing down. With head-tilting, IG-worthy views of Botafogo Bay, the mall is in a prime location, attracting visitors from all over Rio. Just a BARK that it's not a massive shopping complex like Rio Sul (which is also dog-friendly), but its smaller size and lower-key ambiance make it more appealing for dogs.
Hence, it is one of my favorite spawts to post up and sniff around. It's such a tail-waggin' place to spend the afternoon – even if you're a non-shopper like my humans. Besides 140+ retail shops, this 8-level, vertical-layout mall features a movie theater, two megastores, and several food courts with numerous dining options (including four full-on restaurants). If you're sniffing for high-end luxury brands, this mall pawbably isn't for you. Nonetheless, it still has a great variety of retail options, from clothing stores like Carter's and Farm to shoe stores like Anacapri to drug stores.
Plus, there are a bunch of places to grab coffee and goodies, including Starbucks (my go-to hangout spawt), McDonald's, and California Coffee (which I'm still trying to figure out what it is, being a California native).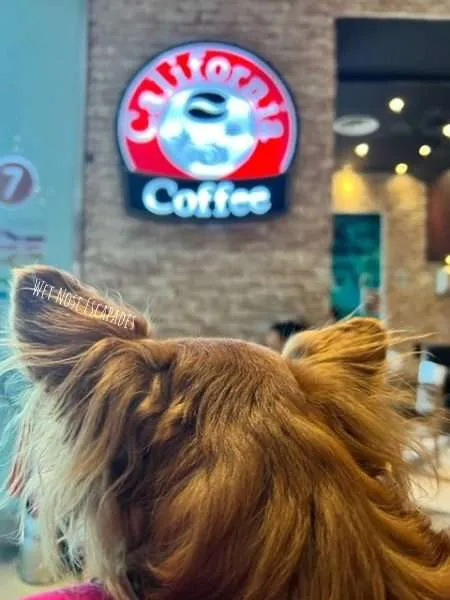 WOOF, the best part is that dogs are welcome! Well, in most of the areas. Keep on sniffing…
Here's Botafogo Praia's Pet Policy:
*Only domestic animals with good behavior and identification are allowed.
Based on pictures on their official website, it looks like only dogs and cats are allowed. I've sniffed plenty of canines roaming around inside the mall.
Haven't sniffed a cat here before, but I don't mind if I do – I have cat cousins and have been part of an epic cat rescue myself.
*Small to medium-sized dogs weighing up to 35 kg and measuring up to 60 cm are allowed.
Most (if not, all) of the dogs I've sniffed here are small dogs like myself. Besides Yorkies, Shih Tzus are very pawpular here. ARF, and Frenchies too.
*Your dog must always be leashed, in a carrier/travel bag, or in a PetCar.
WOOF, PetCars are pet strollers available for rent inside the mall – very convenient! This only goes to show how dog-friendly this mall is.
*You can walk your dog here, but be sure to play extra attention to cleaning after your dog.
One time at Starbucks (3rd floor), Penny and I were sniffing the buttocks of this Dachshund and he got so excited that he peed on the floor! In addition to my human, these two guys near our table also offered napkins to the Dachshund's human to clean up. No one made a big deal about it, which was great.
*Guard or hunting breeds may only walk around in the mall with a muzzle.
It sounds a little discriminatory to me, don't you think? The truth is no dog is ever born aggressive or "dangerous," but only become the way they are based on human interaction and training.
*Dogs are allowed in the walkways, Pet Food Court (2nd floor), and parking garage. Not all stores are dog-friendly as dog entry is at the discretion of each store. Be sure to look for pet-friendly stickers on the store window.
*Dogs are NOT allowed at restaurants, movie theaters, banks, pharmacies, exchange shops, jewelry stores, changing rooms, and restrooms. The only exceptions are guide dogs.
GRR, such an odd rule about jewelry stores and banks! Good thing my nomadic humans hate jewelry and place little emphasis on material goods. And, they pay for everything as much as PAWsible via credit cards (with no foreign transaction fees) to accumulate points.
*For your dog's safety and to avoid accidents such as paw injuries or nail breakages, you must carry your dog on the escalator and elevator. For larger dogs, they must be leashed and only use the elevator or stairs. Dogs can access the marked elevators.
Finally, a rule that I agree with! Escalators can be supaw scary for dogs! I've gotten used to hopping on elevators but stepped a paw into the gap by accident in the past (no injury, luckily). With eight stories here, there's a lot of up and down for your dog.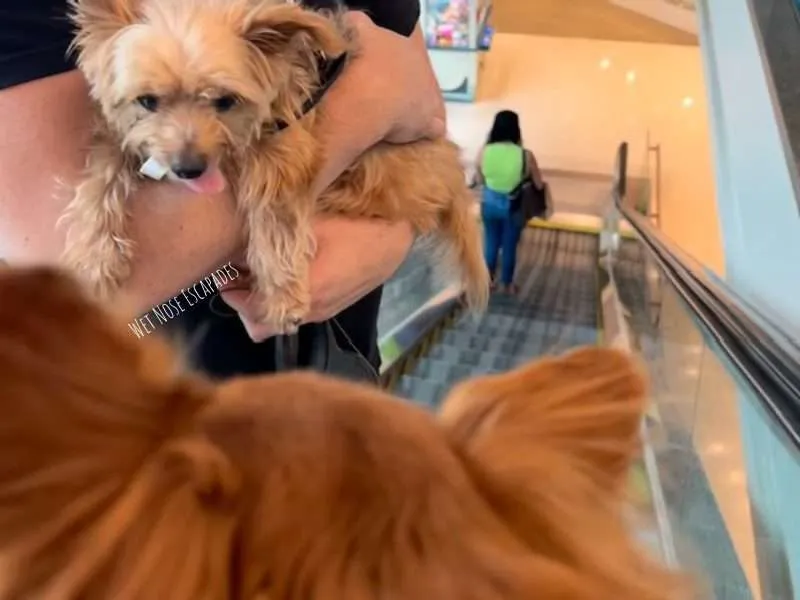 *Poop bags are provided in both indoor and outdoor areas of the property on the 1st, 2nd, and 3rd floors along with the parking area.
My human always has poop bags ready; hence, while this perk is nice (and needed for irresponsible dog pawrents who don't clean up arf-ter their dogs), we haven't utilized it.
*Dogs are NOT allowed on top of tables, chairs, sofas, or benches in common areas.
GRR, for a dog who loves his own chair, this rule is a total bummer! However, I can still sit and stand on my human's lap.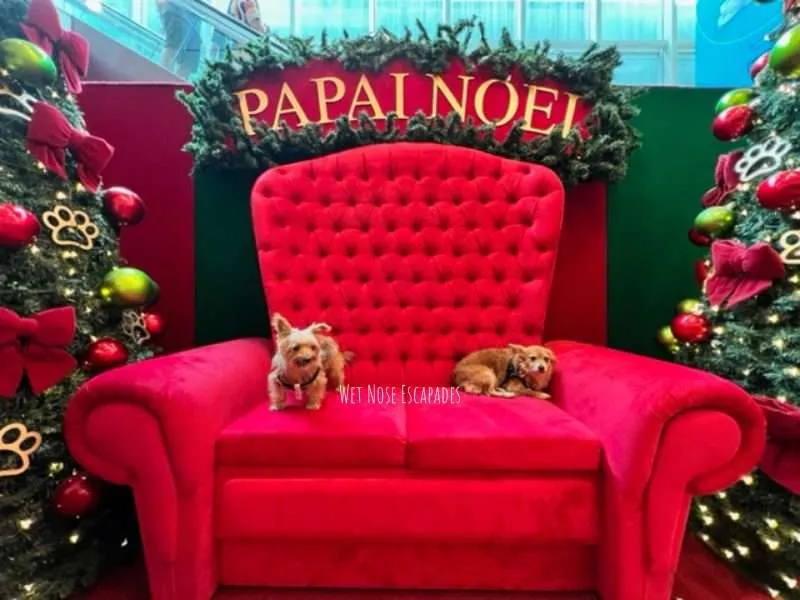 *Dogs must be vaccinated and healthy. The mall can request for the vaccination card.
This was news to me – I've never been asked for my vaccination records, but my human has everything on her phone.
Put a furry paw HERE for the full pet policy.
The best time to visit Botafogo Praia with your dog is during the holiday season. In 2022, all the holiday decorations here this year were dog-themed, which makes my furry visit extra welcoming and festive (and you can only imagine how my human went berserk trying to take pictures of me everywhere)!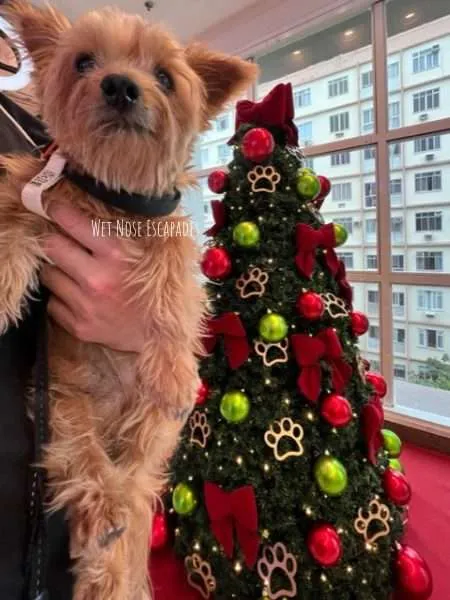 Ornaments of different dog breeds (I think I even sniffed a Yorkie one), paw ornaments on Christmas wreaths and trees, pet-designated carriage for Santa photos, Christmas dog house, dog-friendly sleigh – and the list BARKS on.
They even have giant Santa and doggie figurines outside on the rooftop of the mall! My only complaint is that Santa almost looked like he was about to hit his dog, which is NOT right to promote or suggest animal abuse. GRRR. And yet, I found similar figurines both inside and outside the mall.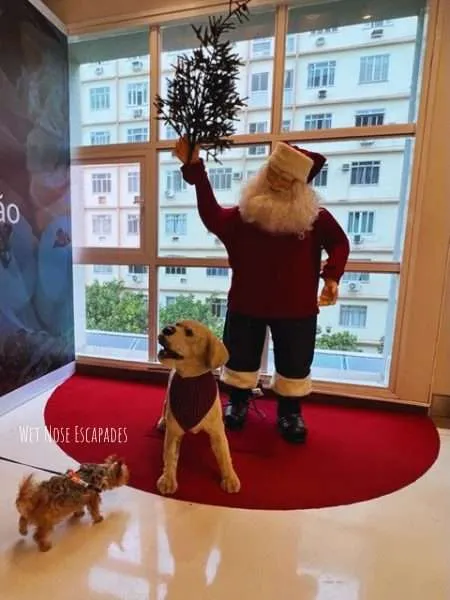 Perhaps the most irresistible sniff about this shopping mall is the gorgeous elevated views of Botafogo Bay, including the arf-so-famous Sugarloaf Mountain. To sniff out these CRAZY multi-million dollar views, hit up the 7th and 8th floors. The 7th floor has a large food court surrounded by a glass window boasting 180-degree waterfront views of Botafogo Beach and Sugarloaf Mountain.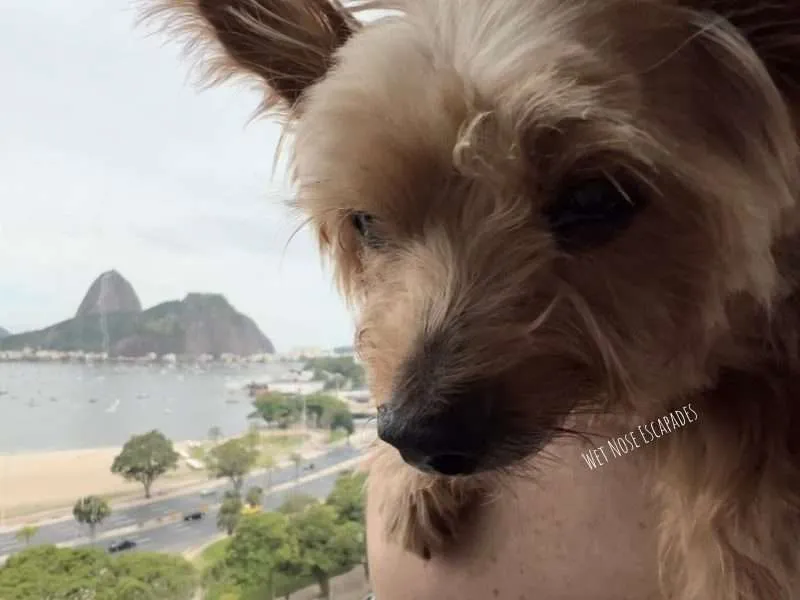 You'll surely feel the wanderlust here. ARF yeah, be sure to carry your dog here – it can get a little crowded, especially if visiting on a weekend. The 8th floor is the dog-friendly rooftop, where you'll find a small terrace to enjoy these sought-after Rio views. However, since Rio's tropical climate can bring forth rain unpredictably, the 8th-floor terrace is not always open.
Even though I've set my furry paws inside Botafogo Praia countless times during my stay in Rio, my tail wags uncontrollably upon entering. Then, my robust wet nose goes crazy here, and I can't wait to sniff the doggie guestbook from the last time I marked it up. There's a lot to sniff, dogs to meet, and places to rest my furry paws. AWOOO, it's truly one of the most dog-friendly places I've ever sniffed out – not just in Rio, but in the world.
That's all I have, escapaders! Hope you enjoy my exclusive guide to visiting Botafogo Praia with your dog! Feel free to share your experience with me. BARK AT ME!
Markin' it up,
Roger Wellington a.k.a. The Doob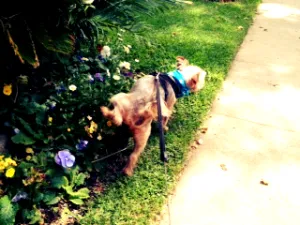 –
Like my post on "Inside Rio's Dog-Friendly Mall: A Yorkie's Guide to Botafogo Praia"? CLICK TO PIN!