WOOF, thinking of RVing with your dog? Sniff out everything you need to know to keep your dog safe and comfortable on the road with this special guest post by my pal Nicole McCray. Since she used to work in the veterinarian field, she comes with many experiences responding to RV-related incidents. Keep on sniffing below for all her MUST-KNOW tips on RVing with a dog!
Markin' it up,
Roger Wellington a.k.a. The Doob
*Please note that this post contains affiliate links, and at no obligation or additional cost to you, my humans and I earn a small commission if you make a purchase. If you love the work that we do, you can show your support by making a purchase through an affiliate link. Proceeds will go towards feeding homeless dogs (and cats) along with improving the lives of the neglected and abused.
—
Posted 2/22/23
As a dog parent, traveling with your dog can be challenging and feel like a lot of work. But if you own an RV and do a lot of traveling, bringing your dog along is practically a MUST, since keeping your dog at home isn't an option. Plus, sharing the experience with your furry friend can be a welcome and enjoyable experience.
The good news is that your dog can be an excellent companion on the road. The Recreational Vehicle Industry Association states that over 61% of RV owners love taking their dogs on vacations and trips.
However, RVing with your dog is different than adding another passenger. You must follow rules to ensure your pup is safe and comfortable on the road. Dogs are family, so here are 10 MUST-KNOW tips to keep your furry travel companion safe while in the RV on your next road trip.
#1 Look for Dog-Friendly Campgrounds
One of the first things you should do when planning your RV trip is to research areas where your dog is welcome. There are some strict "no pet" rules in certain areas where you may plan to stop in your RV, including many national parks.
Do the research by reviewing the policies and rules for the campgrounds you plan to visit. You may have to keep your dog on a leash at all times, or there may be other specific rules for places that allow your dog to stay.
You may have to rearrange your itinerary and look to see if any locations offer activities or special areas for your pup. For instance, are there restaurants that allow your dog to go inside with you? Are there dog-friendly walking trails or dog parks nearby? Make sure to include your dog in all of your plans.
#2 Pack Appropriately
Packing for your dog is another aspect where you have to be careful. You don't want to miss anything, but if you do, you can always stop to buy it while on the road. To get all of the basics, covered, here's a quick rundown of essentials to pack for your pup:
Dog travel crate or harness
Medications
License/Vaccine documentation (may be required for your dog to stay in some places)
Cleaning supplies (in the event of an accident in the RV)
Depending on where you are traveling, you may need other specific supplies. Consider a life vest if you plan to do any sailing or spend time on the beach. You may also go to have a portable vacuum for the RV if you have a dog that does a lot of shedding.
#3 Practice Before Your Trip
If your dog isn't already accustomed to long road trips, you must do some practice before traveling in the RV. Do some shorter, weekend, or overnight stays here and there before you take your long journey with your dog. You need to introduce your pup to the RV and allow him to get comfortable with the new surroundings.
Gradually increase the length of your trips and the time away before you do cross-country treks. Taking the time to be gentle in this manner goes a long way to help prevent travel anxiety in your dog, which can cause your dog to encounter health problems or be uncomfortable and need more frequent stops throughout its ride. 
#4 Take More Breaks
If you're the type of traveler to go until you reach your destination, you may need to rethink this method when bringing your dog. It's not fair to expect your pup to stay cooped up for hours on end. Like humans, dogs need adequate mental and physical stimulation throughout the day.
You should allow plenty of breaks and stops for your dog to go to the bathroom, stretch, and get some play and run around time. Consider looking for places where your dog can go off-leash (as long as you know he will come back to you). You'll also want to expend your dog's energy as much as possible before you stop for the night, so he doesn't feel restless.
#5 Take Pre-Safety Measures
While you may want to allow your dog to sit up front or on your lap, it's best to implement the correct safety measures when driving your RV. Your dog shouldn't be allowed to wander around in the vehicle. Look to have your dog buckled up in a harness, dog seat belt, or crate made for travel. Designate safe areas for your dog within the RV for riding and resting/sleeping.
Other safety precautions include keeping the temperature comfortable, and not leaving your dog alone without the RV running, especially on a hot day. And, of course, there should be good ventilation and water always on hand.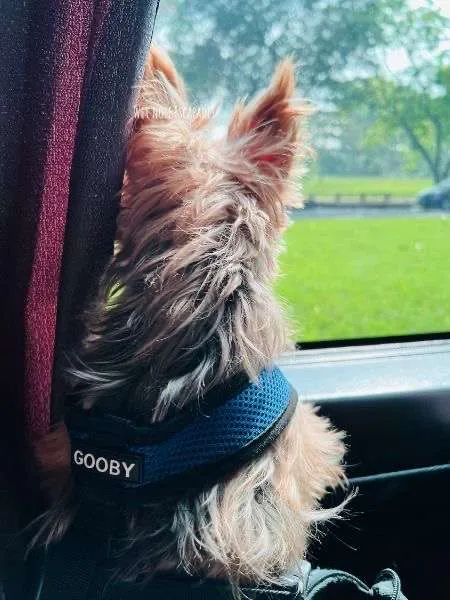 As a former veterinarian, I have encountered numerous situations while responding to emergency calls. Each one was unique and challenging in its own way, either related to dogs attacked by other animals in the surrounding area or suffering from some allergic reaction.
It was around summer of 2022 when I received an emergency call from a frantic dog parent traveling around San Francisco. The owner's dog had suddenly collapsed and was struggling to breathe. I immediately rushed to the location, which was about 20 minutes away from my clinic.
When I arrived, I found the dog lying on the ground, gasping for breath. I quickly examined the dog and concluded that he suffered from a severe allergic reaction. His airway was constricted, making it difficult for him to breathe. I immediately administered epinephrine and oxygen to stabilize the dog's condition. Then, I placed an intravenous catheter to deliver medication and fluids. I monitored the dog's vital signs to ensure he was stable enough to transport to my clinic.
The incident reminds me of the importance of educating dog parents about the importance of regular check-ups and vaccinations to prevent such emergencies, especially while they are constantly on the move and unaware of their surroundings. It was a valuable lesson that I have since shared with other dog parents to ensure that their furry friends remain healthy and safe while traveling.
#6 Find Other Arrangements
If you make plans where you cannot include your dog, you'll need to have other arrangements. For example, if you want to visit a specific landmark, museum, or even a restaurant in an area where dogs are prohibited, you'll need to have something else for your dog to do while you're away.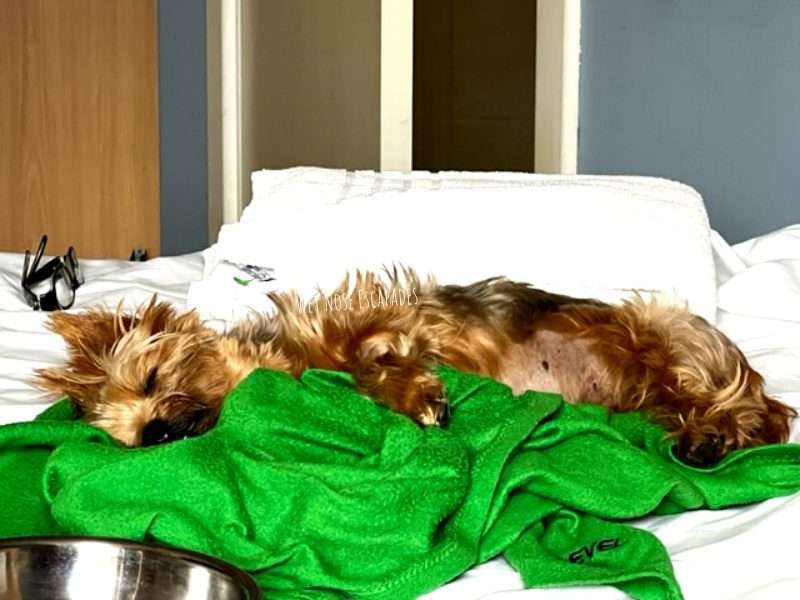 Look to see if there are any dog-friendly resorts or facilities where you can leave them for a few hours. Or, you can also look to make the RV a comfortable home where you can safely leave your dog, as long as you have other sources for air circulation and plenty of toys, food, and water to keep your pup occupied.
Consider bringing along some games, puzzles, or a lasting chew. If your dog is prone to anxiety, you may want to adjust your schedule so you don't return to a messy RV.
#7 Plan For Emergencies
Having a contingency plan is necessary with your dog. Since you're going to be traveling to locations unfamiliar to your dog, there is always a possibility that he runs off and gets lost. Having your documents handy as proof of your dog's ownership is crucial.
You should consider having your dog microchipped or equipped with an ID tag. That way, you can be easily reached if a good samaritan finds your dog. It is also a great idea to keep a list of local veterinarians in the areas you'll visiting for easy access.
Personally, including my phone number and information on the identification tags has come in handy. While en route to camp on my RV, I made a brief stop at a dog park, and my Bernedoodle Finley ended up chaseing after a squirrel.
It was terrifying knowing that she had run off, and I was in a state of panic. Luckily, being a friendly dog, she was quickly found by a fellow dog parent. Because she had her ID tags on, I was contacted to pick her up in just 20 minutes. I can't tell you what a relief it was to avoid a crisis!
#8 Be Ready for Weather Changes
Part of your packing should include checking out the weather at your intended destinations. It may be extremely hot or cold in some areas. Hence, if you need to leave your dog inside the RV, be sure to keep the RV running with appropriate heat or air conditioning.
Here's another example: your pup may be especially petrified when a thunderstorm hits, so take measures to help distract your dog if this is the case, such as toys and blankets from home to help him feel more comfortable and less frightened. You may even want to create a little fort or escape area for your dog to go to so that he feels safe.
The weather is unpredictable, so prepare yourself and your dog for changes. Another must-know tip is that you shouldn't ever leave your dog unattended outside at any given time. If you tether your dog and leave him outdoors, you're creating potential dangers and risks for your dog.
#9 Prepare for Wildlife Encounters
RVing with your dog usually includes the great outdoors, which may involve walking or hiking on trails or through a forest. However, there's a likely chance you and your furry friend could encounter some wildlife in your travels.
Is your dog trained? You should ensure that your dog can follow basic commands like "sit" or "stay" (in case you see a wild animal and want to keep your dog close). Wild animals may see a rabbit or squirrel, which could send your dog into a tizzy. And you don't want your dog to overreact if you run into a bear or mountain lion.
Keep a close eye on your dog, and be confident that your dog will come to you when called. Be prepared with how to deal with wildlife in the best way possible.
#10 Be a Responsible Dog Parent
Dog parents need to follow the rules, which means setting an example for other pet parents out there. Being responsible doesn't just mean following the rules, but also setting forth expectations for your dog. Being a role model helps keep campgrounds and RV parks to stay pet-friendly.
Before RVing with your dog, check all the pet policies to figure out expectations. Train your dog to obey verbal commands, so he doesn't disturb other campers. It goes beyond just cleaning up after your dog or keeping him on a leash.
If you have a dog who often barks when meeting new people, it may be something to consider. People do not want to be woken from sleep or become worried that your dog is potentially aggressive due to excessive barking. Be sure your dog knows how to behave in public settings where many people are milling around.
Enjoy the trip with your DOG!
RVing with your dog doesn't have to be difficult. It should be an enjoyable experience where you can create fond memories and visit new places.
Following all of these MUST-KNOW tips outlined above will help keep you calm and ready to handle any situation that may arise in your travels. Sharing the wonderful RV experience with your dog includes keeping him healthy, safe, and comfortable.
*ARRRFF, a BIG bark of THANK YOU to Nicole for this special guest post!
Be sure to subscribe to my YouTube Channel: Wet Nose Escapades by Roger Wellington for fun dog travel videos!
—
Like this post on "RVing with Your Dog: 10 MUST-KNOW Tips to Keep Your Dog Safe & Comfortable"? CLICK TO PIN!