Heeeelllllooooooooo, escapaders! As you already know, I'm a world escapader; I've been to more countries than the average human (and dog). I travel the world sniffing out the best local food and neighborhoods. Upon arrival, I hit the ground running on four paws and mark up big cities, resort towns, and villages. I always try to find ways to stay healthy and keep my nose wet as I bark off the health risks of long-term traveling. Unfortunately, traveling isn't always as dreamy as it seems; in fact, one of the most troubling aspects about traveling is excessive exposure to air pollution, especially second-hand smoke. Grrrr! The moment I get off that long international flight and set paw out of the airport, I'm often welcomed by harmful, penetrating cigarette smoke.
To put this into context, take my favorite city, Paris, for example. Now, THAT city is beyond a dream: the Louvre, Sacré Coeur, Sainte Chapelle, Notre Dame, Tour Eiffel, Jardin du Luxembourg, Place des Vosges, Le Marais, Latin Quarter, the vibrant café culture, and the world-class restaurants… Arf! There's just too much awesomeness to name! Heck, with so much to see, sniff, and mark, it's a dream within a dream. Much to my dismay, a dream vacation in Paris can quickly turn into a nightmare for your lungs; second-hand smoke is ubiquitous and unavoidable in the City of Lights.
I am constantly forced to turn-my-nose-up at all that toxic second-hand smoke, the enemy of healthy wet nose escapaders. The indecent act of polluting the air and endangering others (humans and doggies) makes me growl. Grrr! It's no secret that tobacco is dangerous to our respiratory system, leading to lung cancer and a host of other health conditions. Although second-hand smoke is almost unavoidable in many destinations abroad, there are a couple things I do to decrease my exposure during my long-term travels.



#1 How to deal with second-hand smoke in Europe (and abroad) :
SIT INSIDE
I know that smoking may still be allowed indoors in certain cities where health codes are lagging, but sitting inside is generally a safe bet. Many cities have banned smoking in enclosed public spaces (even the Czech Republic recently passed a smoking ban in restaurants indoor. Wag your tails, WOOOF-HOOOO!), so sit inside, chomp away at your meal, slurp your drinks, and breathe the unpolluted air. Yes, I love the Parisian café culture of sitting outside while sipping on a cup of coffee and human and/or dog-watching, BUT this seemingly enchanting experience comes with an expensive price tag to our health. Parisians (like many Europeans) LOVE to smoke. To avoid excessive exposure to the deadly pollution of cigarette smoke, smog, and construction, I opt to sit inside (at least every other time). Give your lungs a breather and skip the outdoor seating! If only your lungs can lick you to show their gratitude…

Try the BEST Beer Garden Food in Munich, Germany



#2 How to deal with second-hand smoke in Europe (and abroad):
GET FOOD "Take-Away"
Want to truly live like a local without subjecting yourself to the dangers of second-hand smoke? Get your food "take-away" and enjoy it at a public square or park. Great food – check. Wonderful ambience – check. Human/dog-watching – check. The best part about eating in open spaces is that you are mobile and free to walk away as you please, compared to being confined to the outdoor seating of a restaurant or café. For instance, say you are in Florence and just bought a hearty panini from the famous All'antico Vinaio. You walk over to the cultural Piazza della Signoria ready to devour the culinary masterpiece while studying the various classic sculptures, including Michelangelo's David (replica). THEN, some guy sits down next to you and lights up a cigarette. No need to growl while scratching the ground with your paws; simply grab your aromatic goods and sniff out a less polluted spot.



#3 How to deal with second-hand smoke in Europe (and abroad):
KEEP ON MOVIN'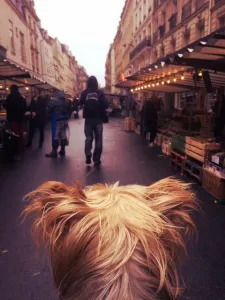 This is one simple and easy tip. When you're on the go and want to avoid second-hand smoke, just keep walking and moving until you can find a safe spot to breathe. Do you smell the cigarette smoke while walking past those two waiters who are taking a cigarette break outside? Well, walk fast and walk past! Avoid being stationary by allowing yourself to escape at least some of the pollution.
Eat the BEST Food in Lisbon, Portugal




#4 How to deal with second-hand smoke in Europe (and abroad):
HOLD YOUR BREATH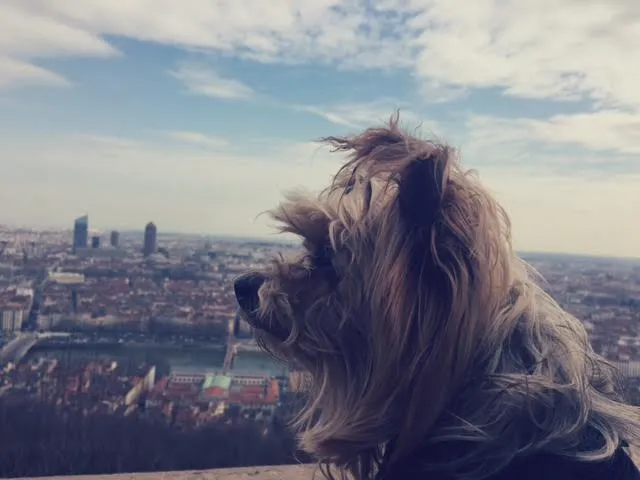 Hah, the oldest trick in the book! Don't want to inhale polluted air? Simply hold your breath for as long as you can until you reach a safe place; however, if you are unfortunately exposed to it for an extended period and just can't hold your breath for the entire time, do your best and try not to take deep breaths. I get especially irritated when the diner next to me continues to light up cigarettes one after another. I just want to bark – "PLEASE STOP!" If only humans could understand my barks…

Get a better and healthier routine on the road!



#5 How to deal with second-hand smoke in Europe (and abroad):
SKIP THE PEAK HOURS
Want to explore the city without having to deal with all the second-hand smoke and other hazardous pollutants? Skip the peak hours and explore either early in the morning before the crowds show up or late at night after they leave when there's less traffic (pedestrian and car) and construction activity. Some of the benefits of sniffing and marking during non-peak hours are fewer people, less stress, better pictures, and cleaner air. Also, locals tend to walk their dogs during non-peak hours, which is probably the best benefit. In addition to non-peak hours, it is also best to limit your days of exploration to weekdays, which is when there are fewer tourists. In addition to international tourists, locals from surrounding areas (i.e. domestic tourists) tend to flock to the major destinations over weekends. Again, remember that fewer people equates to fewer smokers, fewer cars, and ultimately LESS POLLUTION!
Keep your skin healthy on the road!
Escapaders, don't let second-hand smoke pollution ruin your health on your dream vacation or long-term travel. Although we can never completely avoid it, we can take some preventative measures to minimize exposure. Find more healthy travel tips HERE and feel free to leave your own tip below!
Markin' it up,
Roger Wellington a.k.a. The Doob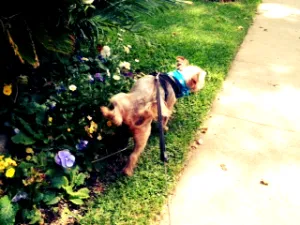 *Please note that this post contains affiliate links, and at no obligation or additional cost to you, my humans and I earn a small commission if you make a purchase. If you love the work that we do, you can show your support by making a purchase through an affiliate link. Proceeds will go towards feeding homeless dogs (and cats) along with improving the lives of the neglected and abused.
—
Like my post? PIN IT!