Ciao tutti! Thinking of going on a day trip to Siena, Italy with a dog? ARF, listen to the alpha barks of this former furry Italian!
Posted 6/16/21
*Please note that this post contains affiliate links, and at no obligation or additional cost to you, my humans and I earn a small commission if you make a purchase. If you love the work that we do, you can show your support by making a purchase through an affiliate link. Proceeds will go towards feeding homeless dogs (and cats) along with improving the lives of the neglected and abused.
Since I used to live in Florence, I can bark with an upright tail that Siena is well worth the day trip or even a weekend getaway. AH-HOOO, believe it or not, the enchanting Tuscan hilltown of Siena used to rival Florence during medieval times. However, its power dwindled while Florence became the center of the Renaissance. Nevertheless, like Florence, Siena is rich in history and art AND has strong medieval remnants. Legend has it that Siena was founded by the two sons of Remus named Senius and Aschius. After their father's murder in Rome, the two brothers fled and took the legendary She-Wolf sculpture with them, which inevitably became a symbol of the town. It is arguably the most famous walled city in Tuscany. Siena's medieval history is so renowned that it has been declared a UNESCO World Heritage Site. ARF-my-Dog! Home to the world's oldest bank, this city was a major banking powerhouse back in the 13th and 14th centuries. Although the art culture here may not be as recognized as Florence's, it has brought forth some ARF-mazing painters like Duccio, Simone Martini, and Ambrogio Lorenzetti. ARF-kay, that's enough history for now. Keep sniffing my furry buttocks to find out what it's like visiting Siena, Italy with a dog!
WOOF, why visit Siena, Italy with a dog?
Well, besides being one of the most popular and visited destinations in Tuscany, this fantastic medieval city has bountiful dog-friendly activities. Not to bark, small dogs like myself can ride the trains in Italy FOR FREE! So, why not??!!
Dog-Friendly Trains in Italy
Being a small dog weighing, I get to travel for FREE on trains throughout Italy. As long as I stay inside a carrier no bigger than 25.5x12x15.5 in., I'm free to hop from train to train with my humans. For the most part, the carrier enforcement is relaxed so I've taken many breaks out of my carrier to gaze out the window for some ARF-mazing scenery. Heck, I'm even allowed to board first class! WOOF, this makes day trips from Florence to Siena and Pisa easy peasy.
Per the official Italia Rail website, you'll need your dog's E.U. Pet Passport OR dog registration certification and health card. All small animals (including cats) who fit inside the carrier dimensions can travel FOR FREE in first and second class while bigger dogs with a muzzle and leash can travel on Express, IC, and ICN trains in both first and second-class. During morning weekday rush hours between 7 and 9 am, you must purchase a second-class ticket for your bigger dog at a discounted rate of 50% of the original price. HOWEVER, after setting my tiny furry paws on countless train rides all over Italy, I can only bark that I've only seen bigger dogs on leash but not necessarily muzzled. And, I've never been asked for my E.U. Pet Passport. Regardless, I recommend that you still follow the rules as a visitor. However, if you somehow forget to muzzle your dog or bring your dog's passport, chances are you should be OK.
The Traveling Yorkie arrives in Siena, Italy
As a seasoned dog traveler, I am capable of sleeping through train rides and waking up feeling refreshed. My silky hair may need a little combing (per my human), but other than that, I'm ready to take on the world and mark it up! I mean, I've only been on countless cross-country trains all over Europe.
An hour and a half later, I have set my tiny furry paws in Siena! First stop? PIZZA TIME!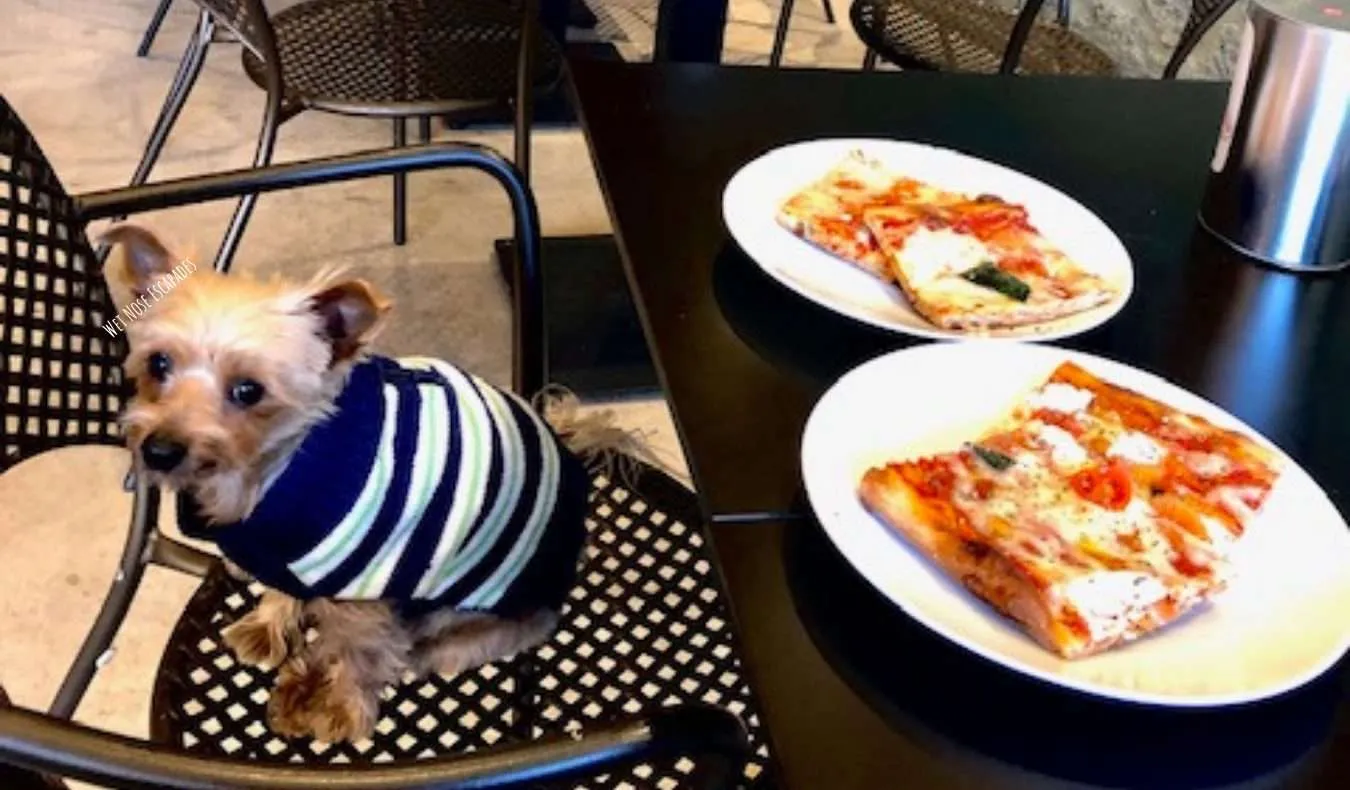 I can't go to Italy without stuffing my mouth with pizza! It's time to fill up my little Yorkie belly – my human says I have the biggest appetite in the world. OK, I may be only 7-8 lbs, but I sure have a BIG dog's appetite. Whether you're a carnivore or vegetarian, there are plenty of options for your diet throughout Italy (although vegans may have a tougher time). Restaurants in Siena (and in Italy) will gladly accept your dog inside. Oftentimes, the staff will even bring out a water bowl without asking. If you don't get an offer, you can always ask politely. 🙂 If you haven't already heard, Italians are huge dog lovers! And, I can only bark sì, it's true!
Now, I gotta cool it down with a Spritz. ARF, if you're thinking "What's a Spritz?", let me just spit it out to you. This orangey wine-based cocktail is a classic Italian drink originating from Northern Italy. It's made from Prosecco, Aperol, and soda water. Did I bark that it's my human's favorite drink in Europe?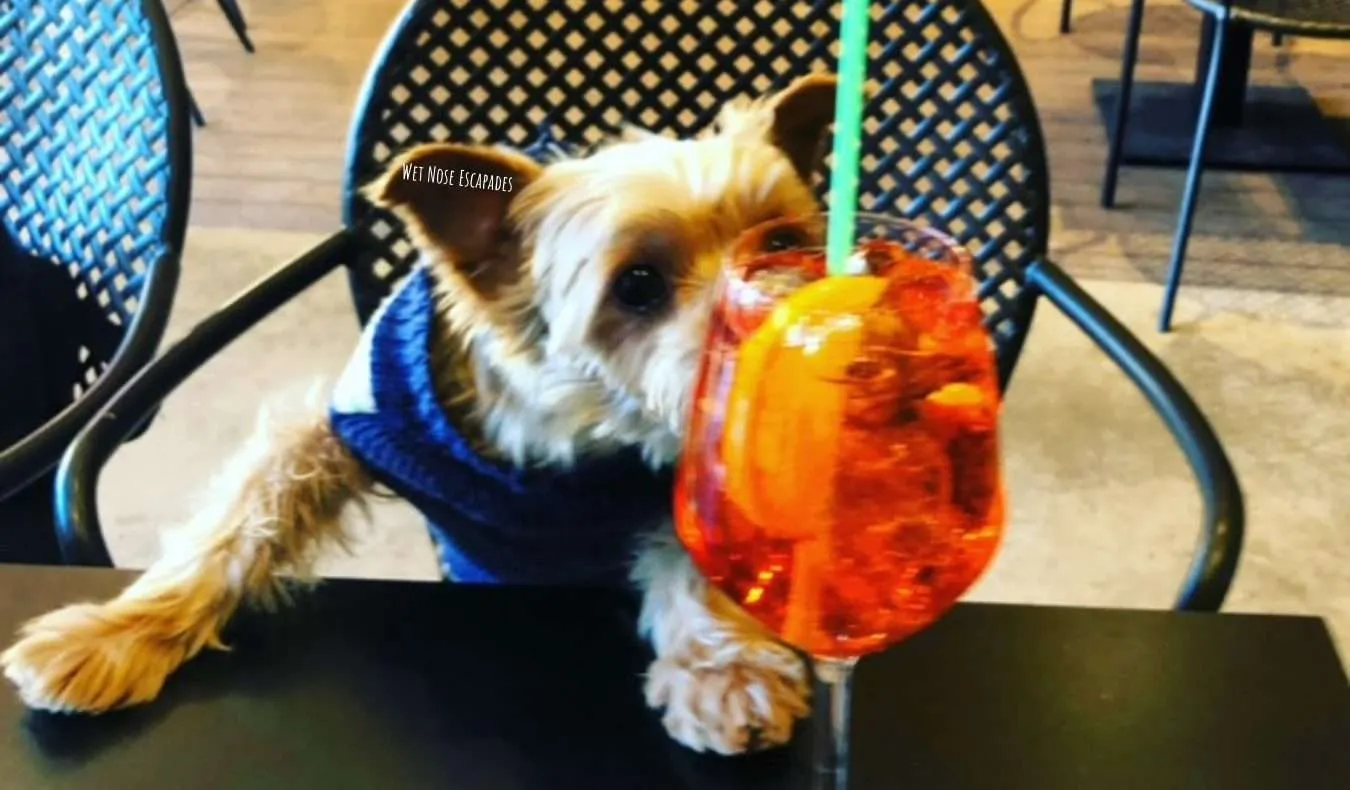 And, of course, I can't forget about dessert! I'm a furry international foodie who wants a lick of everything with my anaconda tongue. A donut hole rolled in powdered sugar, Zeppole has a fluffy center that's ARF-so-delicious. YUM!
OK, now that I've filled up my little Yorkie tummy – it's time to mingle with the furry Italians and sniff out some butts. Who's this cute ragazza?
Dog-Friendly Attractions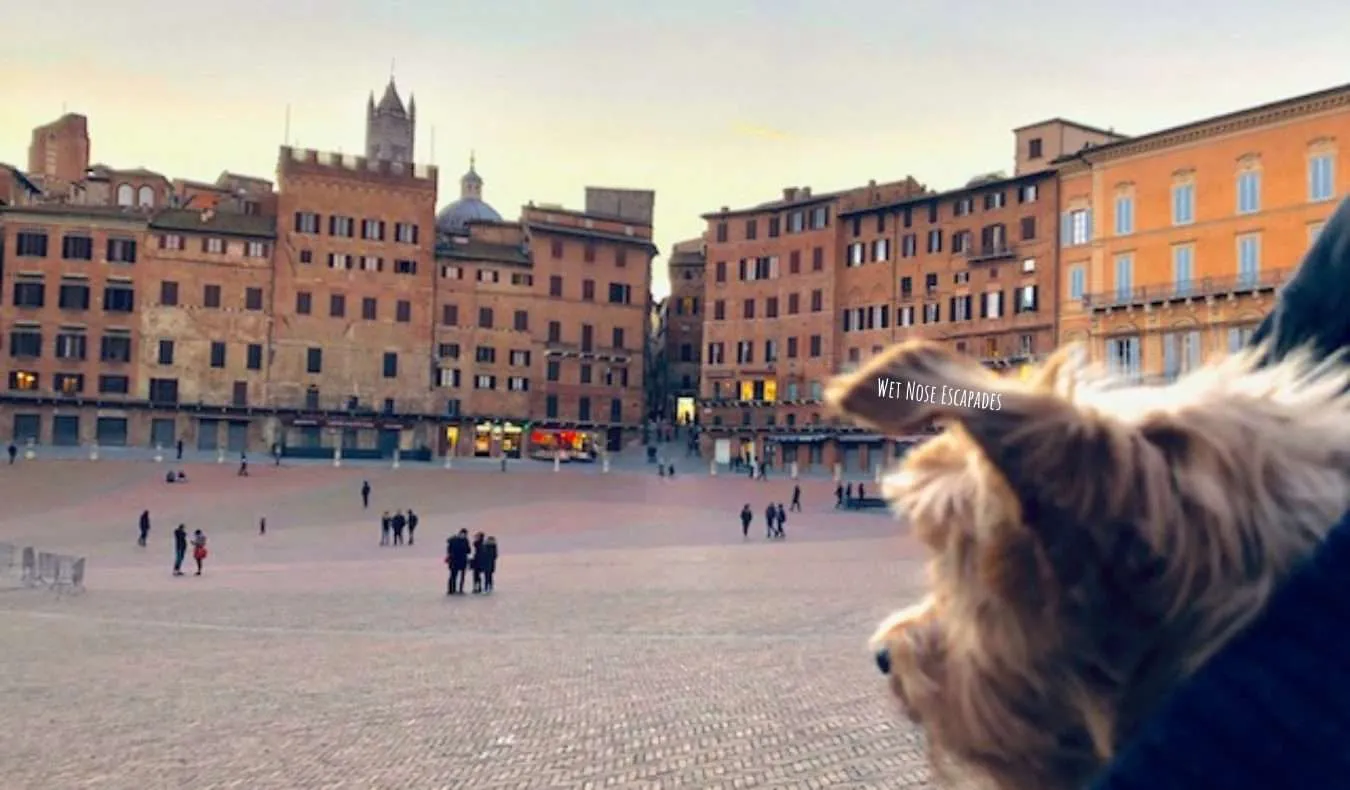 So the main square is Piazza del Campo, and WOOF, it is, indeed, a TOP DOG attraction! Due to its elegance and architecture, this gigantic public square is renowned as one of the best medieval squares in Europe. I had to tilt my head for a better look – constructed with terracotta-colored brick and topped in white travertine, this distinct and beautiful shell-shaped square attracts visitors from all over the world. I have to bark that it is pretty darn pawsome. Surrounding the square is the Palazzo Pubblico, the 13th-century palace that illustrates intriguing Sienese Gothic architecture. Although dogs aren't allowed inside the palace or to climb up the tall bell tower a.k.a. Torre del Mangia (which is the second-highest in Italy), they are permitted to explore the delightful exterior grounds and post up for some prime human or dog-watching, especially from Fonte Gaia, the splendid water fountain located at the square.
The next stop to leave my alpha mark is the Siena Cathedral (Duomo di Siena), which is only a few minutes by paw from the square. Completed in the 14th century, this eye-catching church boasts Italian Gothic, Romanesque, and Classical styles. Like the Palazzo, dogs are not allowed inside but that doesn't stop me from getting a good sniff from the outside. Right in front of the Duomo, my Sherlock wet nose also stopped at Santa Maria della Scala, one of Europe's oldest hospitals dating back to as early as 898 AD which has turned into a museum.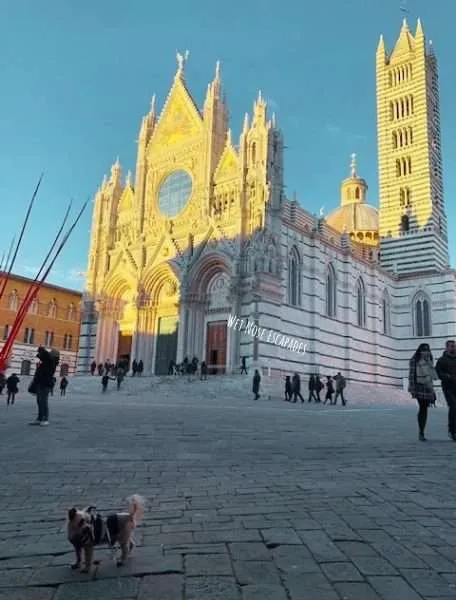 If you're a shopper, then sniff no further! Without the big commercial shopping mall feel, Siena is filled with cute boutiques, craft stores, and souvenir shops. Be sure to check out these streets for some prime wandering and Tuscan shopping: Via Banchi di Sopra and Via di Citta.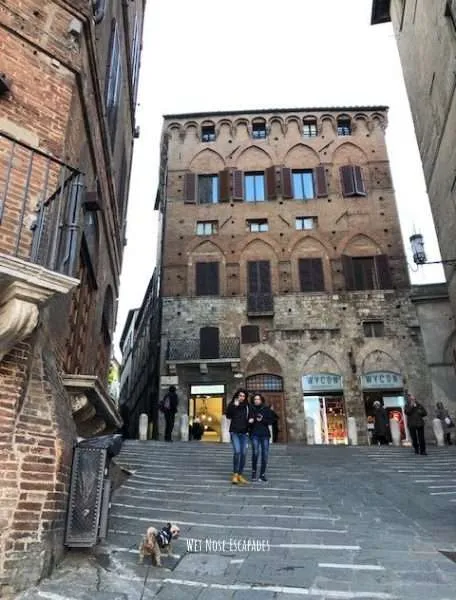 Since I'm not much of a shopper (unless it's food shopping – then I'll let my wet nose do the shopping), I prefer to follow wherever my wet nose takes me. The best part about Siena is that you can just roam around uphill and downhill and admire the Romanesque-Gothic architectural masterpieces. With all the uphill and steps galore, it's easy to get a workout! Since I have a powerful built-in GPS nose, I never fear getting lost! In fact, my #1 human relies on me to take her home all the time. 🙂
Dog-Friendly Dining
Arf, finally it's time to rest my paws from all that walking! My pawfectly groomed tail is wagging for APERITIVO TIME!
Even though this Italian tradition started in the north, aperitivo can be found and enjoyed anywhere in Italy. So, what the heck is aperitivo (or apéritif)? WOOF, let me bark it out for you – Aperitivo is a cocktail (or wine) with light snacks (typically finger foods) to warm up your appetite before dinner. Since Italians tend to eat dinner late around 8 or 9 pm, aperitivo usually happens around 7 pm. Although it's a way to socialize after a long day at work, it's important to not confuse this Italian tradition with the happy hour that we are accustomed to in the U.S. With a history of intention to stimulate the appetite before a meal, aperitivo is perfected through careful convergence of bittersweet liquors like Aperol Spritz and salty finger foods.
For an international foodie like me, it's hard not to stick my little wet nose in those sniff-worthy aperitivo lines. ARF, I must get my paws on those chops-lickin' olives, bruschetta, and crostini! Whether you go to a local or upscale aperitivo spot, you can take your dog with you! Unlike the U.S., dogs are allowed INSIDE restaurants and bars in Italy. Come to think of it, after several years of living and traveling throughout the country, I was denied once and only once – at an upscale touristy restaurant in Rome.
Get my 8 tips on how to dine with your dog!
*As dogs are pack animals who'd LOVE to experience meals with you, don't forget to pack a bag of treats, dog-safe food, bottled water, and to-go bowls for your dog! Don't make your dog feel left out.
If you want to live like a real Italian, then be sure to save some room in your tummy for a delicious Tuscan dinner. Remember, aperitivo is not meant to be a meal – it's merely an appetizer before dinner. For dinner, get your paws greasy with some Tuscan favorites: fettunta (toasted bread with garlic, olive oil, and salt), ribollita (bean and kale soup), acquacotta (vegetable soup with a poached egg), potato tortellini, and pappa al pomodoro (bread tomato soup). Be sure to lick your plates and bowls clean! If not, I'll be happy to do so for you. 🙂
Now it's time to head back home to Florence. ARF, Ciao! Hope you enjoy visiting Siena, Italy with your dog!
Markin' it up,
Roger Wellington a.k.a. The Doob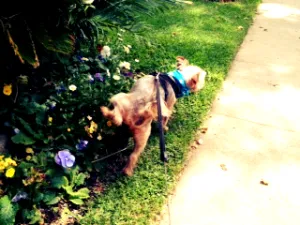 Like my post on "Day Trip to Siena, Italy with a Dog"? CLICK TO PIN!