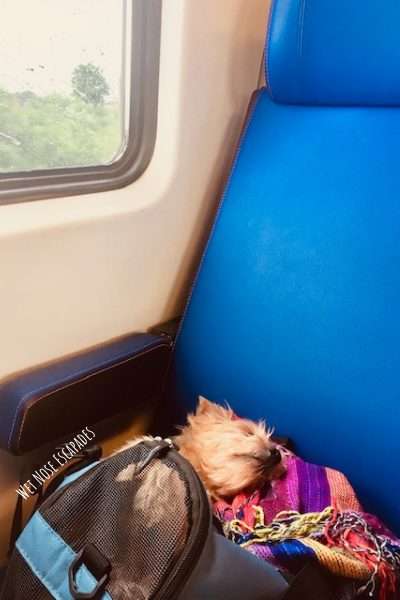 Are you looking for the BEST small dog or Yorkie travel bag? If so, then stop your wet nose right here as you've set your furry paws at the right place. As a world traveling Yorkie who has relished an envious nomadic life since 2016, I love helping dog pawrents choose the best small dog or Yorkie travel bag.
A careless or impulsive purchase of a dog carrier without thorough research may not only have disastrous effects on your Yorkie or small dog's well-being, but it could also get you denied at the airline check-in counter. Whether you are flying to Europe with your small dog or hopping on a quick 60-minute flight to visit granny, I'm happy to bark out how to carefully select the right travel bag for your beloved furry family member. 
Last Updated 7/5/23
*Please note that this post contains
affiliate links
, and at no obligation or additional cost to you, my humans and I earn a small commission if you make a purchase. If you love the work that we do, you can show your support by making a purchase through an affiliate link. Proceeds will go towards
feeding homeless dogs (and cats) along with improving the lives of the neglected and abused
.
10 Tips on Choosing the BEST Yorkie Travel Bag:
Check for carrier dimensions and/or weight limit, as required by the airline
First, obtain your airline's maximum dimensions for a pet carrier as this can make or break your Yorkie or small dog's flight entry. 
The most common dimensions for a pet carrier are roughly 18 inches long X 11 inches wide X 11 inches high (46 cm X 28 cm X 28 cm), but every airline may have different standards. Therefore, please check your airline's website for the exact dimensions. Most airlines only have limitations on the carrier size whereas others also include a total weight limit for both the dog AND the carrier, ranging anywhere from 10 to 25 lbs.
Even if the airline doesn't impose a strict weight limit, you'll still need to find a carrier that fits perfectly underneath that tiny seat in front of you, which means some VERY strict dimensions for the carrier and the size of your dog. For most airlines, the weight limit for a dog to fly in-cabin is 20 lbs; nevertheless, I once flew an airline with a 3.4 kg/11 lb. limit for myself AND my carrier. And DOG, I was searching all over for a light-weight soft carrier that was also big enough for me to sit and lay down.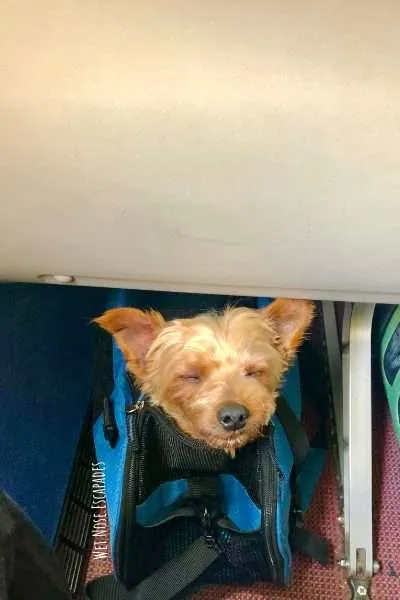 Generally speaking, the challenge arises in smaller planes with a significant reduction of space, usually flown by budget airlines. Keep in mind that most (if not, all) airlines will require that your dog must be able to sit, lay down, and stand inside the carrier. But, of course, such standards are for the sake of your dog's well-being.
Get all my exclusive dog-friendly travel tips HERE!
Consider the size of your Yorkie or small dog
How big is your Yorkie or small dog? If you're ordering a carrier online, you must know your dog's height, length, and weight beforehand and match up the dimensions with the appropriate carrier size. Besides meeting the airline's travel bag standards, you MUST consider your dog's comfort inside the carrier. No flight is ever worth your dog's life! Therefore, comfort is always KEY. As most Yorkies weigh 10 lbs or less, finding a carrier spacious enough for your small furry traveler generally should not be a problem.
However, with some Yorkies or Yorkie mixes being larger (hey, more love to jumbo Yorkies!), it may be difficult to find the balance between meeting the airline's carrier standards and ensuring a relaxed experience for your dog. For instance, if you have a 16 lb Yorkie (yes, they do exist) and your airline's total weight limit is 20 lbs with strict carrier dimensions, then it's a battle to make sure your Yorkie or small dog feels at ease inside the travel bag for the entire duration of the flight. Again, please ensure that your dog can effortlessly sit, stand, and lay down inside the carrier.
Make sure there's more than enough ventilation 
The best small dog or Yorkie travel bag must offer ample ventilation for your furry traveler. After all, who wants to be stuck inside a carrier period, regardless of how quick the flight? As a dog who suffered from a miserable life in a crate before adoption, I am the first to bark out against confining or caging your dog (whether small or large), especially on a routine, long-term basis. Nonetheless, when flying with your Yorkie or small dog, a travel bag or carrier is inevitable as required by the airline (unless you have a legitimate service dog). Secure a safe and smooth flight for your Yorkie by purchasing a highly ventilated carrier with multiple or large mesh windows or openings. As a rule of thumb, your Yorkie or small dog must be able to breathe effortlessly inside the carrier. Even if you're only flying your dog in-cabin (as you always should), then you should still avoid booking a flight during extreme temperatures (e.g. summer or winter). If you see your dog struggling or panting inside, please remove him or her out of the carrier immediately. 
Grab my exclusive guide on how to travel with your dog!
Always opt for soft exterior over hard
Unless you're flying your Yorkie or small dog via cargo (which I would NOT recommend), choosing a soft carrier is PAWS DOWN the better choice over a hard-sided carrier. Although a hard-sided carrier is sturdier and offers better protection for your dog, a soft carrier is indisputably lighter in weight, making it easier to transport (and store when not using). However, the best benefit of all is that it gives your small dog or Yorkie traveler more wiggle room inside.
Look for soft padding
A pet carrier or travel bag with a soft yet durable padded mat or interior bottom is crucial for maximum relaxation for your small dog or Yorkie on the flight. Place your hand against the padding to test out both its softness and firmness. If your Yorkie or small dog is sinking in deeply or molding the carrier, then it's a sure sign that the bottom padding is not firm enough.
Consider the weight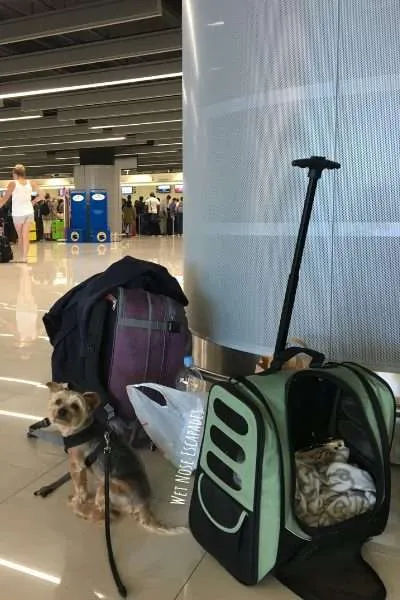 Even if you're getting a roller bag like the fabulous green one I have above, there will still be times when you have to carry or lift the bag by hand. Thus, you must think about the total weight, which is again, your dog's weight PLUS the weight of the carrier. It's ideal to find the best carrier that's comfy for your dog, meets the airline requirements, AND weighs as light as possible. 
As a frequent escapader, I have two carriers depending on the airline that I'm flying; the first one is a pretty spacious roller bag/backpack that fits perfectly under most U.S. airline seats. As it comes with multiple features, it weighs approximately 3.4 lbs. 
My second carrier is the typical soft, ultra-lightweight carrier that weighs a little over 1 lb.; although it offers an opening in the front, it doesn't provide as much space so I only resort to it if I have to meet any strict weight limit.
Think safety first
Ventilation is crucial for your Yorkie or small dog's well-being, but please bear in mind that having too many windows or easy to break through openings may make the carrier less secure. Carefully examine the carrier – how easy is it for your Yorkie or dog to escape? Is there tethering inside for extra security?
Find out what essentials to pack for your dog!
Always conduct a test-sit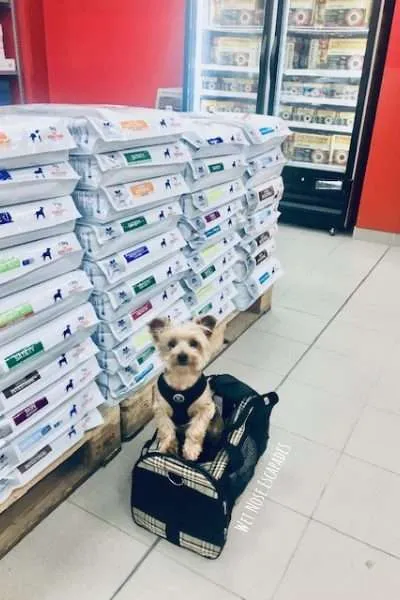 If you're shopping around for a carrier in-person, don't forget to bring your Yorkie or dog along for a "test-sit." Make sure there's enough room for your dog to wiggle a bit, sit, and lay down. If your dog appears tense in it, he or she likely feels uncomfortable; thus, do your homework and search until you find the right one. Again, it's about finding the balance between ensuring your dog's comfort and meeting the airline dimensions.
If you choose to order the travel bag or carrier online, double-check the refund policy – just in case it doesn't work out.
Consider your own capability
While your Yorkie or small dog's comfort is KEY, you must also consider your own strength and comfort. Are there shoulder straps? Are the shoulder straps padded for extra support? Are the straps adjustable? Do you feel physically capable of carrying it with your Yorkie or small dog inside IN ADDITION to any luggage you'll be hauling? 
25 Tips on How to Fly with Your Senior Dog!
Is it easy to clean?
This factor may be at the bottom of my list, but I will give a carrier extra brownie points if it's easier to clean. As dogs tend to bring back dirt and allergens with their furry paws, it's reasonable to find a travel bag that's uber easy to clean. Quick questions to ask – Is it leak-proof? Can you wash the padding? Is it easy to wipe down the interior and exterior? 
Consider sturdiness
Closely inspect the craftsmanship, material, and foundation. Is manufactured with high-quality materials?
Dog Travel Essentials: Part 2 – Make sure you grab everything you need for your travel dog!
You don't need to overpay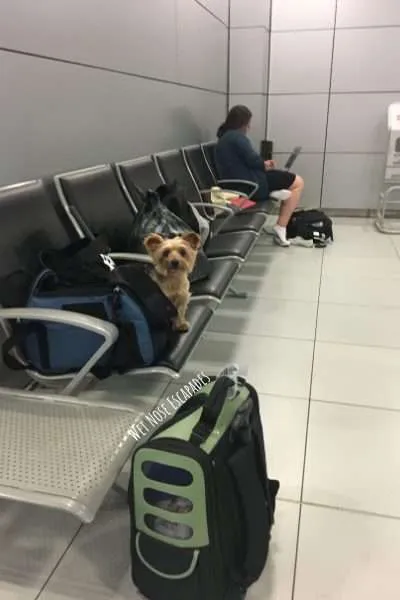 GRR, don't feel like you need to overpay for high quality! As a true nomadic dog, I have yet to replace my first carrier, which was purchased back in 2016 for a measly 40 bucks (including taxes)! The same goes for my lightweight backup travel bag, which my humans hunted all over the Bulgarian capital of Sofia last minute to meet the airline's weight requirement. The soft carrier, purchased in 2017, was even cheaper at only $20. Both carriers are surprisingly still in exceptional conditions despite trooping through countless international and domestic flights, train journeys, and bus rides (not to mention, various rain and snowstorms). Hence, unless you love designer brand names, you certainly don't need to spend more than $50 for a quality carrier.
BONUS TIP: Once you've found the perfect carrier for your Yorkie or small dog, it's time to start carrier training!
Don't forget to subscribe to my YouTube Channel: Wet Nose Escapades by Roger Wellington for fun dog travel videos. 🙂
Markin' it up,
Roger Wellington a.ka. The Doob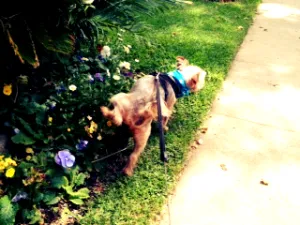 Like my post on "Choosing the BEST Small Dog or Yorkie Travel Bag"? CLICK TO PIN!