Woof, thinking of going on a day trip to Solvang with your dog? My crab-legged sidekick Penny Gurl has a bark or two on dog-friendly Solvang, California. Follow her hairy ear escapades now!
Markin' it up,
Roger Wellington a.k.a. The Doob
Posted 11/26/22
RUFF, ruff! Before I became the world-traveling Papshund (Papillon-Dachshund), my girlie paws covered thousands of miles on the road all over California and Nevada. And yet, one of the most ARF-mazing towns my pretty little wet nose has ever sniffed out is Solvang.
Just 34 miles north of Santa Barbara, Solvang is an IG-influencer dream for pictures at every angle! It's a mesmerizing Danish town resting in California's esteemed Santa Ynez Valley. Founded in 1911 by Danish immigrants who wanted to escape the cold climate in the Midwest, the town's name translates to "sunny field." A head-tiltin' 9,000 acres were purchased for $75,000 to establish the town of Solvang. With a current population of 6,048 residents, this supaw cute town is BARKED as the unofficial "Danish capital of America."
My human and I stopped by Solvang on our way to San Luis Obispo from Santa Barbara. Dog, did we have a ball! WOOF, here's how to spend one PAWFECT day in Solvang with a dog:
ARF course, a sniff & walk through this mesmerizing Danish village is a MUST. Unlike my bossy big brother Roger W. the world-traveling Yorkie, I haven't been to Europe yet; hence, my needle nose was going crazy for a sniff of Scandinavia. Heck, there's no place like this in the U.S.! Only in Solvang can you find such a large concentration of authentic Danish-style architecture with old-world craftsmanship, including gabled roofs, four traditional windmills, and a replica of Copenhagen's Little Mermaid status. ARF-my-Dog!
Mission Drive is the main thoroughfare, but don't forget to sniff out the side streets – they are just as sniff-worthy!
Although I'm beta to Roger W., I'm an alpha female to the rest. Believe it or not, I "mark it up" as well. AWOOO, I'm THE HBIC.
Just a pretty BARK: Street parking was surprisingly easy and free on Mission Drive, but then again, we visited on a weekday.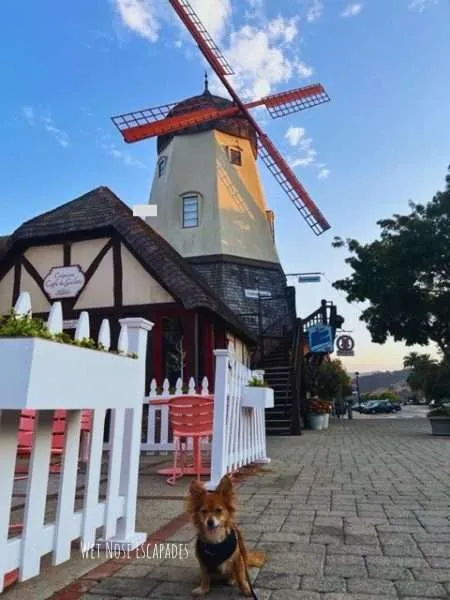 The star is, PAWS DOWN, the Solvang Windmill (1618 Copenhagen Dr.), pawbably the most photographed landmark of the town. With four traditional Danish windmills in Downtown, these iconic windmills are pivotal to Solvang's history.
Just a pretty BARK: Windmills were historically used in Denmark to grind grain into flour.
Besides the historical architecture, the best part about visiting Solvang is its plethora of Danish bakeries, which serve paw-lickin' traditional pastries and treats, from Viennese bread (Wienerbrød) to pancake balls (Æbleskiver).
ARF, the good news is that most bakeries in this town have cutesy, colorful outdoor patios – something you'd find straight out of a children's fairytale book.
The Solvang Bakery (438 Alisal Road) – This boutique bakery is known for gingerbread houses, Danish wedding cakes, and flakey buttery pastries. Right next to the Solvang Windmill, the pink-themed outdoor patio with a white picket fence is pawfect for dining with your dog.
Mortensen's Danish Bakery (1588 Mission) – From danishes to hot chocolate, this charming bakery/cafe in Petersen Village Square preserves old-world recipes from Ove Mortensen, a Danish baker from Copenhagen. There is ample dog-friendly outdoor seating!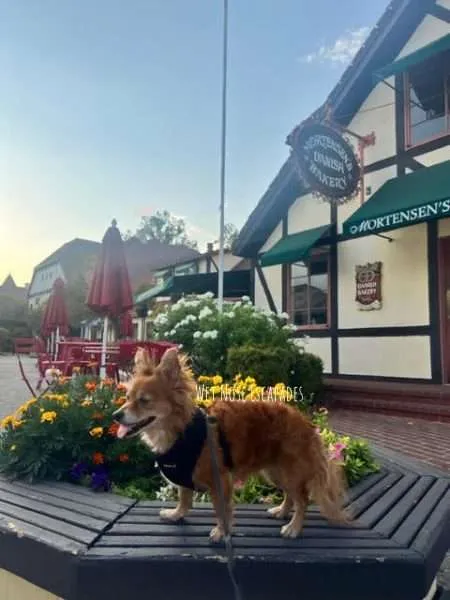 Olsen's Danish Village Bakery (1529 Mission Drive) – An authentic Danish joint founded by a third-generation master baker, this award-winning bakery offers Danish custard kringles, almond tarts, butter rings, and RundsTykker Danish Continental Breakfast. Dogs are welcome to dine with their humans in the outdoor seating right in front of the storefront.
Old Danish Fudge Kitchen (441 Alisal Road) – From caramel apples to peanut brittle, this bakery has been serving up the tastiest gourmet fudge since 1961! There is no outdoor patio, but dogs are welcome inside per Yelp. Not to howl, there's also a bench right outside.
My prissy Papillon tail wagged as I sniffed out posters on various storefronts promoting the safety of furry paws on hot grounds. I also dropped my long bewitching mouth slightly open with a few crooked teeth showing when I found a free poop bag station at Solvang Park. RUFF, I am lovin' the dog culture in Solvang!
Solvang Park (1630 Mission Dr) is a small park in Downtown, but it does the job for dogs. Plus, you can't miss it due to its prime location on the main drive. In addition to the gazebo, tables & benches, and grassy field, there's a statue of Han Christian Andersen, the famous Danish author who wrote The Little Mermaid. I heard the park is meticulously adorned with lights and Christmas decorations during the holiday season, so I must return for a sniff!
*Besides street parking, I sniffed out a parking lot on the back street.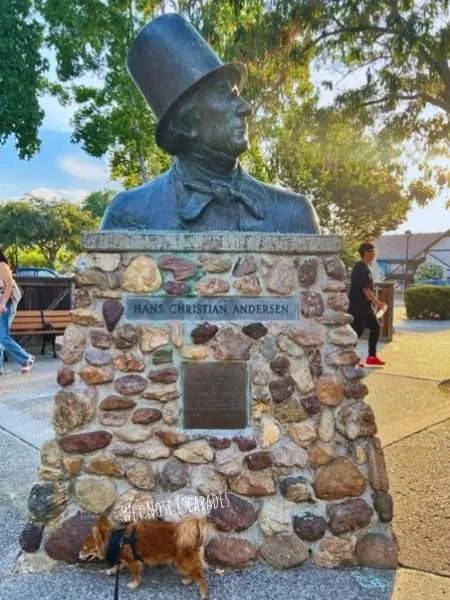 Other sniff-worthy parks in the area:
Sunny Fields Park (900 Alamo Pintado Road) – This local park has a large flat grassy area, a poop bag station, and a nice path to walk your dog.
Hans Christian Andersen Park (633 Chalk Hill Rd) – A pawsome park with oak trees and a castle arch, Han Christian Andersen Park has a dog-friendly trail through a small hill with lots of shade.
AWOOO, I couldn't wait to bark at Roger W. that Solvang is VERY dog-friendly!
ARF-ter walking my skinny crab legs around town, my stomach started growling – not a pretty sound! I quickly gave my human some dramatic stares to let her know it was time for lunch! My beautiful tail immediately went upright as I sniffed out a myriad of Danish eateries and brewpubs with dog-friendly outdoor patios. It was a tough decision, but my pretty little wet nose stopped at Solvang Brewing Company (1547 Mission Drive), which has a full menu of human goodies like sandwiches, sausages, and burgers (along with their handcrafted beers like the Solvang IPA). Most impawtantly, it features a spacious inviting patio with artificial grass that welcomes furry diners!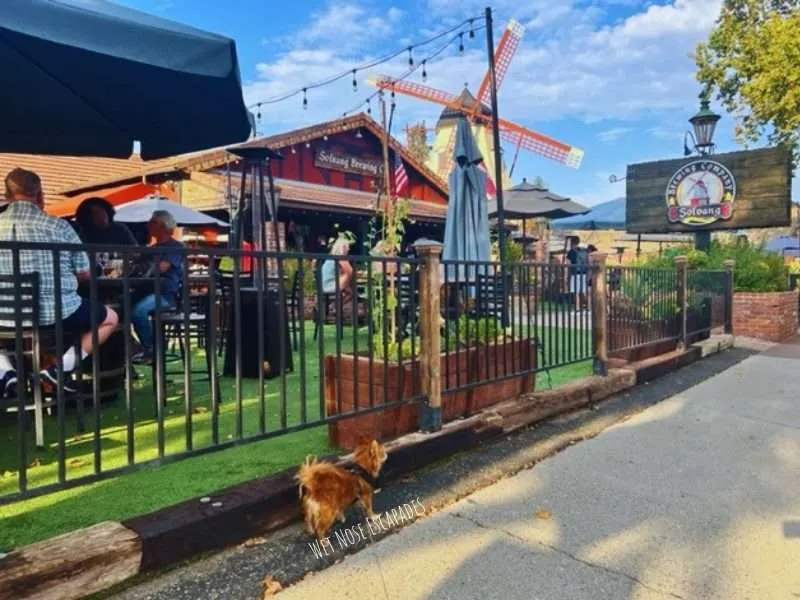 My brown nose did quite a bit of sniffing of menus and outdoor patios before deciding on lunch. The runner-ups for some dog-friendly alfresco dining were Cecco Ristorante (475 1st Street), Paula's Pancake House (1531 Mission Drive), CHOMP Burgers, Fries, & Shakes (1693 Mission Drive), and Big Bopper Drive-in (1510 Mission Drive).
Just a pretty BARK: As dogs are pack animals who'd LOVE to experience meals with you, don't forget to pack a bag of treats, dog-safe food, bottled water, and to-go bowls for your dog! Don't make your dog feel left out.
Once I got some food in my little stomach, I was ready to class it up for some wine tasting! Solvang boasts more than 120 wineries in the area (not to howl, 20 tasting rooms flood Downtown alone). Most offer dog-friendly outdoor seating, so it's best to hop around! As a matter of bark, all the wineries I came across welcome dogs on their patios. Here are a few dog-friendly wineries and tasting rooms in Solvang: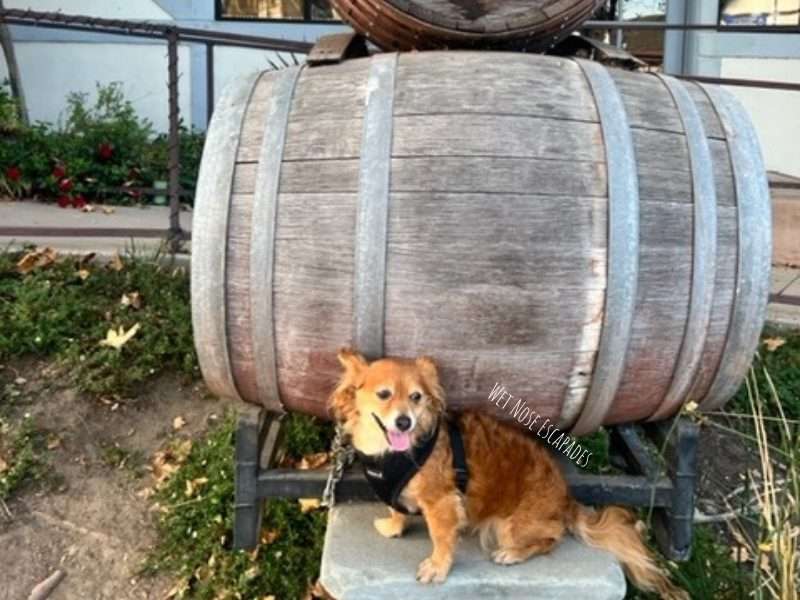 McClain Cellars (1623 Mission Drive, Suite B) – Dogs are welcome to join their humans in a luxurious, loungey wine-tasting experience in front of their 36-foot-long fire pit with treats like artisan popcorn, cheese, and charcuterie. Weekends feature live jazz and blues music!
Alma Rosa Winery & Vineyards (1623 Mission Drive) – Specializing in wines produced in small quantities (less than 400 cases), Alma Rosa is renowned for its Pinot Noir and Chardonnay wines. Their dog-friendly heated patio is surrounded by building walls, making it a more secluded and private experience.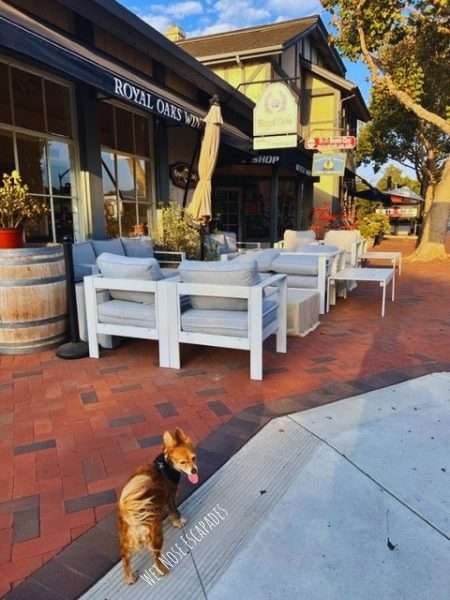 Royal Oaks Winery (1687 Mission Drive) – They're all about dessert/fruit wines here, so this SPAWT is for you if you've got a sweet tooth. With two outdoor patio areas (one in the front and another in the back), the dog-friendly space at Royal Oaks is simply bountiful.
Arrowsmith's Wine Bar (1539C Mission Drive) – Run by two Europeans, Arrowsmith's Wine Bar boasts an ARF-mazing selection of wine, beer, espresso, pastries, salads, and panini. Formerly Wandering Dog Wine Bar, this European-style bar still welcomes dogs with open paws. 🙂
Once I finished sipping on some fine wine, I wiped my wide irresistible lips and continued with some more exploration. Here are a few sniff-worthy highlights:
The Book Loft (1680 Mission Drive) – Like me, this bookstore is adorable! Established in 1970, this independent bookstore boasts a unique selection of new, used and rare books. The staff can help you order a book, make a recommendation, ship a book, and gift wrap! As long as your dog is well-behaved, you shouldn't have any pawblem with entry!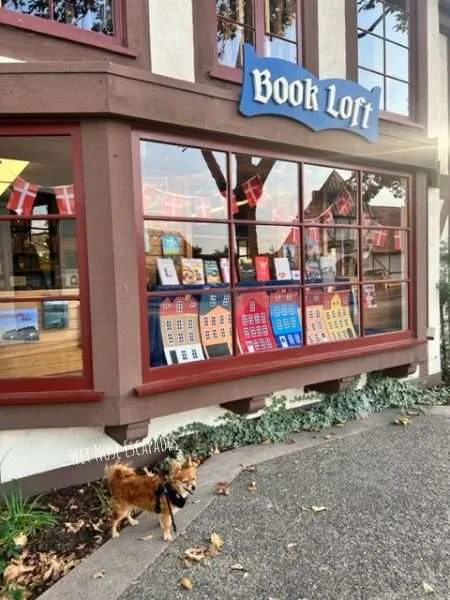 Hans Christian Andersen Museum (1680 Mission Drive) – Just upstairs of The Book Loft is the pawbulous Hans Christian Andersen Museum, a cozy dog-friendly museum showcasing books and exhibits of the famous Danish author.
Renaissance Antiques (496 1st St, Solvang) – With several antique shops in Solvang, it's always an tail-waggin' experience to sniff through old clocks and music boxes with your dog.
ARF yeah, please don't forget to snap a pic in front of this cute town sign on Copenhagen Drive! I did quite a bit of sniffing around the sign, indicating a frequently marked area (if only Roger W. were here).
Then it's dinner time! As barked earlier, numerous restaurants feature dog-friendly outdoor seating. We were looking to chomp on some juicy Danish sausages, so it was another tough decision between Copenhagen Sausage Garden (1660 Copenhagen Drive) and Viking Garden Restaurant (446 Alisal Road). Since my human was enticed by the beer garden setting, we ultimately went with Copenhagen Sausage Garden. With handmade succulent wursts (including vegan options) and traditional sides like pretzels and potato salad, this sausage garden did not fail to disappoint my Papshund appetite!
Due to its small size, Solvang makes the pawfect day trip with your dog! However if you decide to rest your furry paws for a night or two, I've got you covered with a few paw-picked dog-friendly Solvang hotels!
Solvang Inn & Cottages (1518 Mission Drive)
2-star hotel
2 dogs per room
$15 extra charge per dog per night
The M Solvang (293 Alisal Road)
3-star hotel
1 dog per room
$45 extra charge per dog per night
The Winston Solvang (486-C 1st Street)
4-star hotel
2 dogs per room, up to 50 lbs.
$100 extra per accommodation, per stay
ARF yeah, we heard about the nearby OstrichLand, where people can buy bowls of food to feed these giant birds and bring their well-behaved dogs along. However, due to the big question of ethics at this for-profit animal attraction, we have skipped this so-called "dog-friendly" destination without a doubt. No ostrich jerky for me – I'm howling a big PAWS DOWN!
RUFF, I hope you enjoy visiting Solvang with your dog! I can't wait to return on my next California road trip!
Be sure to subscribe to our YouTube Channel: Wet Nose Escapades by Roger Wellington for fun dog videos! Watch me fly out of the U.S. here.
Rollin' it out,
Penny Rose a.k.a. Penny Gurl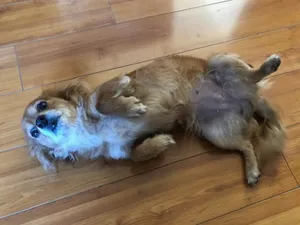 –
Like my post on "How to Spend One PAWFECT Day in Solvang with a Dog"? CLICK TO PIN!