Wanna hear REAL sounds of a Yorkie? How many sounds can a Yorkie make? ARRRF. GRRR. WOOF. AROOOOO! 
Yorkies may be small or "toy" dogs, but we sure have BIG personalities. For one, we aren't afraid to speak our minds. Whenever I want something, I'll let my humans know. Seriously, I'll bark at them until I get what I want! Second, we Yorkies can hold our own; big dogs don't intimidate us. As a confident alpha dog, I always have my tail upright no matter where I set my paws or who I sniff out. People who know me will tell you that I'm feisty, fearless, and determined. Third, Yorkies make sophisticated foodies and furry dining companions. With a great appetite, I've become an international foodie who loves devouring goodies from all over! Watch my exclusive video now to listen to OVER 10 of my greatest Yorkie sounds…
Press PLAY with your furry paw below to watch "The Sounds of a Yorkie by Roger Wellington": 
Sniff-Worthy Video Highlights:
HOWLING: Only when I feel like honoring my wolf ancestry by joining the sounds of the sirens…
GROWLING: When I smell danger or strangeness! OR in the words of Frank Costanza from Seinfeld, "This guy…this is not my kind of guy."
SPEAKING: When I want to express myself. WOOF, I do speak my mind!  
INVESTIGATING: When I sniff out everything thoroughly and carefully! Or sometimes, I'm just looking for treats.
SNACKING: When I lick my chops to heavenly goodies. I LIVE for food.
KICKING: When I MUST leave my alpha mark! I gotta send out a very important message – Don't mess with the BOSS!
And, many more surprises and sounds of a Yorkie! 
Don't forget to subscribe to my Youtube Channel: Wet Nose Escapades by Roger Wellington for more videos of ME being ME! Find out how dogs can raise a pack of humans (yes, you read that right!) and hide from a yucky bath.
Markin' it up,
Roger Wellington a.k.a. The Doob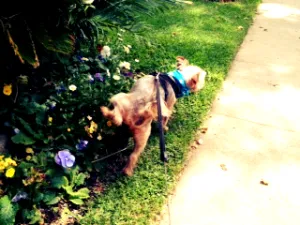 Like my post on "The Sounds of a Yorkie by Roger Wellington"? PIN IT!