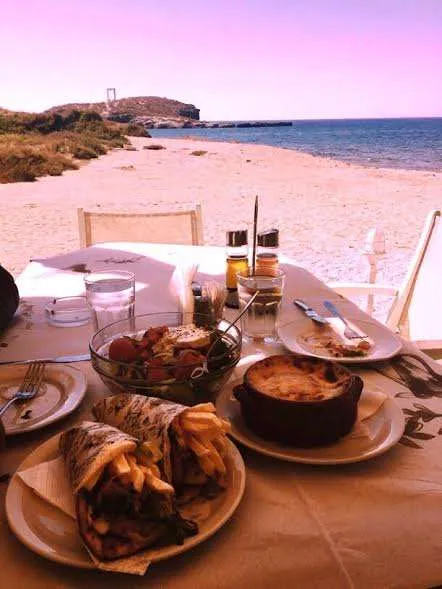 Χαίρετε, escapaders! Besides the rich history of Western civilization, honeymoon islands, and all the CATS, Greece is known for its phenomenal food. Aahhhhh…Greek food. Double Woof Hooooo. Greek food is one of my favorite cuisines in the world, and for a very simple reason – everything is sooooo darn yummy! Plus, if I feel like skipping the meat, veggie dishes are ubiquitous. When in Greece, I find myself asking the same question over and over again – souvlaki or gyro? OR perhaps both? Greek food contains a myriad of delicious meats and vegetables, well-suited for a balanced delight. Whether you are in historic Athens, touristy Santorini, or party central Mykonos, you must indulge in some authentic Greek food to complete your Greek experience. Here is my list of 10 of the BEST Greek Foods:
# 1 Gyro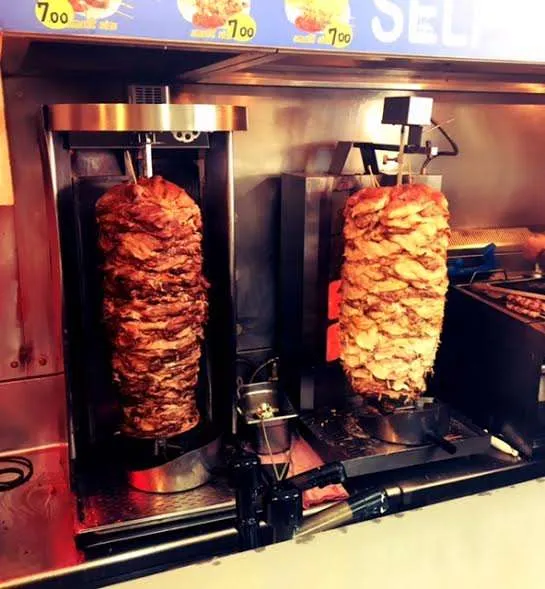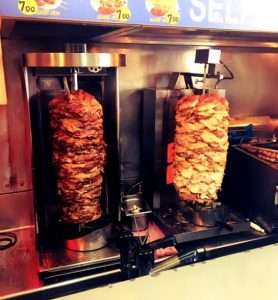 You cannot talk about Greek food without mentioning the gyro. Come on, it's the GYRO! While often misunderstood to  be the sandwich/wrap itself, "gyro" (sounds like "euro" as opposed to the often mispronounced "guy-ro") actually only describes the meat; what makes it a gyro is the process of cooking thin pieces of meat (typically chicken or pork) on a vertical spit that rotates. It is basically a rotisserie that is turned upright. In Greece, you can get gyro however you want – on a plate or in pita. My favorite is chicken gyro in pita; that's thin chicken slices with fries and veggies, all wrapped in pita (sometimes with a splash of tzatiki, which is the famous Greek yogurt-based sauce). It's a quick and cheap (yet soooooo filling) meal.
#2 Souvlaki
Souvlaki is THE fast food of Greece: cheap, fast, and irresistible! Yep, fast Greek food at its very best. Souvlakia are skewered chunks of meat that are grilled. There are various ways to eat souvlakia: you can wrap them in a pita with fries and veggies, serve them over a bed of rice on a plate, or simply eat them right off the skewer. Arrrrrrffff, I can use a stick right now! I'd take souvlaki over beef jerky treats any day.
#3 Kebab
Yea, we all know kebabs (or at least we think we do). They're the skewers of meat that we grill at our backyard BBQs – the ones that all the obnoxious kids fight over. Who wouldn't want to eat meat off a stick?! So what is the difference between souvlaki and kebab? Aren't they both grilled, skewered meat? Yes, but their origins is where they differ: kebabs are from the Middle East while souvlakia come from Greece. Hmmm, then are kebabs still considered Greek food? Historically, no. Nevertheless, let's just say that kebabs have long become ingrained in Greek cuisine and are now found virtually everywhere throughout the country. Although the definition of kebab may differ in other parts of the world, kebabs in Greece tend to be typically made of only minced lamb and/or beef. And by the way, don't bother looking for veggies on the stick.
#4 Gemista
OK, that's enough meat talk for now. Let's move onto some veggies! Gemistas are a vegetarian's dream in Greece: baked tomatoes or bell peppers filled with juicy, flavorful rice. As the exterior is baked until slightly brown, every bite is succulent and oh-so-delightful. The word gemista simply means "filled with" in Greek; hence, they are called "stuffed tomatoes" or "stuffed peppers." Although generally a summer treat, this dish can be gobbled down anytime throughout the year (or at least that's what I do).
#5 Moussaka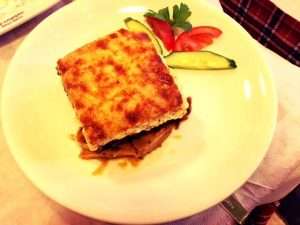 On my last trip to Athens, I met an athletic 82-year-old Athenian who advised me on what kind of food to order for two people: "One moussaka and one Greek salad; that's it!" Ta Da! He was right! The eggplant-based moussaka is right on point; it is (like) a casserole layered with eggplant, minced beef (or other meat options), potatoes, and béchamel sauce (white sauce). It is baked to perfection and served straight from the oven. There are several variations of this classic dish; I have seen tomatoes thrown into the mix or more potatoes used instead of eggplant. And, good news for non-meat eaters – vegetarian moussakas are usually available on the menu.
#6 Horiatiki
Gosh, the wise Athenian was right: a Greek salad is a perfect complement for a moussaka; the fresh crunch of the Greek salad miraculously offsets the heartiness of the moussaka. You can either enjoy a greek salad as an appetizer or pair it with a moussaka for a sublime balance. Horiatiki is made with a hearty slice of feta cheese, chopped tomatoes,  cucumbers, onions, and olives (but don't forget to watch out for those olive pits – boy, do I hate chipping my teeth!) served with no other than the famous healthy olive oil. Whenever you visit Greece and want to share your meal with one other person, remember to take the wise Athenian's advice on what to order: "one moussaka and one Greek salad; that's it!" 
#7 Dolmades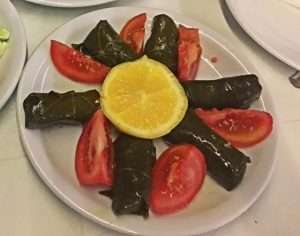 Hah! More stuffed food! An order of dolmades (or dolmas) is my #1 choice of cold appetizer in Greece because they are so freakin' refreshing; they almost remind me of the beginning of Springtime – there's life again! Although the word "dolma" (meaning "stuffed") originated in neighboring Turkey, these yummy-in-my-little-tummy stuffed grape leaves are a must-try in Greece, especially for vegetarians and vegans. Rice, pine nuts, tomato paste, onions, and mint (along with other ingredients) are intricately mixed with exotic spices to bring you undeniable tastiness. Olive oil and lemon juice are also thrown into the mix, making it quite a rejuvenating experience.
#8 Fava
This has to be one of the most intriguing dishes I tried in Greece; it's a smooth-tasting yellow split-pea purée that sets off a cozy vibe. Perhaps it even makes me homesick. If you can't tell by now, Greek food is very homey; so homey that you can get fava "married" (cooked in olive oil) or "unmarried" (without); both versions are served with onions and capers. Although a bit creamy, fava is quite light, which makes it a lovely appetizer.
#9 Melitzanosalata
Yippie, MORE eggplant! Eggplant spread is famous in Greek food. Even though some people may not like eggplant by itself, everyone (not just vegans) will love this spread! Mashed, roasted eggplant mixed with onions, garlic, olive oil, lemon juice, salt, pepper, parsley, and who knows what else to make this one INCREDIBLE warm dip for your pita. Time to lick your plate clean (if not, I have no problem doing it for you)!
#10 Bougatsa
Mmmmmm…my beloved Greek pastry. It wouldn't be a complete list of Greek food without bougatsas. Gotta love those flaky pastries. Although normally eaten at breakfast, I love eating them as fun snacks while drinking beer (I'm weird, I know!). The main ingredient, filo, gives bougatsas its flaky layers, similar to baklava. As they come in various fillings (such as minced meat, cheese, or semolina custard), they can be ordered as a savory snack or a delicious dessert.
And, that's all I have! Have a spectacular time devouring Greek food in Greece. Please say hi to the cats for me. Be sure to check out my where else I've set my alph paws!
Markin' it up,
Roger Wellington a.k.a. The Doob
—
Like my post? PIN IT!