Posted 11/6/20
Is Spain dog-friendly? Are you planning to travel to Spain with your dog? ARF, keep on sniffing!
After marking up Spain for a year, I can bark "Si, Spain is dog-friendly!" Although Spain is not as dog-friendly as Italy (where I shopped for handmade tagliatelle in a dog-designated grocery cart), it's indisputably more dog-friendly than my home country and state, the U.S. and California. For 11 months, I lived off of bocadillos and chased galgos with fancy jackets in Barcelona, the stunning seaside capital of Catalonia and 2nd largest city in Spain. Over the last few years, I've also spent a month people-watching at Plaza Mayor in Madrid and danced to flamenco in Southern Spain for several weeks. To assimilate, I even went by "Rogelio" (Spanish for Roger) to the perras guapas.
WOOF, here's what I wanna bark out about Spain's dog-friendly culture:
Subscribe to my YouTube Channel: Wet Nose Escapades by Roger Wellington for more fun dog travel videos!
*Please note that this post contains
affiliate links
, and at no obligation or additional cost to you, my humans and I earn a small commission if you make a purchase. If you love the work that we do, you can show your support by making a purchase through an affiliate link. Proceeds will go towards
feeding homeless dogs (and cats) along with improving the lives of the neglected and abused
.
Restaurants, Bars, & Coffee Shops
Are restaurants or food/drink establishments in Spain dog-friendly? Yes and No.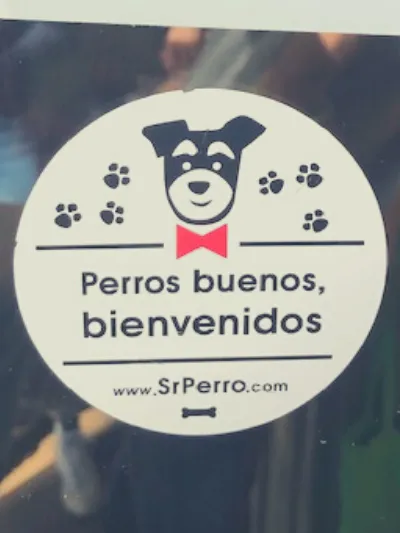 Be on the sniff out for Sr. Perro stickers! Sr. Perro (Mr. Dog) is a pawsome website that provides dog people with dog-friendly restaurants, bars, hotels, and shops in Spanish cities. Registered dog-friendly establishments have Sr. Perro stickers on their door to welcome your dog. From tapas bars to pintxos bars, you'll find plenty of food and drink establishments with Sr. Perro signs in Madrid and Barcelona that will gladly welcome furry paws at their doorsteps. Sure, you will also come across a "No Dog" sign or sticker in front of many restaurants and stores, but don't be discouraged! On innumerable occasions, I've wined and dined inside busy cervecerias, dimly lit overpriced hipster joints, and old school traditional Spanish restaurants that don't normally accept dogs. If you don't see any dog sign or sticker, don't be afraid to ask. If they are willing to accommodate, please remember to say "Muchas Gracias!" 
10 BEST Dog-Friendly Restaurants in Barcelona, Spain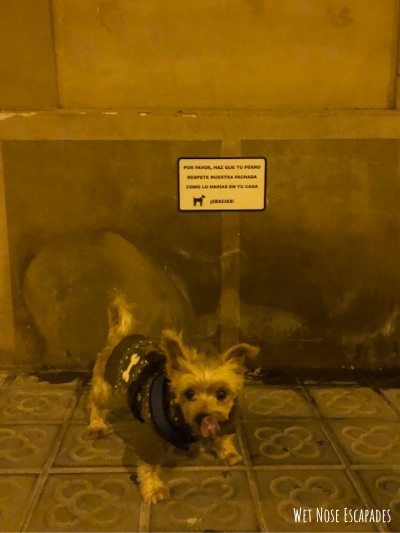 Besides those disappointing "No Dog" signs, you may stumble upon a few "Don't let your dog pee here" signs on building and store exteriors. As foreigners, we should always be respectful visitors. However, don't feel disheartened as many Spaniards LOVE dogs!
In Madrid, the owner of a traditional Spanish restaurant not only allowed me to dine INSIDE but also graciously offered me a wedge of mouthwatering cheese. With my greasy paws on the dining table, I enjoyed every bit of the cheese in my very own human chair! In the ARF-so-hip neighborhood of Embajadores, I snoozed for hours after scarfing down a tortilla Español at a coworking cafe while my humans did "human" work on laptops. During one chilly winter in Barcelona, the owners of a cutesy pastry shop insisted that I grub on my bread and jam indoors after seeing me wrapped up in a blankey outside. In my old hood Paral·lel (near La Rambla), I even received the red carpet treatment at a hotel restaurant that's uber-popular for their 3-course meal specials; the staff seated me upstairs in a private dining area where I sat comfortably on a human chair and licked my chops to paella de mariscos. 
Even if your dog doesn't experience the same warmth from Spanish business owners and wait staff, you'll come across numerous restaurants offering outdoor seating (for a small fee, typically 10%). Your dog can dog-watch as you devour tinto de verano and paella de mariscos. Your dog will easily find water bowls (and sometimes treats) outside of dining establishments, luring you to dine with them. Get my 8 tips on how to dine with your dog.
WOOF, dogs also take part in the country's popular nightlife culture, where they're found chilling at tapas bars with their humans of all ages. With Spain having an older population, it's never uncommon to sip on Estrellas next to a group of senior citizens chomping on Pimientos de Padrón (with their pooches relaxing under the table) – well after midnight. Spaniards sure know how to pawty!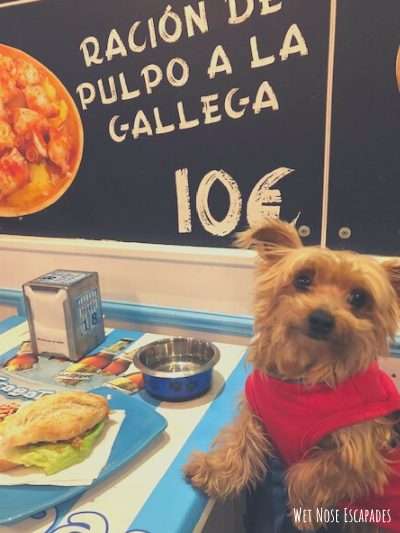 10 BEST Tapas in Barcelona, Spain
Markets and Bakeries 
Generally speaking, markets and bakeries do NOT allow dogs, but most will provide doggie parking stations right outside so your dog can wait for you while you do your shopping. I've never been "parked" before, but I sure wag my stylish rat tail to sniff out the temporarily "parked" doggies who are bored waiting for their humans. In small markets, dogs may have better luck! On several occasions, my human carried me in her arms at a local Asian market as she looked for frozen veggie gyozas and packaged udon (she was craving Japanese food after all the tapas).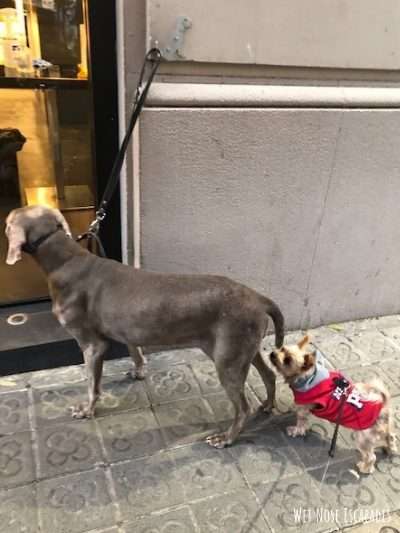 Pharmacies and Shops
A hit or miss when it comes to taking your dog into a pharmacy or shop. While I've set my furry paws into many pharmacies, I've also seen the "No Dog" sign on the doors of others. Since pharmacies and shops are privately owned, dog-friendliness is solely at the owner's discretion. If you don't see a "No Dog" sign, it doesn't hurt to try taking your dog in there – especially if you're making a quick purchase.
Public Parks
ARF, the best part about my Yorkie life in Barcelona, Spain is the plethora of dog-friendly parks. From Gaudi's internationally renowned Parc Güell to the oh-so-green Ciutadella Park to the tiny local favorite Plaça d'en Joanic, your dog will have plenty of markings and butts to sniff out. Just remember to be a good dog parent by cleaning up after your dog. My wet nose goes crazy here – I'll get stuck on an intriguing sniff for hours! Spain's late-night culture isn't just about tapas bars, but also only public parks – most (if not all) of which are dog-friendly.  On Friday and Saturday nights, I'll set my tiny alpha paws into local doggie hangouts where youngins and seniors drink and socialize while their off-leash dogs jump on one another. On any evening walk in my old hood Gracia in Barcelona, I'll drag my humans to 3 different dog-friendly parks within a 1-mi or so radius (Parc de Les Aigües to Pg de St. Joan to Jardins de Salvador Espriu). At del Princep de Girona where there are ping pong tables and an outdoor bar, pit bulls and boxers happily splash into the rectangular water fountain area to fetch balls despite "No Dog" signs. 
Watch me survive the first 5 days of lockdown in Spain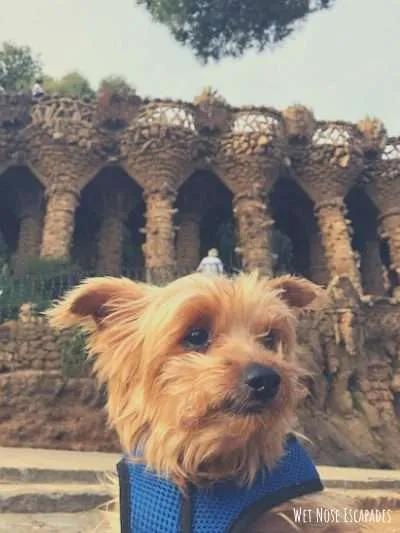 Public Water Fountains
Water fountains are everywhere! Your dog will never have to worry about being thirsty while outdoors. If you forget to pack a to-go bowl for your dog, don't worry – I've seen plenty of dogs drink straight from the water fountain. Sometimes animal lovers will leave plastic bowls for dogs next to water fountains. Also, dog bowls are frequently found outside of restaurants in bars in urban areas.
Off-Leash Walks
In addition to running loose at dog parks, well-behaved dogs frequently walk off-leash alongside or near their humans even on busy streets. As my humans are a little bit warier, I only walk off-leash during off hours when very few cars and pedestrians are around. 
Why dogs make the BEST travel buddies
Beaches
Dogs are typically either entirely banned from some beaches or allowed during non-peak days or months on others. For instance, dogs are technically NOT allowed on beaches in Barcelona over the weekends during peak season from April to October; however, I rarely see enforcement of the rules in Playa de La Barceloneta. But, of course, enforcement varies depending on the region or beach. Dog-friendly beaches DO exist in Spain. Take the popular 1200-meter Llevant Beach – dogs can dig up sand and run off-leash in fenced up dog-designated areas.  
Find out what essentials to pack for your dog!
Dog-Friendly Accommodations
Spain's dog-friendly culture is clearly shown through guest accommodations. Dog-friendly hotels and apartments in popular cities are easy to find (some even with resident doggies), but you may have to pay a daily fee for your dog's stay. My humans found that even the accommodations with a "No Pet Policy" will make exceptions when we commit to a long-term stay. If you've found the perfect place with no pet policy, don't be discouraged! After several trips to Spain over the last five years, my humans have been pleasantly surprised by how accommodating numerous establishments have been – more so than being rejected. From Toledo to Córdoba, I've chilled poolside on hotel rooftop bars, napped on plush couches in lobby lounges, and watched my human check her emails at the business centers. Bottom line – don't be afraid to ask – just email or call ahead of time! 
Tourist Attractions
Like in even the most dog-friendly countries, dogs are barred from entering indoor tourist attractions in Spain unless they are assistance dogs. Although dogs may not visit the Alhambra, Prado Museum, or Casa Mila, they are ALWAYS allowed on or near the exterior grounds for some IG-worthy photos. Look at me at La Sagrada Familia, Gaudi's unfinished UNESCO masterpiece! The park surrounding this jaw-dropping 100+-year-old basilica is dog-friendly with dirt pathways and even comes with a separate dog park. 
Grab my exclusive guide on how to travel with your dog!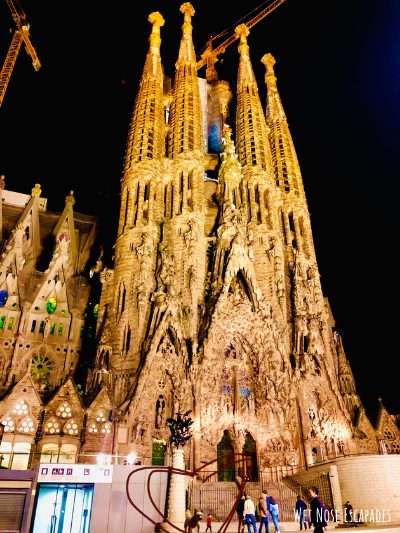 Public Transportation
Cab – Fortunately, small dogs like myself can travel inside the carrier or sit on the human's lap. I've never had any issues getting in a cab here. As for larger dogs, I've seen them getting off the cab but transported in large crates. If you have a big dog, it may be wise to call the cab company ahead of time. If you have baggage, you will get charged extra. 
Metro – YES! Dogs even ride for free on the Madrid metro! Again, small dogs like myself are easily transported in a carrier. Larger dogs are also allowed, but they must be leashed and muzzled. Dogs must NOT travel during rush hour. Dogs of all sizes are forbidden to be on the seats (although not heavily enforced). 
Click here for more information
*Please always check the official website for the latest info 
Trains – YES! Dogs are allowed on Renfe, Spain's national railway. 
Within Spain:
Dogs travel for FREE on all Cercanías trains (Spain's commuter rail system) – one animal per passenger. Dogs do NOT need to travel in a cage or carrier, but large dogs should wear muzzles. I've also effortlessly snoozed through the quick 3-hour train rides from Barcelona to Madrid.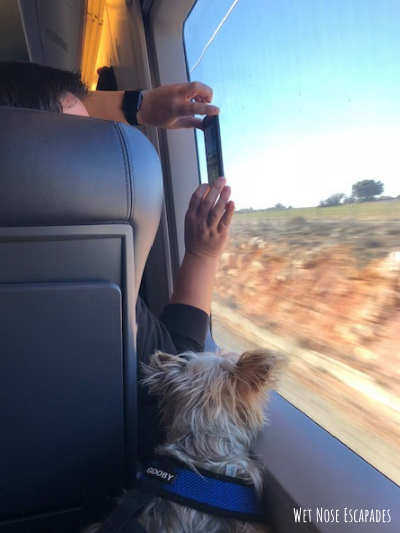 International routes:
Dogs can travel for only €15​ for all the international routes! One dog (or animal) per passenger. Dogs may NOT exceed 10 kg and must be transported in a crate or carrier that does not exceed 60 cm x 35 cm x 35 cm.
*Please always check the official website for the latest info 
Buses – Another win for small dogs! Small dogs in carriers can travel for FREE on bus routes. Except for working dogs (for the blind, disabled, and security personnel), larger dogs are not allowed. 
In case you're wondering, Uber is currently not available in Spain but UberEats has a notable presence in big cities (last updated 11/2020). According to the locals, Blablacar is a good rideshare option.
Is your dog ready for an epic road trip? Get these 16 Dog Road Trip Essentials!
Flying with your Dog in Spain
Can you fly your dog in Spain? Yes! Major Spanish airlines like Iberia and Vueling allow small dogs to fly in the cabin for a small fee (usually under 50 euros) as long as the total weight for the dog + carrier equates to 8 kg or less. The maximum carrier measurements are 45 cm long, 35 cm wide and 25 cm height (the sum of the three dimensions cannot exceed 105 cm).
Even though I've flown many flights to and from Spain without any problems, I did experience one bad flight. When I flew to Geneva from Madrid a few years ago, I started panting inside my carrier shortly after takeoff. The plane became stuffy quickly due to the lack of air conditioning. My humans immediately unzipped the carrier so I could have more ventilation, but the flight attendant subsequently demanded them to zip it up. Seeing that I was still panting, my humans refused to jeopardize my life. My humans pleaded that I would be in a life-threatening situation if I were forced back into the carrier due to the lack of ventilation. After FOUR TIMES of going back and forth, the flight attendants finally left us alone. Always check on your dog throughout the flight (nap with an open eye). Never put him or her at risk. If it means technically or temporarily breaking the airline rules, so be it. Remember, NO FLIGHT IS EVER WORTH YOUR DOG'S LIFE!
25 Tips on How to Fly with Your Senior Dog!
The Poop Situation
From my visits over the years, I can see that Spain has gotten more dog-friendly. Dog poop is still present on the streets but is noticeably less than the time when I last visited 2-3 years prior. More Spaniards are cleaning up after their dogs now, particularly in urban areas like Madrid and Barcelona. It has now become quite customary for people to dilute/wash off their dog's urine and poop on the ground or off the walls of buildings with bottled water. Therefore, be a respectful visitor by bringing bottled water and poop bags on walks. The only other country that my humans have frequently witnessed this practice is in Japan, where it's famously clean. However, you still need to watch where you're going with un-scooped poop on the streets. Just don't glue your eyes to your phone while walking your dog! 
Dog Welfare
Although most Spaniards truly adore their dogs, a fair amount of public dog abuse exists. From senior citizens to middle-aged adults to misguided teens to obnoxious young children, I've witnessed people of ALL ages hitting their dogs for barking, sniffing, or pulling. I'm not talking about a light slap either as dogs often yelp in pain or coward down in fear. In Madrid, one deranged looking 30-something-year-old man repeatedly yelled and pulled his beagle so violently that pedestrians on the entire block froze in disbelief. In Barcelona, a teenager violently punched her pit bull mix in the face for marking a pole. These are just two of countless sightings. I recognize that animal abuse laws and definitions may vary from place to place, but can never agree with any use of force and scare tactics on dogs; as we all know, the most humane way to train dogs is through positive reinforcement. My humans couldn't help but to speak up (as respectfully as possible) whenever they see abuse. Sadly, animal abuse exists everywhere – even in my progressive hometown California. However, when the abuse is blatant in public, we can only imagine what happens behind closed doors. 🙁 That's why it's so important that we all speak out against animal abuse no matter where we are. 
While small dogs like Yorkies are popular throughout Spain, rescue greyhounds or galgos are the fabulous stars of Barcelona. I love running with them even though I can barely keep up with their long, elegant legs. From sniffing out the locals, I learned that these gentle galgos are mistreated by hunters in rural Spain. In addition to being tethered outside their entire lives, they are often killed or abused after deemed useless in hunting. Luckily, rescue organizations have sprung up throughout the country to save these poor innocent souls and place them into loving homes. 
7 ways to to help animals while traveling
Groomers + Pet Supply Stores
I cannot bark for rural Spain, but groomers and pet supply stores are ubiquitous in big cities like Madrid and Barcelona. My wet nose finds the way around every pet supply store in every neighborhood that I've resided. They are my go-to places for meet and greet AND free treats! Most stores will give free treats to your dog even if you don't end up purchasing anything. With groomers being typically an extension of the pet supply store, 20-35 euros will get your pooch cleaned up with a stylish cut. 
Does your dog have what it takes to be an international traveler? Learn how to fly with your dog internationally!
Veterinarian Care 
Like pet supply stores, veterinarians are also easy to find in big cities. One time, I had a tummy ache and my humans hurried me to the closest vet with a 4-star rating on Google, which was literally 2 blocks away from our apartment in Barcelona. The vet staff then recommended that my humans take me to an animal hospital with 24-hour service, which was only a 1 mile away! With stellar reviews on Google, the recommended animal hospital was professional and clean; from the vet techs to veterinary specialists, my humans couldn't have asked for better care. The treatment was quick and affordable, especially in comparison to the vets in California. I was back to marking it up and kicking my hind legs in no time! During a follow-up appointment, I marched right in fearlessly with an upright tail and even stared down at the front desk receptionist for some treats! 
Dog-Friendly Spanish Words
Dog people will agree that dogs help people connect and spark meaningful conversations. My humans will be the first to tell you that one of the advantages of traveling with me is that they meet A LOT of people. As most Spaniards can speak and understand some English, conversing with the locals shouldn't be a problem. However, you should still learn a word or two of español instead of opting to speak English at the start of every conversation. The locals will appreciate your effort. Besides the typical greetings like "Hola" and "Buenos Dias," you are likely the hear the following from fellow dog people throughout Spain: 
To find out whether your dog is a boy or girl:
"Chico o chica?" (Boy or girl?)
"Macho o hembra?" (Male or female?)
"Nene o nena?" (Male or female BABY?)
"El o ella?" (He or she?)
"Castrado?" (Castrated?) 
*In Spain and throughout Europe, most male dogs are not neutered which means a lot of growling, marking, hind leg kicking among the alpha males! Hence, it's helpful to know if your male dog is sniffing out another alpha male.
"Cuántos años tiene?" (How old or how many years?)
"Cuántos meses?" (How many months? *when referring to a puppy)
"El es muy territorial" (He is very territorial)
"Guapa, guapo" (Beautiful *female, handsome *male) 
"Bonita, bonito" (Beautiful *female, male)
"El(la) es muy viejo" or "el(la) es muy mayor" (He/she is very old)
*In addition to the official language of Spanish, Spaniards may speak different languages native to their region. For instance, Catalonians speak Catalan whereas Basques speak Basque.
Best Time to Travel to Spain with your Dog
Now that I've experienced all four seasons in Spain, I will bark to please do your dog a favor and avoid the summer months (if possible)! The scorching heat can be dangerous, if not deadly to dogs. In the summer, I avoided the heat by going on walks earlier in the morning and later in the evening. Besides, summertime is peak season! Opt for better deals and a more authentic Spanish experience without the tourists by skipping the summer months. For the most comfortable weather for your dog, visit Spain in the Spring or Fall months. 
10 Tips for Summer Travel with Your Dog
How to Travel to Spain from the U.S. with Your Dog
WOOF, are you ready to take your dog to dog-friendly Spain? 
If you and your dog are flying from the United States, you will be entering Spain as you would in any country in the E.U. (European Union). For dog import requirements, you'll need a visit to an accredited veterinarian for the following:
E.U. Health Certificate
Rabies vaccination (or proof of vaccination if your dog already has one)
ISO-compliant 15-digit Microchip (rabies vaccination must be administered after your dog is micro-chipped, NOT before)
Besides acquiring the required paperwork for dog travel, it's also imperative that your dog gets a thorough examination from the vet to ensure that he/she is healthy enough to fly. 
Once you've obtained the E.U. Health Certificate from the veterinarian, you must then get the paperwork endorsed by your local APHIS Veterinary Services Office. 
Spain also has a list of "dangerous" dog breeds that are banned by certain airlines: Pit Bull Terrier, Staffordshire Bull Terrier, American Staffordshire Terrier, Rottweiler, Dogo Argentino, Fila Brasiliero, Tosa Inu and Akita Inu. These dogs must be registered within 3 months of entry and must wear a muzzle to pass security in Spain.
*Just my bark – it's never the breed or dog that's dangerous, it's always the human's fault!
Before you book the flight for your dog with a pet-friendly airline (prepare to pay a fee, usually around $125-200 USD one way depending on the airline), sniff out my 6 MUST-KNOW Tips for international dog travel.
Get all my exclusive dog-friendly travel tips HERE!
My fabulous green carrier has been in more countries than the average human on Earth! Get yours HERE!
Want more dog-friendly Spain? Sniff out my spoiled life as a Spanish Yorkie here.
Markin' it up,
Roger Wellington a.k.a. The Doob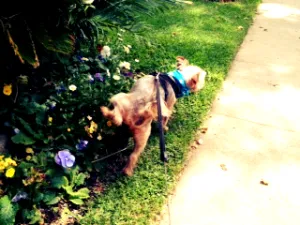 Like my post on "Is Spain Dog-Friendly? A Guide to Dog Travel in Spain"? Click to PIN!