WOOF, thinking of hopping on the Staten Island ferry with a dog? Are dogs allowed on the Staten Island ferry? Sniff out everything you need to know!
As a nomadic Yorkie, I am proud to bark NYC as one of my favorite home bases. Although I rest my tiny (yet strong) furry paws on the Upper East Side, I don't mind leaving the City every now and then to get a sniff of the other boroughs. I mean, sometimes a City boy needs to get out of the crazy city for some fresh sniffs and new pee-mail. The so-called "forgotten borough" of Staten Island may not sound so exciting compared to Manhattan, Brooklyn, and Queens (or even the Bronx as some may argue), but Staten Island (or SI) has a unique, small town charm that's worthy of some wet nose sniffing and alpha marking.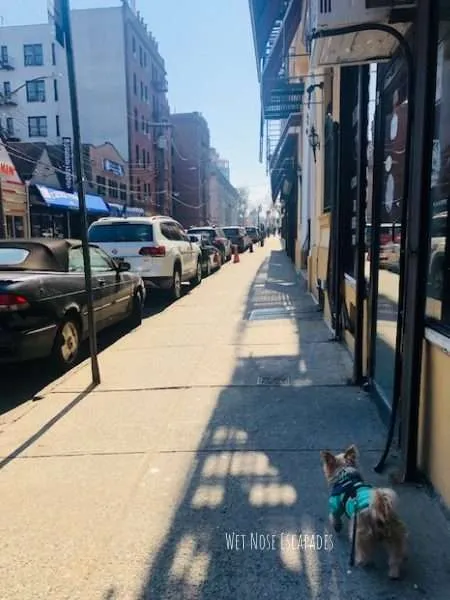 Although I wouldn't stay longer than a day or so, Staten Island boasts many pawsome attractions for dogs, including scenic green park spaces, dog-friendly beaches, dog-friendly eateries, and dog-friendly bars. Interestingly enough, Staten Island is the least pawpulated despite being the largest borough. However, I think it's safe to bark that the biggest draw is not the borough itself, but the Staten Island ferry, which is the only direct mass transit connection between SI and Manhattan.
Here are a few TOP DOG barks about the Staten Island Ferry:
The single route runs 5.2 miles (8.4 km) between Manhattan and Staten Island.
The ferry transports a whoppin' 22 million human passengers a year (70,000 passengers a day, not including weekdays).
The ferry boat ride is only about 25 minutes one-way and passes by the Statue of Liberty and Ellis Island, two MUST-SNIFF New York City attractions. Rush hour boat service is only 15 minutes.
The route back to the City from Staten Island boasts some ARF-mazing views of the Manhattan skyline – don't miss out! ARF-ter all, you can only get the views of the City when you step your paws out of it!
Now, here's the coolest fact about the Staten Island ferry: It operates 24 hours a day, 7 days a week! Arf-my-DOG, even on holidays! Boats leave every 15 to 20 minutes during peak hours and every 30 minutes during non-peak hours.
ARRRF wait, I lied – the absolute COOLEST fact is that the ferry is FREE for everyone. That's right, it's a complimentary service provided by the City of NYC. If someone is trying to sell you a ticket, run for the hills! It's a SCAM.
Where to hop onboard?
With only two terminals operating the ferry (one in Manhattan and one in Staten Island), going to and from Staten Island is hardly confusing.
From the City, I walked my four furry paws all the way down to the southern tip of Lower Manhattan/Financial District to hop on the Whitehall Terminal. ARF course, you can always use public transportation or rideshare instead.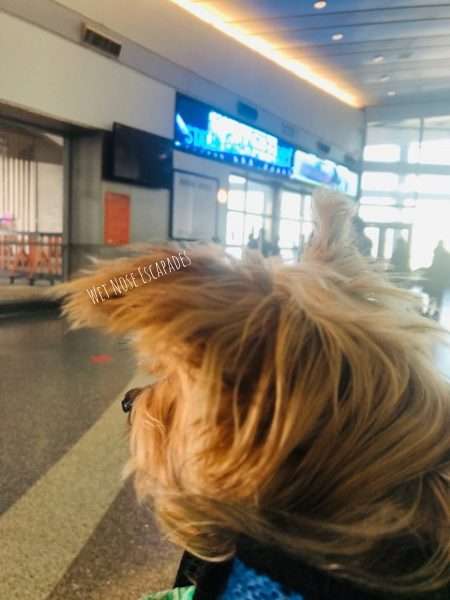 Whitehall Terminal (Manhattan)
4 Whitehall Street New York, NY 10004
If you're trying to get back to the City from Staten Island, you would go back to the same station of arrival, which is the St. George Terminal.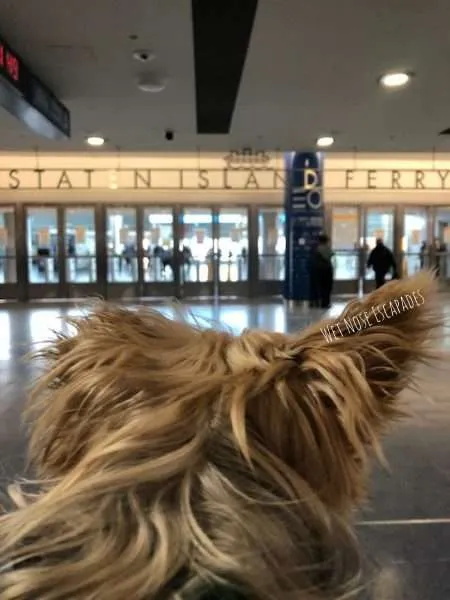 St. George Terminal (Staten Island)
1 Bay Street Staten Island, NY 10301
Sniff out the ferry schedule HERE!
Do you need a ticket?
Nope! No tickets or online reservations are needed to hop onboard. Just wait for the ferry to arrive, follow the humans onboard, and find yourself a good seat! Or if you're like me, you'll pawbably chill on the outside deck for some front row New York Harbor views.
Are dogs allowed on the Staten Island Ferry?
ARF, yes! While ADA-defined service animals are always welcome onboard, other dogs are allowed to hop on the ferry as well – technically, if they are "caged and/or muzzled." Luckily, there are no official rules on the size of the dog, which means small dogs can either travel via carrier or put a muzzle on while larger dogs must be muzzled. No weight or size limit on dogs onboard. From my experience, the enforcement tends to be pretty laxed as my human carried me in her arms most of the time (and I also walked around the terminal on four paws). Although she brought along my carrier, we didn't end up using it. And, no ticket or reservation is needed for your dog either!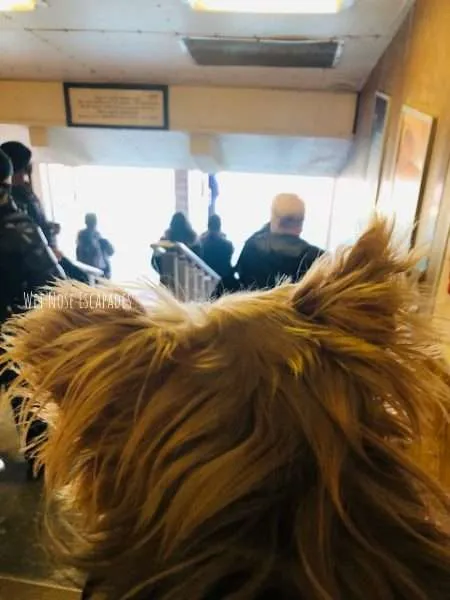 Just a bark of caution that you and your dog will come across a human guard and K-9 guard when entering the station – seeing that you have a dog yourself, they will tell you to stay away from the working dog onsite. To be honest, I feel awful for the security dog who has no choice but to "work" with the human by standing in the same spot for hours on end. GRRRR. I just hope he or she gets plenty of breaks for playtime and is treated well by the handler.
Some barks to perk up your ears
Remember to please skip the peak hours for the sake of your dog! Commute times can be hectic and overwhelming for your dog. Keep in mind that peak hours for the ferry are considered 6 am to 9 am and 3:30 pm to 8 pm on the weekdays. During peak hours, more frequent service is provided every 15 or 20 minutes. During non-peak hours and on the weekends, ferry service operates every 30 minutes.
Also, you and your dog cannot stay on the ferry round-trip, even if you have absolutely no interest in visiting Staten Island! Ferry rules state that every passenger must debark from the ferry but can reboard the next one. Plus, your dog will likely want a break from the ferry ride. Be sure to watch out for signs of motion sickness in your dog, which include (but not limited to) excessive lip licking, whining, vomiting, excessive panting, shaking, trembling, yawning, and drooling. Even though the ferry is dog-friendly, you should carefully assess your dog's health and motion tolerance before taking your dog along. If you know your dog is prone to car sickness, it's best to discuss your concerns with a veterinarian before taking your dog on a ferry. Please discuss with the veterinarian before trying home or natural remedies like ginger, lavender, and CBD supplements. Otherwise, 25 minutes on the ferry may seem like an eternity to your dog if he's not feeling up to par (gotta keep that tail upright!).
And, please don't stand too close to the water during the ride with your dog. Be careful for your dog's sake and keep a safe distance.
Besides taking normal safety precautions, enjoy your quick ferry ride to and from Staten Island! Luckily, I didn't exhibit any symptoms of motion sickness so the ride was quite relaxing. Plus it helps that I've flown countless times and ridden on numerous train rides so I've become used to the motion. Although the ferry itself was humongous with plenty of passenger seats, we spent most of our time on the deck to take advantage of the spectacular views. My human tried her best to capture pictures of me with the iconic Statue of Liberty from afar, and ARF course, the billion-dollar Manhattan views in the backdrop. I sure tilted my little Yorkie head in awe!
Where to mark in Staten Island:
North Shore Waterfront Esplanade Park (Bank St.) – Arguably the best spot in Staten Island for views of Manhattan! This scenic waterfront park is literally paws away from the St. George Terminal. Can't miss the sniff!
Empire Outlets (55 Richmond Terrace) – This dog-friendly outdoor mall is just right next to the ferry terminal! Supposedly, it's the ONLY outlet in all of NYC with brand names and retailers from Nike to Banana Republic. It's a great way to kill time while waiting for the next ferry. Gotta strike some Yorkie poses with the City in the backdrop.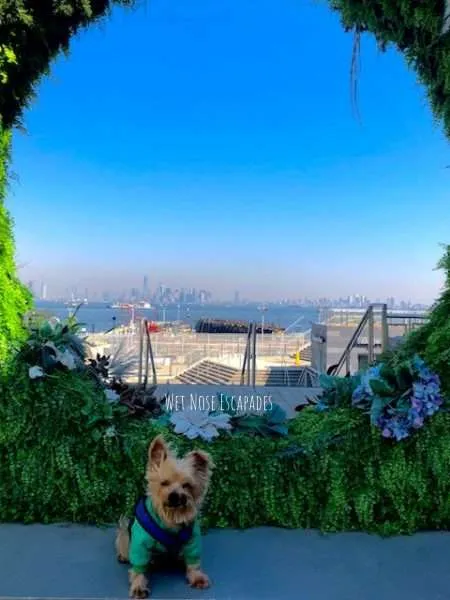 South Beach & Midland Beach – Leashed dogs are welcome on the 2.5-mile boardwalk and the actual beaches during the off-season from October 1st to May 1st.
Wolfe's Pond Beach (420 Cornelia Ave) – Located in the massive Wolfe's Pond Park on the South Shore, this dog-friendly beach is small and usually low-key without the crowd.
Cedar Grove Beach (Cedar Grove Beach Pl) – Leashed dogs are welcome during the off-season from October 1st to May 1st.
Silver Lake Dog Run (700 Victory Blvd) – A very pawpular dog park with three separate fenced-in areas – small, medium, and large sized dogs!
Crescent Beach Park (6549, 366 Tennyson Dr.) – This moon-shaped green space with waterfront, wooded, and wetland sites has a pawbulous off-leash dog zone!
Wynwood Restaurant (24 Navy Pier Ct) – Dogs are allowed at this vibrant Miami-inspired restaurant focusing on tasty street food from around the world. HAH, no need to fly to Miami to experience their famous Wynwood Walls.
WOOF, hope you enjoy hopping on the Staten Island Ferry with a dog! Feel free to share your experience with me. BARK AT ME!
Get your paws on more info on dogs on NYC ferries HERE!
Markin' it up,
Roger Wellington a.k.a. The Doob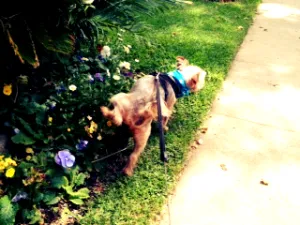 –
Like my post "Staten Island Ferry with a Dog: Everything You NEED to Know"? CLICK TO PIN!