Hellloooooo, escapaders! WOOF! While my passion is international travel, my tail doesn't always wag at everything travel-related. Probably the most unenjoyable aspect of traveling is a looong travel day. So, what exactly is considered long? Longer than my cute rat tail? Maybe, but there's really no right or wrong answer since each person (and dog) differs in terms of his or her tolerance and comfort levels. As an experienced world escapader, I've sure gone through a wide range of travel experiences: from easy 2-hour naps to brutal 15-hour marathons. Grrr, there is no doubt about how draining a long travel day can be. In fact, they can be EXASPERATING; they make me sigh hopelessly, pant uncontrollably, and feel restless for hours. While in transit, I often ask myself – Where am I going? Is that food I smell? Can I pee now? Long travel days can be harsh on our bodies, dogs and humans alike. We've all been through it – gotta force our way out of our comfortable beds at 3 am to get ready for that 5:30 am departure on a 12-hour international flight, an 8-hour train ride crossing multiple borders, or a 6-hour bus ride across country. Unless you're staying a few paws away from the airport, port, train, or bus station; there will be added transportation and time to get to the point of departure. Lack of sleep and the physical act of hauling heavy luggage from place to place will inevitably sap up your energy faster than I can slurp down (yes, I do slurp) a piece of gourmet turkey filet; therefore, I developed 10 easy tips to lighten the stress and effectively cope with those long travel days:
How to Survive LONG Travel Days: TIP #1 Pack the night before
Arrrrfff, it comes as no surprise that I've become quite the expert at packing (and unpacking). So, hear it from Roger Wellington, the expert packer – don't add unnecessary stress to start a long travel day by packing at the last minute. Be ready by packing the night before; of course, you've got to leave out your morning essentials (toothpaste, toothbrush, sunscreen, and outfit for the day), but don't wait until your alarm goes off to scramble and pack. When you wake up on the morning of an intense travel day, you want to get up, brush your teeth, shower, put on deodorant, change into your comfortable travel outfit, and slap on that SPF. After quickly (and efficiently) getting ready, put away all your morning essentials, zip up your luggage, and off you go. DESTINATION Wonderful: Here you come!
How to Survive LONG Travel Days: TIP #2 Consume liquids in moderation
As important as it is to stay hydrated, this is probably the only time that I suggest to limit your water consumption. Of course, the amount ultimately depends on the mode of transportation. If you're hopping on an 8-hour bus ride without a restroom on board and limited bathroom breaks (often those tiptoe and hold-your-breath BEYOND stinky and nasty public toilets), then consuming a half liter of water in the morning isn't exactly a smart move. In addition to the primary mode of transportation, you also have to factor in transportation time to-and-from the airport and/or station (bus or train); if it takes over an hour to get to the airport or station (or a place where toilets are available), you may want to further decrease your consumption. We've all been through it – it's a GROWL-able situation when you are forced to put your bladder on hold for an extended period (especially for someone like me who likes to mark things for a living). Hence, the amount of consumption is contingent upon both the duration of travel and the accessibility of a restroom. Nevertheless, I am the four-legged champion who plays it safe; I never down a whole bowl of water (or a whole glass of coffee – I'm really trying to restrain myself here in the picture) right before getting into my carrier for an extended period and you shouldn't either.
How to Survive LONG Travel Days: TIP #3 Plan for breakfast the day before
Good planning decreases the stress of any travel day, whether long or short. Instead of frantically searching for an overpriced (and often stale) croissant before jumping on a plane or train, be healthy and prepare your breakfast the night before. THINK AHEAD by stopping at the market the day before to pick up some breakfast for the exhausting travel day. Moreover, travel days usually involve numerous contingencies, so preparing ahead of time allows you to focus on getting to your destination on time and to enjoy some healthy, delicious food on your journey. (For instance, I LOVE making my own veggie sandwiches and wraps.) You'll feel healthier and prepared to start a long travel day with some food in your stomach instead of scavenging last minute.
How to Survive LONG Travel Days: TIP #4 Prepare for battle
How do you prepare for battle? You streeeettttcccchhh! I'm a yogi doggie; like most of my furry four-legged pals, I'm quite the expert at both the upward and downward facing yorkie (Yes, I know it's supposed to be dog, but I am a biased yorkie). Get at least a couple of minutes of stretching to prepare your body for the long battle ahead, which consists of limited sleep, no rest, extended periods of sitting in confined areas, and the constant hauling of luggage. Don't contemplate about stretching even for a second, escapaders! Whether you get up at 4 am or 11 am, take a minute to stretch before facing the travel day ahead. I stretch the moment I roll out of my blankey and right before I go for a walk. Stretches set the foundation for your body to take on a physically exhausting day. Stretch for a minimum of 60 seconds before heading out to embark on a journey. (Of course, it's best to stretch for a longer period if your schedule allows it.) You'll feel ready and pumped up to conquer a day filled with inevitable uncertainties and possible delays.
How to Survive LONG Travel Days: TIP #5 Set SEVERAL alarms
To give me peace of mind and to avoid the worst possible start to an intense travel day, I make it a habit of setting at least 2 alarms to ease my way into a hectic morning. The worst possible start to a long travel day is to wake up late and increase your amount of stress by reducing the amount of time that you have to arrive at your point of departure. It is also a great idea to give yourself some extra time by setting your alarm 15-minutes early. Don't underestimate the power of 15 extra minutes on an intense travel day; not only does it allow you to cruise through your morning routine, but it also gives you the opportunity to ensure that you don't leave anything behind, which is a considerable risk when you're constantly on the go. There is nothing more agonizing than to spend a long travel day worrying about whether you packed your doggie treats into your carrier that morning. It is also beneficial to set a second alarm 5 or 10-minutes before your final cutoff time to make sure that you stay on schedule.
How to Survive LONG Travel Days: TIP #6 Have a game plan ready for transportation
Before a long travel day, make sure that you've got a game plan ready on how to get to-AND-from your point of departure. Unless you're staying within walking distance of the airport, port, or train/bus station, chances are that you'll have to make some arrangements to get to your point of departure. It's always a good idea to research all potential modes of transportation to ensure that you choose the most efficient (in terms of time and price) means. If you have to rely on public transportation, be sure to check for the impact of any major events such as holidays (or scheduled strikes if you're in Europe) that can significantly alter the route or limit the hours of operation. Trust me, I've been through it. NEVER assume – do your homework and make sure the service is running. If you have a private transfer, be sure to confirm the time of pick-up the day before to avoid unnecessary last-minute stress.
Stay Healthy and Protect Yourself from Coronavirus (COVID-19) While Traveling
How to Survive LONG Travel Days: TIP #7 Wear comfortable clothes and shoes
Don't complicate an already hectic travel day by wearing jeans from high school that are too tight for your belly or fancy shoes that make your feet ache and pain. While you can't go fabulously naked like me, you can carefully select clothes that are suitable for long travel days. Also, while it's nice to dress-to-impress when going to the airport, save the fashion show for short flights. On long travels days, discomfort is amplified due to all the walking, all the hauling of luggage, and the extended amount of time being confined in small places; therefore, I suggest wearing comfortable clothing to alleviate unnecessary discomfort. Believe me, there is nothing worse than sitting in my carrier for several hours with the wrong harness and an un-soft blankey.   
Healthy mind while traveling: 6 EASY ways to remain sane on the road (PART 2)
How to Survive LONG Travel Days: TIP #8 Bring a small blankey
Blankeys are KEY. Period. Even if you're on an unbearably hot ride going through Morocco over the summer, blankeys are essential for travel days in practically any type of weather condition. The reason? Blankeys are comforting; they make you feel like you're at home. Even if you're not on a chilly plane, you can simply roll up your blankey and use it as a neck rest or arm cushion. Blankeys are a great means of dealing with all of those hard, cramped seats. No matter what, my blankey is ALWAYS inside my carrier.
How to Survive LONG Travel Days: TIP #9 Don't forget healthy treats
Again, travel days are tough! They make me restless, bored, and anxious; therefore, I try to stay positive by packing mouthwatering treats. My favorite treats MUST accompany me on every single journey; they give me something to look forward to while experiencing the unfavorable conditions of transportation. In addition to my favorite beef jerky treats, I also love to pack cucumber slices, carrot sticks, and a little bit of cheese – it's a healthy, hydrating, and filling mix. Mmmm mmm.
How to Survive LONG Travel Days: TIP #10 Envision smoothness

The stress of a long travel day often originates from the unpredictable nature of traveling. Traveling is filled with potential obstacles that simply can't be anticipated; therefore, one can't help but worry about all the things that can go wrong – Will I make it to my destination safely? Will my flight arrive on-time? Will I see my luggage (especially the one filled with several bags of expensive, yummy organic treats) at the baggage claim? How will I get to my hotel when I land? The good news is that the more experience you gain from traveling, the more you will feel at ease with each new journey. If you take a couple of deep breaths and envision a successful travel day,  chances are that you will safely arrive at your destination without adding any unnecessary stress. Traveling is difficult as is, why make it worse?
That's all, my durable escapaders! By following these simple steps, you can tackle long travel days and continue to be healthy! Once you arrive to your destination safely and soundly, make sure you HYDRATE, REPLENISH, and give your body plenty of REST . Want more healthy travel tips? Head over to my section on Healthy Travel Tips!
Markin' it up,
Roger Wellington a.k.a. The Doob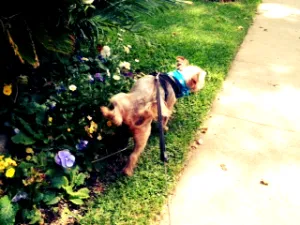 —
Like my post? PIN IT!