WOOF, wanna take your dog to Hawaii WITHOUT quarantine? Looking for dog-friendly activities in Hawaii? Keep on sniffing!
Posted 5/5/23
*Please note that this post contains affiliate links, and at no obligation or additional cost to you, my humans and I earn a small commission if you make a purchase. If you love the work that we do, you can show your support by making a purchase through an affiliate link. Proceeds will go towards feeding homeless dogs (and cats) along with improving the lives of the neglected and abused.
Let's bark about Aloha State! ARF, Hawaii needs no introduction – everyone knows Hawaii, right? The 50th and only U.S. state outside North America, Hawaii is a dreamy vacation destination with PAWfect year-round weather, pristine beaches, mesmerizing volcanoes, jaw-droppin' landscape, and unique Polynesian culture (not to bark, those festive luaus). From newlyweds to families with young children, the Aloha State attracts a whoppin' 6.8 million visitors annually to its islands, even with those skyrocketing hotel and food prices. Arf-ter all, you get what you pay for.
Besides isolated geography, laid-back islander culture (hang loose, escapaders), and spam musubi, what sets Hawaii apart from the mainland is its elite rabies-free status, which only few countries can claim like Japan, New Zealand, and Australia. This means that taking your dog to Hawaii can get quite complicated, but that doesn't mean Hawaii is entirely PAWS OFF for dog travelers. With dog-friendly beaches, restaurants, and luxurious hotels, the PAWradise of the Pacific is worthy of some wet nose sniffing and marking – as long as your dog can skip quarantine upon arrival. Even though my humans have been to Hawaii over 10 times collectively, they have yet to take me there. GRRR, shame on them! Luckily, I have a REAL treat for you. To bark about how to take a dog to Hawaii WITHOUT quarantine, I am waggin' my stylish undocked tail to introduce my Canadian pals Sophie the Maltipoo and her sweet mommy Wencee. Sniff them out below!
All About Sophie (as told lovingly by her pawrent Wencee)
We currently live in British Columbia, and we adopted Sophie after a month of moving in together. Although my partner and I did not grow up with dogs, we envy those who did. Sophie is a grey + white Toy Maltipoo who was 4 years old at the time of adoption. She'll be turning 9 this year. Sophie likes her own space, is selective with other dogs, is very food-driven, and can learn tricks easily.
You'll know when she wants pets and cuddles because she'll come and stare at you. After a while, she'll move away whenever she has had enough pets. Sophie's favorite things to do are to beg for food, play catch outdoors, and suck on her teddy bear! Sophie loves pretty much ALL food, but she won't eat blueberries unless they're frozen. This may sound weird and funny, but Sophie is scared of toilet paper packs – she seems to have a phobia of it!
She has a 3-year-old Cavachon sister named Maisie. And, of course, she is very different from Sophie. She's extroverted, loves to say hi to every dog and human, can be picky with food, takes time to learn tricks, and is definitely more of a lap dog! Maisie loves to give kisses and cuddles and annoy Sophie.
Sophie and Maisie both love soft, cozy blankets! They're both our little shadows and follow us around. We have the best of both worlds with these girls. Sophie and Maisie are so spoiled that they have their own cabinet space at home. Plus, my partner and I both work from home to ensure they are never left alone.
Preparation in Taking a Dog to Hawaii
We really wanted to try flying with our dogs and escape Canadian winter for a bit. My partner and I had never been to Hawaii before and thought it would be a fun destination. We started preparing in December for the trip in March, and the whole process took about three months.
The most difficult step was submitting Sophie's blood work for the FAVN test, which was done through Kansas State University. Due to Hawaii's elite status as a rabies-free zone, dog import is very strict (as you can imagine). We opted to submit the blood work ourselves (instead of paying the lab to do it for us to save on the cost), and had to double and triple-check that all the information submitted was accurate. Our vet clinic was a great help in this process.
*Confirm that the Animal Quarantine State has received your dog's FAVN passing test result prior to arrival HERE.
Taking a Dog to Hawaii WITHOUT Quarantine
One of the requirements for dog import to Hawaii is for your dog to have at least two rabies vaccinations. Therefore, we ended up taking only Sophie since Maisie only had one that time and wasn't due for another yet. Sophie's most recent rabies vaccine was administered in March 2022, and her previous one was four years prior in March 2018. We made sure that we meticulously followed all the steps listed on the State of Hawaii website and followed-up to ensure they received our documents. Additionally, we worked closely with our veterinary clinic. We flew Sophie on Hawaiian Airlines and had a great experience overall because they made the process smooth on both flights.
Thankfully, Sophie is such a good traveler so we did not encounter any challenges flying with her. We made sure to take her to the pet relief area before boarding. Upon landing, someone was already waiting to escort us to the Animal Quarantine Facility for the final inspection, which went smoother than expected. Everyone was super friendly and accommodating. We only had to wait about 10 minutes, signed some paperwork, and were good to go. Since we applied for Direct Airport Release for $185, Sophie did not have to go through quarantine and was released immediately.
*Keep sniffing below for a step-by-step guide
Dog-Friendly Culture in Hawaii
We love how dog-friendly Hawaii is, at least in Oahu where we stayed! Where we currently live in British Columbia, there are quite a few beaches that prohibit dogs. Therefore, it was great to explore the dog-friendly beaches in Hawaii, such as Waikiki Beach, Turtle Beach, Kuhio Beach, Kapiolani Beach, and Sandy Beach. We also hiked up to see the sunrise at the Lanikai PillBox. As for dog-friendly accommodations, we had the pleasure of staying at Hyatt Centric Waikiki Beach, where we absolutely loved and appreciated how accommodating they were to Sophie. In addition, we found that many stores (even grocery stores), restaurants, and other places are dog-friendly. It was like a dream!
Directions to:
Book Your Stay with Hyatt Centric Waikiki Beach:
Pets are allowed for an extra charge of USD 250 per pet, per stay
Limit of 2 pets total
Beds, Bowl, Mat, and Treats are offered to dogs
TOP 3 Tips on Taking a Dog to Hawaii
#1 Plan in advance! I'd say start planning 4-5 months before your trip to ensure you've followed the checklist from the Hawaiian government, and that all your documents are ready to avoid the quarantine for your dog.
#2 Check the airline requirements, especially the travel carrier sizes. Even if airlines say they're dog-friendly, some actually do not fly pets to Hawaii specifically.
#3 If possible, plan your flight around the office hours of the Airport Animal Quarantine Holding Facility for the final inspection. If closed at the time of arrival, your dog must stay at their facility until they're open again (the next day) to complete the final inspection.
Are Dogs Allowed at Restaurants in Hawaii?
When in Hawaii, you'll probably hear or at least see line-ups at Marugame Udon – they're worth the hype AND allow dogs inside. Ala Moana Shopping Center is so dog-friendly that they even allow dogs at their food court! Other than that, we mostly ate outdoors or on restaurant patios which typically allow dogs.
TOP 5 Things to Do with a Dog in Oahu, Hawaii
#1 Go on a Pillbox hike with your dog
#2 Swim with your dog at Waikiki Beach (or wherever there are calmer waves)
#3 Check into Hyatt Centric Waikiki with your dog
#4 See a Hula show with your dog
#5 If you rent a car, drive around with your dog and explore the different regions of Oahu
Best Dog-Friendly Moments in Hawaii
Our favorite moments were seeing Sophie experience the Hawaiian islander life, from hiking to playing and swimming at the beach to trying tasty Hawaiian food. I strongly recommend other dog pawrents to take their dog to Hawaii – you won't regret it!
Next Destination for Sophie
We'll probably explore the Pacific Northwest this coming summer, but we are open if another opportunity comes to fly – hopefully with both Sophie and Maisie!
WOOF, a BIG bark of THANK YOU to Sophie & Wencee for sharing their wet nose escapade to Hawaii with us! Can't get enough of Sophie? Be sure to follow her and her little sister Maisie on IG!
A Step-by-Step Guide on How to Take Your Dog to Oahu, Hawaii WITHOUT QUARANTINE
#1 Microchip: Your dog must have a working microchip implanted BEFORE the FAVN rabies antibody blood test. This is very imPAWtant: If your dog CANNOT be identified by microchip, he will NOT qualify for either Direct Airport Release or the 5 Days or Less Quarantine. Subsequently, your dog will be assigned to 120 days of quarantine! A BIG FAT NOOOO.
#2 Rabies Vaccinations: Your dog must have been vaccinated AT LEAST TWICE for rabies. The rabies vaccines must have been administered more than 30 days apart. The current (unexpired) rabies vaccine must be administered more than 30 days before arrival in Hawaii AND not more than the vaccine's licensed booster interval listed on the manufacturer's label. Your dog's rabies vaccination must NOT expire upon arrival. Be sure to obtain valid rabies vaccination certificates for every rabies vaccination, which should indicate the date and type of vaccine.
#3 FAVN RABIES ANTIBODY TEST: Make sure "Hawaii" is listed as the destination on the lab submission form. Complete the FAVN Rabies Antibody test, which must be done at an approved lab (Auburn University (AU), Kansas State University (KSU) or the DOD Food Analysis, and Diagnostic Laboratory in Texas (DOD). The day after the lab has received your dog's blood sample must NOT be more than 36 months and NOT less than 30 days before arrival in Hawaii.
*Test results must be greater than or equal to .5 IU/ml. You must obtain a copy of the successful blood test result with microchip identification from your veterinarian. You are NOT supposed to contact the laboratory directly.
#4 Waiting Period: Your dog must have a passing FAVN rabies antibody test result AND complete a 30-day waiting period from the day the laboratory received the blood sample for testing.
*If your dog arrives in Hawaii before the 30-day waiting period, he will be subject to quarantine until the waiting period is complete AND charged $14.30 per day in addition to the $244.00 program fee. The guidelines clearly state NO EXCEPTIONS.
#5 Required Documents:
–Dog & Cat Import Form AQS-279
-Original certificates for TWO rabies vaccinations, which must be signed in INK by a licensed veterinarian
-Original health certificate in English within 14 days of arrival in Hawaii, which should include rabies vaccine name, lot or serial number, booster interval, vaccination date, and expiration date
*Ticks treatment with a product containing a long-acting product labeled to kill ticks within 14 days of arrival
-For reentry under the same FAVN blood test and rabies vaccinations used for a previous entry, you must send a copy of the Airport Release Card that was given to you previously
#6 Documents Submittal: Documents must be received more than TEN days before arrival in Honolulu. You must send the required documents (Dog & Cat Import Form AQS-279, two rabies vaccination certificates, and payment) along with a cashier's check or money order. Please note that they do NOT accept personal checks. Make the cashier's check or money order payable to the Department of Agriculture and in the amount of $185 for Direct Airport Release in HNL OR $244 for 5 Day Or Less. Be sure to include your pet's microchip number with the payment to ensure proper credit.
#7 OTHER INFO
*Confirm that the Animal Quarantine State has received your dog's FAVN passing test result before arrival HERE.
Direct Airport Release – Arrange for your dog to arrive at the Airport Animal Quarantine Holding Facility at HNL during normal inspection hours between 8 AM to 4:30 PM. If your dog arrives outside of the normal inspection hours, he will NOT be released upon arrival. Unfortunately, there's a disclaimer on the official website that inspection hours are subject to change at any time without notice. GRR.
The full requirements to taking your dog to Hawaii without quarantine can be found on the State of Hawaii website. Sniff out the entire checklist to taking your dog to Oahu HERE.
Did you take your dog to Hawaii? How was it? Did your dog skip quarantine? I wanna hear your barks! BARK AT ME.
Markin' it up,
Roger Wellington a.k.a. The Doob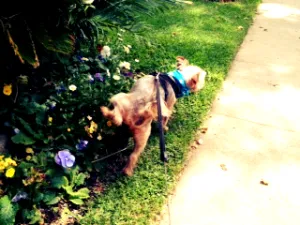 –
Like my post on "How to Take a Dog to Hawaii WITHOUT Quarantine"? PIN IT!