Thinking of taking your dog to Europe from Singapore? ARRRFF, sniff out the wet nose escapades of my Singaporean pal Little Coco Beans!
Posted 10/1/22
WOOF, as the world traveling Yorkie, I'm proud to bark that I've left my alpha marks all over Europe. Since I've begun my nomadic journey, I've been back to Europe year arf-ter year, and even lived in a strict lockdown in Catalonia during the pandemic. Before my first international flight to Paris in 2016, there were very few dog travel blogs or traveling dog influencers. Nowadays, international dog travel seems to have exploded, and taking your dog to Europe is no longer a novelty. For Americans like me and my humans, traveling back and forth to Europe is easy peasy arf-ter the initial paperwork.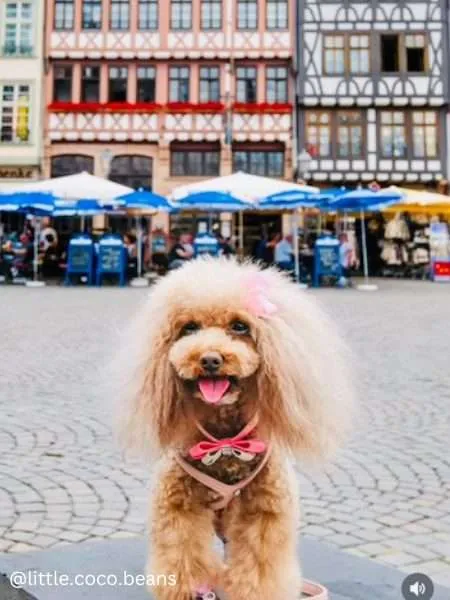 However, for countries with strict dog import requirements like Singapore, a European vacation with your dog is way more complicated and requires tedious planning. Hence, traveling to and from Singapore is a long-haul journey that only a paw-ful dare to venture. My stylish tail is wagging to bark out the experiences of my Singaporean crush Little Coco Beans, the world traveling Toy Poodle who flew into Frankfurt, Germany, took 5 E.U. countries by the paw, and successfully returned to Singapore WITHOUT quarantine. Keep on sniffing to find out about Coco's pawsome wet nose escapade to Europe:
Subscribe to my YouTube Channel: Wet Nose Escapades by Roger Wellington for fun dog videos!
A BARK ABOUT LITTLE COCO BEANS
Little Coco Beans is a 3.2-kg (7 lb.) Toy Poodle was adopted at the age of one by her hooman slave Helen (and her husband). Not much background of Coco's past is known, but it's safe to bark that she is living the princess life in Singapore. She is so spoiled that she shares a bed with her hoomans, has her own food compartment in the fridge, and even her own little wardrobe in the study room! During her adoption, her previous pawrent told Helen that Coco loves to sleep on the floor with a rug and eat kibble.
Nowadays, Coco is found sleeping on either her comfy dog bed or massive human bed. And, her dedicated compartment in the fridge consists of fresh food and homemade treats – from raw to cooked food, all the goodies and treats are always stocked to satisfy the appetite of this furry little food lover or vacuum cleaner, in the words of her humans. But ARF course, as responsible pawrents, Helen and her husband try their best to control her diet in hopes of keeping her healthy for as long as pawssible.
Watch Coco ride the sidecar and hit up the beach in Singapore:
She is the greatest motivator in Helen's daily life, giving her the reason to wake up to work every single day. Helen strives to give her the best healthcare, gourmet food, and lavish lifestyle filled with beautiful dresses, pampered spa treatments, delicious food, and weekend getaways. Needless to bark, these two are inseparable! Helen loves whenever Coco gazes lovingly into her adoring puppy eyes, warming the cockles of her heart. 🙂
Coco's Trip to Europe from Singapore
Pre-Trip Planning
The pre-departure process took Helen about four months. As you can imagine, there is A LOT of paperwork to complete and medical requirements to fulfill for both Europe and Singapore. Helen had to make sure Coco gets used to her carrier for the long-haul flight, which means time must be devoted to carrier training. Luckily, Coco is already pee-pad trained since she was young, so she can usually pee and poop on demand. Hence, she did not have any issues onboard the flight as she relieved herself before boarding the flight at the airport toilet.
Due to the strict quarantine controls such as rabies vaccination, rabies serology test, and all the paperwork, they spent numerous sleepless nights trying to read up on the quarantine requirements. This was the most crucial stage because they did not want to risk subjecting Coco to quarantine in a foreign country and/or on the way home to Singapore. Many countries require rabies vaccination, annual core vaccination, etc. before arrival. Therefore, if you are planning to bring your dog overseas with you, please ensure that all documentation is duly completed.
The most difficult step for Helen was mapping out the timeline and digesting the paperwork required for both the foreign country and Singapore. ARF-ter all, the last thing she wants is for Coco to be quarantined upon returning to Singapore (or unable to enter a foreign country upon arrival) due to missing requirements.
Another challenge is the circumstances beyond your control, e.g. you cannot predict or control how your dog behaves, and whether they feel uncomfortable due to increased air pressure or the constant engine noise with their acute hearing. In addition, dogs are required to behave on the plane (no barking and no whining), and are required to stay in the pet carrier throughout the entire flight. Furthermore, you won't know if your front, back, or side neighbors are sensitive to dogs. They may give you a tough time. 🙁
Additionally, Helen and her husband had to look for pet-friendly accommodations in Europe as not all hotels are dog-friendly. Fortunately, they've found about 70% of the European hotels to be dog-friendly, which makes things easier.
Another impawtant consideration is having to plan out Coco's meals in advance because she is on a raw or home-cooked diet. Yet this means they have to scout for accommodations with a small kitchenette where they can properly store her meals in the hotel fridge.
General Requirements for Taking Your Dog to Europe
#1 ISO-compliant 15-digit Microchip
First, you must microchip your dog. Microchip implantation can be done at any accredited veterinarian for a nominal charge. A microchip is a unique, permanent ID that permanently ties your name and contact information to your dog.
#2 Rabies vaccination
After microchipping your dog, the next step is to vaccinate your dog against rabies. The rabies vaccine must be administered AFTER the microchip implantation, NOT before. The minimum time that the vaccination must be administered is at least 21 days BEFORE your dog arrives in the E.U. Your dog must be at least 12 weeks old (although there are a few exceptions for bringing young dogs in).
Since Singapore is a "listed" country, your dog is not subjected to a blood test for antibodies against rabies to enter the E.U.
#3 E.U. Health Certificate (non-commercial)
Oftentimes, an accredited veterinarian can issue the Veterinary Health Certificate in the office – be sure to ask. If not, then you'll need to print the certificate and bring it to the veterinarian for completion. Before visiting the veterinarian, make sure you print out the correct health certificate based on your country of origin. Also, make sure the certificate is for the non-commercial transport of animals.
Once signed by an accredited veterinarian, the health certificate is valid for 30 days.
When traveling from a non-EU country like Singapore, your dog must have an EU animal health certificate issued by an official state vet in the country of departure not more than 10 days before your dog arrives in the E.U.
The certificate is valid for travel between EU countries for 4 months or until the anti-rabies vaccination expires, whichever lapses first.
In addition, you should also complete and attach a written declaration to your pet's EU animal health certificate stating that its relocation is for non-commercial reasons. This declaration is also required if your pet is traveling under the responsibility of a person authorized by you. In this case, your pet must be reunited with you within 5 days of your relocation.
*If you are traveling with your dog to Finland, Ireland, Malta, Norway or Northern Ireland, you must have it treated against the tapeworm Echinococcus between 24 and 120 hours before travel. All details of the treatment must be entered in your pets passport or EU health certificate.
Get your furry paws on more info HERE.
Coco's Flight to Germany from Singapore
Helen and her husband were relieved and proud that Coco handled the flight well. Unlike some crying babies or rowdy children, she didn't make any noise or inconvenience other passengers. In fact, some of the passengers didn't even realize Coco was on the plane until it was time to deboard!
Since Coco is not an assistance dog or an Emotional Support Animal (ESA), she was required to stay in the pet carrier throughout the 13-hour flight to Germany, which she did except when they brought her to the toilet to pee. She is typically a lap dog, meaning she likes to lay down, daydream, and not do much at home (besides watching Helen work). She is a low-energy dog, and Helen believes such traits make it easier for her to be on long haul flights. If your dog is hyper, territorial, or gets agitated easily, you might want to reconsider bringing your dog overseas.
Coco's Dog-Friendly Itinerary in Europe
Coco and her family arrived in Frankfurt, rented an SUV and drove around Germany, France, Switzerland, Austria and Liechtenstein. Total 5 countries in almost 3 weeks!
* Germany – Wetzlar, Heidelberg, Metzinger, Stuttgart, Bavaria, Munich, Nuremberg,
Rothenburg, Frankfurt
* France – Strasbourg
* Switzerland – Zurich, Schaffhausen, Lucerne, Lungern, Grindelwald, Lauterbrunnen
* Austria – Bregenz
* Liechtenstein – Vaduz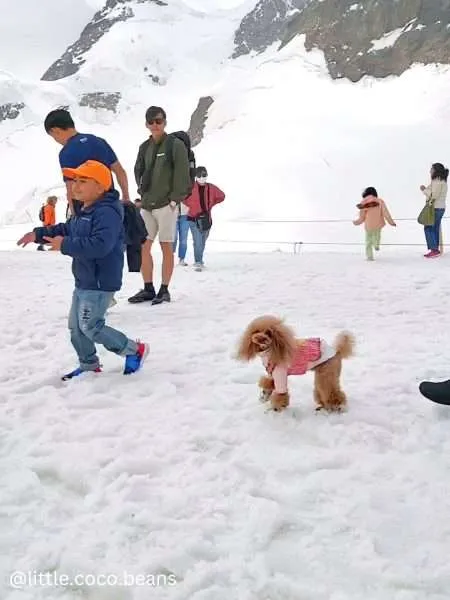 Coco's most memorable moment in Europe was at Jungfraujoch (Switzerland), the continent's highest train station located at 3454 meters above sea level. The observatory is located at 3571 meters, which is very high for a train station. Jungfraujoch (or "Top of Europe") is given the nickname despite not being the highest peak in Europe. Lying just below Sphinx Observatory, this train station, inaugurated in 1912, is connected to the Top of Europe building.
The experience of taking a cable car and then changing to a train was ARF-mazing with spectacular views. The ladies exclaimed that it was truly a once-in-a-lifetime experience! And, Coco enjoyed it as it was her first time walking on snow. Luckily, Helen brought Coco's booties so her paws wouldn't get frostbites. It was summertime so they didn't bring enough warm clothes for her because they didn't expect it to be so cold. Layered with all of her three thin tops plus Helen's scarf, Coco was shivering in the snow-capped mountains! :/
Another memorable moment was in Zurich when Coco & her family wanted to join a local guided tour but found out later that it was not pet-friendly. Hence, they drove to Rhine Falls instead, which was less than an hour drive from their hotel. Located near Zurich, Rhine Falls is Europe's biggest waterfall with some hiking (climbing up and down the slopes). It was all worth it because the views were simply magnificent!
All the cities Coco went to were dog-friendly, but she would pawbably choose Switzerland as her favorite because it's such a beautiful country to visit with a dog!
Coco's Return to Singapore from Europe
Coco bypassed quarantine upon arrival in Singapore, thanks to her pawrents' strategic planning in avoiding countries where Singapore requires quarantine for dog import. Helen and her husband didn't want her to endure such a stressful experience of having to undergo quarantine. You can get the latest list of countries exempt from quarantine when returning to Singapore from the Animal & Veterinary Service (AVS) website.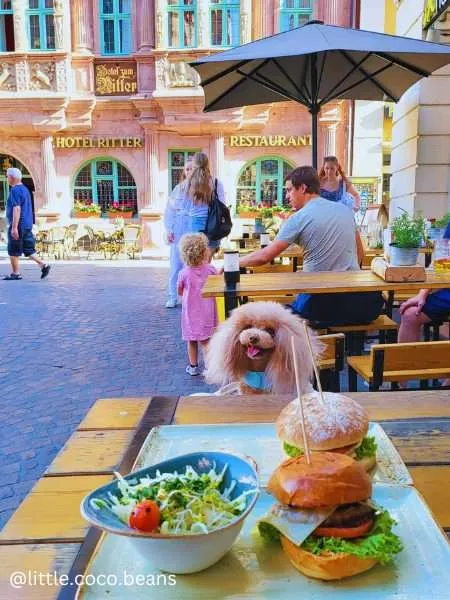 Total Costs of Taking Your Dog to Europe from Singapore & Back
Unfortunately, it is not easy to estimate the total costs, but Helen has tried her best to break them down for us:
First, there are medical costs like rabies vaccination, rabies serology test, vet health checks, and certification. The rabies serology test alone can cost between SGD 500 to SGD 800. Rabies vaccination and health check can range from SGD 100 to SGD 200.
In addition, there are also fees for the import & export license application and certification for the health certificate, which are around SGD 100. Most airlines will charge a pet handling fee of around SGD 300 to SGD 400, depending on the carrier. The other expenses include pet fees chargeable by the hotels or Airbnb, ranging from €30 to €50 per night in Europe. Pet fees are also chargeable for some of the attractions like Jungfrau.
Coco's Tips Pawrents on Taking their Dogs to Europe from Singapore
Many Singaporean pawrents have asked Helen how to bring their dogs overseas, which countries do not require quarantine, and what airlines are dog-friendly. She always responds that it is not easy to travel with your dog, but it is not impossible either. Due to the restrictive nature of dog travel, it is definitely not as easy as bringing your toddler overseas (as my humans have always said as well).
Before you decide to travel with your dog, here are Coco and Helen's tips and advice:
* Plan your itinerary with your dog in mind
* Prepare for requirements and paperwork
* Prepare your dog for the flight
* Train your dog prior to the trip
* Know your dog well
* Prepare for lodging and activities
* Expect the unexpected & be flexible in your itinerary
Plan your itinerary with your dog in mind & Prep for requirements and paperwork
Besides training your dog before the trip, be prepared to study the requirements and do all the paperwork with ZERO mistakes! It's also imperative to take note of the restrictions on public transport (trains/buses) in foreign countries AND quarantine requirements upon reaching the aforesaid foreign country and returning home, import regulations in foreign countries. Lastly (but not least), you must discuss your travel companions with expectations to have an enjoyable trip.
Because there is A LOT of studying and paperwork involved, it is challenging and time-consuming if you decide to do all the paperwork yourself. Even if people share their experiences with you, you will eventually have to study and do your homework because it is impossible for others to share specific details due to the complexity and possible changes in requirements and regulations in both foreign countries and Singapore. For instance, what was applicable then may no longer be applicable later. If you are not confident, tech savvy, or do not have time to handle all the paperwork, Helen recommends hiring an agent (pet movers/pet transport companies) to do all the paperwork for you.
Prepare your dog for the flight & Train your dog prior to the trip
Most airlines allow only an Assistance Dog or Emotional Support Animal (ESA) dog to fly in-cabin. However, some airlines allow small non-assistance dogs in-cabin under the requirement that they remain inside the carrier throughout the entire flight. Depending on the airline and your dog's weight, your dog may travel in-cabin or cargo. There are also restrictions on certain breeds. Always check with the airline directly since they may change their guidelines and policies.
To prepare your dog for a long- haul flight, you should pee pad train or diaper train beforehand so he/she can remain comfortably inside the carrier. Also, if your dog soils the carpet or bed at hotels and apartments, you may need to pay a cleaning fee. Be sure to bring enough pee pads and other dog necessities as it may not be easy to find pet supply stores in Europe.
Know your dog well
You also need to know your dog well before flying with them as they may feel stressed by engine noise, human movements, turbulence, motion sickness, etc. If they are traveling in a cabin, it may not be an enjoyable experience for them. They may get barky and whiney due to the stress of a new environment. Airlines usually require you to sign an indemnity form that you understand that your dog must stay in the carrier throughout the flight.
It also states the expected behavior of your dog, and the airline has the right to place your dog at the tail of the aircraft if found not well-behaved. People would acknowledge that most passengers are more forgiving when a toddler cries versus a dog barks or whines. Sadly, not all passengers are friendly toward dogs, even if the airline is dog-friendly. Hence, you must be mentally prepared if you happen to be sitting near someone sensitive to dogs.
Prepare for Lodging & Activities
Keep in mind that not all lodgings and activities are dog-friendly. Even in E.U. countries, you must ensure that the hotels, apartments, and Airbnbs are dog-friendly before booking. Most pet-friendly hotels and apartments impose a pet fee per night.
Also, you may not be able to visit indoor attractions such as churches, museums, shows or supermarkets, etc. with your dog. Helen's advice is to check with the supermarket staff or online on the dos and don'ts with dogs in each country you visit. For instance, Coco and her family wanted to join the local guided tour in Switzerland only to find out that the tour was not pet-friendly, and they ended up making alternate plans. Don't just assume!
But, usually, you can still enjoy most outdoor activities with your dog. Like in Singapore, many hotels and apartments do not allow you to leave your dog alone in the room. If your travel plans revolve around non-dog-friendly activities, then it may be better not to bring them along. Check for dog restrictions on public transport (such as train and bus) and guided tours. In the E.U., Helen has found that not all cabins on the train allow dogs. So when booking your train, check for dog restrictions beforehand.
Expect the unexpected & be flexible with your itinerary
Be prepared for unexpected situations. For example, you can never be sure if your dog passes the health check, including the rabies serology test. You need to have a backup plan if your pet fails the rabies serology test. To go for the 2nd rabies vaccination and redo the rabies serology test would take a much longer time. All of Coco's flights were booked with the option to amend, just as their accommodations were booked with free cancellation. All in all, you know your dog's health, and you know them best (e.g. some may get stressed in new environments and engine noise).
Ultimately, you must weigh the risk, recognize your priorities, and discuss with your traveling companions before deciding to bring your dog along. It is about teamwork. It won't be easy without family!
And, that's it! WOOF, THANK YOU SO MUCH to Coco & Helen for sharing their pawbulous experiences with us on taking your dog to Europe from Singapore. Can't get enough of Little Coco Beans? Sniff out her TOP 5 Things to do with Your Dog in Singapore!
Be sure to follow them on Instagram for more of their wet nose escapades in Europe and Singapore!
Subscribe to my YouTube Channel: Wet Nose Escapades by Roger Wellington for fun dog videos!
Markin' it up,
Roger Wellington a.k.a. The Doob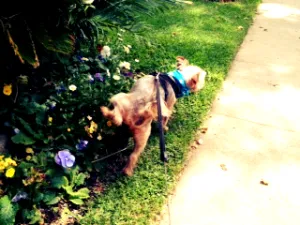 —
Like my post "Taking Your Dog to Europe from Singapore: A Traveling Toy Poodle's Experience"? CLICK TO PIN!