WOOF, are you taking a dog to Greece from the U.S.A. or Canada? The good news is that it's not hard to take your dog to Greece. Keep on sniffing!
Posted 12/11/21, Last Updated 7/11/23
*For simplicity purposes, the gender of the word "dog" will be in the masculine form ("he" or "him") throughout this post.
ARF, before I bark about the requirements for taking a dog to Greece from the U.S.A., I gotta howl (AWOOOO) about the dog culture in the country – as sniffed by my little wet nose.
In Greece, homeless dogs are virtually everywhere. As the country's economic pawblems deepen, more and more dogs are abandoned, found roaming the streets, and subsequently reproducing tenfold. On my first furry visit to Athens, my airport driver told my humans that locals frequently dump their dogs on the streets right before going on "holiday" a.k.a. vacation. He mentioned that he loves dogs himself, but can never have another one because the death of his dog caused him so much pain as if it were human. To protect himself, he has chosen not to have another dog. 🙁
To bark the least, Greece's homeless animal pawblem is tough to tackle. Regardless of where you go in Greece – from the cities to the islands, you're likely to encounter more than several homeless dogs in a single day. Animal activists estimate that there are 2 million stray dogs and cats in Athens alone. Proposed neutering to control the stray pawpulation is, unfortunately, met by opposition in efforts to preserve "purebreds." In 2004, local authorities poisoned tens of thousands of homeless dogs as Athens prepared to clean up the streets for the Olympics.
While some are neighborhood dogs who are somewhat looked after and fed regularly, most are street dogs who have to fend for themselves – rummaging through garbage, finding shade and water in Greece's deadly triple-digit summers, and sometimes roaming in packs for security. And, even the dogs who aren't homeless with "owners" and access to food don't necessarily live good lives – they're often tethered outside as "guard dogs" without protection from the extreme heat or rain and subjected to the abuse of obnoxious children or evil adults passing by.
Likewise, small dogs or designer dogs don't always escape misfortune. During my visit to Crete, I encountered a litter of Chihuahua puppies with their mom living right outside of the resort I resided in.
Turns out the teenage daughter of the resort owners was breeding them just as tens of stray dogs walk past the resort gates daily. The resort owners reassured my humans that they found "good homes" for all the puppies. But even so, why would you contribute to a horrific dog over-pawpulation? For that reason, I cannot support breeding anywhere, even by "responsible breeders." In addition, what is their definition of a "good home"? Apparently, they dog-sat their uncle's toy poodle while he was away on business; and yet, the cute designer dog stayed outside in a fenced yard day and night.
And, it's not just dogs but also cats. Stray and feral cats are literally everywhere in Greece – even more so than dogs. So, if your dog is a cat chaser like my sidekick Penny Rose, you gotta be ready to hold your dog back for the safety of our feline citizens.
ARF course, homeless dogs (whether feral or stray) are just trying to survive on the streets. They are generally not vicious or aggressive unless they feel threatened. Just ask my human – she only spent every single day of our stay feeding the dogs and cats of Greece, often trying to help alleviate the suffering of tethered dogs in the summer heat.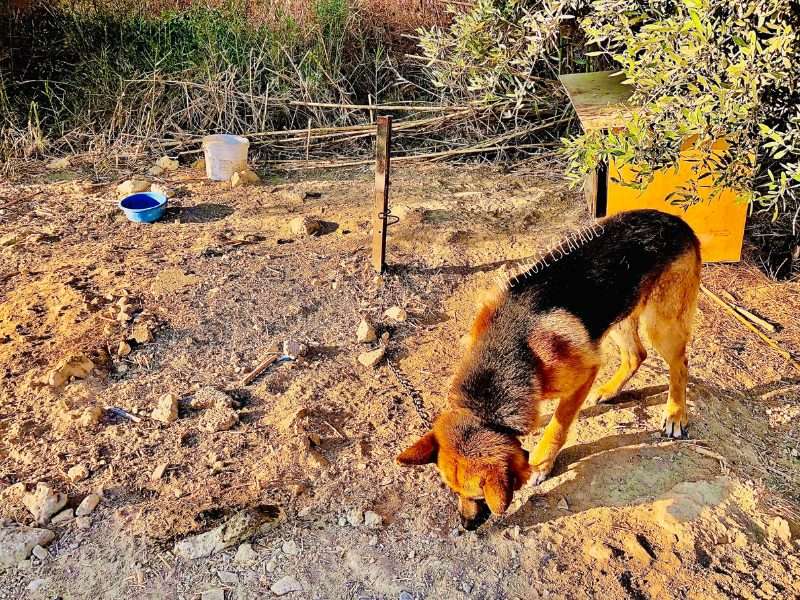 For the most part, they just want to be left alone unless you can offer them food and/or shelter. As long as you practice common sense and keep your dog away from them, your traveling pooch should be fine. All in all, dogs don't bite for no reason. ARF course, I don't recommend having your dog mingle with them due to the risk of rabies, diseases, or simply unpredictable encounters.
Despite the high stray population in the country, the Greek people are dog-lovin' and welcoming overall. I can't bark out how many times I was offered water without my human's request. Dogs are usually allowed inside restaurants and bars without any issues, making dining out with a dog in Greece FUN. In touristy areas, your dog will be treated pretty well – with Greece's lurking economic pawblems, most establishments (especially restaurants) are willing to accommodate in exchange for your business.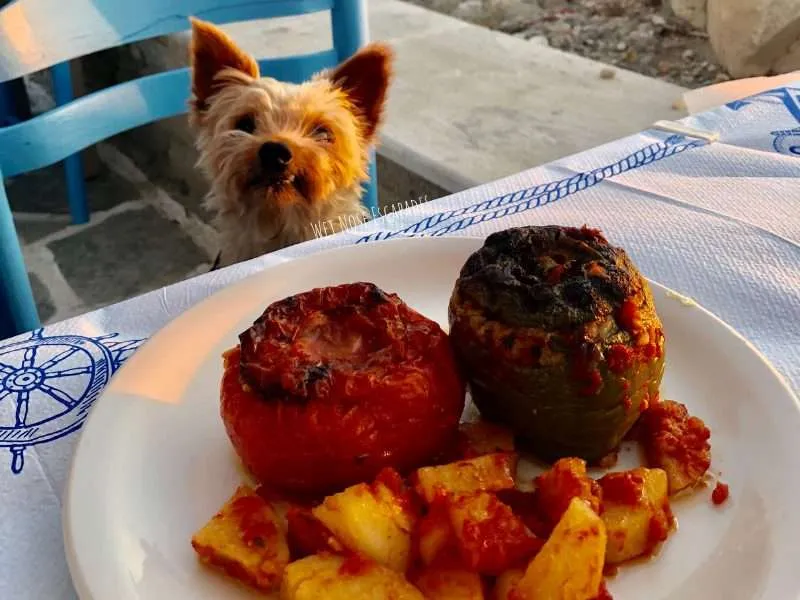 With that barked, the streets of Athens are quite dirty and not ideal places to walk your dog. The islands are much cleaner, but the pawpular islands (like Santorini) can be overwhelming for your dog due to the high number of tourists passing through daily. Also, due to a high influx of refugees in Greece, you may come across people of a certain religious background who just don't like dogs or view them as "unclean." 🙁 Something to be aware of, but this should not make or break your trip. As a traveler, you must recognize that Greece is a multi-ethnic country with different views. Hence, you should be conscious of those who do not see dogs like sentient beings or valued family members. Be on guard and protective of your dog should you ever experience such prejudice.
ARF, so should you take your dog to Greece?
It depends how comfortable you feel with the country's dog culture and animal homelessness. But, all in all, a trip to Greece with your dog can certainly be worthwhile. From tasty gyros and gemistas to ancient history to ARF-mazing beaches (yes, dog-friendly!), I can bark with an upright tail that there's A LOT to experience with your dog in Greece.
Ready to take your dog to Greece? Keep on sniffing!
Fortunately, Greece does not require quarantine for dogs upon entry for travelers originating from the U.S.A. and Canada – woof, as long as you meet all the requirements.
Requirements for dog import into Greece:
Requirements for taking a dog to Greece are essentially the same as any of the 27 countries in the European Union.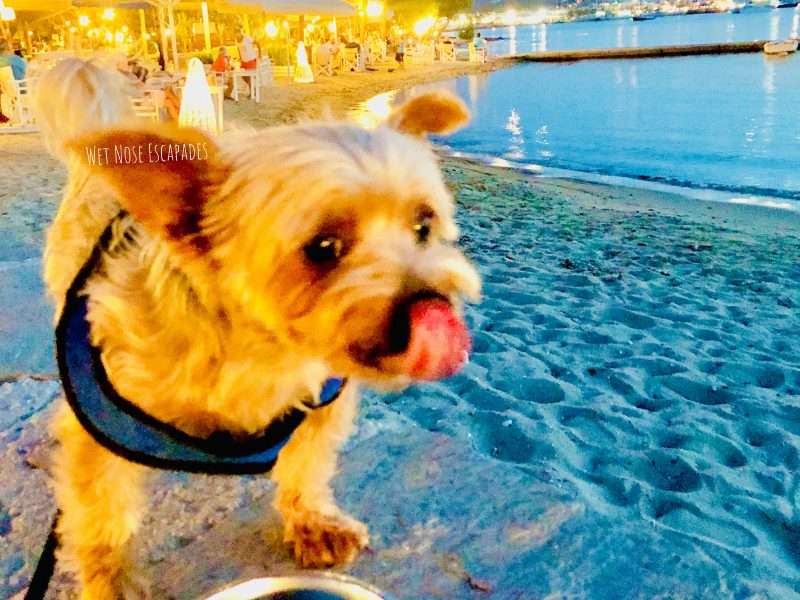 STEP 1: MICROCHIP
First things first, you must microchip your dog before any international travel. Every vet office offers microchip implantation at all vet offices for a small fee, ranging from 25 to 80 USD (or even cheaper). A microchip is a unique, permanent ID or tattoo that affiliates your dog to YOU (name, address, and phone number). See it as your dog wearing an invisible ID tag on his body. A microchip is the #1 requirement for international dog travel AND responsible pet "ownership." The microchip is the size of a grain of rice and permanently implanted under your dog's skin. Although the procedure does cause a YELP, the microchip is a lifesaver – helping reunite dogs with their families if they ever become lost. The standard for international dog travel is the ISO-compliant 15-digit microchip (used in Greece and the rest of Europe). If you're unable to attain the standard 15-digit microchip for your dog, then you must bring a microchip scanner along, which sounds like a real hassle. Luckily, for U.S. and Canadian travelers, getting that standard 15-digit microchip is rarely a pawblem.
STEP 2: RABIES VACCINATION
After the painful microchip implantation, the next step is to vaccinate your dog against rabies. Greece is considered rabies-controlled, but that doesn't necessarily mean that your dog is not at risk for rabies. Essentially, the vaccination is required not to protect your dog, BUT the people of Greece. Be sure to get the rabies vaccine AFTER the microchip implantation, NOT before. This step is very important because your dog will need to be re-vaccinated if you do it before the microchip. Since my humans didn't plan to travel with me initially, I had to get vaccinated again after being chipped. 🙁 Usually, this only takes one vet visit as the microchip and vaccination can happen on the same day, which is refreshing not to waste time or money. Yet, the rabies vaccination must be given at least 21 days BEFORE your dog enters Greece. Rules are rules! ARF yea, the minimum age for dog entry is 15 weeks or 105 days old.
If your dog is already microchipped AND vaccinated against rabies, then you're already off to a head start! All you need is the rabies vaccination certificate or vaccination record handy – make sure the vaccination hasn't expired (usually it's a 3-year expiration date).
STEP 3: VETERINARY HEALTH CERTIFICATE
Besides the standard microchip and rabies vaccination, Greece requires a completed E.U. Health Certificate signed off by an accredited veterinarian. Depending on your veterinarian, this step may take one or two vet visits. For me, I had to schedule an additional visit to pick up the completed and signed certificate. GRRR, hope you have better luck!
If you are contemplating whether or not you should take your dog to Greece, talk to the veterinarian first! If your dog suffers from health conditions, you should address your concerns and discuss them with the veterinarian before proceeding. Flying can, indeed, be stressful for dogs; therefore, don't take any chances, especially if you have a senior dog like me – make sure you cover all your bases.
Don't forget to print out the correct forms for the veterinarian to complete! The certificate should indicate the non-commercial transport of animals.
FORMS
PUT A FURRY PAW HERE for U.S. travelers: APHIS USDA
PUT A FURRY PAW HERE for Canada travelers: Canadian Food Inspection Agency 
STEP 4: ENDORSEMENT
Next up, you'll have to get the veterinary health certificate ENDORSED!
For U.S. travelers: the paperwork should be endorsed by your local APHIS Veterinary Services Office for 38 USD, either in-person or by mail.
For Canadian travelers: the paperwork should be endorsed by the Canadian Food Inspection Agency for 20 CAD.
Once it's stamped, the E.U. Health Certificate is valid for travel within the E.U. for up to 4 months (or until the rabies vaccination expires, whichever comes first)!
STRICT DOG IMPORT TIMELINE: Your dog must arrive in Greece or the E.U. within ten days from the date that the USDA Accredited (U.S.) or CFIA Accredited (Canada) Veterinarian endorses the health certificate – the clock starts clicking as soon as you leave the office.
E.U. PET PASSPORT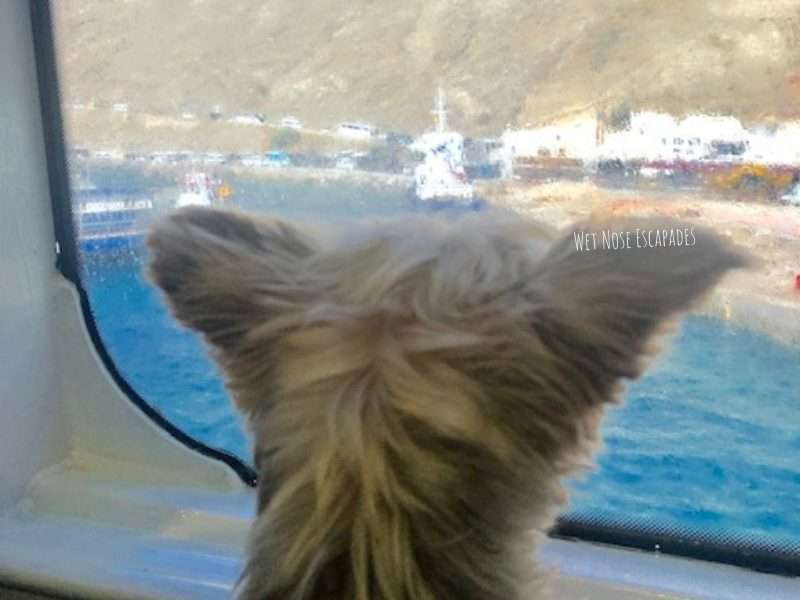 If you plan on traveling frequently to Greece or E.U. with your dog, then you should consider exchanging your completed E.U. Health Certificate for an E.U. Pet Passport. What? A passport for a dog? You betcha! The Pet Passport especially comes in handy if you plan on returning to Greece or the E.U. with your dog in the future. If you have time to take your dog to a veterinarian in Greece, DO IT! This vet visit (although it sounds like a nuisance) is well worth the time and money because the E.U. Pet Passport is generally valid as long as the rabies vaccination is up to date.
The best part is that it's also a one-and-done process. I went to a veterinarian in Budapest, Hungary to exchange my E.U. Health Certificate for an E.U. Pet Passport for less than 20 USD. That's right – TWENTY BUCKS! The entire visit took about 15-20 minutes. With an E.U. Pet Passport, I can now kiss all the yucky paperwork goodbye and return to the E.U. whenever I want. The flip side is that you'll have to get your paperwork updated after the 4-month expiration if you choose not to get a Pet Passport.
While I don't believe any dog or breed is naturally "aggressive" or "dangerous" (it's always the human's fault), Greece does ban the following: Pit Bull Terrier, American Staffordshire Terrier, Dogo Argentino, Staffordshire Bull Terrier, English Bull Terrier, Rottweiler, Akita Inu, Fila Brasileiro (Brazilian Mastiff), and Tosa Inu.
How much does it cost to fly a dog to Greece?
From the States & Canada, international dog cabin fees are typically 200 USD one-way. Bear in mind that this is in addition to the cost of your flight. Additionally, many airlines will count your dog + carrier as your one carry-on, which means you'll have to pay to check in any baggage. GRR, bark about getting double-hit! Nonetheless, flying your dog in-cabin is the safest way to travel as you can keep an eye on him at all times.
Sniff out how to find the right carrier for your dog HERE.
Get your paws on my step-by-step guide on international dog travel!
If you have a dog weighing more than the airline in-cabin weight limit (if one exists) or who's unable to fit comfortably inside an airline-compliant carrier, then you would have to transport him via cargo. Unless this is a long-term or permanent move, I do not recommend cargo transport. The flight to Athens can range from 9 to 13 hours, depending on where you are in the U.S. or Canada. Since most flights originate in Athens, you're likely to fly there first and then hop on a ferry to the Greek Island(s) of your choice.
Now, if you are already in Europe, you can expect to pay anywhere from 50-75 euros one-way for the dog cabin fee (again, depending on the airline). As Greece is southeast of France, many dog travelers prefer to fly into Western Europe first before going to Greece. Since I was already living my nomadic life in Europe at the time, I did not have to make the transatlantic flight from California to Greece. It took me just 2 hours to fly to Athens from Dubrovnik, Croatia where I spent several months as a furry beach bum.
Returning to the U.S.A. from Greece with a Dog
Generally barking, you'll just need a valid rabies certificate to enter the U.S. from most countries in Europe with a dog. Since most countries in the E.U. are classified as rabies-controlled by the U.S. (including Greece), a rabies vaccination is usually all it takes to enter the U.S. However, there may be additional requirements depending on which state you've arrived in.
WOOF, hope you enjoy taking your dog to Greece! Be sure to share your furry Greek escapades with me. BARK AT ME.
Sniff out my travels to the Greek Islands:
Subscribe to my YouTube Channel: Wet Nose Escapades by Roger Wellington for more fun dog travel videos!
Markin' it up,
Roger Wellington a.k.a. The Doob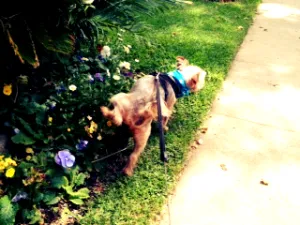 —
Like my post on "Taking a DOG to Greece from the U.S.A. & Canada"? CLICK TO PIN!