WOOF, is Hoboken dog-friendly? Are you thinking of taking Your Dog to Hoboken, NJ from NYC? Your wet nose can stop here!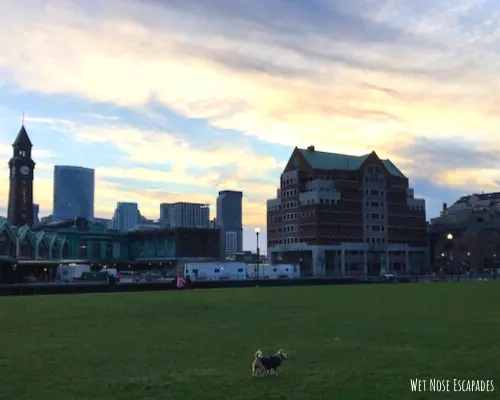 Last Updated 4/4/23
After marking it up in New York City, I was itching to get out of the Big Apple for a change of pace. Just on the other side of the Hudson River, Hoboken, New Jersey is an easy day trip or weekend getaway for those city dwellers or visitors who need a quick break from the big city. ARF, that's right – even city boys like myself want to slow things down from time to time. With a total area of 2-square-miles (just 1.25-square-mile of land), Frank Sinatra's hometown Hoboken is a small yet utterly charming city with its fair share of dog-friendly spots.
Strategically located directly across from Manhattan, Hoboken holds bragging rights to arguably the most captivating views of the Manhattan skyline. Hence, I decided to set my tiny paws out west and cross the Hudson to one of New Jersey's finest. Fortunately, taking your dog to Hoboken, NJ from NYC is simple, fast, and practically free. 
*Please note that this post contains
affiliate links
, and at no obligation or additional cost to you, my humans and I earn a small commission if you make a purchase. If you love the work that we do, you can show your support by making a purchase through an affiliate link. Proceeds will go towards
feeding homeless dogs (and cats) along with improving the lives of the neglected and abused
.
Main transportation options for taking your dog to Hoboken from NYC:
By Subway: Depending on where you depart from Manhattan, it'll take approximately 30-40 to get to Hoboken by subway. The 13.8-mile PATH line (Port Authority Trans-Hudson) will connect you to the northeastern New Jersey cities of Newark, Harrison, Jersey City, and Hoboken from Lower and Midtown Manhattan. This is by far the cheapest option since a one-way fare is only $2.75! My tail is wagging to bark that dogs can travel for FREE, but they must be in an enclosed container, carrier, or some sort of bag. Some dog parents have become quite creative by putting their dogs in big blue plastic bags! Those viral dog subway photos may get a few good laughs, but please always consider your dog's comfort and health before traveling. And, as usual, service dogs are exempt from the rules. Also, dogs must not "annoy" other passengers (WHAT? Never!). 
Get all my exclusive dog-friendly travel tips HERE!
By Bus: From Port Authority Midtown Bus Terminal, you can take BUS 126 towards Hoboken via Willow Avenue, which takes about 20 minutes. One-way fares to Hoboken are currently $3.50, but remember to have exact change onboard. According to the official NJ Transit website, only service animals accompanying customers with disabilities or their trainers, police dogs, and small pets in carry-on travel cages are allowed onboard NJ Transit trains, buses, and light rail vehicles. No additional cost!
By Car: Unless you have a private vehicle, you can Uber/Lyft or cab to Hoboken with your dog from NYC. Although Hoboken is technically just right over the Hudson, driving can take anywhere from 15 to 40 minutes, depending on traffic. Besides the traffic factor, Uber/Lyft isn't exactly the most budget-friendly option; due to increased tariffs, ridesharing in the city is not as affordable as it used to be. When my humans checked for a quote estimate recently, both Uber and Lyft quoted them at well over $40 one-way for a less than a 4-mile journey. If you choose this option, remember to contact your driver ahead of time to make sure he or she is okay with your furry passenger. Alternatively, you can keep your dog (if small enough) inside a carrier to avoid issues.
Get these 16 Dog Road Trip Essentials!
By Ferry: While you can head to New Jersey by subway, bus, or car, my humans and I opted to travel by ferry operated by NY Waterway for a more exciting escapade. After cruising my way around the Greek Islands, Venice, and Kotor Bay over the years, I am no newbie to water transport; however, if your dog is prone to motion sickness, traveling by ferry to Hoboken is, of course, NOT a good idea. For a total of $24, my humans purchased roundtrip tickets (weekend rates: $6 one-way or $10 for 2 one-way from Brookfield Place in Manhattan to Hoboken/New Jersey Terminal + $7 for a single return fare back to the city: $10 + $14 = $24). Due to commuters, weekday fares are generally a little more expensive, say an extra dollar or two. The ticket officer advised that we could use the same tickets Jersey City (Paulus Hook stop) if we decide NOT to stop in or leave from Hoboken. In addition to Brookfield Place, you can depart from Midtown/W.39th Street ($9 one-way M-F, $7 one-way weekend) and Pier 11/Wall St ($8 one-way M-F) in Manhattan. Free connecting shuttle bus service is also available to and from the Midtown terminal. Get more information on routes and fares here.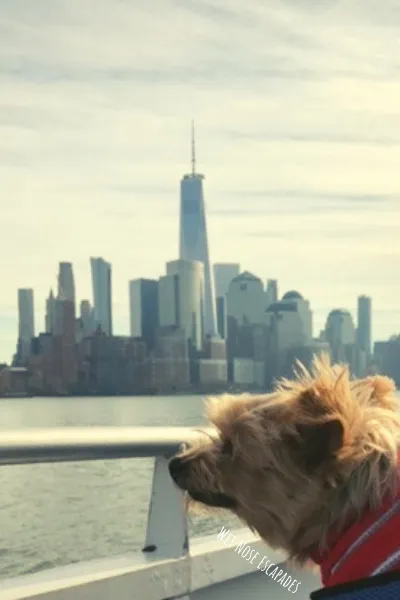 According to the official NY Waterway website, "only service animals accompanying customers with disabilities or their trainers, police dogs, and small pets in carry-on travel cages are allowed on-board the ferries." No additional cost. Also, the staff seemed pretty lenient about me being out of my carrier – I'm not sure if it was because it was a slow day or I was small enough to sit on my human's lap. The ferry ride took roughly only 10 minutes one-way and offered IG-worthy views of both Manhattan and Jersey City. Despite a short ride over to Jersey, I kept my little wet nose busy with the fascinating river scent. Sniff out what I did upon arrival to Hoboken below.
Dog-Friendly Things to do in Hoboken, NJ: 
ARF, I'm so happy to bark that Hoboken is very dog-friendly! From dog-friendly restaurants and bar to dog-friendly shops, there's a myriad of fun activities that you can do with your dog in Hoboken.
#1 Explore Washington St.
As the main street of Hoboken, Washington St. has 16 unique blocks of fun to explore with your dog. Pizzerias, local eateries, sports bars, pastry shops, boba spots, pet supply stores, and high-end retail shops are home to this bustling street along with other businesses. I love walking on their clean, well-maintained brick sidewalks, admiring the city's historical buildings, and sniffing the butts of those cute furry Jersey girls. 
#2 Brunch it up with the Hoboken doggies
WOOF, stuff your mouth with breakfast burritos, veggie omelette, house potatoes, and bottomless mimosas with your furry friend! With a myriad of hip restaurants offering dog-friendly outdoor patios, Hoboken is a fun place to brunch it up with your dog! My favorite dog-friendly brunch spot is Moran's (501 Garden St), where it's never uncommon to see more than several furry diners scavenging for a bite. Get my 8 tips on how to dine with your dog!
#3 Grab a lobster tail at Carlo's Bakery
Visit Cake Boss a.k.a. Buddy Valastro's famous Carlo's Bakery (95 Washington St) in Hoboken, as seen on TLC and the Food Network. After sniffing out their to-beg-for custardy lobster tail, creamy chocolate cannoli, and ARF-so-moist M&M chocolate chip cookie, I took a picture with the Cake Boss himself – well, a life-size cut-out. Luckily, I didn't see a NO DOG sign on their door and the staff welcomed me as I marched in with an upright tail. Even if my warm welcome was purely luck, there's a wooden bench right in front of the storefront where your dog can wait (with a trustworthy person) while you grab those heavenly goodies.
#4 Roam the City Parks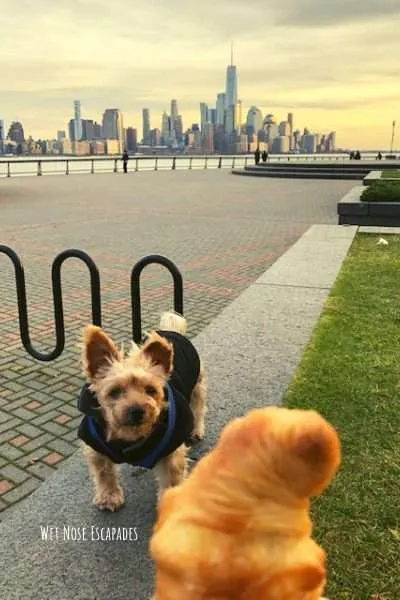 For a small city, Hoboken has 35 parks and 9 public dog runs: Church Square Park, Hudson Street, Elysian Park, Harborside Park, Maxwell Park, 1600 Park, Southwest Park, Stevens Park, and Viaduct (Hudson County). If you only have time for one park, you must get those furry paws over to Pier A Park (100 Sinatra Drive). With massive grassy areas with stunning views of the Manhattan skyline, Pier A Park is a pawsome place for your dog to hop around and chase after those furry Jersey cuties. Other sniff-worthy parks are Pier C Park and Sinatra Park, both of which also offer breathtaking scenic views of the city. Don't forget to enjoy that lobster tail while you're there. 🙂
#5 Stroll along the Waterfront 
In addition to Pier A Park, you should walk your dog along the connecting Hoboken Waterfront Walkway. It's a lovely stroll along the Hudson River with beautiful views of Manhattan, from Midtown to the Financial District. This famous waterfront walkway is also spacious and flawlessly paved, making it the perfect place to run, jog, or walk with your dog.
Wanna watch me fly around the world?
#6 Hang out at a Dog-Friendly Bar
Don't let the small city vibe fool you! Without the pretension and tourists, Hoboken boasts an exuberant bar scene – and yes, one that warmly welcomes dogs. It is easy to find watering holes with daily happy hours that allow dogs either outside the patio or even indoors. For instance, Louise & Jerry's Tavern (329 Washington St) is notably known to be pet-friendly, as confirmed on their website. And yes, my furry visit also confirmed all the hype. After quenching my thirst from their communal dog bowl, I snoozed comfortably in the corner while my humans chilled out on a few cold beers. 
Hope you enjoy taking your dog to Hoboken from NYC! Let me know how your trip went – BARK AT ME. 🙂
Markin' it up,
Roger Wellington a.k.a The Doob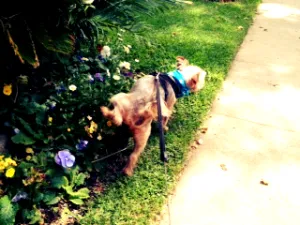 —
Like my post on "Taking Your Dog to Hoboken, NJ from NYC"? Click to PIN!