Thinking of taking a dog to Uruguay from Argentina? GRR, not so fast – sniff out what you must know before you go!
Last Updated 8/4/23
WOOF, it has been over a month since I set my furry paws in Argentina's dynamic capital city Buenos Aires. While I love stuffing my little Yorkie belly with those chops-lickin' empanadas and moving four paws to the sound of tango beats, I've been wanting to cross the border to Uruguay, which I hear is just a quick ferry ride away.
Known for PAWbulous sandy beaches and a rich blend of Portuguese & Spanish heritage, Uruguay is the second smallest nation in South America and one with an uber safety rating. ARF-my-DOG! Unlike other parts of the continent (say Brazil, which Penny and I called home for 8 months), this country of a relatively tiny PAWpulation of 3.5 million has bragging rights to a low level of corruption and a high living standard. As a matter of bark, it is one of the most economically developed countries in South America.
THE BEST WAY TO GET TO URUGUAY FROM ARGENTINA
Originally part of Argentina, Uruguay became an independent nation in 1828. Separating the two countries is the Uruguay River, which means crossing the border should be easy peasy, especially if you're already in Buenos Aires like me. From Buenos Aires, the easiest way to get to Uruguay is by ferry, which offers direct routes to Montevideo, Colonia, and other cities in Uruguay. The closest city is Colonia del Sacramento located in the southwestern part, which is a smaller, quieter town compared to the bustling capital city Montevideo.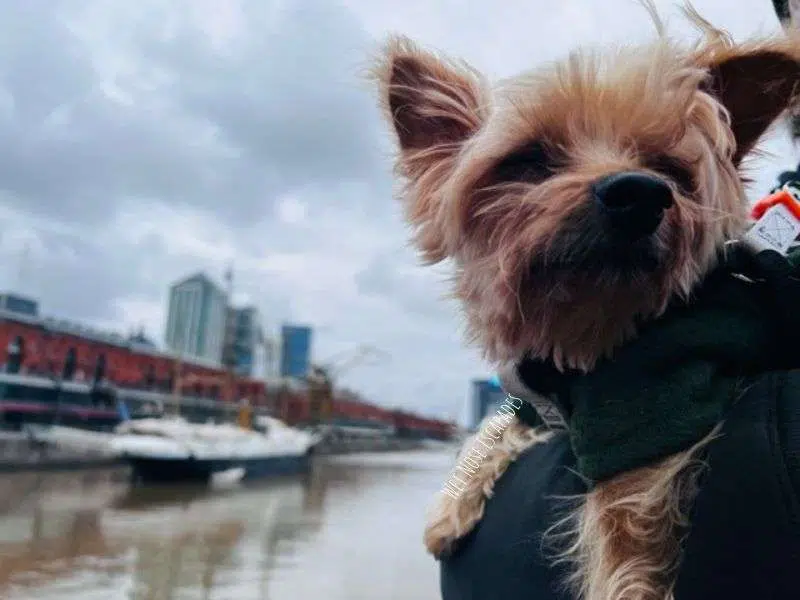 The two PAWpular ferry operators are Buquebus and Colonia Express, which offer daily sailings from Puerto Madero. Going to Uruguay sounds ARF-so-enticing since getting to Colonia from Buenos Aires only takes 1 hour and 15 minutes by ferry. As for Montevideo, it'll take anywhere between 2 and 3 hours, depending on the company you go with. The cheapest option is to go on the one-hour ferry ride to Colonia and then continue by bus to Montevideo, which is a little under 3 hours (although this will take TWICE the time as the direct ferry). However, this is not a plausible option if you're traveling with your dog.
CAN DOGS GO ON THE FERRY TO ARGENTINA FROM URUGUAY?
Si! I mean, YES – dogs are allowed on both Buquebus and Colonia Express. As a matter of bark, my human was pleased to see that she could make a dog reservation online for me and Penny at the same time as her booking.
A BARK OF CAUTION: A long ferry ride may not be a good idea if your dog is prone to motion sickness. Talk to a veterinarian before making plans (instead of knowingly bringing your dog onboard to suffer). Cerenia, the medicine that I was prescribed (for off-label use) to control my cough from the collapsed trachea, is actually a motion sickness medicine (which may or may not be suitable for your dog). Ask your veterinarian about treatment options to prevent motion sickness on your dog's ferry ride.
COSTS: It doesn't appear that there are additional costs for dogs onboard, but you must, ARF course, buy a ticket for yourself and follow their dog policy onboard. I did some sniffing on the PAWpular Uruguay ferry booking site DirectFerries.com and found the following fares:
Ferry from Buenos Aires to Colonia (one-way fares)
Colonia Express – approx. $55 USD
Buquebus – approx. $49-74 USD
Ferry from Buenos Aires to Montevideo (one-way fares)
Colonia Express (direct route) – approx. $61 USD
Colonia Express (alternative route of ferry to Colonia + bus package) – approx. $55 USD
Buquebus (both direct & alternative routes) – approx. $49 to $110 USD
*A message "foot passengers cannot take pets onboard" shows up under the result, making us unable to continue the booking with Buquebus on DirectFerries. Foot passengers are passengers not traveling by car on the ferry. I found this to be suPAW odd, so I did some digging on their official website – keep sniffing below.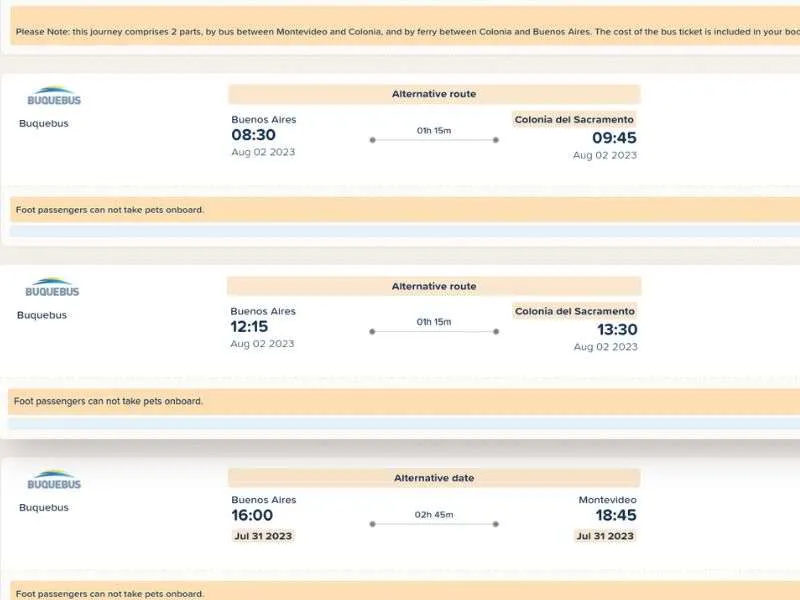 *Prices extracted from DirectFerries (August 2023)
*Cost may change based on demand or peak season
*Ferries carry both passengers and cars
Let's sniff out the ferries' dog or pet policy:
Kennel Rules: Dogs must be transported in a kennel, unless the passenger transports a vehicle on the ferry (then dogs can be transported without the kennel).
The kennel must be made of rigid material, with ventilation, and a waterproof base with maximum dimensions of 45x35x25 cm (17.71×13.79×9.84 in). No "pet bags" are accepted.
Guide Dogs Rules: Guide dogs can travel in-cabin with a kennel without extra charge, but you must present training certificate and vaccination records.
*Just a BARK that we did not see an additional charge for non-guide dogs when we tried booking online.
Dogs on Buses: You must notify at least 24 hours before their departure at Buquebus Terminals or via email to [email protected]. Dogs cannot travel in the passenger lounge except for guide dogs with proper documentation. Buses are equipped with air conditioning, light, and heating.
Sniff out Buquebus' entire dog policy here.
Again, despite the dog policy on Buquebus' official website, DirectFerrries asserts that dogs are NOT allowed on Buquebus based on the following message: "Foot passengers cannot take pets onboard." On their IG, I sniffed out non-service dogs onboard without kennels or cars and traveling alongside their humans, so this was a bit confusing. Hence, I messaged Buquebus to get some clarification.
Buquebus' Response:
Pets travel in a separate sector conditioned for their transfer, it is not possible to travel with them in the hold.
When I inquired about the photos of dogs traveling alongside their humans, they responded that "companion pets with their respective medical certificates and authorized by the commissioner on board may travel with their owners in the cabin."
Therefore, unless you have a service dog with medical documentation, your dog must travel in the ship hold, separate from the passenger area.
As for buses, they advised that "pets travel in a special sector inside the bus specifically conditioned for the transportation of pets."
GRR, this sounds like the luggage hold.
Dog Rules: No additional cost for dogs. If you travel by car, your dog may stay inside the vehicle OR in a dog kennel on the ship's hold. If you travel on a ship without a hold, you must bring your own kennel (if your dog is large) OR a travel bag/carrier (if your dog is small).
Visually impaired passengers with one guide dog will be given special consideration.
Sniff out Colonia Express' entire dog policy here.
On their IG, I also saw dogs onboard without kennels and traveling alongside humans. Again, I reached out to them for some clarification.
Colonia Express' Response:
On the ferry, the pet travels with the passenger. The pet must remain inside its travel bag, kennel, OR on a leash, in boarding and landing rooms, platform and throughout the journey. There must be security implementation of a collar, muzzle and/or kennel.
In the Colonia Terminal, the mandatory use of a muzzle is also needed to enter the check-in and boarding area. If you do not present it, you must remain outside while the passengers carry out these procedures.
Regarding buses, Uruguayan legislation prohibits the transfer of pets inside the bus passenger cabin, so they will travel inside the luggage cabin and must bring their own kennel or transfer bag.
Traveling with your pet is free of charge, and you can take it with you throughout the journey. It is important to highlight that the owner of the pet is responsible for its behavior, cleanliness, damage it may cause, and for respecting other passengers.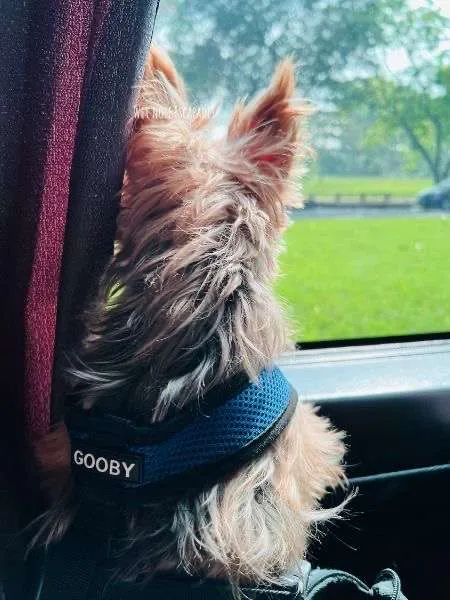 TOP DOG BARKS: Colonia Express definitely appears more dog-friendly than Buquebus since they allow dogs to travel with their humans while Buquebus will only make that exemption for service dogs. Also, Colonia Express does NOT require kennels (travel bag or leash is sufficient), whereas Buquebus requires non-service dogs to be transported in kennels in the hold.
As for the ferry + bus package to Montevideo, it's best to skip it since Uruguayan law prohibits dogs on buses. Luggage cabin? GRR, NO WAY! For your dog's comfort and safety, hop on a direct ferry with your dog. Nonetheless, I also have a gut feeling that enforcement may be a hit or miss based on the ferry staff of the hour. But, ARF – these are the rules that they gave me directly.
ARF yeah, if you book through DirectFerries, please note that they have the following pet policy:
Passengers traveling with animals are responsible for ensuring that they comply with the necessary regulations and meet the requirements of each country or territory that they are traveling to or from.
Any documentation required to permit an animal to board must be in original format. Photocopies will not be accepted. To take your pet with you, they MUST be covered by the Pet Travel Scheme (PETS).
*This basically means you must meet all the requirements for your dog to enter Uruguay from Argentina, which I will bark about in the next section. Keep sniffing.
Taking a Dog to Uruguay from Argentina: What You MUST Bring
REAL BARKS: Despite immense research and long barks (I mean, conversations) with the ferry companies, my pack and I ultimately decided NOT to make the trip from Argentina to Uruguay. While I would have gone with Colonia Express over Buquebus (PAWS DOWN) on a direct ferry, the real PAWblem arose when I started really sniffing out the dog import requirements to Uruguay.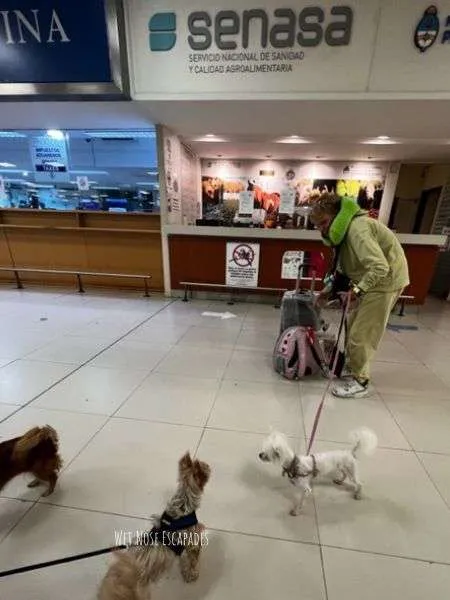 AWOOO, here they are!
To take your dog to Uruguay, you must present the following:
– Up-to-date vaccination record
– Microchip (although I've heard from other dog pawrents that they don't even have a scanner onboard, it's best if your dog is microchipped)
– Veterinary Health Certificate issued by SENASA/Ministry of Agriculture
To obtain the required Health Certificate or CVI (Certificate of Veterinary Inspection) issued by SENASA for Uruguay, you must first contact the Argentinian Ministry of Agriculture at [email protected] to start the process. Be sure to advise them of your travel date.
They will respond and send you instructions on how to proceed. Let me bark out the paw-by-paw instructions I got from them.
You must send a clear photo or scan of the following documentation below:
-Complete export application, which they will provide the attachment in response to your email. The testament of your dog's health and condition must be signed off by an accredited private veterinarian. SAMPLE below: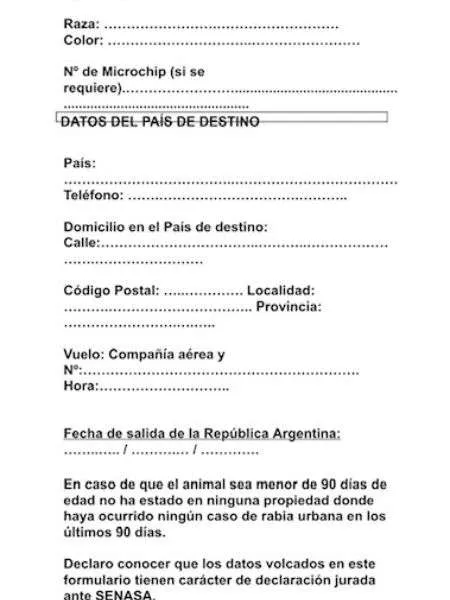 -DNI (National Identity Document) of the person responsible for transporting the dog, which is likely YOU.
-Certificate of internal and external deworming within 15 days prior to the trip, indicating the laboratory, commercial brand, active ingredient and date of administration.
-Anti-rabies vaccination certificate (This vaccination must have a minimum of TWENTY-ONE (21) days and a maximum of TWELVE (12) months prior to the shipment of your dog to Uruguay).
TOP DOG BARKS: The 3-year rabies vaccination that Penny and I got still had about 8-9 months of validity, which meant we would have to get revaccinated earlier than necessary. However, the CVI model based on Uruguay's official Ministry of Agriculture website did NOT mention a 12-month maximum requirement for rabies vaccination. This leads me to believe that there is some confusion on Argentina's end (perhaps they are confusing it with the primary rabies vaccine, which always has a 12-month validity. But boosters generally qualify for a 3-year validity). Although this requirement was a downer, it wasn't necessarily a deal breaker. Keep on sniffing for the deal-breaking requirement that essentially put a stop to our travel plans.
8/4/23 UPDATE: ARF-ter many email exchanges regarding the rabies vaccine requirement, Argentina's Ministry finally confirmed via email that the 3-year rabies vaccination certificate works as long as it's valid.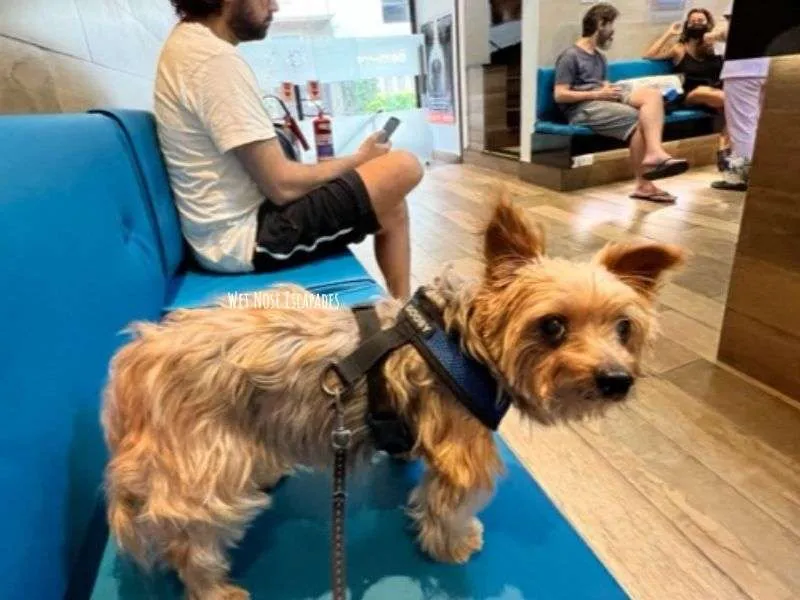 -Health certificate of one week prior to the trip (the date must not exceed 10 days), issued by a Private Veterinary Professional, using the Certificates authorized by the Professional Council of Veterinarians (CABA) or the respective College of Veterinarians Provincial.
-Certificate of microchip application (only for dogs)
– Dogs must also have a certificate issued by a registered veterinarian stating that the animal(s) were negative to an immune detection test for Leishmaniasis obtained within 60 days prior to entering that country.
TOP DOG BARKS: Leishmaniasis is an infection with leishmania parasites spread by sandflies. Unless you're coming from a country declared free of leishmaniasis, your dog will need a negative test for entry. The requirement goes for dogs coming from the U.S., as confirmed by APHIS website (get your furry paws on the Vet Health Certificate for the U.S. to Uruguay here).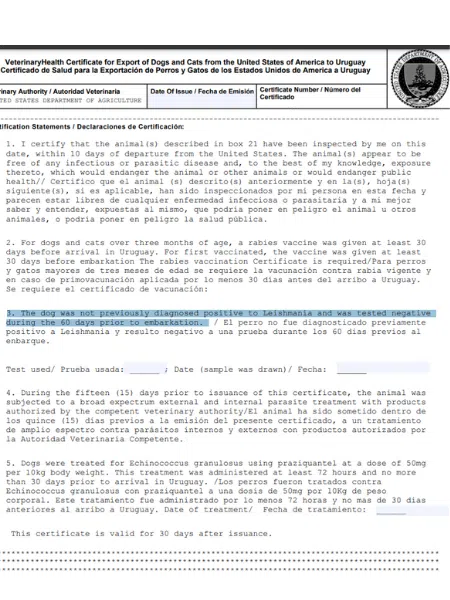 I also double-checked with the model CVI on the official Uruguay Ministry of Agriculture website, which states "Canines that come from a country or zones where the disease was never detected and this sanitary situation was declared before the OIE will not require the diagnostic test OR It was subjected to a Leishmaniasis test with negative result."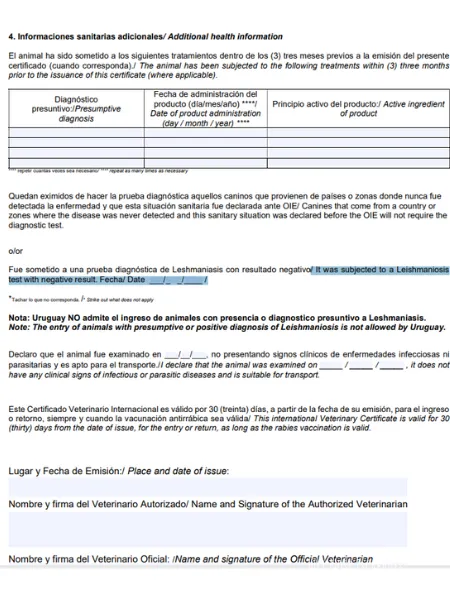 And yet, this was the main reason why we did not make the trip! GRRR, total bummer. Uruguay requires a negative test for Leishmaniasis, which is commonly a blood test or urinalysis. Since we had our home base in Buenos Aires, we wanted to go on a day trip or a weekend getaway. Perhaps a weeklong stay at most. But, our humans did not want to subject me and Penny to a blood draw or needle poke for such a short trip, and you shouldn't either. Dogs hate going to the vet period, and any needles and pain will only make the experience more traumatic. Such unnecessary negative experience is not worth it for your dog UNLESS you plan to stay in Uruguay for at least a month or two OR simply have no choice but to go to Uruguay and have no one to look after your dog.
ARF-ter exchanging numerous emails with SENASA regarding the dog import process to Uruguay, we ultimately decided not to go – at least yet. They confirmed that all the requirements are necessary for CVI issuance, even for a one-day trip. But, who knows what the future may hold for me and my pack? If we opt to stay longer in Uruguay in the future, the process may be worthwhile. As of now, it's not.
ImPAWtant Info from Argentina SENASA
Once you have completed the health certificate (signed off by a private/accredited veterinarian) and compiled the required documents above, send everything back to SENASA via email (ideally a week before your travel date so there's enough time to fix any errors, if necessary). They will then issue the CVI needed for your dog to enter Uruguay.
Also, it's imPAWtant to note that SENASA does NOT issue CVI on the same day of travel. However, it can be picked up OR retrieved on the same day of the trip.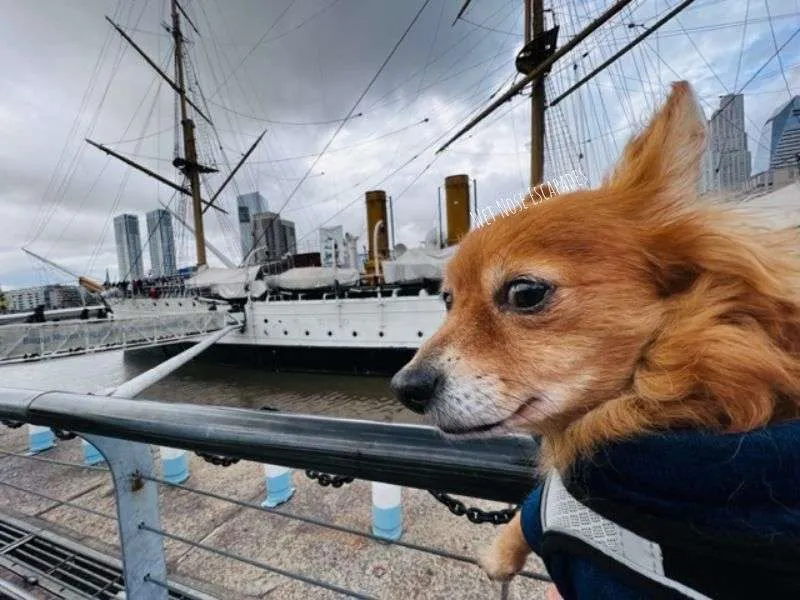 Confused? Let me break it down – real barks!
You must send the information a week before the trip so SENASA can issue it, have it signed by a certifying veterinarian, and the CVI will be ready for you to pick up on a scheduled or agreed upon date. Got it? Good!
The COSTS of getting the paperwork to travel to Uruguay from Argentina with your dog
The cost of the CVI is currently $3734.76 ARS (490.10+3244.66.), which must be paid when you pick it up.
On the same day of retrieval, the BOARDING PERMIT will also be made, which is a fee of $490.10 ARS plus (+) the corresponding required Services (SER) will be charged if it is outside the official hours or day of attention of the public administration. The official hours are Monday through Friday from 9 a.m. to 5 p.m.
From 6 a.m. to 9 a.m. and from 5 p.m. to 9 p.m., 1 SER hour is paid (required), the cost is currently $3,244.66 ARS.
From 9:00 p.m. to 6:00 a.m., as well as on Saturdays, Sundays, and holidays, they run double hours all day, that is, $6,489.32 ARS (3,244.66 x 2).
Payments are made in person with a debit or credit card (Visa or Mastercard) to the SENASA staff, or in cash at Banco Nación (which opens 24 hours a day like SENASA).
On top of these fees, you'll have to pay for the veterinarian visit, Leishmaniosis test, and any added services for your vet to complete the health certificate.
SHOULD you really take your dog to Uruguay?
If you're planning to take a short trip to Uruguay from Argentina with your dog, having your dog go through a blood test for Leishmaniosis is simply not worth it – for your dog's sake. Also, if your dog has a 3-year rabies vaccination that has not yet expired but has already passed 12 months, he may or may not need to get revaccinated. If your dog still has a solid year left on the 3-year rabies vaccination validity, revaccinating him is PAWbably not a good idea. 8/4/23 UPDATE: ARF-ter many email exchanges regarding the rabies vaccine requirement, Argentina's Ministry finally confirmed via email that the 3-year rabies vaccination certificate works as long as it's valid.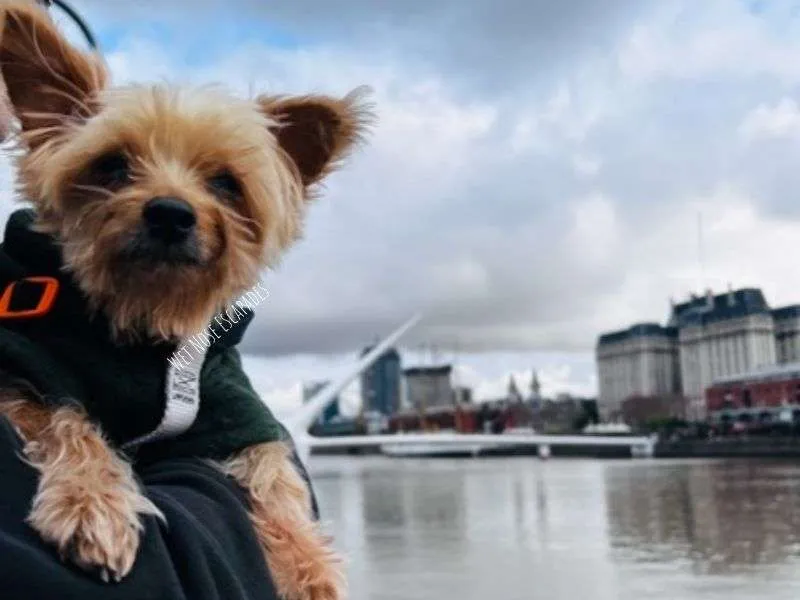 As dog pawrents, you must think carefully about what you put your dog through, and if it's worth the risk and stress. Not to bark, going through the hassle with all the paperwork. Unless you are staying long-term in Uruguay OR have no choice but to take your dog along OR can somehow bypass these requirements, I don't suggest making the trip. And, that is exactly why my pack and I didn't hop on the ferry to Uruguay from Argentina. I heard about a girl who took her service dog on a South American cruise without proper paperwork for Uruguay, but was able to bypass (although I can never suggest anyone taking such risk for the sake of the dog). Just a bark that service dogs also are NOT exempt from Uruguay's dog import requirements, but can skip kennel rules on the ferry.
However, if you do – choose Colonia Express over Buquebus! Based on my extensive research and conversations with both companies, Colonia Express is, indeed, the more dog-friendly ferry since they allow dogs to travel with their humans versus being transported in the hold. In addition, skip the bus option even though the ferry+bus package is cheaper (although much longer) to get to Montevideo because the Uruguay law supposedly prohibits dogs onboard, which means they must travel in the luggage hold. A BIG NO-NO!
There is a little bit of tail-waggin' news, and that is you could use the same CVI to return to Argentina within 60 days.
WOOF, so there you have it – what you must know about taking a dog to Uruguay from Argentina. Although we didn't end up taking the ferry to Uruguay, my pack and I aren't disappointed (and my tail isn't down). Our extensive research on the ferries and dog import requirements (including the long conversations with the ferry companies and SENASA) isn't in vain because it gave us the knowledge to share. ARF-ter reading this post, I hope you can make the right decision for your dog based on your circumstances.
If you did make the trip with your dog, I'd love to hear about it. How did it go? Share your experience with me – BARK AT ME!
Markin' it up,
Roger Wellington a.k.a. The Doob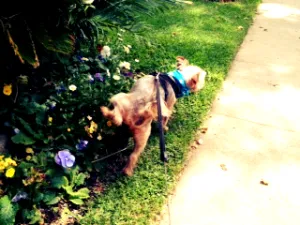 –
Like my post on "Taking a Dog to Uruguay from Argentina: What You MUST Know"? CLICK TO PIN!