Are you taking your dog to Brussels, Belgium? Perk your ears up!
Last Updated 5/4/23
Although often overlooked as a dog-friendly destination in Europe, Brussels is paws down a fun city to visit with your dog. In addition to being the capital of Belgium, the City of Brussels is the unofficial capital of the European Union. With Art Deco buildings, Gothic Cathedrals, and rich Flemish culture, Brussels is a dynamic, unique international city worthy of multiple sniffs from my little wet nose. After marking it up in the neighboring Netherlands, I hopped on a train to Belgium where I could devour endless creamy roasted chocolates and crispy fries (or beg to try). Sniff out what you need to know about taking your dog to Brussels, Belgium below:
*Please note that this post contains
affiliate links
, and at no obligation or additional cost to you, my humans and I earn a small commission if you make a purchase. If you love the work that we do, you can show your support by making a purchase through an affiliate link. Proceeds will go towards
feeding homeless dogs (and cats) along with improving the lives of the neglected and abused
.
TAKING YOUR DOG TO BRUSSELS, BELGIUM FROM THE U.S.:
If you and your dog are flying from the United States, you will be entering Belgium as you would in any country in the European Union. To meet dog import requirements, you'll need a visit to an accredited veterinarian for the following:
E.U. Health Certificate
Rabies vaccination (or proof of vaccination if your dog already has one. Vaccination must be at least 21 days prior to entry)
ISO-compliant 15-digit Microchip (rabies vaccination must be administered after your dog is micro-chipped, NOT before)
Besides acquiring the required paperwork for dog travel, it's also imperative that your dog gets a thorough examination from the vet to ensure that he/she is healthy enough to fly. 
Once you've obtained the E.U. Health Certificate from the veterinarian, you must then get the paperwork endorsed by your local APHIS Veterinary Services Office. Your dog must arrive in the E.U. within 10 days from the date that the USDA Accredited Veterinarian signs the health certificate. 
Before you book the flight for your dog with a pet-friendly airline (prepare to pay a fee, usually around $125-200 USD one way depending on the airline), sniff out my expert guide on how to travel with your dog.
Does your dog have what it takes to be an international traveler? Learn how to fly with your dog internationally!
Find out what essentials to pack for your dog!
RETURNING TO THE U.S. FROM BELGIUM WITH A DOG:
Typically, to return to the U.S., your dog must appear healthy and have a valid rabies vaccination certificate. However, there may be additional requirements based on the state you're flying into, which may be stricter than federal regulations. Always check the APHIS website for the latest info.
Once you and your dog arrive in Belgium (or anywhere in the E.U.), you can take your dog to an accredited veterinarian to exchange your existing E.U. Health Certificate for an E.U. Pet Passport. The Pet Passport especially comes in handy if you plan on returning to the E.U. with your dog in the future.
My fabulous green carrier has been in more countries than the average human on Earth! Get yours HERE!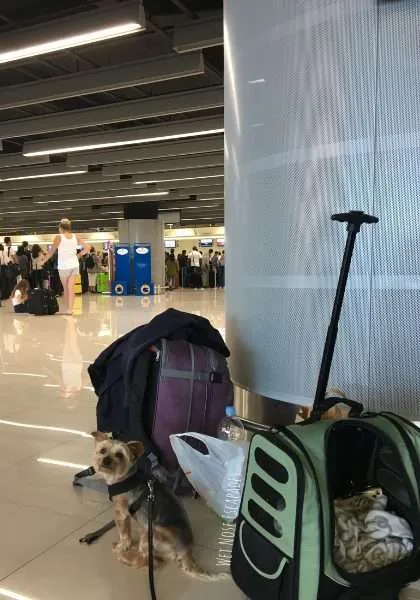 Get 25 Tips on How to Fly with Your Senior Dog!
10 Dog-Friendly Activities in Brussels, Belgium:
#1
 Tilt your head at Grand-Place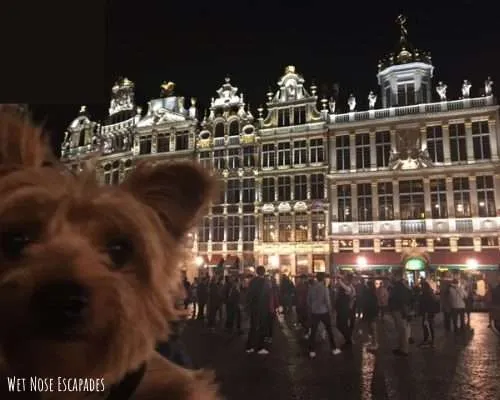 ARF, it's time to tilt my head to something GRAND! Located in Lower Town a.k.a. Bas de la Ville, the illuminating Grand-Place or Grote Markt is the renowned heart of Brussels. This remarkable 361-square-foot central square is surrounded by the towering, gold-trimmed Town Hall and Maison du Roi. Built during the Baroque, Gothic, and Louis XIV eras, the Grand-Place used to be a marketplace for merchants and residents. Today, this impressive neoclassical, neo-gothic glitzy architecture is a UNESCO World Heritage Site and serves as a prime location for socializing and people or dog-watching. To get a better view of the stunning golden facade, I like stepping onto my human's arms for a boost. 
#2
Explore Brussels Park (Parc de Bruxelles/Warandepark)
Despite numerous dog-friendly parks in the city, I particularly love marking up Brussels Park a.k.a. The Royal Park of Brussels. Resting between Royal Palace and Federal Parliament with 32 acres for my little nose to investigate, Brussels Park is the largest and oldest public park in the city of Brussels. Established in the late 1700s, it's home to Royal Park Theatre and Vauxhall (not to mention bark-worthy ponds, sculptures, and fountains). Although I couldn't find an off-leash dog park there, I still had plenty of sniffing, marking, and kicking to do. 
#3 Follow your nose to chocolate waffles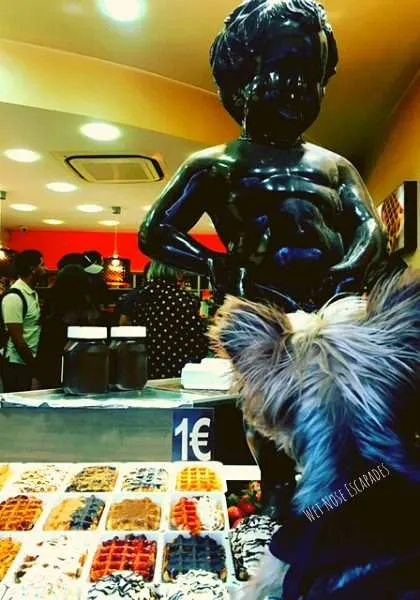 Life is short so I must go wherever my wet nose takes me. In Brussels, I cannot help but follow the sweet aroma of some oven-fresh Belgian waffles. Whether you want to overpay for specialty waffles at an upscale restaurant or grab some 1 euro waffles on-the-go, you CAN bring your dog along as most food establishments, whether high-end or casual, are dog-friendly. Belgian waffles are rectangular, flakey, and soft with deeper pockets compared to American style waffles.
While I could choose from a variety of toppings (as you can see in the picture), I opted for a chocolate waffle since chocolate is, of course, a dominant industry in the country. WOOF, who hasn't heard of Belgian chocolates? Although no official "Belgian chocolate" definition or standard exists, you can never go wrong smackin' those lips to chocolate in Belgium. 
Sniffing for vegan eats in Brussels? Put your furry paw HERE!
10 BEST Dog-Friendly Restaurants in Barcelona, Spain
#4 Wander the cobblestone alleys 
Brussels may be an international city, but it's certainly one that has retained alluring elements of its medieval past. I perk up my ears as my tiny alpha paws meander around the historic cobblestone alleys, especially in the Îlot Sacré (Sacred Isle) neighborhood. Located northwest of Grand-Place, Îlot Sacré is considered the historic center of the city. Although super touristy and packed with subpar restaurants and cocktail bars, Rue and Petite Rue des Bouchers are famous narrow cobblestone paths worth sniffing out and snapping with a few IG-worthy pictures.
Even though my robust wet nose goes crazy with table scraps here, my humans had to remind me that the food here, which caters to the one-time tourist diner, is no good. Since these streets are heavily trafficked, it's best to explore them during off-hours with your dog traveler, e.g. in the morning or late in the evening. 
Watch me explore The Louvre in Paris!
#5 Lighten your day at Manneken Pis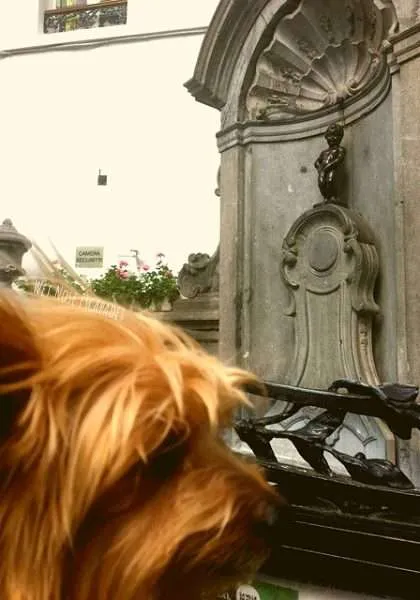 Don't take life so seriously! Passing by this hilarious central Brussels landmark can make even dogs smile with an open mouth. 🙂 ARF, just take a sniff at this 24-inch bronze statue of a naked toddler urinating into the fountain. OK – I may not be a fan of real children, but this adorable kid sure made me wag my stylish rat tail. Symbolizing the sense of humor of the Brussels people (there is a comic strip in the city, after all), this city mascot has origins in several legends, from representing the infant successor Godfrey III to a local missing boy found peeing in a garden. While the replica of Manneken Pis sits within a 5-minute walk of Grand-Place, the original 1619 statue by Jérôme Duquesnoy the Elder is secured at the Brussels City Museum.
#6 Visit a minimalist coffee shop
Just like restaurants in Brussels, coffee shops are also dog-friendly. And, I'm not barking about let's sit outside in the cold or heat dog-friendly. It's more like I'll march into this joint on four tiny paws with an upright tail and sit my furry butt on a human chair. Like I belong. What I love about Brussels' specialty coffee shops is the noticeable minimalist designs: wooden floors, simple interiors, natural lighting, semi-rustic feel, pale colors, and glass windows.
Such simplicity ironically makes these places uber-hip! From hand-crafted coffee to power juices to vegan pastries, Brussels' coffee shops are cool places to sip expensive drinks with your dog right next to you. From the city center to the outskirts, my wet nose never fails to stumble upon a cool minimalist coffee shop. Some sniff-worthy minimalist coffee shops: OR Coffee (Rue Auguste Orts 9), Café du Sablon (Rue de la Régence 26), and Kaffabar (Place Rouppe 1).
Watch me fly around the world!
#7
Strike a pose at Mont des Art Garden (Jardin du Mont des Arts)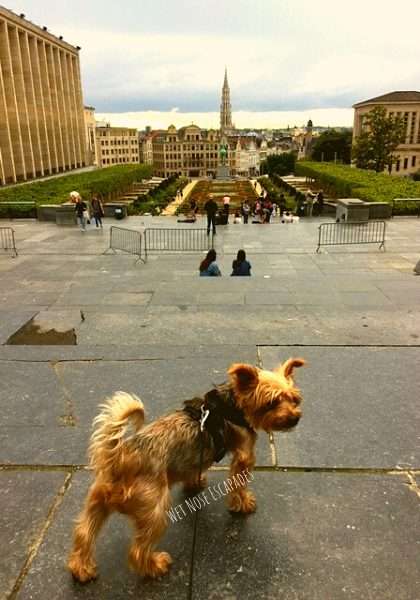 WOOF, Mont des Arts Garden is a stunning public garden that holds bragging rights to some of the best city views. Immediately after climbing up the stairs with my tiny furry paws, I tilted my head in awe – the panoramic views are ARF-mazing! In addition to the vibrant, flawlessly landscaped grounds, my teddy bear eyes were captivated by the elevated view of the Town Hall on Grand-Place.
A quick walk from the Royal Palace, Jardin du Mont des Arts is surrounded by iconic sculptures and jaw-droppin' architecture, making the perfect setting for pictures with or of your dog. After snapping a few photos for my IG, my humans and I chilled at the top, where plenty of people were relaxing and enjoying life (as they should).
Learn how to take your dog to the Greek Islands!
#8 Hang out at a dog-friendly bar or brewery
In Brussels, most bars, pubs, and breweries are (you guessed it) dog-friendly! Yep, that's right – like restaurants and coffee shops, I can walk my furry paws through the door without any looks of disgust. While Belgian beers are widely known (due to their wide range of beer styles and fermentation methods), you can also sniff out locally brewed craft beers in micro-breweries. As you may already guess, beer is an integral part of Belgian social life. Let's just bark that the Belgians can drink!
From La Chouffe to Leffe to Duvel, Belgian beers are so unique to the Belgian culture that it is formally recognized by UNESCO list of "Intangible Cultural Heritage of Humanity." Cheers or "Sante" to that! Since dogs can't (shouldn't) consume alcohol, please make sure to bring bottled water and to-go bowls along with a pack of treats for your furry bar hopper. Although most watering holes will happily give your dog a bowl of fresh water upon request, it's best to pack one just in case. Suggested dog-friendly bars/breweries: BrewDog Brussels (Putterie 20), Au Bassin (Quai aux Briques 74), and Moeder Lambic Fontainas (Place Fontainas 8). 
#9 Snack on Belgian fries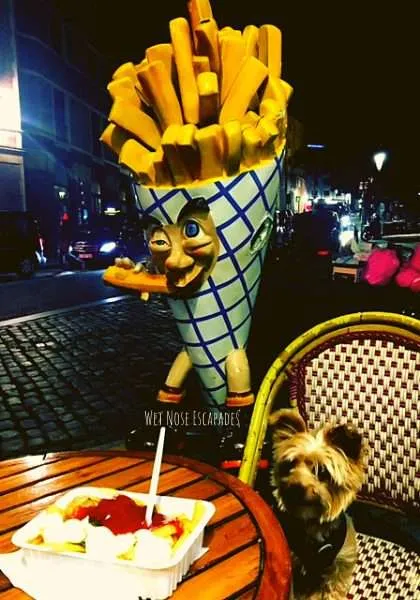 Speaking of Belgian beers, don't forget to get a chomp of those Belgian fries! Taking your dog to Brussels, Belgium would not be complete without scarfing down some frites. WOOF, did you know that the origins of French fries can be traced back to Belgium? Belgian fries are distinct because they are fried TWICE and must be no more than .4 inches thick.
Traditionally, they used to be prepared in a special oil (a mix of horse and cow fat oil), but vegans and animal lovers can now find these deep fried goodies in vegetable oil. 🙂 Like most of Europe, fries are typically enjoyed with mayonnaise although you can ask for ketchup (my human's favorite). While we can get Belgian fries at any traditional restaurant, my humans and I prefer getting our paws on a small tray of fries at a takeaway spot so we can snack and roam the town at the same time. 
As your dog shouldn't be eating deep fried food, remember to pack a bag of treats or yummy food so he or she has something to enjoy too!
10 Tips for Summer Travel with Your Dog
#10 Take a day trip
YAY, trains are dog-friendly throughout Belgium. I rode on trains throughout this lovely country FREE OF CHARGE! A day trip from Brussels to Brugge, Ghent, or Antwerp is only an hour away, which makes a super easy day or weekend trip. 
Brugge: A medieval, fairytale town filled with enchanting canals, Brugge looks like a town straight out of a story book. It's super dog-friendly, pedestrian-friendly, and bike-friendly. Compared to the hustle and bustle of Brussels, this small town is more quiet and relaxing. It's also my favorite place in Belgium. 🙂
Ghent: A port city in northwest Belgium, Ghent is the capital and largest city of East Flanders. Located at the junction of Scheldt and Leie Rivers, it's a lively university town (home to Ghent University) with no shortage of fascinating medieval architecture. 
Antwerp: As the 2nd largest metropolitan area and city after Brussels, Antwerp is a bustling port city known for its diamond industry. Situated on the Scheldt River, it's in the northernmost province of Flanders and also boasts medieval architecture. Due to its fashion industry, Antwerp sets off an ultra cool vibe.
Regardless of what destination you choose, Belgian trains got your dog's back!
Dogs are welcome on Belgian trains! As a small dog traveling in a carrier, I didn't have to pay extra for any of my train rides. Here's some information from the Belgian Train's official website:
€ 3 per single trip for an animal on a lead

a small pet in a basket, cage or box, which is no larger than the dimensions on the picture (30x55x30cm) doesn't have to pay a ticket

a dog for the blind or an assistance dog doesn't have to pay a Pet Supplement 

A muzzle is not mandatory but is recommended for dogs, the conductor may insist that you put a muzzle on your dog.

your pet may not sit on the seats or tables 
*Be sure to check their website for any pet policy changes or updates before booking.
Hope you enjoy taking your dog to Brussels, Belgium! Subscribe to my YouTube Channel: Wet Nose Escapades by Roger Wellington for fun dog travel videos!
Markin' it up,
Roger Wellington a.k.a. The Doob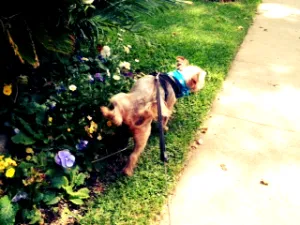 —
Like my post on "Taking Your Dog to Brussels, Belgium"? CLICK TO PIN!