Looking for things to do with your dog in Amsterdam? Is Amsterdam dog-friendly? Keep on sniffing!
First Posted 1/10/21, Last Updated 6/10/23
HALLO, escapaders! My stylish rat tail is wagging as I bark about Amsterdam in the Netherlands – one of the coolest AND dog-friendliest cities in the world. Coined "Venice of the North," Amsterdam is the home to historic canals, crazily narrow and skewed houses, "coffee" shops, Anne Frank House, and ARF course, the notoriously raunchy Red Light District. Cyclists may flood the streets in this city, but I'm hitting the ground running on all four paws.
*Please note that this post contains affiliate links, and at no obligation or additional cost to you, my humans and I earn a small commission if you make a purchase. If you love the work that we do, you can show your support by making a purchase through an affiliate link. Proceeds will go towards feeding homeless dogs (and cats) along with improving the lives of the neglected and abused.
So, is Amsterdam dog-friendly?
YES! From public parks to restaurants to cafes, you will never run out of dog-friendly places or things to do with your dog in Amsterdam. Don't be surprised to see a dog inside a bicycle basket, as dogs practically run the town. In addition to a nationwide NO STRAY policy, Amsterdam has strong protections against animal cruelty and abandonment (plus a dedicated police force to respond to animal cruelty).
As a matter of bark, the Netherlands is the first country in the world with zero stray dogs. And, in case you're wondering, they did NOT achieve such an elite status through euthanization. WOOF-HOO! Through high taxes for store-bought dogs to encourage adoption and "Collect, Neuter, Vaccinate, & Return" programs, the stray PAWpulation has been eradicated by the government. A whoppin' 90% of households in the country have at least one dog, demonstrating how much the Dutch love dogs.
ARF-ter marking it up in this funky Holland capital 3x (for 2-3 months each time), I've assimilated quickly into the canine Dutch culture.
Top 10 Things to do with Your Dog in Amsterdam:
#1 Roam around Dam Square
OK, if you and your dog wanna play tourist in Amsterdam, then Dam Square is the spot (I mean, SPAWT) to mark it up. As the main public square, Dam Square is one of the most famous, frequently visited places in the city and Netherlands. Just south of Centraal Station, this 13th Century 200-meter square was initially built as a dam on the Amstel River. It's also home to the 17th Century neoclassical Royal Palace, the former grand residence of the Dutch Royal family and once the largest secular building in Europe.
Since this square is quite massive, it doesn't typically get too crowded, making it an ideal spot to take pictures of your dog or take a quick water break (don't forget to pack water bowls and bottled water). My little Sherlock wet nose also sniffed out a good mixture of tourists and locals passing through the square. Despite numerous restaurants and food stands nearby, I tend to turn my nose up at them as they're likely tourist traps.
#2 Chill on a rooftop lounge
WOOF, I take pride in hailing from California, but Amsterdam is, PAWS DOWNS, funkier and hipper than my hometown San Francisco. Heck, it even has a bustling tech scene with open, bright-colored office spaces like a typical startup in Silicon Valley. With an atmosphere that's so TOP DOG cool, you can only imagine the nightlife scene here. As the alpha dog, I like to sniff and get sniffed at rooftop bars and lounges in the city, which boast tail-wagging panoramic city views.
Although their posh contemporary designs resemble rooftop lounges in glitzy Los Angeles, most spots in Amsterdam are laid-back and far from pretentious. ARF, did I bark many of these rooftop hangouts are also dog-friendly? For a more relaxing experience with your dog, walk those paws in during the afternoon or early evening without the blasting music. Hit up my go-to spot Canvas (on the 7th floor at Volkshotel) for a breakfast buffet or early evening drinks with the sunset over city views.
Other sniff-worthy dog-friendly rooftop lounges in Amsterdam:
W Lounge at the W Hotel (Spuistraat 175, 1012 VN)
Bar Bistro Bureau (Johan Huizingalaan 763A)
Are Dogs Allowed at Bars & Lounges in Amsterdam?
WOOF, I'm wagging my undocked tail as I bark that YES, dogs are allowed inside at most bars and lounges. As a matter of bark, I've hit up my fair share of bars and lounges throughout the city (or shall I bark, I had to patiently watch my annoying humans empty those bottles of Amstel and Heineken). However, not all rooftop lounges are dog-friendly (especially at non-dog-friendly hotels), so it's best to gauge the ambiance or ask the staff before you enter.
25 Tips on How to Fly with Your Senior Dog!
#3 Tilt your heads to crooked houses on the canal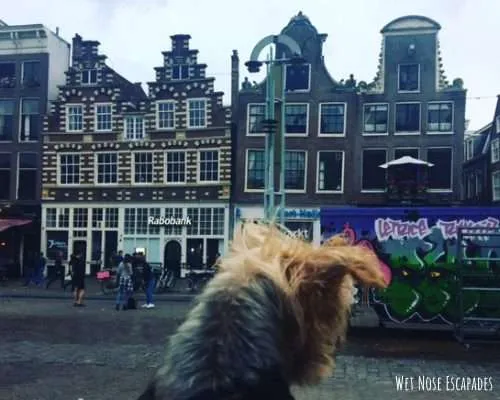 Like Venice, the canals are integral parts of the city's identity. With 90 islands and 1,500 bridges spanning nearly 500 acres, Amsterdam boasts a whoppin' 165 canals. As I rest my tiny alpha paws by the canals, my soft brown eyes are captured by skinny, often leaning forward houses along the water. ARF, my humans and I all tilt our heads in awe to these Pisa-like, sinking houses built on wooden poles. A local told us that the canal houses in Amsterdam have been suffering from ongoing foundation problems (I mean, PAWblems) similar to Venice.
Although the city's canal history dates back to the Middle Ages for water management and defense (with Oudezijds Voorburgwal as the city's oldest canal), most canals here were constructed during the 17th Century (the Golden Age) to accommodate trade. ARF course, with trade comes wealth. And yet, the multi-level, multi-purpose gable-roof canal abodes were once homes to the wealthy Dutch. In the 20th Century, many canals were filled in to create streets for vehicles. Although landfill has destroyed about half of the city's water, Amsterdam remains "the most watery" city in the world.
Thankfully, we don't need to be millionaires or billionaires to enjoy such historic eccentricity and beauty. Get your furry paws on some tasty bitterballen (Dutch meatballs) and a few bottles of Amstel, rest your furry buttocks by a canal, and take in the architectural uniqueness around you! Canal-watching is a FREE activity (and I would bark a very "local" thing to do) that you can enjoy with your dog pretty much any time.
Can You Take Your Dog on a Canal Boat Tour in Amsterdam?
YES and NO. While there are canal boat tours that welcome your dog onboard, you should not assume that all boat rentals are dog-friendly, so be sure to check!
Here are some dog-friendly ones that I've sniffed out:
Rederij Kooij
+31 (0)20 – 623 38 10
Sint Nicolaasbrug 1, 1012 TM Amsterdam, Netherlands
Amsterdam Boat Adventures
+31 (6)48 – 464743
Amstel 51 C, 1018 EJ Amsterdam, Netherlands
Locaboat Holidays (Private hire)
They have bases in the Dutch countryside of Loosdrecht and Alphen where you can start and take your dog up to Amsterdam.
+44 (0)20 3966 4318
Rederij Paping (Private hire)
+31 (0)20 – 2101 256
#4 People-watch in Jordaan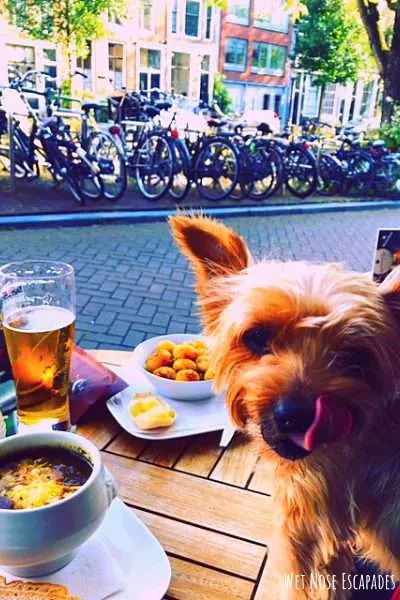 Often referred to as Amsterdam's "Greenwich Village," Jordaan is my FAVORITE neighborhood to mark up in the city. Supposedly named after the French word Jardin (garden), the Jordaan neighborhood has numerous streets named after trees and flowers. During my first visit, I was already sucked in by its rich culture and history.
Despite a working-class history, Jordaan has transformed into a trendy, lush area filled with modern art galleries, contemporary cafe bars, hipster eateries, and indie boutiques – many of which welcome dogs with open paws on their charming flower-lined narrow streets.
It's also home to the ARF-so-famous Anne Frank House, which attracts long queues of international tourists every day (just like most indoor tourist attractions, dogs are generally not allowed inside, but you can still take pictures with or of your dog outside the museum). Although Jordaan is a happening hood (located near the city center in Centrum), walking your dog is still extremely doable – remember to keep your dog on a leash for safety and watch out for cyclists. My go-to spot for prime people and dog-watching is Cafe Sonneveld (Egelantiersgracht 72 74).
If you wanna do some shopping, be sure to sniff out De 9 Straatjes or the 9 Little Streets, an ultra-small area technically consisting of 3 streets that cross two canals (hence, making 9 "little" streets). These streets are an eclectic collection of fashion boutiques, independent shops, bookstores, and eateries. Even if you aren't a shopper like me and my humans, these streets still make a PAWtastic stroll with your dog.
Are Dogs Allowed inside Retail Stores in Amsterdam?
YES, most retail stores (even fancy boutiques) allow well-behaved dogs inside (unless otherwise noted or verbally rejected by the staff). Well, at least small dogs like myself – from my experience. It helps to carry your dog inside while you shop versus walking him on the ground. Besides De 9 Straatjes, other famous streets for shopping include Haarlemmerstraat (boutiques and vintage stores) and Albert Cuypstraat (open-air market with dog-friendly stalls and shops).
Find out what essentials to pack for your dog!
#5 Take a stroll on the waterfront of Eastern Docklands
During my first visit to Amsterdam, I roamed up and down the waterfront walkway of the Eastern Docklands every day. With a wide, red-brick walkway and calm atmosphere, this less touristy area is one of the best off-the-beaten-path places to take your dog. Eastern Docklands is a gentrified port area with old brick warehouses transformed into funky art studios, bright tech startup offices, contemporary residential lofts (for young working professionals), and trendy hipster restaurants.
Besides sniffing out some cool urban Dutch designs along the waterfront, I ARF-solutely love sniffing the grounds of the historical Lloyd Hotel, one of my homes away from home in the city. This lovely 3-star hotel boasts a long history of various purposes – first as a temporary residence for immigrants, then a prison and detention center, and later as an art studio. My favorite part about the hotel is their lovely dog-friendly restaurant with a rustic outdoor patio (pictured above).
#6 Mark up the city's dog-friendly parks and open green spaces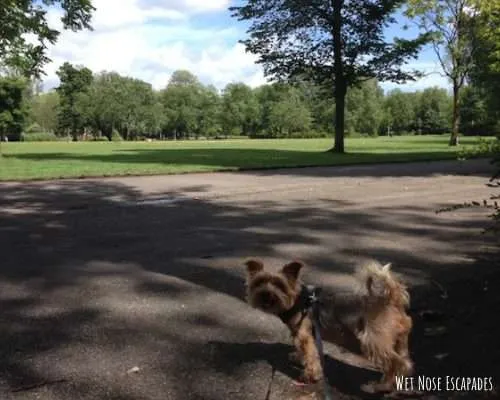 WOOF, it's time to mark it up! As the most populous city in the Netherlands, Amsterdam did not fall short of dog-friendly parks and green spaces. Please remember to be a respectful visitor by cleaning up after your dog. Here are just a few places where I like to rake my feet and leave my alpha marks for those Dutch beta doggies:
Oosterpark – Located in Oost, Oosterpark is a massive park with monuments (including one for the National Slavery Monument), grassy fields, waterfront views, ponds, and ARF course, off-leash dog areas.
Vondelpark – In the borough of Zuid, Vondelpark is, PAWS DOWN, the most visited and largest park in the city, with a whopping 120 acres of fun butt sniffs. It has ponds, an open-air theater, and most imPAWtantly, a cool dog run.
Sarphatipark – A small, quaint English-style park with ponds, meadows, and an off-leash dog area near De Pijp and Albert Cuyp Market. Although there is one NO DOG grass zone, the rest of the park is dog-friendly.
Rembrandtpark – Named after the 17th Century painter, Rembrandtpark boasts 110 acres in Nieuw-West with a gigantic brown, floppy-eared dog statue on the bridge! *Please do me a favor by skipping the petting zoo at this park. Petting zoos exploit animals by taking them out of their natural habitat (or breeding them in captivity) and then place them under enormous stress through forced human interaction. Find out other ways you can help animals while traveling.
Beatrixpark – With aesthetically landscaped walkways, Beatrixpark is well-maintained, clean, and relatively quiet compared to the city's famous parks. Named after Queen Beatrix, this city park founded in the 1930s has a PAWpular off-leash area as well.
#7 Fill up your tummy in De Pijp
Resting south of the city center in the borough of Zuid, De Pijp is arguably one of the best foodie neighborhoods in the city, famous for Middle Eastern eateries and old school pubs. ARF, so let's get chompin'! From chops' lickin' tagine to savory pad thai to beg-worthy shawarmas, I will stare down these delectable goodies until I WILL them to my little mouth! De Pijp is foodie heaven where I can grease up my paws from food from all over the world.
Historically ruffin' it with residents of the working class, De Pijp is now like the alpha dog hood. Hanging out here is TOP DOG cool. For those vegetarians visiting the city, be sure to sniff out De Waaghals, my go-to whenever I feel like stuffing my mouth with veggies. Also, try veggie pad thai at MASH (Gerard Douplein 9, 1073 XE), the hip Thai eatery that welcomed me indoors with open paws.
Are Dogs Allowed at Restaurants in Amsterdam?
WOOF, you betcha! Yes, dogs ARE allowed inside most restaurants (and bars) in Amsterdam. From hipster pizza joints to traditional Dutch restaurants to Thai eateries, I've stomped right in with all four paws and sat my furry butt comfortably on a human chair! As a matter of BARK, I have never been rejected entry indoors.
BUT, even if your furry diner gets rejected from outdoor seating (especially at those Middle Eastern eateries, which are often more of a miss than a hit for indoors), dogs are generally welcome with open paws on sidewalk terraces or outdoor patios. The same applies to cafes – most (if not, all) will allow your dog inside – no PAWblem.
Sniff out some of my favorite dog-friendly restaurants in Amsterdam.
Get my 8 tips on how to dine with your dog!
#8 Sunbathe in Weesperzijde
On the street of Weesperzijde (in the neighborhood of the same name), I wagged my stylish tail to sniff out some sunbathing picnic gatherings of 20 to 30-year-olds and their dogs along the east side of Amstel River. DOG, is it a PAWTY here?! In the summertime, this street (roughly from Schollenbrugstraat to Burmanstraat) gets suPAW lively with youthful Dutch picnic-goers and daring swimmers by the late afternoon or early evening.
Even if you're not down for sunbathing or picnicking along the river, this street makes a scenic stroll with your dog in the morning or early afternoon, which comprises a wide brick walkway with an adjacent grass area. Needless to bark, there are plenty of spots (or SPAWTS) for me to MARK IT UP. As most Dutch are dog lovers, it was no surprise that I became uber PAWpular on my daily walks here as the resident Yorkie. My teddy bear face and soft brown eyes are secret weapons to getting a treat or two.
Grab my exclusive guide on how to travel with your dog!
#9 Blend in with
The Night Watch
at Rembrandtplein Square
Named after the artist Rembrandt van Rijn who resided nearby in the 1600s, Rembrandtplein Square has a rich history dating back to the Middle Ages with defensive walls to protect the city. It later served as a public space for nightlife artists, and now it's a gathering place for locals, tourists, and nightlife party-goers (and yes, I sniffed out quite a few doggies). Their main attraction is the life-size bronze The Night Watch monument, a stellar representation of The Night Watch painting by Rembrandt from the 17th Century Golden Age. Depicting militiamen and a courageous military dog, this sculpture was presented to the square in 2006 to honor Rembrandt's 400th birthday.
My wet nose randomly stumbled upon this magnificent sculpture, leading me to greet the great watchdog statue with a little sniff. As you can see in my picture, The Night Watch monument features an adorable watchdog barking at the drummer's feet. WOOF, I think I blend in pretty well – what do you think? 🙂
WOOF: Just a quick bark that Rembrandtplein Square is actually in a different location from the park (of the same name), as BARKED earlier.
#10 Walk through the Red Light District (ONLY during off-hours)
A BARK OF CAUTION: I do NOT necessarily recommend taking your dog to the Red Light District because it can get VERY raunchy and crowded at night with inescapable second-hand smoke. However, if you're adamant about checking the notorious Red Light District off your list, then yes, you CAN do so safely with your dog during off-hours (typically before 10 pm). The ladies will still be there, even during the day (but, of course, you'll generally see more action on a prime Friday or Saturday evening with the craziness starting around 10ish/11 pm).
With that barked, I have been carried through here in the arms of my human during my first Amsterdam trip; however, it is mostly earlier in the evening before the crowds (and smokers) take over. I've explored the main street of Oudezijds Achterburgwal and then cut into a few side streets. However, we left as soon as it started to feel congested. Therefore, I can suggest a quick carry-thru with a dog for those who really want to sniff this out-of-the-ordinary scene, BUT please do so during off-peak hours when streets are relatively quiet.
Gauge the environment – if it starts to feel rowdy or smell smokey (2nd hand smoke), LEAVE, and don't put your dog through such unnecessary stress and toxic air. You can always return on your own time. While you cannot take pictures of the workers at their windows out of respect for their privacy, you can still snap a few pictures on the main street (as long as the ladies are not visible).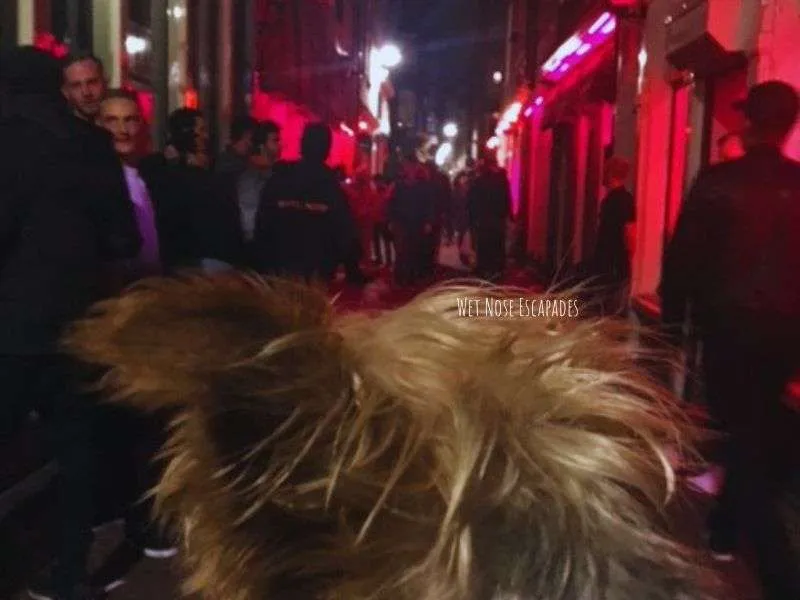 What is the Red Light District?
De Wallen or the Red Light District is where legalized prostitution comes to life in Amsterdam. Intrigued tourists and visitors flock to this neighborhood for a glimpse – well, NOT necessarily as customers. ARF, I'm not going to lie. Going through the Red Light District IS suPAW strange and fascinating if you've never seen anything like it before; potential customers "shop" for "workers" or ladies of their liking via glass door windows, and then negotiate the price. Once a transaction is agreed upon, the curtains are closed from the public eye. ARF-my-DOG!
MUST-SNIFF 2023 Updates
This year, the city started considering removing prostitution from the Red Light District to a suburban "erotic center." So far, it hasn't been successful, but we shall see in the future. Just a bark that prostitution has called the Red Light District home since the 16th Century.
On May 25th, marijuana smoking has been officially banned in the Red Light District! This act was endorsed by the city's first female mayor to clean up the neighborhood. If found smoking marijuana on the streets, violators will be subject to a 100 euro fine although they can still smoke inside and on the terraces of coffee shops. WOOF-HOO! Hopefully, this ban will provide a better experience for dog travelers (just a BARK of caution that cigarette smoking is still legal. GRR).
Get all my exclusive dog-friendly travel tips HERE!
A Yorkie's Guide to Dog-Friendly Amsterdam:
Dog Rules in Amsterdam
Dogs are generally welcome in most public places but must be leashed (as expected). You cannot walk your dogs at playgrounds, children's play areas, sports parks, sports areas, school grounds, and swimming pools. They are only allowed off-leash in designated areas (in public parks). Sniff out the list of all the off-leash and prohibited areas here. Don't forget to have those poop bags handy to clean up after your dog.
Dog-Friendly Public Transportation
WOOF, dogs can ride for FREE on trams, metros, and buses in Amsterdam – as long as they are leashed, stay on the floor, sit on your lap, or travel inside a carrier.
At the national railway of the Netherlands (Nederlandse Spoorwegen), small dogs like me travel for FREE as long as they're in a bag, basket, or able to sit on their human's lap. On the flip side, larger dogs can only board if they have a "dog ticket," which only costs €3.30 and does not have to be checked in. The tail-waggin' news is that you can conveniently reserve an e-ticket or mobile ticket for your dog, making things supaw convenient. Unfortunately, this "dog ticket" is required for larger dogs and is only valid on domestic NS and Arriva trains.
Dog-Friendly Rideshare
Taking Uber with your dog in Amsterdam can be a hit or miss. It essentially boils down to the driver. Unfortunately, I was denied so many times that my humans started putting me inside a carrier before getting picked up. My experience with Uber in Amsterdam has been, PAWS DOWN, the WORST out of all the many cities I've used the ridesharing app. It seems as though we were mostly matched up with drivers of a certain religion who generally do NOT like dogs or view them as "unclean." GRRR. Therefore, if you have a small dog, make sure you put him inside a carrier before your ride shows up. OR you can simply call ahead of time to make sure the driver is okay with your dog. It can save you a lot of time and frustration.
Find the best soft carrier for your dog HERE!
Dog-Friendly Coffeeshops
Despite being dog-friendly (heck, the most PAWpular coffeeshop is even called The Bulldog), coffeeshops are places you need to skip when out with your dog. OK, it's not what you think! In Amsterdam, you don't go to a "coffee shop" to down espresso, do some work on your laptop, or and skim People magazine for the latest celebrity gossip. Instead, coffeeshops are where you can legally buy and smoke cannabis in the city.
While visiting a coffee shop seems like a "When in Rome"-type thing to do, it's not something you should experience with your dog. Coffeeshops have poor ventilation inside with inescapable second-hand smoke, which is dangerous to both humans and dogs. While humans can usually choose to walk away from smokers, dogs cannot. Your dog will not be able to escape the polluted air even in outdoor seating. For your dog's comfort and health, please leave him back at the hotel or apartment.
Where to Stay with Your Dog in Amsterdam
Wibautstraat 15
3-star Hotel
Location: Near Van Gogh Museum
One dog is allowed for an extra charge of EUR 15 per night
Book your stay at Volkshotel here – my favorite dog-friendly hotel in the city!
Heathrowstraat 5, 1043 CE
3-star Hotel
Location: Within a 10-minute drive to Rembrandt Square and Anne Frank House
One dog is allowed for an extra charge of EUR 30 per night
Book your stay at Teleport Hotel here!
Oostelijke Handelskade 34, 1019 BN
3-star Hotel
Location: Eastern Docklands, a 10-minute drive from Anne Frank House and Dam Square
Dogs stay FREE!
Book your stay at Lloyd Hotel here!
Nieuwezijds Voorburgwal 5
4-star Hotel
Location: City Center near Oude Kerk
Dogs stay FREE!
Book your stay at Kimpton De Witt here!
Hope you enjoy taking your dog to Amsterdam! Feel free to share your experience – BARK AT ME!
Remember to subscribe to my YouTube Channel: Wet Nose Escapades by Roger Wellington for fun dog travel videos!
Markin' it up,
Roger Wellington a.k.a. The Doob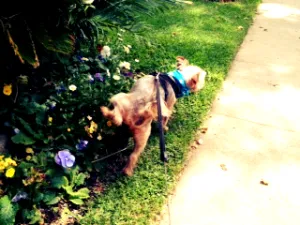 —
Like my post on "10 Things to do in Amsterdam, Netherlands with Your Dog"? CLICK TO PIN!