WOOF, wanna know the BEST things to do in New Orleans, Louisiana with your dog? Keep on sniffing!
Posted 4/13/22
*Please note that this post contains affiliate links, and at no obligation or additional cost to you, my humans and I earn a small commission if you make a purchase. If you love the work that we do, you can show your support by making a purchase through an affiliate link. Proceeds will go towards feeding homeless dogs (and cats) along with improving the lives of the neglected and abused.
WOOF, let's bark The Big Easy! As a furry international foodie, I like to unite my tongue with the BEST food in the world. Luckily, I don't need to hop on an international flight to access some good ol' Southern food. ARF-ter all, New Orleans (NOLA) is just a quick 3.5-hour flight from my native California, making the trip to fill up my little Yorkie tummy EASY PEASY. Now, is New Orleans dog-friendly? ARF-solutely! Although I wouldn't recommend taking your dog to witness the Bourbon Street debauchery at night, there are plenty of tail-waggin', fun things to do in New Orleans with your dog. Sniff out my list of TOP 10 Dog-Friendly Activities in NOLA now!
#1 Bar hop
It's time to try that sazerac with your furry companion next to you! OK, I'm obviously NOT barking about taking your dog to a crowded bar or one with live or loud music that's ARF-so-damaging to your dog's eardrums (remember, dogs have ultra-sensitive ears with a wider range of hearing much more than humans). But, there are ample laid-back bars throughout the city that are pawfect to take your dog to, especially during the day before the rowdiness comes alive. The good news about the bars in NOLA is that most (if not, all) are dog-friendly. I didn't believe it at first when I called a local bar to ask if they allow dogs, but boy was I pleasantly surprised! The bartender told me on the phone that all bars in New Orleans are dog-friendly, whether inside or outside.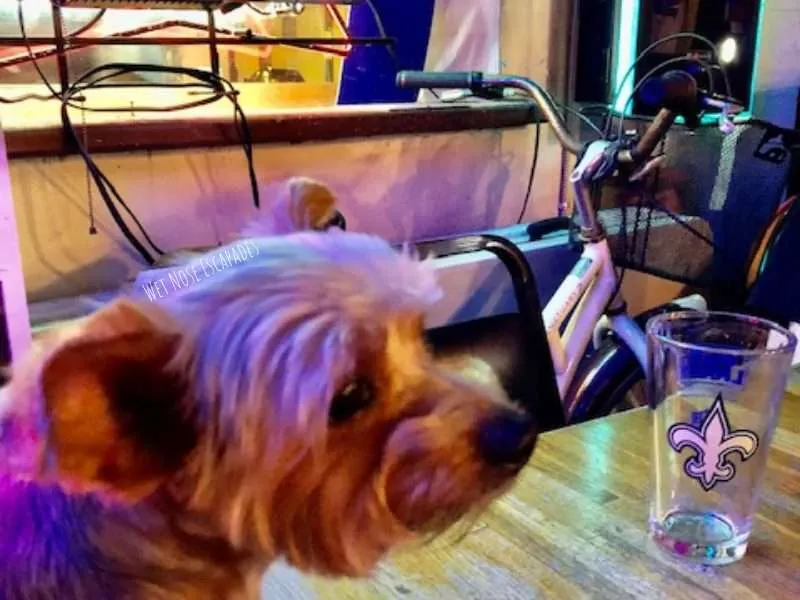 Here are my favorite dog-friendly bars:
Three-Legged Dog (WOOF, it's all in the name!)
400 Burgundy Street
Local 718
718 Bourbon Street
Cosimo's Bar
1201 Burgundy Street
Golden Lantern
1239 Royal Street
Brieux Carre Brewing Co.
2115 Decatur Street
Vaughan's Lounge
4229 Dauphine Street
#2 Explore the French Quarter
ARF, you cannot go to New Orleans without markin' up the French Quarter! These historical quarters are the city's most treasured attraction drawing nearly 20 million visitors annually. Besides the raunchy nightlife (in which dogs should NOT partake), the French Quarter is known for head-tiltin' Spanish architecture. WOOF, even a tiny dog like me tried to get a good look at their ARF-mazing Spanish balconies – the ones I became ARF-so-familiar with during my Catalonia residency. That's right – even though it's called the French Quarter, most of the architecture here is surprisingly Spanish, not French. What a treat for a former Catalan Yorkie!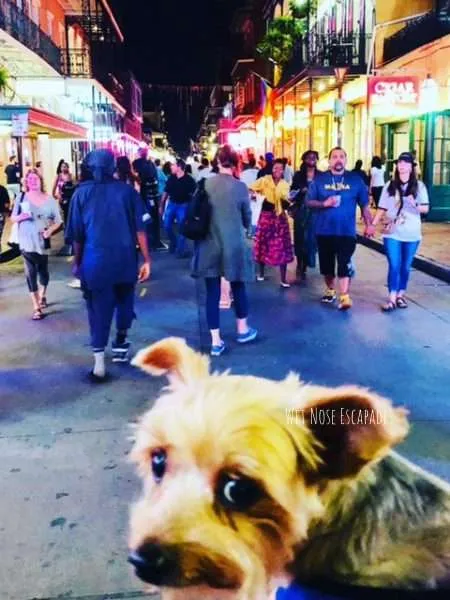 And, yes – I would bark that the French Quarter IS dog-friendly, but only to a certain extent. The best time to explore with your dog is in the morning or afternoon when there is less foot traffic (basically before the nightlifers come out). Otherwise, it can getsupaw overwhelming and stressful for your dog. In addition to dog-friendly bars and restaurants, dogs are also welcome inside souvenir shops and gift stores. My robust wet nose also sniffed out several pet supply shops here: Southern Paws (633 Toulouse Street), Big Easy Petshop and Rescue (513 Dumaine Street), and Chi-wa-wa-ga-ga (511 Dumaine Street).
*As dogs are pack animals who'd LOVE to experience meals with you, don't forget to pack a bag of treats, dog-safe food, bottled water, and to-go bowls for your dog! Don't make your dog feel left out.
Get my list of 10 BEST Dog-Friendly Restaurants and Bar in NOLA
#3 Ride St. Charles Streetcar
WOOF, it's time to sniff out some gigantic mansions on St. Charles Avenue, and there's no better way to do it than to ride the pawbulous St. Charles Streetcar. It has been running since 1835, making it the oldest continuously operating streetcar in the world! ARF-my-DOG! Your dog is allowed onboard if they travel in a carrier or cage that fits on your lap, which means it's a small dog's game only (unless you have a legitimate service dog).
Covering an area of 15 acres, the St. Charles Streetcar Line goes through Tulane University and Loyola University, Uptown/Garden District, and Central Business Quarter. Besides exploring by paw, this is the BEST way to take a sniff of dozens of jaw-droppin' mansions, including the Benjamin Mansion (5221 St. Charles Avenue), the Wedding Cake House (5807 St. Charles Avenue), and the largest mansion on the street, Brown Mansion (4147 St. Charles Avenue).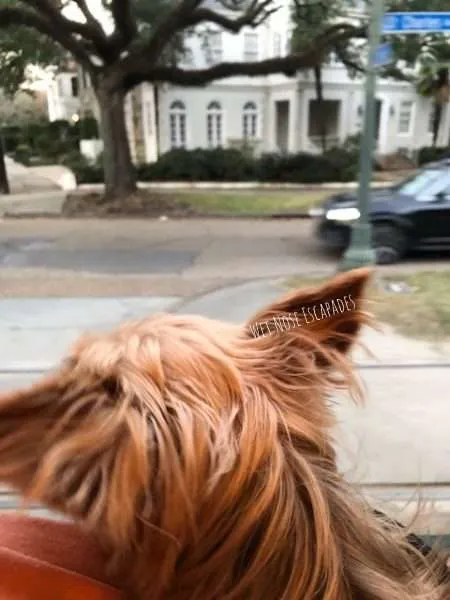 #4 Mark up Lafayette Square
ARF, no visit to NOLA with your furry friend is complete without markin' up Lafayette Square. The second-oldest public park in the city, Lafayette Square used to be called Place Gravier. Constructed in the 18th century under the Spanish government, it was historically part of the St. Mary Suburb (Faubourg). Today, it is situated in the Central Business District and has been rebuilt since Katrina.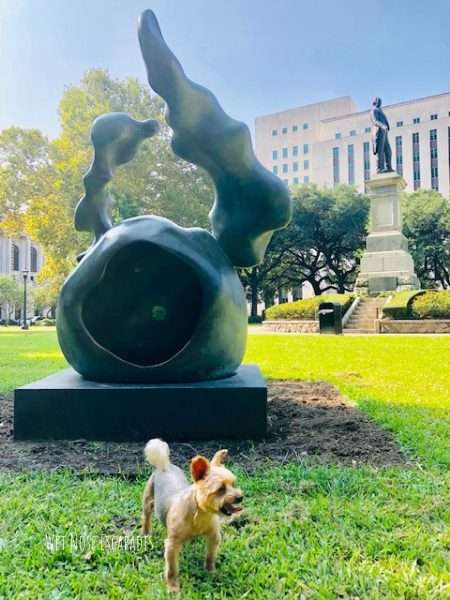 This park boasts a pawsome 2.5 acres of greenery across St. Charles Avenue with statues of prominent NOLA figures. Besides being the site of numerous festivals and concerts (not to bark, parade-watching during Mardi Gras), Lafayette Square is a pawpular meeting spot for furry New Orleanians and visitors alike. It's a spot to do some butt chasing, a zoomie or two, and rake my feet. Let me just bark that there's A LOT of mail and messages to sniff out and respond to (promptly!).
#5 Walk those paws along Magazine Street
ARF, I love it when my four alpha paws hit the ground runnin' on Magazine Street, which is supaw hip with antique stores, fancy boutiques, jewelry stores, cool eateries, and local watering holes. Magazine Street is, PAWS DOWN, one of the most sniff-worthy streets in the city (well, next to St. Charles Avenue). Parallel to the Mississippi River spanning six miles, this thoroughfare runs through my favorite Garden District (which is the BEST part of the street) – from Canal Street to Audubon Park.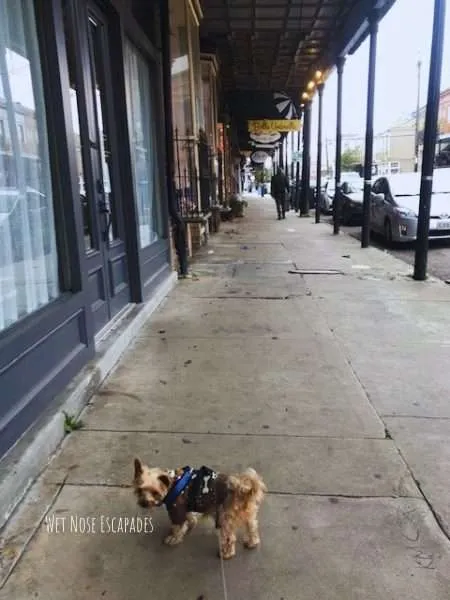 It covers other neighborhoods like the Central Business District, Warehouse Arts District, and Uptown. Besides exploring the cute shops and filling up my little Yorkie belly with some muffalettas and seafood gumbo, I also like to use my robust wet nose to sniff out the unique Creole style homes in the area, which is a rich blend of the French, Spanish, and Caribbean architectural styles along with designs to combat the city's notorious humidity.
#6 Grab some beignets at Cafe Du Monde
800 Decatur
ARF, is it time to get your paws greasy on some beignets at the ARF-so-famous Cafe Du Monde? Even though Cafe Du Monde beignet mix is sold almost anywhere in the world, it's not the same until you've made a mark here at the original coffee stand, which has been serving up crispy beignets and fresh coffees since 1862. Perk up your ears – 1862??? That's right, my claws did not type incorrectly!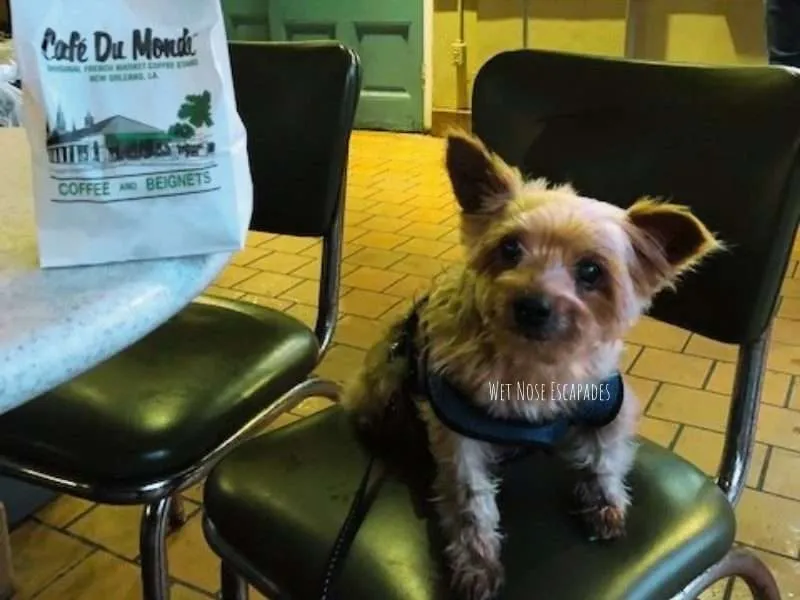 AWOOO, this is a New Orleans tradition that you cannot miss! Similar to donuts, beignets are the equivalent to English fritters; they're square-shaped French deep-fried pastries made from bread flour and powdered sugar. Don't forget to pair it with cafe au lait, another tasty treat that Cafe Du Monde is known for. This world-famous joint in the French Quarter is a MUST-sniff with your dog – well, given that the lines are not crazy long! For an optimal experience with your dog, be sure to set your paws here during off-hours – in the morning or evening OR on a weekday (sans Friday).
#7 Wander around Frenchmen Street
AWOOO, the locals told me that Bourbon Street is for tourists and Frenchmen Street is for locals. While I still sniffed out some tourists at the three-block strip, it has a much more laid-back vibe compared to crazy Bourbon. This is where I wanna stick my nose into for some authentic New Orleans experience. Located in the 7th Ward in the Faubourg Marigny neighborhood, Frenchmen Street has bragging rights to some of NOLA's best live music venues, including The Spotted Cat Music Club, The Maison, Blue Nile, and Apple Barrel Bar. ARF course, taking your dog inside a live music venue is NEVER a good idea due to their highly-sensitive ears. GRRR. However, it doesn't mean that Frenchmen Street is not worthy to leave a mark on the outside. Besides restaurants and bars, this small strip has a few dog-friendly stores (e.g. record shop, bookstore) and ARF-mazing New Orleans architecture, including Creole cottages and Creole townhouses.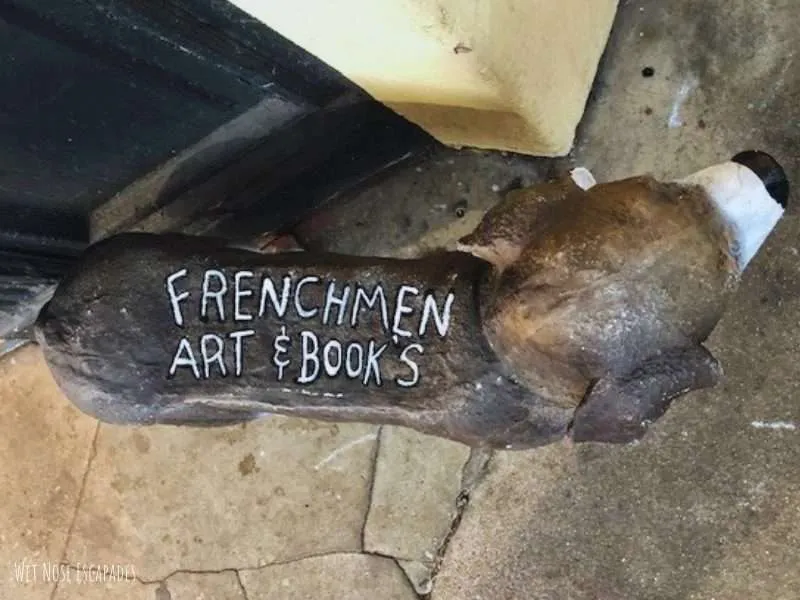 Originating back in 1790 to 1850, Creole cottages are simple one-story stucco or wooden houses with steeply-pitched roof, symmetrical four-opening facade, and are set close to the front property line. The two front rooms typically open into the street with French glass doors. Creole townhouses are two to four story structures with similar symmetrical arched openings, steeply-pitched roofs, and beautiful iron balconies at the second or third levels. Both types of housing units are set at ground level. WOOF, the architecture here never fails to make me tilt my head in awe. ARF-so-interesting!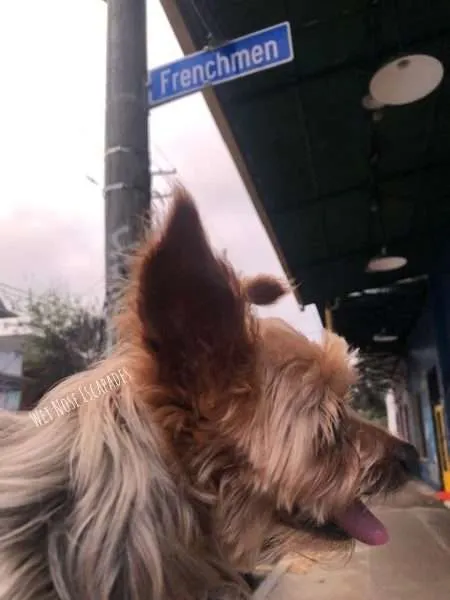 #8 Get movin' at New Orleans City Park
1 Palm Drive
WOOF, New Orleans City Park is a real TOP DOG park, spanning over a whoppin' 1,300 acres. This park is HUGE! Heck, it's even 50% more massive than NYC's Central Park (my old stomping ground) and is the 20th-most-visited urban public park in the country! On-leash dogs are welcome on park grounds, except for the Botanical Garden, Storyland, the amusement park, stadiums, or other park facilities. However, if you register for a permit for your dog, your dog can enter the pawtastic NOLA City Bark dog park, which is a 4.6-acre plot of land within City Park. The permit is necessary to ensure that all dogs are properly vaccinated and spayed or neutered. Permit fees also help with the costs of maintaining the park. Visitors can get a short-term pass: $10 for one week or $15 for two weeks.
As always, don't forget to clean up after your dog!
NOLA's 5 Paw dog park includes the following, as barked on their official website:
• 4.6 landscaped acres in beautiful City Park
• Separate play areas for small and big dogs
• Howdy entrance gates (double gates)
• Water fountains for dogs and humans
• Shade pavilions
• Paved walking paths in the small and large dog areas.
• Mutt Mitts for clean-up
• On-site restrooms
• Water play area and doggie pools
• Chairs and benches for humans and hills for the dogs
Permits can be issued and are available for pick up during normal Business Hours, Mon-Fri 8 to 5.
Get your furry paws on more info on NOLA City Bark HERE!
#9 Walk along the Mississippi
ARF, everyone has heard of the Mississippi River, but not all have set their furry paws in the Deep South to experience the second-longest river in North America. This river is so long (like my Dachshund sister) that it covers TEN states! Yes, that's right – TEN! Luckily, in New Orleans, I can march up and down along the Mississippi riverfront like a real Yorkie Boss.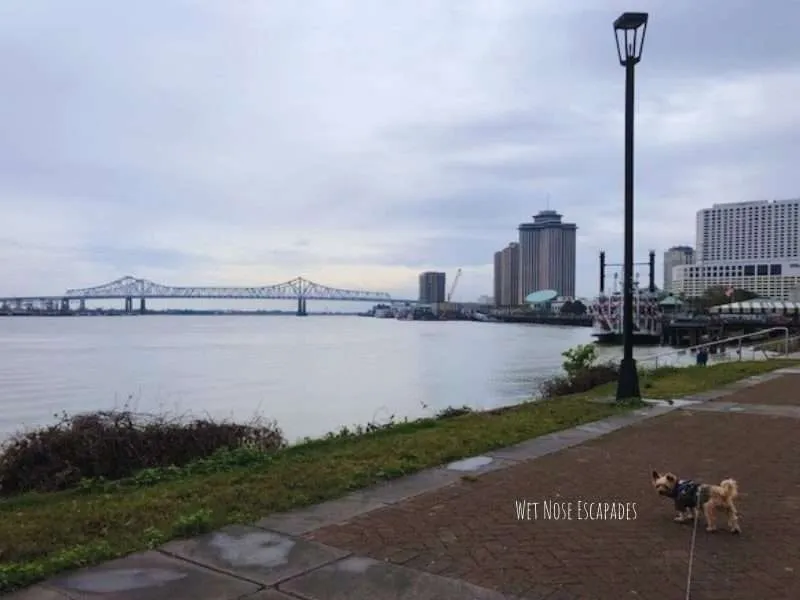 Conveniently located next to the French Quarter near Cafe Du Monde, the riverfront has a spacious walkway with plenty of benches and concrete steps to rest my furry paws and a 16-acre grassy area (Woldenberg Park) for me to leave a mark or two. The scenery is ARF-so-relaxing with a famous white steamboat (Natchez), a bit of some mesmerizing city skyline, and a dynamic collection of public art (be sure to sniff out "Monument to the Immigrant" and "Old Man River"). And, ARF course, the eye-catching Crescent City Connection (bridge).
#10 Hop on a ferry
For a deeper sniff of the Mississippi River, you can hop on a ferry with your dog. A pedestrian-only ferry runs between Canal Street in the French Quarter and Algiers Point. Dogs are welcome to board the ferry with their humans at NO EXTRA CHARGE. WOOF-HOO! You can buy tickets (exact change needed) onboard or on the NORTA app. The ferry runs every 30 minutes from each side, leaving Algiers Point on the hour and half hour, and Canal Street side at a quarter until and a quarter after the hour. With art galleries, intriguing Creole cottages, and local pubs, Algiers Point is far from touristy and is ARF-solutely worth sniffing out for a half-day or so to change the pace from the crazy French Quarter.
Here are the ticket prices, as barked on their official website:
Ferry Stops:
CANAL STREET: GPS: 2 Canal St.
ALGIERS POINT: GPS: 100 Morgan St.
SINGLE RIDE:
Adult: $2
Youth, Senior, Disabled $1
1-DAY PASS (Bus, Streetcar & Ferry)
Adult: $3
Youth: $1
Senior, Disabled: $.80
3-DAY JAZZY PASS (Bus, Streetcar & Ferry) $8
7-DAY JAZZY PASS (Bus, Streetcar & Ferry) $15
ARRRRF, hope you enjoy these 10 things to do in New Orleans with your dog! How was your dog-friendly New Orleans experience? BARK AT ME!
Markin' it up,
Roger Wellington a.k.a. The Doob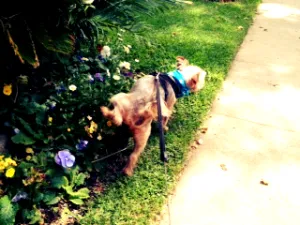 —
Like my post on "10 Things to do in New Orleans, LA with Your Dog"? CLICK TO PIN!