Let's bark Pasadena, California (or is it PAWsadena?)! Although it's not exactly an international (or even national) destination, Pasadena is one supaw dog-friendly place in sunny Southern California. Perk up your ears to hear the barks and grumbles of my sidekick/lil sis Miss Penny Rose.
And, if you miss me, don't worry because I'll still leave a mark here and there in this post!
–Markin' it up,
Roger Wellington a.k.a. The Doob
Posted 7/22/22
ARF, it's me again, Penny Rose a.k.a. Penny Gurl (pronounced "GURRRRL")! My fluffy long copper tail is going back and forth like a windshield wiper as I bark out my 4th blog post. Even though I haven't ventured out internationally with the Yorkie Boss Roger W. yet, my skinny Papillon-Dachshund self is still lovin' my wet nose escapades in California and beyond. My next stop is Pasadena, California!
Just northeast of Downtown LA (DTLA), Pasadena (or as the dogs call it PAWsadena) is a small city (pawpulation of just 142, 017) with a whole lotta fun – woof, it's known for some TOP DOG shopping and dining, pawbulous Victorian and art deco architecture, Rose Bowl (home stadium to UCLA Bruins and Rose Parade), CalTech (one of the most prestigious universities in the world), and ARF course, Big Bang Theory. Despite the fact that it's noticeably hotter than Los Angeles proper (and the Westside), the best part about Pasadena is that it's clean, safe, and utterly fun for dogs. Is Pasadena dog-friendly? WOOF, it's a tail-waggin' YES! Keep on sniffing.
*Please note that this post contains affiliate links, and at no obligation or additional cost to you, my humans and I earn a small commission if you make a purchase. If you love the work that we do, you can show your support by making a purchase through an affiliate link. Proceeds will go towards feeding homeless dogs (and cats) along with improving the lives of the neglected and abused.
Sniff out my picks for 9 things to do with your dog in Pasadena, California below:
#1 Explore Old Pas
Old Pas, Old Town Pasadena, or just Old Town is the heart of the city. Since its revitalization in the late 1980s, Old Pas has been a bustling area that attracts visitors from near and far with its upscale restaurants, cute boutiques, commercial retail shops, comedy clubs, and ultra-hip nightlife (forget the nasty traffic going to Hollywood!).
From the main street of Colorado Boulevard to Green Street to Los Robles Avenue, there's just so much to explore by paw. Most restaurants and shops are dog-friendly and provide communal dog bowls right outside the storefront. I especially love its pedestrian-friendly diagonal crosswalks, which save time and give my chicken legs a break.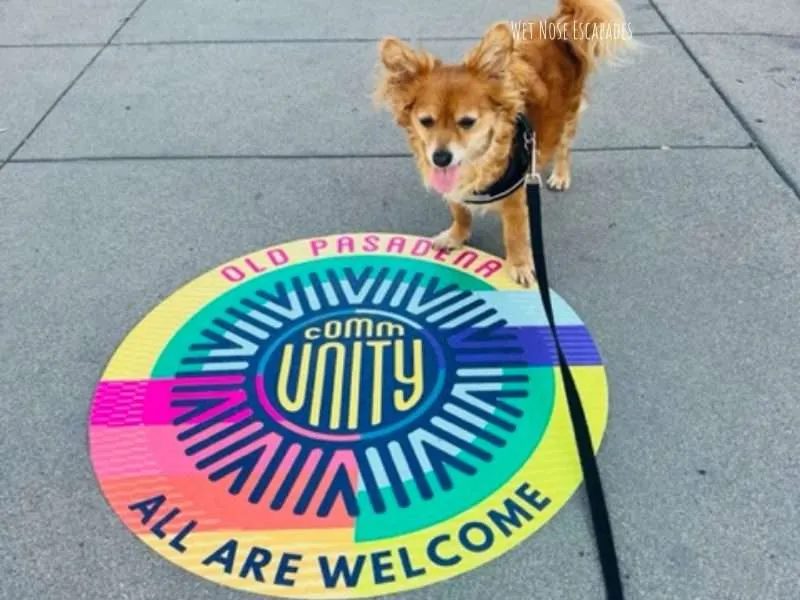 #2 Do zoomies at South PAWsadena Dog Park
650 Stoney Dr, South Pasadena
That's right, this is no mistake – the park is called South PAWsadena Dog Park. Whether or not you are a fan of dog parks, you gotta get a kick out of the park's spelling! There are two separate dog zones here (one for small dogs and another for big dogs) plus doggie water fountains and benches. Besides the lack of shade, my only other complaint is that there's no grass here (just dirt), so my paws tend to get a little dusty after doing a zoomie or two. ARF-ter running around with some new SoCal friends, I like to hit up the hiking trail right next to the golf course.
Other dog-friendly parks to sniff out in Pasadena:
Alice's Dog Park (3026 E Orange Grove Blvd, Pasadena) – Located in Vina Vieja Park, this is a grassy dog park with separate areas for large and small dogs.
Central Park (275 S Raymond Ave, Pasadena) – OK, this is not the "real" Central Park in NYC, but it's still very sniff-worthy and markable! It's a 9.2-acre park near Downtown with a spacious walkway and picnic area.
Desiderio Neighborhood Park (10 N Arroyo Blvd) – Opened in 2019, this 3.8-acre neighborhood park is considered a hidden gem of the city. Resting under the 134 freeway, this dog-friendly park boasts beautiful views of the Colorado Street Bridge.
#3 The Boy and The Bear Coffee Shop
951 E Green St, Pasadena
If you wanna find a relaxing spot with speedy wifi to get some work done with your furry coworker (or shall I bark, furry CEO) next to you, you can walk those paws to The Boy and The Bear Coffee Shop. From fresh cold brews to gluten-free goodies, this minimalistic hipster joint with high ceilings and plants galore is one cool place to take your dog. My human loves their pawtastic open concept and just how clean it is here. Since it's uber dog-welcoming (not just dog-tolerant), be prepared to do lots of butt sniffing at this doggie hotspot.
#4 Stop your paws on Big Bang Theory Way
Many humans meeting me for the first time have asked if I were named ARF-ter Penny from Big Bang Theory. The truth is that I was named based on the color of my skin, which is copper (hence, the name "Penny"). Regardless of where I got my name, I must admit that I am a fan of the show. For fans like my humans, Big Bang Theory Way is a MUST-STOP in Pasadena. Located on the 100 block of East Colorado Boulevard at the entrance to the alley just east of Crossroads Trading Co., this iconic sign was installed by the city in 2016 to pay homage to the show. That same year, Pasadena also declared February 25th as "Big Bang Theory Day."
Besides the sign, there's also The Cheesecake Factory just a few blocks away on 2 W Colorado, where the characters Penny and Bernadette worked as waitresses. Unfortunately, this Cheesecake location does not have any dog-friendly outdoor seating (at least when I last sniffed on July 21, 2022), but I sure hope they change the policy in the future.
For those hardcore fans, be sure to sniff out the nearby Brookmore Apartments (189 N Marengo Ave), which supposedly resemble the interior of the apartment where Sheldon, Leonard, and Penny lived on the show. ARF course, you shouldn't trespass, but can still snap a few photos outside with your dog.
#5 Walk around Pasadena City Hall
100 N. Garfield Ave.
OK, I know why you're tilting your head – roaming around a government building with your dog doesn't exactly sound like fun. However, in Pasadena, the city hall is conveniently located just a few blocks away from Old Pas, making exploration by paw easy (as I would grumble). Plus, this building isn't just any old boring structure – the domed, Renaissance-style architecture built in 1927 is simply breathtaking, spanning up to six stories with a column-supported cupola 41 ft high.
Dogs may not be allowed inside this Italian Renaissance-Spanish style landmark, but they can still explore the gorgeous exterior grounds with their robust wet noses. The highlights are, PAWS DOWN, its aesthetically pleasing fountain, and serene garden courtyard. Besides the usual IG doggie photoshoots, such lavish grounds make this a pawpular place for engagement and wedding photos.
#6 Lick your chops
Being a foodie is an ARF-solute MUST in Pasadena! Although not an internationally renowned destination, Pasadena boasts over 600 restaurants within the city limits, more per capita than the Big Apple itself. WOOF, I am barking NO WAY! But then, I perked up my ears to hear what a real foodie destination this city is. Besides having practically every cuisine represented in the world, Pasadena is also home to Michelin-rated restaurants and its legendary eateries like Pie 'n Burger, which has a few dog-friendly tables. Thanks to sidewalk seating, dog-friendly dining is easily stumbled upon by paw.
The dog-friendly dining options are ENDLESS, but here are some FUN places to eat out in Pasadena:
Nine & Nine Thai Kitchen (738 E Colorado Blvd) – From curries to noodles, Nine & Nine serves up some delicious Thai food in a hip, contemporary setting with a dog-friendly patio in front.
Sage Plant-Based Bistro Pasadena (1 Colorado Blvd) – For those meatless lovers out there, this rustic vegan eatery serves mouthwatering comfort food and signature craft beers. Their dog-friendly patio is pawtastic – it's spacious with ample shade, thanks to their oversized colorful umbrellas.
Il Fornaio (24 W Union St) – This trendy Italian joint has bragging rights to freshly made pasta and bread from their in-house bakery. Their outdoor patio is massive, which makes it easy for dogs to wine and dine with their humans. Even Roger W. is giving it two claws up – this Yorkie knows his Italian food after living and traveling throughout Italy for several years.
Dog Haus (93 E Green St – Old Pas, 105 North Hill Ave – Pasadena City College) – OK, Dog Haus isn't actually about dogs like me, but about hot dogs, sausages, and burgers. Think beer gardens in Germany and Austria (or shall I grumble, biergartens?). And, they're not just about any hot dogs, but they focus on 100% all-natural, hand-crafted hormone and antibiotic-free würsts. Even if you're not much of a carnivore like my humans, you can always grab a wooden table outside with your dog and enjoy a local craft brew and succulent veggie dog.
*As dogs are pack animals who'd LOVE to experience meals with you, don't forget to pack a bag of treats, dog-safe food, bottled water, and to-go bowls for your dog! Don't make your dog feel left out.
#7 Grab fresh baked treats at The Dog Bakery
36 W Colorado Blvd
Let your dog's nose do some real shopping at The Dog Bakery, which specializes in custom, all-natural cakes for dogs. Established in 1999, The Dog Bakery is famous for its freshly-baked, healthy, and mouthwatering goodies. Besides pupcakes, this prime doggie spot in Old Pas has delicious bars, cookies, and donuts for dogs using only organic, chemical-free ingredients. You can even get grain-free goodies for your dog, if you wish! Even if your dog is a supaw picky eater like me (that's right – unlike Roger W. who eats just about anything, I am way more selective, especially for being a stray), a stroll inside is still worthy of some wet nose sniffing.
#8 Unwind at Urth Caffé
594 E Colorado Blvd.
Sure, Urth Caffé may be a chain, but it's so dog-friendly here that I just have to bark about it. With the original location in nearby Manhattan Beach, this "chain" coffee shop is all about organic coffee, boba, and pastries. Not to bark, ample vegan and gluten-free options and farm-to-table goodies, like the good ol' California favorite Avocado Toast and Wild Mushroom Pizza. It's all about sustainable and local ingredients at Urth!
With plenty of tables right outside the entrance and along the side of the building, this European-inspired, unpretentious coffee shop (with no waiters) is a delightful place for dogs. But I was shocked to hear that their outdoor seating wasn't always dog-friendly (GRRRRR), but then they changed their policy after a myriad of complaints from the dog-lovin' customers. Now, you can only imagine dogs GALORE!
#9 Drink up
Like most restaurants in Pasadena, many bars and pubs are dog-friendly and welcome your dog with open paws on their outdoor patios. ARF, this means it's always a good time to go bottoms up with your furry drinking buddies!
Sniff out my two favorite spots to enjoy an ice-cold beer:
Lucky Baldwin's Pub
17 S Raymond Ave
Opened back in 1996, this British pub is a long-time neighborhood favorite with over 60 beers on tap along with ARF-mazing traditional pub food like bangers and mash and fish and chips. Mmm mmm. As a matter of bark, Lucky Baldwin's Pub is one of the TOP 5 Belgian beer bars in the U.S. (as howled on their website). Not only are dogs allowed on the side patio, but the staff will also make chicken and rice for your dog and happily bring out dog bowls (well, upon request). On any given weekend, I'll surely bump into another furry patron scavenging for scraps under the table.
Congregation Ale House Pasadena Chapter
300 S Raymond Ave
This pawtastic brewpub is one happenin' place for both dogs and humans! The church-themed location quite head-tiltin' to begin with – it's a huge outpost in a cathedral-like space with its own parking lot. Dogs are, ARF course, welcome to hang out with their humans at the wood picnic tables on the covered patio as the comprehensive 32+ tap list is being sniffed out. With a jukebox and quite a few flat-screen TVs, this pawsome dog-friendly joint is almost always lively. I like to go during their "Mass" a.k.a. Happy Hours – when I can get my furry paws on discounted beers and food specials (a few bucks off of pub fare and pizzas, YUM).
Where to Stay with Your Dog in Pasadena:
Hotel Le Rêve
3321 E Colorado Blvd
2-star hotel
*Dogs under 23 lbs are allowed for an extra $34.50 per dog per night for deep cleaning. Dogs cannot be left unattended and barking is not allowed.
Sheraton Pasadena Hotel
303 Cordova St
3-star hotel
*Dogs weighing 40 lbs or under are allowed for an extra $35 per dog per night. They must be leashed at all times and not left unattended.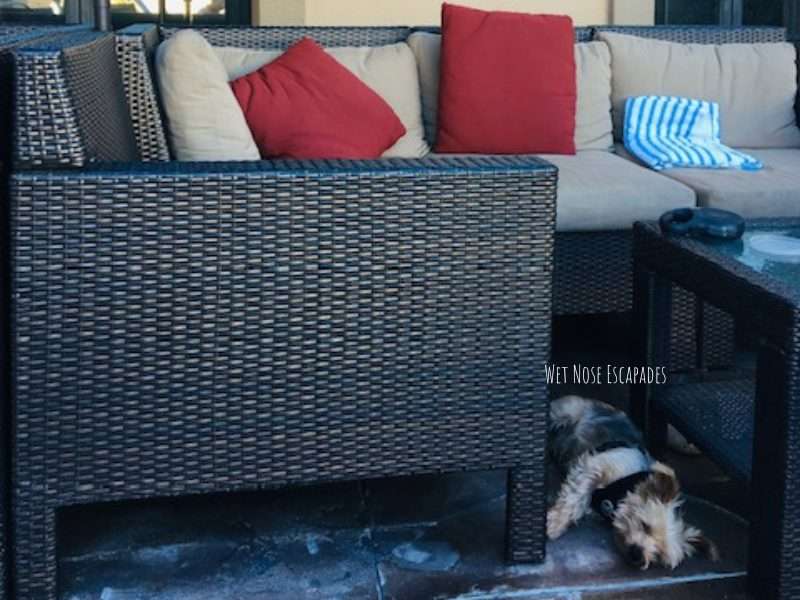 The Westin Pasadena
191 N Los Robles Ave
4-star hotel
*Two dogs 40 lbs and under are allowed for a $50 non-refundable fee per dog.
WOOF, hope you like my list of 9 FUN things to do with your dog in Pasadena, California! ARRF, my ears are always perking up so be sure to share your dog-friendly Pasadena vacation with me.
Be sure to subscribe to our YouTube Channel: Wet Nose Escapades by Roger Wellington for fun dog videos. A Yorkie + Papshund can only mean FUN!
Rollin' it out,
Miss Penny Rose a.k.a. Penny Gurl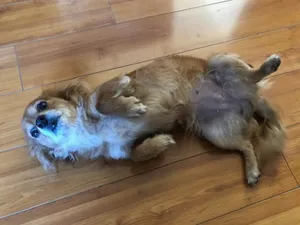 —
Like my post "9 FUN Things to do with Your Dog in Pasadena, CA"? CLICK TO PIN!