Wanna find FUN things to do with your dog in San Jose, California? WOOF, sniff out my furry buttocks now!
Posted 3/12/22
*Please note that this post contains affiliate links, and at no obligation or additional cost to you, my humans and I earn a small commission if you make a purchase. If you love the work that we do, you can show your support by making a purchase through an affiliate link. Proceeds will go towards feeding homeless dogs (and cats) along with improving the lives of the neglected and abused.
ARF, let's bark Silicon Valley! Since I hail from the City by the Bay, Silicon Valley is just a quick drive down the Peninsula. Even though San Francisco is often affiliated with Silicon Valley, it is technically not part of it, at least not geographically (but certainly culturally with its fair share of startups and high-tech companies). The world-renowned center for high tech and innovation (think Apple, Google, Facebook), Silicon Valley starts at the southeastern end of San Mateo County and covers most of Santa Clara County, roughly from Redwood City to Morgan Hill. Yet San Jose is the TOP DOG city in Silicon Valley, the largest city of 'em all (not to bark, it's also the third-largest city in California after LA and SD). Although most San Franciscans tend to live in the San Francisco bubble, I like to venture down 101 or 280 to the South Bay and sniff out what's in store for dogs.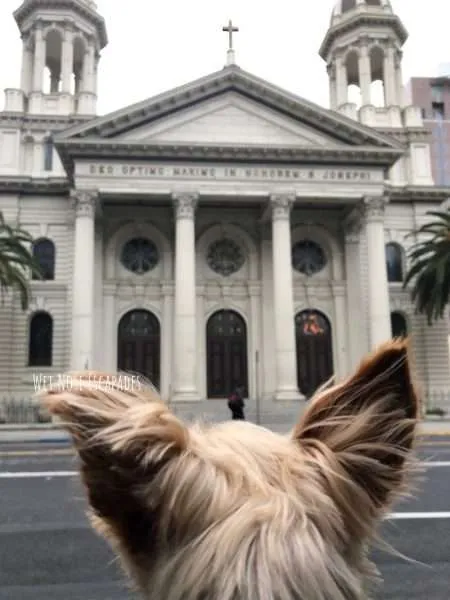 Here's what my little robust wet nose reported back as 7 FUN Things to do with Your Dog in San Jose:
#1 Take a stroll on Santana Row
377 Santana Row
With an upright tail, I marched up and down the paw-pular Santana Row a.k.a. The Row, the 42-acre Mediterranean-style, high-end outdoor residential and retail district where many dogs shop alongside their humans. Even though I place very little value on material goods, I sure love a good stroll on The Row to window shop and sniff the butts of the out-and-about furry residents who live just steps away from all the fancy boutiques (Gucci, anyone?). And, even if you're not a shopper like my humans, you can enjoy a cup of freshly brewed coffee or a paw-lickin' meal outside with your dog. Heck, there are only over 50 shops and 30 restaurants. And, like in Rodeo Drive in Beverly Hills, exotic cars are the norm here – just take a quick sniff outside of Hotel Valencia. Needless to bark, hardly any dogs here live a RUFF life.
#2 Go wine (or beer) tasting
The paw-bulous Napa Valley may only be less than 2 hours north, but I'm so glad that I don't need to make the drive to get my furry paws on a glass of crisp sauvignon blanc (and a lick too!). Although not nearly as world-renowned as wine country, the South Bay has its fair share of paw-tastic wineries and vineyards where you can bring your dog along for a tasting or two.
Sniff out these dog-friendly wineries in San Jose:
Coterie Winery (885 W Julian St.) – Located in Downtown San Jose, Coterie Winery is a neighborhood winery that welcomes dogs in their tasting room, including the patio. Established in 2007, the wonderful winery makes every wine from berry to bottle by hand!
J. Lohr Vineyards & Wines (1000 Lenzen Ave.) – Also in Downtown San Jose is J. Lohr Vineyards & Wines, which dates back to 1974. Headquartered in San Jose, they have 900 acres in Monterey County, 2,000 acres in Paso Robles, and 33 acres in Napa Valley. Dogs are welcome outside their patio.
Vintage Wine Bar (368 Santana Row) – Despite being in upscale Santana Row, Vintage Wine Bar is a laid-back, unpretentious wine bar (and retail shop) with an inviting dog-friendly outdoor seating.
Camino Brewing Co. (718 S. 1st St.) – OK, for those who prefer beer over wine, Camino Brewing Co. is one cool dog-friendly brewery and beer garden in Downtown. The founders were inspired by a 1,900-mile pilgrimage on the Camino de Santiago trail across Spain. WOOF, I gotta wag my tail to that since Spain is one of my many homes away from home. You and your dog can visit their taproom six days a week for some freshly brewed beer and devour some yummy food at their super spacious, rustic beer garden.
Wanna set your paws outside of San Jose? Here are some nearby ultra dog-friendly wineries in the South Bay:
Big Dog Vineyards – 4545 Felter Rd. Milpitas
Satori Cellars – 2100 Buena Vista Ave. Gilroy
#3 Hang out at San Pedro Square Market
87 N San Pedro St.
WOOF, if I can only bark about one happenin' place in Downtown San Jose, it would be San Pedro Square. PAWS DOWN. It's quite the pawty at this outdoor loft-like gathering place. ARF, it's hip, colorful, and trendy – pawfect to perk up my ears to some live music, watch some sports games, and get my grub on at one of their many food vendors from pizza to sushi (gotta fill up that little BIG Yorkie belly). As dogs are welcome outside on the patio, San Pedro Square is a hotspot for humans and furry patrons. They also host fun events throughout the year so it's the place to see and be seen in the city.
#4 Go on a Hike
Just because you're in the global center of tech doesn't mean that you need to be glued to your gadgets all day. It's time to rest those eyes and take a hike with your dog. ARF-ter all, San Jose has some of the best dog-friendly hikes the Bay Area has to offer. But don't expect to see any glimpses of the Pacific Ocean here! Despite technically being part of the "Bay Area," San Jose is geographically inland as it's nestled in the Santa Clara Valley surrounded by the Santa Cruz Mountains. Don't forget to pick up after your dog and keep him on leash unless in designated off-leash areas.
Martial Cottle Park Loop – Martial Cottle Park: 2.4 mi (easy)
Coyote Creek Parkway: Hellyer County Park to Silver Creek Valley – 6.0 mi (easy level)
Coyote Peak and Ridge Trail Loop – Santa Teresa County Park: 3.8 mi (moderate level)
Santa Teresa County Park Trail Loop – Santa Teresa County Park: 8.3 mi (moderate level)
Senador Mine to Mine Hill Loop – Almaden Quicksilver County Park: 14.0 mi (moderate level), the length of the trail may not be suitable for my senior little paws, but it's pawfect for my little BIG Weimaraner cousin Sonny. The neighborhood Almaden Valley has ARF-mazing, moderate dog-friendly trails worthy of a sniff or two.
If you have a small dog like me, then you may want to bring a dog backpack or carrier in case your dog needs to rest his or her legs. Regardless of your dog's size, remember to pack a water bowl and bottled water for water breaks. And, of course – always be careful of steep or slippery steps. Safety comes first!
#5 Visit Japantown
OK, the restaurants in Japantown may not welcome dogs inside, but this small historic neighborhood is still worth sniffing out and markin' up. I love roaming the streets with my tail upright and sniffing out at the ARF-mazing Japanese culture here. Located in central San Jose just north of Downtown, Japantown is where Japanese immigrants first settled in the area. This cultural center boasts stylish boutiques, gift shops, art galleries, karaoke bars, and ramen joints. ARF-ter all, it is one of the last three authentic Japantowns in the country, with the other two in San Francisco and Los Angeles. My favorite part about coming here is Biscuits Boutique – Give a Dog a Bone (223 Jackson Street between N 5th St and N 6th St), where they sell organic and natural dog products, from treats to toys.
#6 Experience Vietnam Town
909-999 Story Road
ARRRRF, I can never leave San Jose without getting a lick of some pho ga or bun tom on the east side. With San Jose boasting the highest Vietnamese paw-pulation in the U.S., I always make a stop at The Shops at Vietnam Town to get a sniff of the rich culture and get my paws on some spring rolls and pho! With nine blocks of commercial retail and restaurants, Vietnam Town is HUGE and worthy of some alpha markings. ARF-ter all, its claim to fame is their title as "The Largest Vietnamese Plaza in California." Because this is an outdoor mall, dogs are welcome to walk around although they are generally not welcome inside food and drink establishments. However, don't fret because there are plenty of sniff-worthy spots for bun rieu with dog-friendly outdoor seating. Try my favorites: Pho Ha Noi (with heat lamps), Banh Cuon Ong Ta, An Khang Mi Gia, and T4 Tea For U (for boba).
*As dogs are pack animals who'd LOVE to experience meals with you, don't forget to pack a bag of treats, dog-safe food, bottled water, and to-go bowls for your dog! Don't make your dog feel left out.
#7 Mingle with furry techies
With well over 10 off-leash dog parks in San Jose, I'm bound to go to a techie pawty when I'm in town! Whether I chase the doggies of a startup founder or software engineer, I love the scene here. Maybe I'll even learn how to code. 🙂 As the pack leader, let me first bark out the rules from the official city website:
-Dogs must be accompanied at all times
-No more than two dogs per person allowed at one time
-Children are only allowed when accompanied by a guardian (GRRR, kids stress me out anyway)
-You are responsible for scooping after your dog
-All dogs must wear proof of license and have proper vaccinations
-Dogs in heat are NOT permitted
-Dogs exhibiting bad or aggressive behavior will be required to leave
Butcher Dog Park (Camden Ave. & Lancaster Dr. 95124) – In the Oster neighborhood near Cambrian Park, Butch Dog Park is one of the most paw-pular dog parks in the area! It's spacious with separate off-leash areas for big dogs and small dogs like myself.
Hart's Dog Park (194 West Santa Clara St. 95113) – A relatively new 2,000 square feet dog park in Downtown with a double gate, artificial turf, benches, and tree stumps for play.
Discovery Dog Park (200 Delmas Ave. 95110) – A 17,000 square feet park in Downtown with a completely fenced and double-gated entrance, dog drinking fountains, and walking path.
Guadalupe Oak Grove Park (5982 Thorntree Drive 95002) – A hilly park in the southern end of the city with an off-leash dog area.
Miyuki Dog Park (Autotech Wy & Miyuki Dr. 95119) – Off of Santa Teresa Blvd, this is the city's very first dog park! It's a small, fenced-off dirt neighborhood dog run with a poop bag dispenser located near Santa Teresa Golf Club. No dog fountains are available so be sure to pack a bottled water and dog bowl for your dog.
Sniff out other off-leash dog parks in San Jose HERE.
Looking for Dog-Friendly Hotels in San Jose? WOOF, I've got you covered!
DoubleTree by Hilton
2050 Gateway Pl.
3-star Hotel
$75.00 non-refundable pet deposit. The maximum weight of a dog is 50 lbs.
La Quinta Inn & Suites
2585 Seaboard Ave.
3-star Hotel
2 dogs allowed per room, $20 per night for a maximum of $40 per stay per room
Hyatt Place Downtown
282 Almaden Blvd.
3-star hotel
$75 pet fee, maximum 50 lbs. for one dog or 75 lbs. total for two
ARF, hope you enjoy these 7 FUN things to do with your dog in San Jose! Feel free to share your dog-friendly San Jose experience with me. BARK AT ME!
Subscribe to my YouTube Channel: Wet Nose Escapades by Roger Wellington for fun dog videos!
Markin' it up,
Roger Wellington a.k.a. The Doob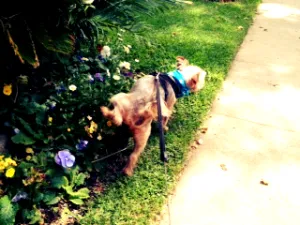 —
Like my post on "7 FUN Things to do with Your Dog in San Jose, CA"? CLICK TO PIN!