Are you looking for dog-friendly activities in Sausalito, California? WOOF, keep on sniffing for 7 ARF-mazing, oops I mean AMAZING things to do with your dog in Sausalito!
Posted 9/6/21
ARF, I may be a city dog, but my stylish rat tail never fails to wag for an escape from the hectic scene in San Francisco. For a quick day trip, I turn my nose to Sausalito, the tiny expensive city in Marin County just across the Golden Gate Bridge. ARF-my-Dog, who knew that a less than 10-mile drive out of the city can bring a traveling Yorkie to such a wanderlust world? From breathtaking Golden Gate Bridge views to ARF-so-cute cafes and shops, Sausalito is San Francisco's dreamy backyard (sorry, Oakland!). It's a pawfect day trip or a weekend getaway – and certainly one to enjoy with your dog. Sniff out 7 ARF-mazing dog-friendly activities in Sausalito, California below!
7 ARF-mazing Things to do with Your Dog in Sausalito:
#1 Take iconic, IG-worthy photos
PAWS DOWN, Sausalito is THE place for pictures in the Bay Area. Thanks to its strategic location across the bay just north of the city, Sausalito has bragging rights to arguably the best views of the San Francisco skyline – not the bark, the famous Golden Gate Bridge. My go-to spot to snap photos of the head-tiltin' city skyline and GGB is from Vista Point in the H. Dana Bowers Northbound Rest Area, a pawpular stop and lookout right after you cross the bridge. Since it can get pretty busy here, it's best to come during off-hours for easy parking, which is free – well, as long as you find one. As my humans find the public restrooms to be disgusting and poorly maintained (to bark the least), I recommend that you humans "hold it" (HAH!) until you can get to a restaurant or cafe in Downtown. Another Top Dog spot for pictures of the city is from the Bridgeway Promenade – if you keep walking your paws through Downtown, you'll eventually stumble upon marvelous San Francisco views – trust me, you can't miss them! 
*Posing for a long time is not only confusing to dogs but also stressful. Be sure to make the pictures quick and bring treats to reward your dog.
Wanna take your dog off-leash to chase some furry butts or catch a ball? Well, this is it! OK, so Remington Dog Park is THE Sausalito Dog Park. Supported by donations and volunteers from the local community, this clean and well-maintained dog park is a real pawty for residents and visitors – both two-legged and four-legged! There are ample shady areas, water bowls, and benches. For safety reasons, there are even double gates at both entrances. Established in 1991 by dog-lovin' resident Dianne Chute, Remington Dog Park is the only enclosed off-leash zone in the city.
LEAVE YOUR MARK: 100 Ebbtide Avenue, Sausalito
For a tiny city, Sausalito has a whole lot of parks, which are virtually all dog-friendly!
Here are a few sniff-worthy ON-LEASH dog-friendly parks:
Dunphy Park – a waterfront park with a gazebo
Gabrielson Park – a park right next to the Sausalito ferry pier
Viña del Mar Park – a triangular-shaped park with elephant statues and a fountain
Sniff out my 10+1 favorite dog-friendly parks in San Francisco
#3 Explore Bridgeway
Let's get those furry paws on Bridgeway! Known as the "Sausalito Boardwalk," Bridgeway is the main commercial drive in the city. Despite being so close to San Francisco, Sausalito sets off a quaint small-town feel. ARF, it's utterly cute and charming. Fancy eateries to ice cream parlors to fine art galleries – I wagged my tail to find many cool spots welcoming me with open paws on Bridgeway Promenade. As dining establishments pay top rent for a prime waterfront location, most (if not, all) offer dog-friendly sidewalk seating. The downside of Bridgeway is that the streets aren't too wide; with heavy pedestrian traffic over the weekend, my humans often pick me up to prevent me from getting stepped on by accident. Hence, I prefer to explore in the morning before it gets busy or later in the evening after the daytrippers depart. Be sure to get those paws sticky and greasy at Lappert's Ice Cream (Hawaiian ice cream chain), Angelino Restaurant (homey Italian food), and Fish and Chips (no-frills family joint).
#4 Get those paws wet at Rodeo Beach
Just 2-3 miles north of the Golden Gate Bridge, Rodeo Beach is Sausalito's sandy beach pawty! A former military base (Barry and Cronkhite forts), this pawsome dog-friendly, rainbow pebbly stone beach is surrounded by eye-catching cliffs and a beautiful lagoon. With unique green and red pebbly chert grains on its shores, Rodeo Beach is truly one of a kind of beach in California. If you've been sniffing me out for a while now, you know that I'm not much of a swimmer but do love getting my nose and paws sandy. If under voice control, dogs are allowed OFF-LEASH. WOOF-HOO! Besides furry beach-goers, this spot is pawpular with kite flyers, picnickers, sunbathers, and surfers. With free entrance AND free parking, this ARF-mazing beach is marked up by visitors and locals alike.
LEAVE YOUR MARK: 1049 Mitchell Rd, Sausalito
#5 Lick your chops over Avatar's Dream
Downtown may have plenty of dog-friendly dining options, but my little Yorkie tummy is never satisfied until I get a lick of Avatar's Dream, the sweet heavenly concoction at my favorite restaurant in Sausalito – Avatar's. With top-secret ingredients, the "dream" tastes like a mysterious surprise. It's almost like a blend between an ice cream cake and a cheesecake. Topped with pistachio nuts and drizzled with mango and cherry(?) syrup, Avatar's Dream is never too sweet – simply pawfect as it slowly melts into my little Yorkie mouth. Mmmm, I must savor every single lick. And yet, Avatar's Dream is the ONLY dessert that they carry. I guess who needs to make more dessert when they pawfected one?
WOOF, this Indian-Mexican fusion restaurant is, PAWS DOWN, the best restaurant in town. Not to bark, the owner Ashok is super sweet and friendly to furry diners. But Avatar's was not always dog-friendly; however, thanks to the pandemic, they've permanently constructed a sleek, inviting outdoor patio in front of the restaurant. This long-standing family-run joint is so SPOT ON that I was hesitant to bark out my little secret, fearing that I'll cause the wait time to be even longer! However, as the Top Dog, I'm willing to make the sacrifice for my pack. From smoked eggplant Punjabi enchiladas to jumbo prawn curry, Avatar's menu is a chops-lickin' dream itself! For those veggie lovers (like my humans), a myriad of mouthwatering vegan and vegetarian options exist as well.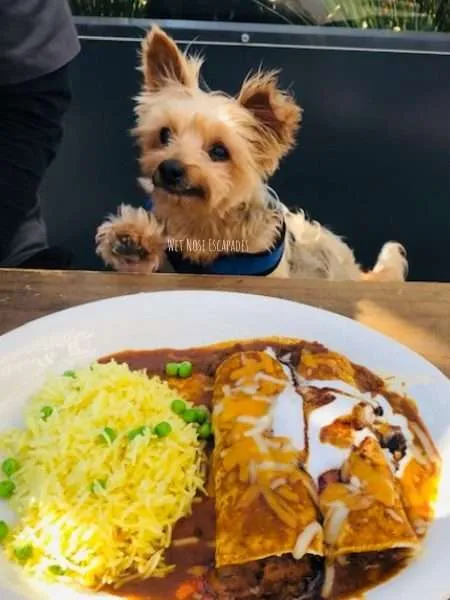 LEAVE YOUR MARK: 2656 Bridgeway, Sausalito
#6 Boatwatch
OK, I may not be in Venice, but all the boats here surely remind me of my former furry Italian residency. ARF, from yachts to houseboats, Sausalito is home to boats galore! Don't believe my barks? Heck, with houseboats of all shapes and sizes, Richardson Bay (which is part of the San Francisco Bay) has had a long history of houseboat settlement for many decades (not to bark, the disputes that come along with it). Whether you want to boat watch from the marina or experience a real floating home for yourself, you can do so with your dog. Although the dog policy depends on the houseboat owner's discretion, it's certainly not difficult to find a houseboat rental that allows dogs. It just takes an extra step in checking the "Pet-Friendly" filter when booking and perhaps dropping some cash for dog fees (which is well worth it to have your furry companion next to you). The serene scenery of the marina feels like a pawsome sanctuary – exactly what San Franciscans like myself and my humans need to escape the hectic city life. WOOF, inhale…exhale…and relax. Keep that tail upright! 🙂
#7 Hop on a ferry
If you want to experience San Francisco Bay, skip the car ride across the Golden Gate Bridge and take a ferry into Sausalito instead. A 30-minute ferry ride from San Francisco to Sausalito will take you and your dog through timeless views of the Golden Gate Bridge. Official ferry rules state that dogs are allowed on the ferry as long as they remain in a handheld kennel or airline-approved carrier, which means it's a WIN for small dogs like myself.
Big dogs can hop onto the Blue & Gold Fleet vessel from Pier 41 in the city as long as they're on a leash. Small dogs can also board as long as they're in an approved carrier. Per their policy, you must be able to control your dog at all times; otherwise, your dog may be subject to removal. GRRR.
OK, that's all I have for now. Hope you enjoy these 7 ARF-mazing things to do with your dog in Sausalito! Feel free to share your dog-friendly Sausalito experience with me. Got a fun activity to share? BARK AT ME!
Don't forget to sniff out my 10 favorite dog-friendly things to do in San Francisco.
Markin' it up,
Roger Wellington a.k.a. The Doob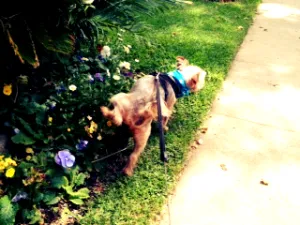 —
Like my pin on "7 AMAZING Things to do with Your Dog in Sausalito, CA"? CLICK TO PIN!