Is Bucharest, Romania dog-friendly? Keep reading to find out 10 things to do with your dog in Bucharest!
ARF, I'm barking out YES! Even though a stray dog "problem" has long tarnished the reputation of the southeastern European country Romania, I was gleefully surprised when I set my paws in the dynamic capital city of Bucharest. Unlike my Greek escapades, I did not see a single stray or feral dog during my 10-day stay in Bucharest. My humans and I did feed some sweet feral or stray cats during one of our dinners at the city center. However, I'm not barking that stray or feral dogs no longer exist in Bucharest. After a stray dog fatally attacked a child in 2013, the government took drastic, yet controversial measures to get rid of the city's stray dogs. (Just so you know, dogs don't bite for no reason – find out WHY dogs bite and how to prevent them). With numerous stray dogs captured and then either euthanized OR adopted, the stray dog "problem" in Bucharest is simply not what it used to be, particularly in the popular tourist areas. Yet, this is another example of why we should always adopt, NEVER shop, and promote responsible dog ownership. So ARF, I approve of traveling to Romania's capital city with your dog! There are plenty of things to do with your dog in Bucharest – sniff out my favorite dog-friendly activities now!
10 things to do with your dog in Bucharest, Romania:
#1 STROLL along
Strada Franceză 
This historical street is so freakin' pawsome! Located in Old Town, Strada Franceză (translated into "French street") is the oldest street in Bucharest that has kept its medieval route. WOOF, I spent many afternoons and evenings marveling at the architectural beauty. I love wandering into a restaurant with a dog-friendly terrace or gazing upon an enchanting 19th-century building.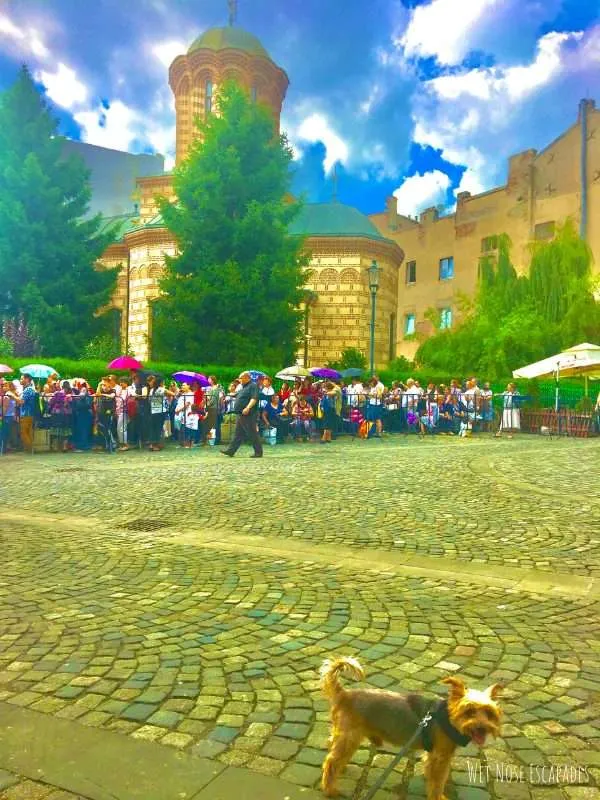 #2 SNIFF out Lipscani 
While you're on Strada Franceză, you gotta sniff out the rest of Old Town a.k.a. Lipscani. As Old Town's famed nightlife gets a little crazy, I strongly recommend exploring it with your dog during the day or early evening – before the craze begins. By accident, I got a sniff of the Bucharest nightlife.
Watch me FLY all around the world!
#3 MARK UP the parks
With a Sherlock Holmes nose, I was thankful that Bucharest has no shortage of green spaces and dog areas for me to investigate. Lots of parks equate to lots of MARKS! From Izvor to Tineretului, I can spend hours markin' it up and raking my feet. Gotta leave those alpha marks!
#4 EAT Romanian food
Although dogs are not typically allowed inside, they are fortunately welcome on the restaurants' outdoor patios or terraces. So yes, I dined with my humans at all the restaurants they visited. I like to get my greasy paws on some good Romanian food! From smokey traditional sausages to juicy ciulama chicken, I thoroughly licked every plate clean. We even had the honor of having some locals (HaChi the Shih Tzu + his two sweet humans) join us for one mouthwatering, epic meal!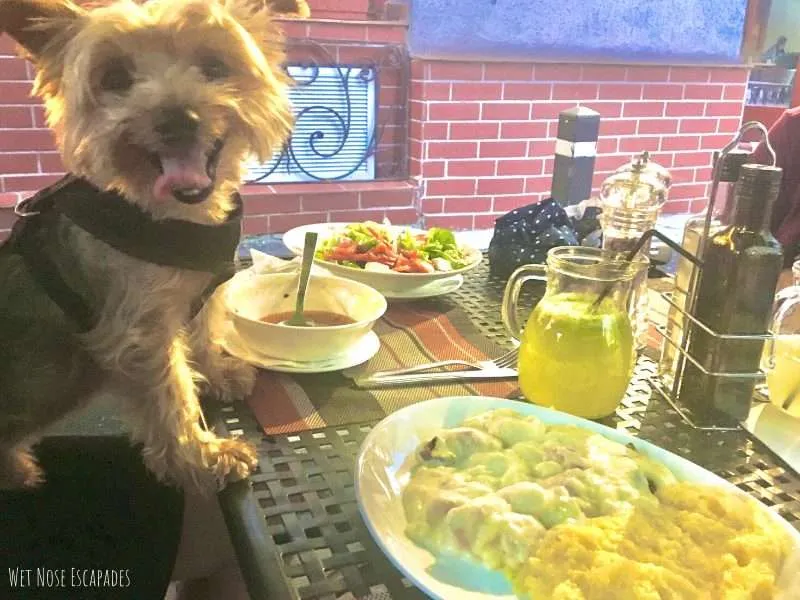 Learn How to Travel with your DOG!
#5 RELAX at Piața Unirii
Built during the Communist era, Piața Unirii is one of the largest public squares in Bucharest AND a super cool place to hang out with your dog. A gigantic green scenery nestled between a shopping center and public transportation, this picturesque square is arguably one of my favorite places in the city! Since I stayed within proximity, I set my alpha paws here every single day during my visit. *See featured image 
#6 BRUNCH it up
WOOF! I LIVE for brunch anywhere, and Bucharest is no exception. With dog-friendly terraces, restaurants in Bucharest are happy to serve you and your furry bruncher some delicious morning goodies with freshly brewed coffee. Human, can you pass me a potato wedge?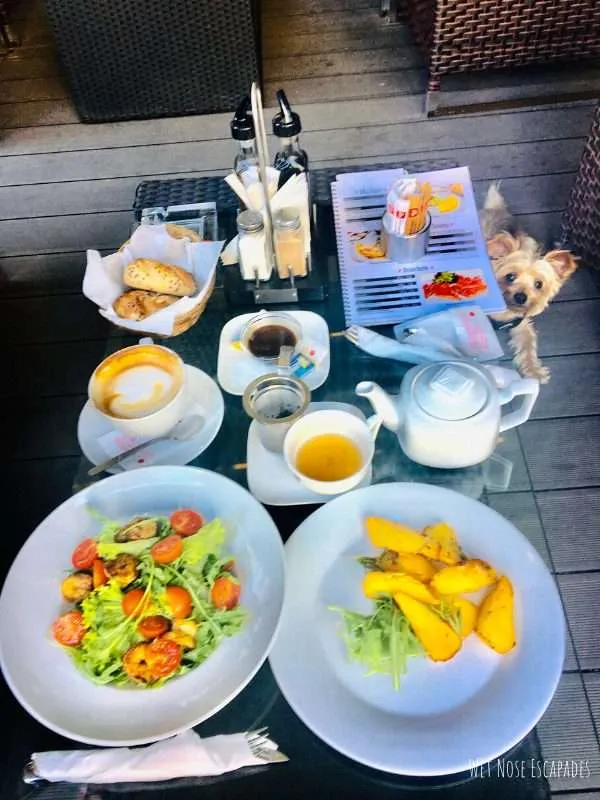 Find out how I survived the strict COVID-19 lockdown in Spain!
#7 LOUNGE around
While I can't participate in Old Town's wild party scene, I was thrilled to sniff out some trendy lounges in the city. With a colorful, hip yet relaxing atmosphere, these trendy spots are quite alluring! The background music at these lounges is typically not loud, making it safe for my highly sensitive ears. With swanky outdoor terraces, these trendy lounges offered me a comfy place to fall asleep while my humans sipped on some Romanian wine. 
#8 EXPLORE Bulevardul Unirii 
Since I stayed on this main road, I spent A LOT of Yorkie hours exploring the area. Bulevardul Unirii consists of Communist-era apartments and buildings, shops, and eateries. It runs through different public squares, connecting them as well. As my human and I roamed around this thoroughfare, we stumbled upon a fantastic vegan bakery with delectable sweets. What a treat!
Is Vienna, Austria dog-friendly? Put your furry paw HERE!
#9 RIDE Metro
Although larger dogs must be muzzled and leashed, dogs (particularly small ones like me) ARE generally allowed to ride on the Metro, the city's underground rapid transit system, along with trains throughout Romania. So ride away! *Always check for the latest rules and restrictions before riding. 
#10 CONQUER the palaces
Like in any major historical European city, Bucharest has its fair share of magnificent palaces. Even though dogs are not allowed inside, the palace grounds always offer majestic wanderlust moments and IG-worthy photos for both humans and dogs! Can you find me walking along the fantastic BNR Palace (National Bank of Romania)? Big palaces don't intimidate me one bit!
Sniff out the 10 COOLEST places in Budapest, Hungary!
ARF! Hope you enjoy my list of 10 things to do with your dog in Bucharest, Romania! Feel free to bark at me to share your experience in Bucharest.
Sniff out my Yorkie buttocks to see where else I've made my mark. And, don't forget to get my latest dog travel + dog care tips!
Markin' it up,
Roger Wellington a.k.a. The Doob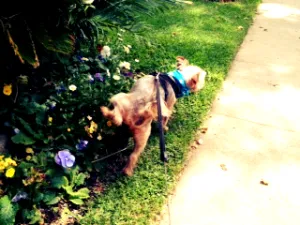 Like my post on "10 Things to do with your dog in Bucharest, Romania"? PIN IT!