ARRRF, wanna find out all the FUN things to do with your dog in Dubrovnik? Read on NOW!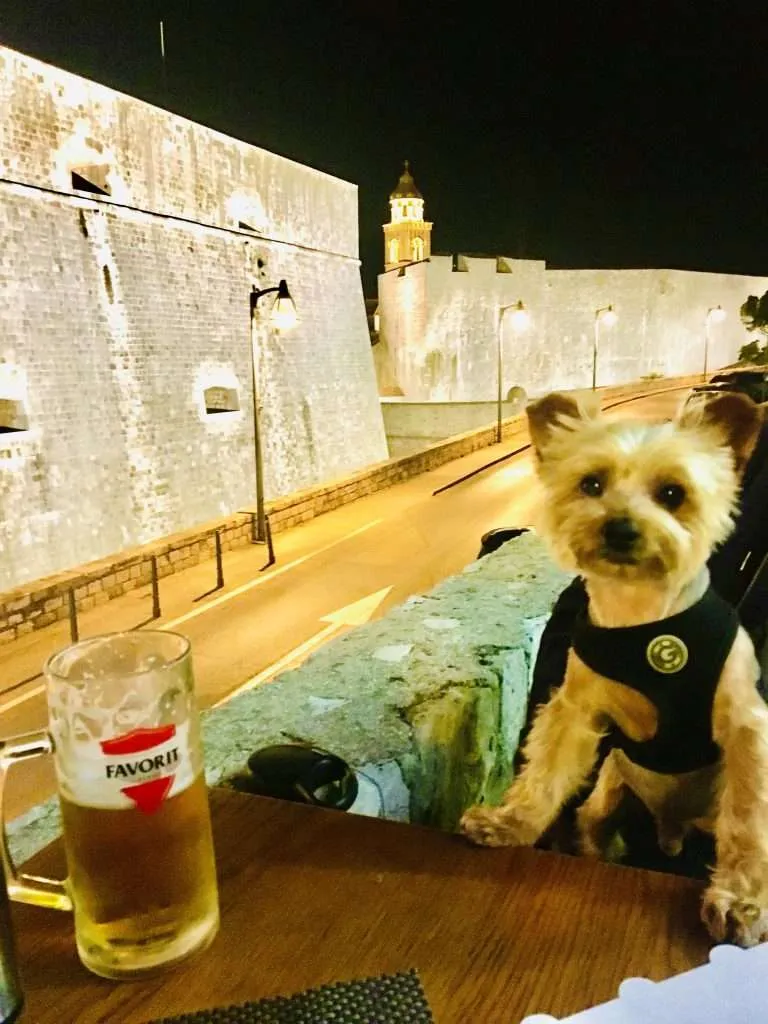 Zdravo, escapaders! I've always been a city boy, but I don't mind living the small-town life once in a while. So yes, I DID enjoy my time as a small town Yorkie MAN in Dubrovnik, the jaw-dropping medieval town on the coast of the Adriatic Sea. Many thanks to spectacular geography, its UNESCO-famous walled city, and of course, Game of Thrones, Dubrovnik has become a popular Balkan destination for international human and dog travelers. After traveling to Croatia several times in the last few years, I'm excited to bark out 10 things to do with your dog in Dubrovnik!
Watch me conquer the Pearl of the Adriatic:
#1 Explore Old City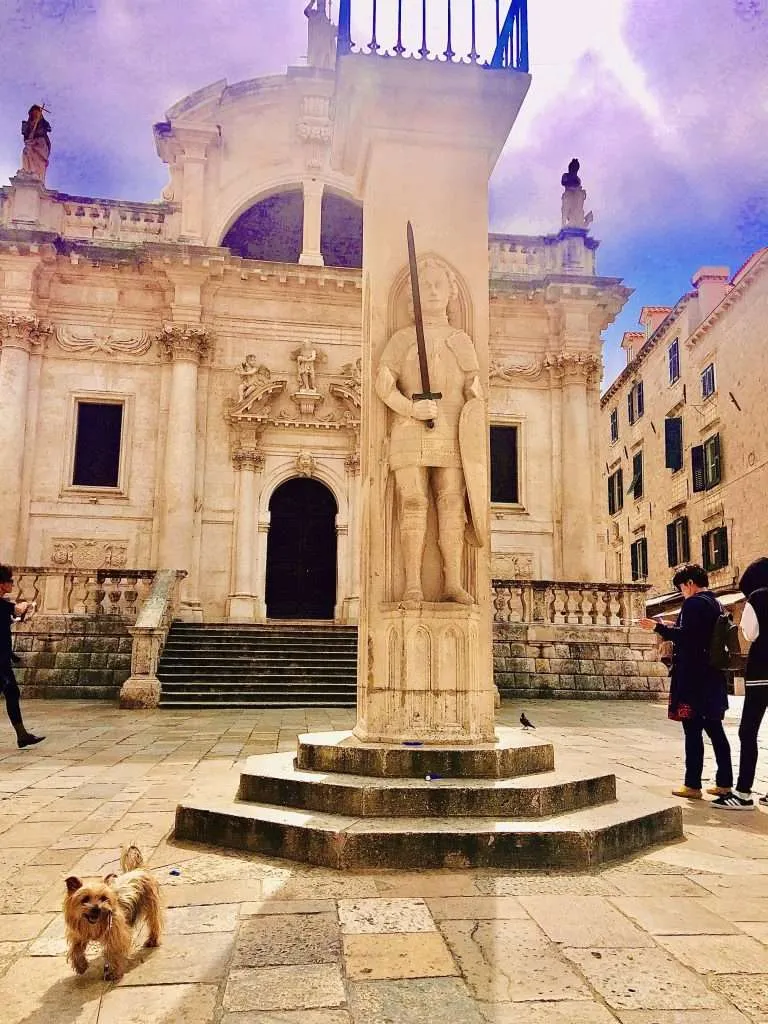 GRRR, I've turned myself into a brave Yorkie knight! Be a tourist with your dog in shining armor by wandering into the historical, pedestrian-friendly Old City. Your medieval dog will love sniffing around Pile Gate, majestic Gothic buildings, perfectly paved stoned streets, and the breathtaking harbor. Perhaps he or she will even lead you to a trinket or Christmas shop. Dogs are even allowed to walk the stoned city walls for FREE with a human ticket! Go during non-peak hours to avoid the crowd.
#2 Walk to Lapad from Old City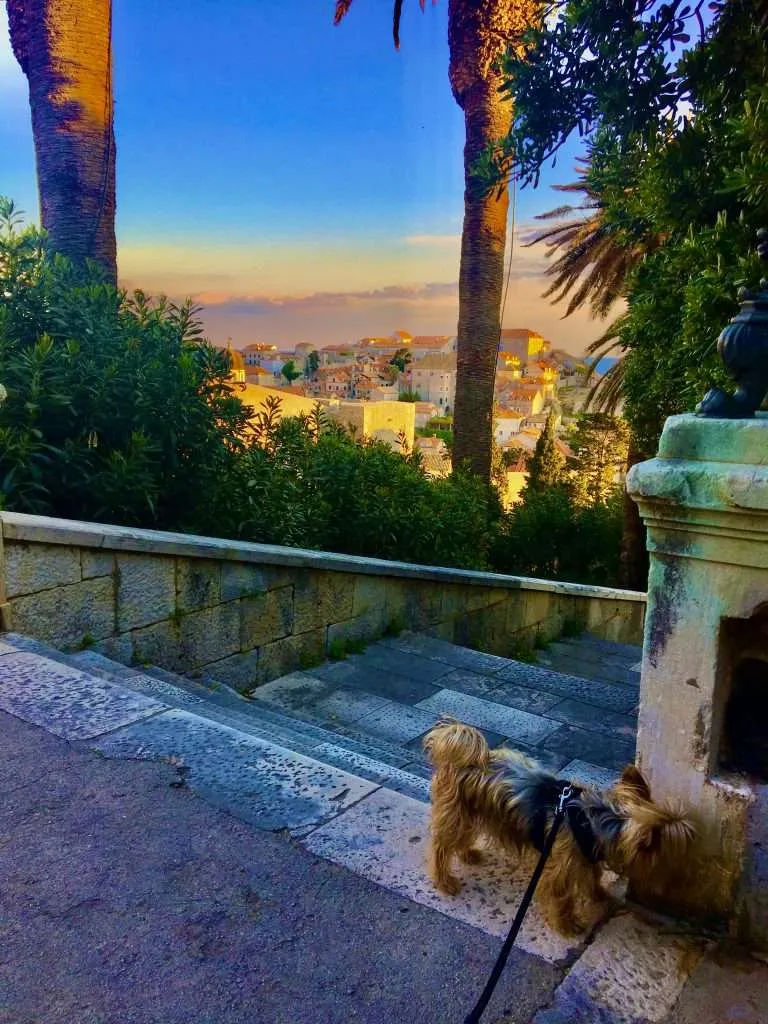 Just an approximately 1.5 mile (30 minutes) walk from Old City lies Lapad, a fantastic neighborhood with a more quaint, local feel. Lapad is my FAVORITE neighborhood in Dubrovnik since it's more laid back, less touristy, and most importantly, boasts some of the best restaurants that the city has to offer. Take a picturesque stroll (heading northwest) with your dog and get a feel (I mean, sniff) for what this lovely town has to offer. 
#3 Mingle with the locals along the pedestrian walkway in Lapad –
Šetalište kralja Zvonimira
ARF, ARF! Meet human locals, their fidos, and resident cats in Lapad! Located in the northern end of Lapad, this dog-friendly, pedestrian-only pathway is where you can find glitzy hotels, local bars, and romantic restaurants. As I barked out earlier, Lapad has more of a local feel, making it the best neighborhood to socialize with the Croatians. Since Dubrovnik is a dog-loving city, dogs are welcome on patio seating at restaurants, cafes, and bars. I was also lucky a few times when the staff allowed me to dine inside so your furry traveler can always try testing his or her luck!
#4 Play at the beach 
All around Dubrovnik, you'll find that beaches are ubiquitous and welcoming to dogs! Although I fear to be IN the water, I love walking along the beach and sniffing out the furry guestbook. My go-to beach is Uvala Lapad Beach, which is easily found walking on Šetalište kralja Zvonimira. Other notable ones that I like include Bellevue Beach (near Old City), Cava Beach (Babin Kuk), and Copacabana Beach (Babin Kuk). 
#5 Dine at
SHIZUKU (20000, Ul. kneza Domagoja 1a, 20000)
As a traveling Yorkie with a BIG appetite, I growled when I heard that locals hardly eat out because the restaurants are "overpriced" and "only cater to tourists." Luckily, there are a few exceptions! Shizuku is one of them. Paws down, this is THE SPOT. At this fantastic restaurant, you can find both locals and tourists on the long waitlist for a table. The hardworking husband-wife team from Japan assemble the freshest (and prettiest) sushi rolls and sashimi. Although you'll have to combat second-hand smoke, you can devour flavorful udon noodle soup and tasty spicy tuna roll (or vegetable roll if you're a vegan/vegetarian) with your pooch on their outdoor patio. Be sure to make a reservation ahead of time because this place fills up quickly!
Read my post featuring Shizuku HERE (#1 on my list).
#6 Watch the sunset over the Adriatic Sea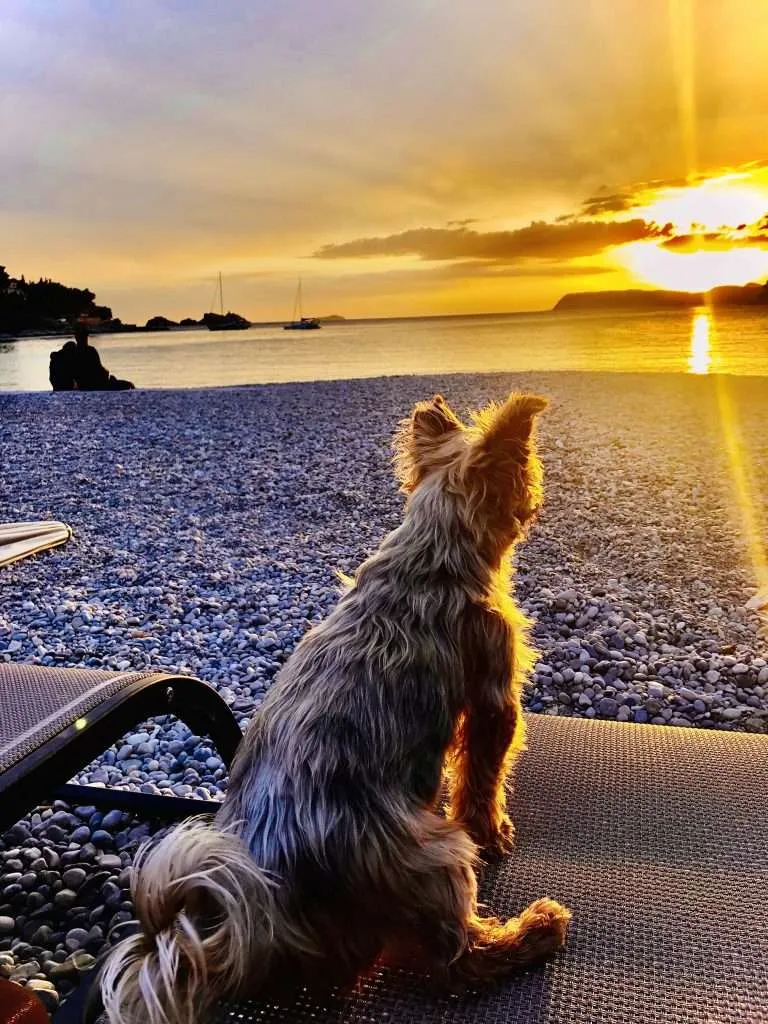 WOOF, take in the most sensational sunsets with your furry pals FOR FREE! Whether you watch the sunset from a beach or a hilltop, the view of the sun slowing fading over the Adriatic Sea is simply breathtaking. If you are in town for more than a day, then I recommend sniffing out different viewing spots. Secure a viewing spot with your furry travel buddy at least 20 minutes before the sunset (check for the exact time using the Weather app) so you can wind down and relax to the million-dollar view. My usual viewing spots are Uvala Lapad Beach (as pictured) and the rock area near Cave Bar More (Šetalište Nika i Meda Pucića 12, 20000). 
#7 Take a scenic hike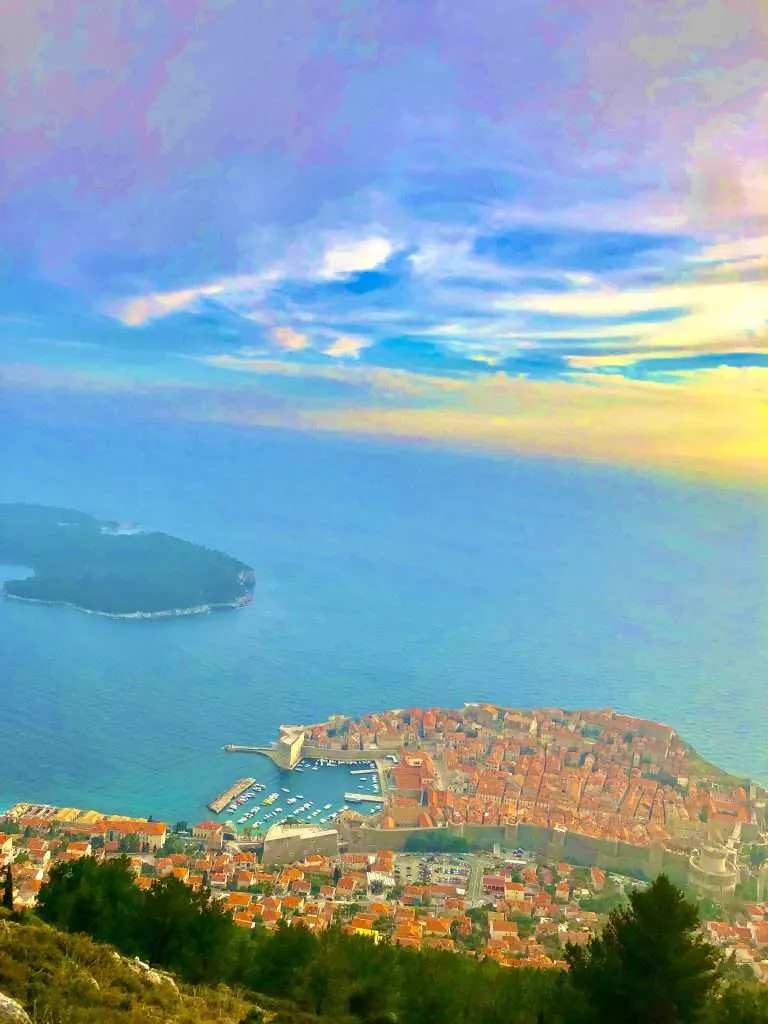 Dubrovnik offers many scenic, dog-friendly hiking trails that will give you and your pooch a good workout! The most famous one with panoramic city views is Mount Srđ, which will take a couple of hours roundtrip (depending on your fitness level and the number of photo/rest stops). Get more info on this amazing hike from my pal Laura from A Piece of Travel.  However, there are plenty of shorter trails if you're hiking with a small or toy dog like me. For instance, get your paws on Velika Petka Hill or the coastal trail in Babin Kuk. 
Don't forget to sniff out my comprehensive guide on Traveling to Croatia with a Dog!
#8 Hang out at Orsan Yachting Club Restaurant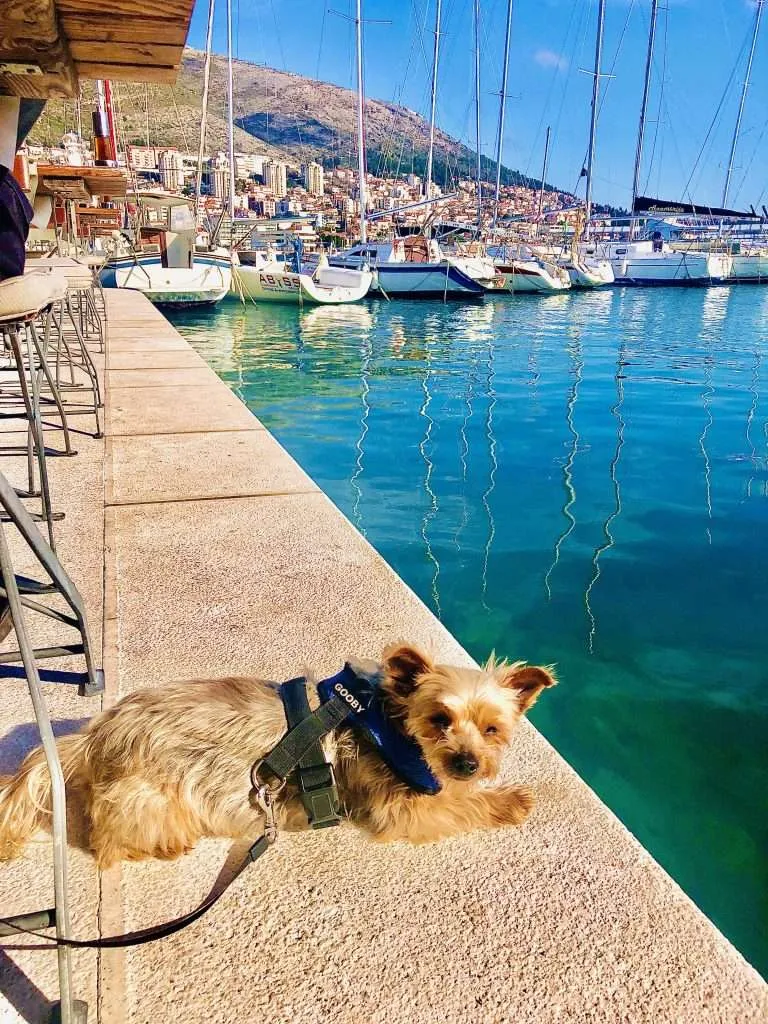 I love spending lazy afternoons here! Orsan offers a variety of paw-lickin' seafood, meat, and veggies in a peaceful marina setting – away from all the touristy commotion. Food and drinks here aren't cheap (especially if you're not a yacht club member), but it's quality and well worth every penny. Dogs are welcome to wine and dine with their humans and/or sunbathe by the boats. Read more about Orsan HERE (#5 on my list).
#9 Visit the
Zarkovica Animal Shelter (
Žarkovica ul., 20207, Bosanka)
Run by a very kind and compassionate woman, Zarkovica Animal Shelter is a non-profit sanctuary for rescue dogs; dogs get to run loose and enjoy the views of the Adriatic from the hill. You can walk, socialize with, and feed the 300+ dogs living there. You can even provide a forever home to a furry pal – adoption fee is ZERO, but donations are welcome. Even if you do not make it up here on your trip, please consider donating to help keep the shelter going for the animals in need. This angelic shelter also rescues and fosters cats AND saves injured wild animals before releasing them back to nature. What a place!
#10 Feed homeless cats 
While stray dogs are not roaming the streets of Dubrovnik, there are plenty of feral cats that do. Hungry cats and kittens are virtually everywhere in the city and heavily rely on generous, animal-loving locals for food (and love) daily. During our daily walks in Lapad, my human and I would feed the cats in the neighborhood. For the most part, they are very friendly and trusting of humans. If you have enough time, please help with the TNR (Trap, Neuter, Return) efforts, which prevents overPAWpulation and saves lives. 
A BARK OF CAUTION: Since I have cat cousins of my own, I am PAWfectly OK with being around cats; however, I cannot bark the same for other fidos so this may or may NOT be a good idea for your dog. If your dog tends to chase or bark at cats, then you can still grab a bag of cat food from the local market and feed them during your own time. Without fail, you will come across many cats here! More will come to greet you when they see that you have food. While you're visiting, you can make a positive difference in the lives of homeless furry friends. 
WOOF, there you have it – my top recommendations for things to do with your dog in Dubrovnik. Be sure to sniff out my list of favorite restaurants. Have a tail-wagging, wet nose escapade in my home away from home in the Balkans! 
Markin' it up, 
Roger Wellington a.k.a. The Doob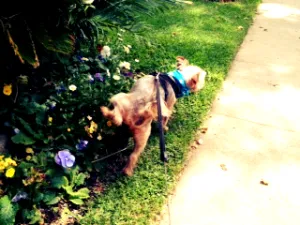 —
Like my post on 10 things to do with your dog in Dubrovnik, Croatia? PIN IT!