Is Sofia, Bulgaria dog-friendly? Sniff out my list of things to do with your dog in Sofia!
As the capital and largest city of Bulgaria, Sofia is an overlooked dog-friendly destination in Europe. Although Sofia is not as dog-friendly as the notable favorites of Paris or Vienna, this upbeat Balkan city is still a pawsome place to travel to with your dog. Shortly after I deboarded a tiny aircraft (ARF, with propellers!) from Bucharest, I kept my stylish rat tail upright and allowed my alpha Yorkie-self to be charmed by Sofia's distinctive Eastern European zest.
My exclusive list of things to do with your dog in Sofia, Bulgaria:
Walk along Vitosha Boulevard
WOOF, I set my tiny alpha paws here almost every single day during my stay in Sofia. As the main commercial street in the city, Vitosha Boulevard is (fortunately) dog-friendly with restaurants and bars offering inviting outdoor seating. While sniffing out this lively street, I dined with my humans at many of these fantastic restaurants. 
Nap near Saint Alexander Nevsky Cathedral
My humans and I were searching for shade when my robust wet nose led us to the grassy area in front of Saint Alexander Nevsky Cathedral. We took a nice, refreshing nap under the shade while gazing across the beautiful architectural masterpiece. I even took a break from all the fine dining by chomping on some tasty grass!
Explore the grounds of the National Palace of Culture
This is THE spot! I diligently marked up in Ploshtad, a marvelous dog-friendly park right outside of the famed National Palace of Culture. Not only do I admire this local-popular outdoor area for its aesthetics, but I also love the fact that I could set my furry paws here (without breaking any rules). I can chill out by the fountains or take a water break on one of their many benches. 
Wine and Dine at the fabulous SASA
Address: Парадайз център, ниво 2, bulevard "Cherni vrah" 100, 1407 Sofia
ARF, ARF! This trendy, upscale Japanese restaurant that welcomed my greasy paws certainly gets my BARK! Although I couldn't try the sushi myself, my humans promptly reported back that the edible artwork was as delicious as it appeared. Of course, I did get my share of some juicy pan-fried salmon and crunchy edamame. Vegan and vegetarian options are also conveniently available for my humans who don't consume too much meat. Another plus – our ultra-friendly waitress provided us with some top dog service!  Woof-hoo! 
People or Dog-watch at National Assembly Square
My humans and I stumbled upon this cool, sniff-worthy square where the iconic National Assembly building and other historical monuments stand. This must-see (or shall we bark sniff) architectural beauty is surrounded by an enchanting garden, making it a delightful strolling experience for both you and your dog.  
Chillax at Art Club Museum
Located right next to the National Museum of Archaeology, this huge outdoor restaurant is one happening spot. My humans and I lounged around at this dog-friendly joint at least 5X during our two-week stay in Sofia. The Art Club Museum is a fun place to grab food and drinks in a posh, elegant setting.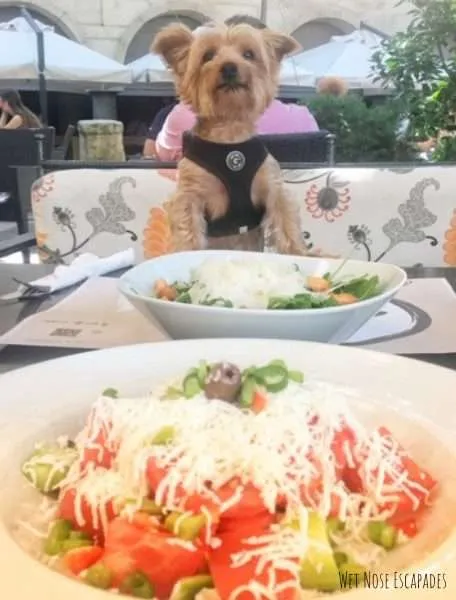 Sniff out the "Ivan Vazov" National Theatre grounds
AH-HOO! This spectacular landmark of Bulgaria also has dog-friendly grounds. I love investigating the beautiful area surrounding the National Theatre, from the ravishing garden to the effervescent pedestrian square. Don't forget to snap some IG-worthy photos here.
Dog Friendly Activities in Vienna: An American dog travels to Austria
Investigate ancient ruins at the Temple St. George Rotunda
As a capital city, Sofia is no short of ancient history. We may not be in Rome (another dog-friendly city), but we were sure reminded of its historical alphaness. GRR, we were hooked on these Roman ruins, which were Roman baths that eventually transformed into a church.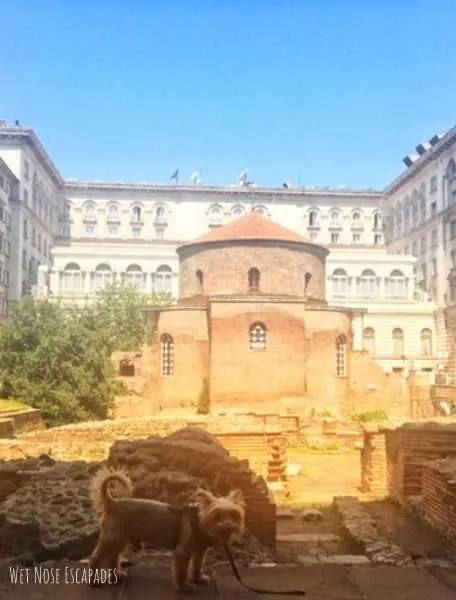 Bar Hop
Yep, you sniffed that right. Some bars welcomed me INSIDE. No questions asked. (And, don't worry – my humans made sure that all the bars we visited were not loud to my highly sensitive ears.) Even without inside access, most bars and restaurants DO have dog-friendly terraces. So is Sofia, Bulgaria dog-friendly? ARFF, I would bark so!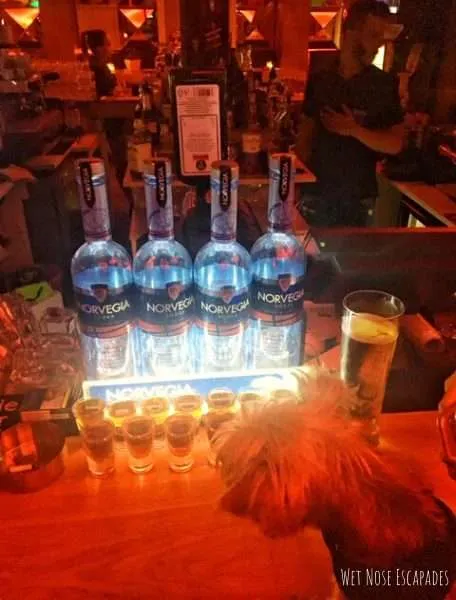 Hope you enjoy my list of fun things to do with your dog in Sofia, Bulgaria! Sniff out where else in the world I've set my alpha paws. 🙂 Don't forget to subscribe to my YouTube Channel: Wet Nose Escapades by Roger Wellington.
Markin' it up,
Roger Wellington a.k.a. The Doob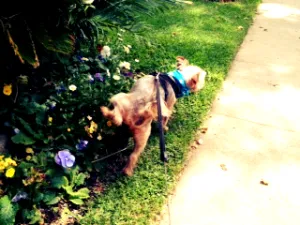 Like my post on "Things to do with Your Dog in Sofia, Bulgaria?" PIN IT!