Is Stockholm dog-friendly? Are you looking for fun things to do with your dog in Stockholm, Sweden? Keep on sniffing!
First Posted 12/18/20, Last Updated 4/30/23
The Swedish capital Stockholm is the most populous city (with a pawpulation of 10.42 million) in Scandinavia and home to 14 islands and over 50 bridges. Mouthwatering Swedish meatballs, creamy "glass," the legendary ABBA, and massive royal palaces (yes, TOP DOG status) – this Nordic city's attractions are endless! And yet, I'm only barking out a few things I love about this modern city with head-tiltin' scenery and centuries-old history.
Most importantly (imPAWtantly, I mean), Stockholm is a MUST-visit city with a dog. From dog-friendly restaurants and pubs to dog-friendly attractions to dog-friendly scenic walks, Stockholm a.k.a. "Venice of the North" has buttloads to offer to you and your furry traveler. Sniff out my paw-picked list of FUN things to do with your dog in Stockholm, Sweden below.
*Please note that this post contains affiliate links, and at no obligation or additional cost to you, my humans and I earn a small commission if you make a purchase. If you love the work that we do, you can show your support by making a purchase through an affiliate link. Proceeds will go towards feeding homeless dogs (and cats) along with improving the lives of the neglected and abused.
Dog-Friendly Neighborhood Hop
First bark first, what I love most about Stockholm is the city's dynamic, diverse neighborhoods, which are worthy of some real sniffing (and marking). As I'd expect in Scandinavia, most neighborhoods in Stockholm boast clean streets and high safety ratings, making dog walking a pleasant experience. Here's a rundown of my favorite hoods to sniff out: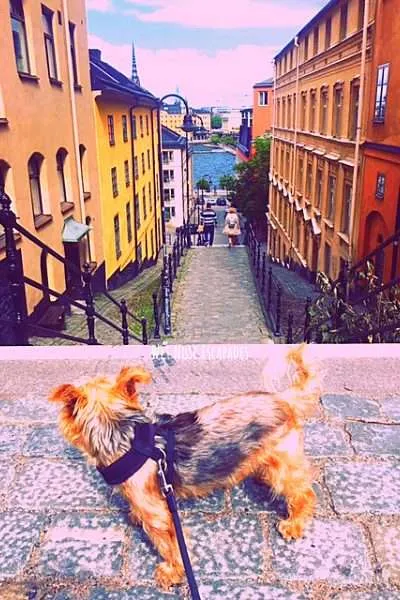 Gamla Stan – Founded in the 13th Century, the popular (I mean, PAWpular) island of Gamla Stan is home to the city's fabulous Old Town. Despite being a bustling tourist central, Gamla Stan is still worth a visit with your furry traveler – as long as you keep those furry paws away from heavy pedestrian traffic. I enjoy making my mark on the main streets of Västerlånggatan and Österlånggatan, where I wag my tail to their medieval vibe, cobblestone streets, classical live music, and colorfully unique buildings. From traditional Swedish restaurants to cozy cafes to trendy boutiques, I've wagged my stylish rat tail to find that most establishments in Gamla Stan are dog-friendly (or dog-tolerant). WOOF-HOO!
Norrmalm – Located in the central part of Stockholm, Norrmalm is a lively commercial area enriched with the local culture. In Norrmalm, you and your dog traveler will stumble upon fashion, design, arts, public squares, and urban parks. My go-to park is Kungsträdgården (Kungsan) a.k.a. the enchanting King's Garden, where outdoor restaurants, cafes, gardens, green spaces, and public plazas set off a jovial atmosphere. It's the perfect (PAWfect, I mean) place to spend the afternoon with your dog.
Östermalm – Separated from Norrmalm by the long street Birger Jarlsgatan, Östermalm is one of Stockholm's wealthiest neighborhoods. This upscale district is home to the luxurious shopping district Bibliotekstan where dogs are allowed inside most stores, which means you can shop til you drop with your dog. Don't forget to leave a few marks at the royal park island Djurgården where the famous ABBA Museum calls home.
Despite being a wealthy neighborhood, Östermalm doesn't have the annoyingly pretentious vibe (like you'll find in snooty Beverly Hills). My human loves takings me into their historical redbrick food market Östermalm Saluhall, which offers fresh fruit, vegetables, seafood, and gourmet food.
Södermalm – Besides boutiques, cute cafes, and bridges, the island of Södermalm also has bragging rights to Monteliusvägen and Fjällgatan, two of the highest points in the city with scenic views that will tilt any dog's head in awe. Once considered a poor neighborhood, Södermalm is now top dog cool after gentrification. PAWS DOWN, Hornstull is one of the hippest areas here, attracting hipsters left and right. The public square and city park Mariatorget is also a fun place to take your dog – there are ample dog-friendly cafes and bars along with photo opportunities with iconic statues and a central fountain.
Find out what essentials to pack for your dog!
Hang out at a Dog-Friendly Pub
Bringing your dog inside a bar or pub in Stockholm is often hit or miss (probably more of a hit than a miss). At Movitz Pub & Restaurang (Tyska brinken 34) in Gamla Stan, not only was I warmly welcomed inside, but also hand-fed treats by the dog-loving female bartender! AWOOOO. However, just right outside a nearby pub (name undisclosed) on the same block, a power-trippin' security guard violently grabbed my human on the back just because "no dogs are allowed." GRRR.
BTW, they didn't have any signs, and such use of force is completely unjust and unnecessary. It's downright abusive! Hence, it appears that dog entry to pubs is solely up to the staff's discretion. BUT the good news is that I've found more pubs and watering holes accepting dogs than the ones that don't.
Fill up Your Belly at a Dog-Friendly Restaurant
From succulent Swedish meatballs to shrimp-topped toast Skagen, Stockholm has bountiful scrumptious goodies to lick your chops to. My stylish rat tail is wagging as I bark out that I've marched into many restaurants here and sat my furry butt on a human chair. But just like pubs, restaurants in Stockholm can be a hit or miss regarding dog-friendliness. Unfortunately, there's no hard and fast rule as it ultimately depends on the restaurant owner or staff.
For instance, my Auntie's favorite vegetarian/vegan pan-Asian restaurant Chutney (Katarina Bangata 19) in Södermalm, and my human's go-to eatery for traditional Swedish food Gästabud (Österlånggatan 7) in Gamla Stan both welcome me inside with open paws time after time – no nasty looks or questions asked. Besides being dog-friendly, both places serve some quality food, leading me to return several times on one trip. However, just a few blocks from Gästabude, Cafe Nova (Järntorget 82) first allowed me to sit on their side patio on several visits, but suddenly refused me on my last visit. And yes, this is OUTDOOR seating that I was denied. However, more restaurants do accept dogs than the ones that don't. If you don't see any signs, be sure to ask.
Sniff out where else I filled up my Yorkie belly with Swedish goodies.
Mingle with the Swedish Dogs at Dog-Friendly Parks & Squares
As an ultra-gregarious dog, I always pull my human so I can sniff out other doggies. Luckily, there are plenty of cute furry Swedes to chase here. I even sniffed out a dog mom wheeling three Dachshunds in a stroller in Södermalm without a worry in the world. Since Stockholm is one of the greenest and most dog-lovin' cities in the world, your dog will surely lead you to a myriad of city parks and green spaces to chase after some furry butts. I mean, I know I did. In addition to parks that allow dogs, off-leash dog parks also exist within larger parks. As expected, public parks here are generally well-maintained and clean. Therefore, be a good visitor and clean up after your dog. 
Sniff out my four main stomping grounds where I like to bark Hallå to my canine Swedes:
Kungsträdgården a.k.a. Kungsan (Jussi Björlings allé) – Located in Norrmalm, this urban park in the historical royal gardens is one of the city's oldest public parks. Due to its central location, Kungsträdgården is a popular (I mean, PAWpular) meeting place with numerous outdoor cafes and restaurants, many of which offer dog-friendly seating. In addition to being the home to the squares of former kings Charles XII and Charles XIII, Kungsan also hosts a number of open-air events throughout the year, many of which are dog-friendly.
Djugården – This is my human's favorite island in Stockholm! In the middle of the city in Östermalm, the small island of Djugården is THE SPOT to marvel at the exterior grounds and let your dog do some prime socializing. Formerly the Royal Game Park (created especially for the royal family), Djugården now boasts amusement parks, meticulously landscaped gardens, cultural museums, art galleries, and endless green spaces. I made sure I did some hind leg kicking at the Royal National City Park a.k.a. Royal Djugården.
Nonetheless, my human's favorite part about this island is the ABBA Museum dedicated to the legendary Swedish group. Unfortunately, the museum prohibits animals from entry except for service dogs. However, even though I'm not able to sniff inside the museum to learn more about the legendary "Dancing Queen" band, I can investigate the outside grounds with an upright tail and snap a few photos.
Tantolunden – Tucked away in the southern part of central Stockholm in Södermalm, Tantolunden is a massive urban park near the ARF-so-hip neighborhood of Hornstull. With excellent picnic spots, waterfront walkways, gardens GALORE, and a large dog park, this lush oasis has become one happening place year-round for young Stockholmers and their dogs.
Mariatorget – Formerly Adolf Fredriks Square (named after the former King), the enchanting Mariatorget a.k.a. Maria Square is both a public square and city park residing in Södermalm. Mariatorget's claim to fame is their central fountain called "Thor's Fishing," which depicts the Viking God Thor. But, even if you don't care for statues, Mariatorget is a lively place to sniff and be sniffed with plenty of outdoor cafes, bars, and shops – many of which are dog-friendly and make the perfect (I mean, PAWfect) place for prime butt-sniffing and mingling.
Dog Travel Essentials: Part 2 – Make sure you grab everything you need for your travel dog!
Watch the Changing of the Guard at the Royal Palace
WOOF, watching the "Changing of the Guard" is, PAWS DOWN, the most exciting dog-friendly activity in Stockholm. Well, at least for me and my human. Since 1523, the Royal guard has been stationed at the Royal Stockholm Palace and is responsible for guarding it. Moreover, the Royal guard is also part of the security defense of the city. Resting in Gamla Stan, the Royal Palace or Stockholm Palace is the administrative headquarters of King Carl XVI Gustaf, who ascended the throne in 1973 after his grandfather's death.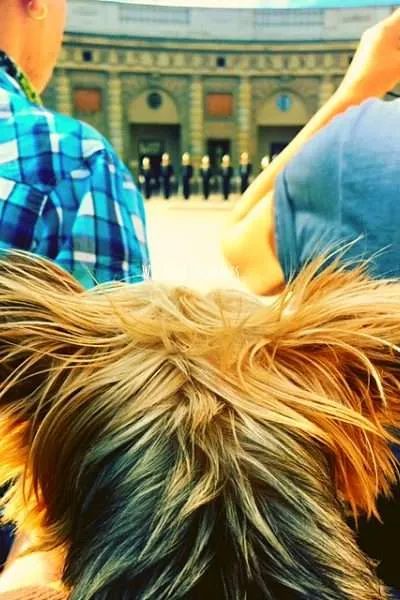 Built in the 18th Century in Baroque architecture, it has a whoppin' 1,430 rooms, which is way more than world-famous 775-room Buckingham Palace in London! The Royal Palace may have historically been the official residence of the Swedish monarch, but the King and his family actually reside at the Drottningholm Palace on the nearby island of Lovön.
Even though dogs aren't allowed to sniff the palace interior, they are welcome to walk around the stunning palace grounds and watch the "Changing of the Guard" with their humans and PAWty with the military marching band and parade. From the end of April to the end of August, this FREE 40-minute event starts at 12:15 pm every day except 1:15 pm on Sundays in front of the Royal Palace. During peak season (summer months), you may want to get there a little early for a better view. Look at me trying to squeeze in for a peek!
When to take your dog to see "Changing of the Guard":
April 23 to August 31: 12:15 pm on Weekdays, 1:15 pm on Sundays
September 1: 12:14 pm on Wednesdays & Saturdays, 1:14 pm on Sundays
November to March: 12:14 pm on Wednesdays and Saturdays, 1:14 pm on Sundays
*During Autumn and Winter months, the event is on a smaller scale with no musical component, but still sniff-worthy if you're in town. As you would expect, the holiday season also brings forth various events and festivities.
Take a Fika or grab desserts
When markin' it up in Stockholm, you cannot leave without taking a "Fika" or trying a cone of "glass" with your dog. WHAT???
If you're are tilting your head in confusion, perk up your ears to this quick Swedish vocab lesson. "Fika" means a coffee break, "Kaffe" means coffee, and "glass" means ice cream. Just a note that "Fika" means more than just a regular coffee break. Essentially, it's an integral part of the Swedish daily culture where the Swedes socialize with each other over Kaffe (coffee) and chops-lickin' sweets like kanelbulle (Swedish cinnamon buns) and chokladbollar (Swedish chocolate balls). YUM!
Luckily, most cafes and dessert shops accept dogs inside and/or on their outdoor patio. WOOF, after hopping around various cafes and dessert shops with my humans, I can bark out with an upright tail that the Swedes undeniably take their Fika and sweets seriously. After all, they are the world's biggest devourers of sweets and Europe's biggest consumers of ice cream. Real BARK!
During my visit, my go-to cafe is (again) Cafe Nova in Gamla Stan (Järntorget 82); however, after several dog-welcoming Fikas on their lovely outdoor back patio, I was suddenly advised on my last visit that dogs weren't allowed. GRR. Nonetheless, I still love this cafe. I just wished they were more consistent with their dog policy, which seems to be hit or miss depending on the staff of the hour. 
Get my 8 tips on how to dine with your dog!
Enjoy LIVE Classical Music on the Streets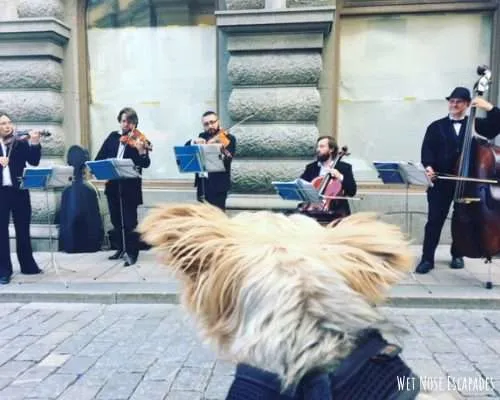 While roaming around the streets of Gamla Stan with an upright tail, I perked up my ears and stopped my paws as I heard some classical beats. During the peak season (summer months), classical bands take to the streets to perform for tourists and locals alike. From the violin to the cello, synergized sounds are REAL music to my Yorkie ears. The symphony sounds are ARF-so-enchanting, especially walking on the cobblestoned streets of Old Town. WOOF, it really took me back to a different world! Even though street performers technically perform for FREE, they appreciate tips, so be sure to drop in some change to show appreciation.
Take Your Dog on a Boat and Island Hop the Stockholm Archipelago via BOAT
ARF, can you leave Stockholm without hopping on a boat? After all, the Stockholm Archipelago is the second-largest archipelago in the Baltic Sea with a jaw-droppin' 24,000 islands! Since dogs are generally allowed on ferries (as long as they're leashed or inside a carrier), island hopping or cruising around the archipelago with your dog is a MUST – given that your dog is not prone to motion sickness.
Boat and cruise companies in Stockholm will typically allow dogs on boat rentals or excursion trips, but not sightseeing cruises. For instance, dogs are allowed onboard on Stromma's excursion ships if they are leashed outside and held by their human. However, dogs are NOT allowed in dining areas, cafeterias, or sightseeing boats like the dining cruise. On the 2560-passenger Viking Cinderella ferry, "pet" animals are allowed on all regular ferry crossings, except cruises. The exceptions are guide and assisting dogs who travel for free regardless and can access all public areas on the ship.
I love setting my alpha paws on the cute castle town of Vaxholm (on the island of Vaxön) and Grinda, a tranquil island known for beaches and outdoor activities. Both islands make suPAW easy and fun dog-friendly day trips from Gamla Stan.
Admire the Row Buildings from Skeppsbron
In Swedish, Skeppsbron means "The Ship's Bridge," and PAWS DOWN, this is my favorite spot (I mean, SPAWT) to lead my human pack on a walk in Stockholm. Located in Gamla Stan, Skeppsbron is a major waterfront walkway and quay for docking ships in the city. With a rich history dating back to the 17th Century, Skeppsbron is lined with 24 iconic, picturesque pastel-colored buildings. Since I rested my furry paws nearby, I frequented this place for my daily stroll, took thorough investigative sniffs, and reluctantly modeled for my humans in front of the water for IG photos. 
Useful Info about Dog-Friendly Stockholm
Swedish Dog Laws
The best part about being a dog in Stockholm is knowing that the Swedes lead the pack for animal rights. WOOF! This compassionate country has the strictest animal welfare protection laws in the world, particularly regarding the humane and equal treatment of dogs and cats. In Sweden and neighboring Finland, crating your dog is ILLEGAL unless it's done for temporary reasons, e.g. transportation.
As dogs are to be treated as equal members of the family, they must be taken out for exercise or relief at least once every 6 hours. In addition, dogs and cats kept indoors must have access to a window view that allows sunlight. Furthermore, outdoor dogs must have access to both sunny and shaded areas along with protection against extreme weather. The surrender of dogs, cats, and other domestic animals is also strictly prohibited and punishable by law.
Dog-Friendly Public Transportation
In addition to ferries, dogs are allowed on other modes of public transportation – buses, metro, and trams – usually FREE of charge. On Stockholm's public transport SL, dogs must be on a leash or in a carrier. However, with that barked, SL maintains certain areas on buses and trains that restrict dogs (or pets in general) due to allergies. But as always, guide or assistance dogs are allowed everywhere. 
Dog-Friendly Uber
In addition to my usual mode of transportation (which is by PAW), I took several Uber rides around the city and to/from Stockholm Arlanda airport without any issues. No rejection, questions, or nasty glares. My human didn't have to hide me inside the carrier either although it's always a good idea to bring along – just in case.
Dog-Friendly Accommodations
In Stockholm, dog-friendly accommodations are ubiquitous, but you will likely have to pay a daily or weekly fee for your dog's stay.
Here are a few dog-friendly hotels in the city:
Hilton Stockholm Slussen
4-star hotel
Guldgränd 8
2 dogs per room, up to 55 lbs per dog
Dogs are allowed for an extra charge of SEK 450 per accommodation, per stay
*This was where I called "home" in Stockholm, and I give a high PAW for their dog-friendliness!
Mornington Hotel
4-star hotel
Nybrogatan 53
Dogs are welcome in a few 'dog rooms', but you must book with the hotel directly to ensure availability.
Dogs are also welcome in the lobby and a part of the hotel restaurant.
Ett Hem
5-star hotel
2 Sköldungagatan
Dogs stay FREE, 2 max per room
HOW TO TRAVEL TO SWEDEN FROM THE U.S. WITH A DOG:
Since Sweden is part of the European Union, your dog will enter the country as he would in any E.U. country.
To meet E.U. dog import requirements from the U.S. or Canada, you'll need a visit to an accredited veterinarian for the following:
E.U. Health Certificate
Rabies vaccination (or proof of vaccination if your dog already has one)
ISO-compliant 15-digit Microchip (rabies vaccination must be administered after your dog is microchipped, NOT before)
Besides acquiring the required paperwork for dog travel, it's also imperative that your dog gets a thorough examination from the vet to ensure that he is healthy enough to fly. If you have a senior dog like me, be sure to sniff out my 25 Tips on Flying with Your Senior Dog.
Once you've obtained the E.U. Health Certificate from the veterinarian, you must then get the paperwork endorsed by your local APHIS Veterinary Services Office, either in-person or by mail.
Expect to pay anywhere from $125 to $200 USD ONE-WAY for your dog's in-cabin flight. Before you book the flight for your dog, sniff out my exclusive guide on international dog travel.
BARKWORTHY TIP: Once you and your dog arrive in Stockholm (or anywhere in the E.U.), you can take your dog to an accredited veterinarian to exchange your existing E.U. Health Certificate for an E.U. Pet Passport. The E.U. Pet Passport is considered the GOLDEN TICKET in the world of international dog travel and comes in especially handy if you plan on returning to the E.U. with your dog in the future.
Wanna know more about getting a passport for your dog? Sniff here for my E-Book!
My fabulous green carrier has been in more countries than most humans on Earth!
Returning to the U.S. from Sweden with a DOG
Generally barking, to return to the U.S. from the E.U., your dog must appear healthy and enter with a valid rabies vaccination certificate. However, there may be additional requirements based on the state you're flying into, which may be stricter than federal regulations. Be sure to check the APHIS website for the latest info.
Does your dog have what it takes to be an international traveler? Learn how to fly with your dog internationally!
Markin' it up,
Roger Wellington a.k.a. The Doob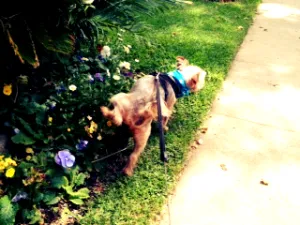 —
Like my post on "Dog-Friendly Stockholm: A Yorkie's Guide to Things to do with Your Dog in Stockholm Sweden"? CLICK TO PIN!