Looking for things to do with your dog in Vienna, Austria? SNIFF ON!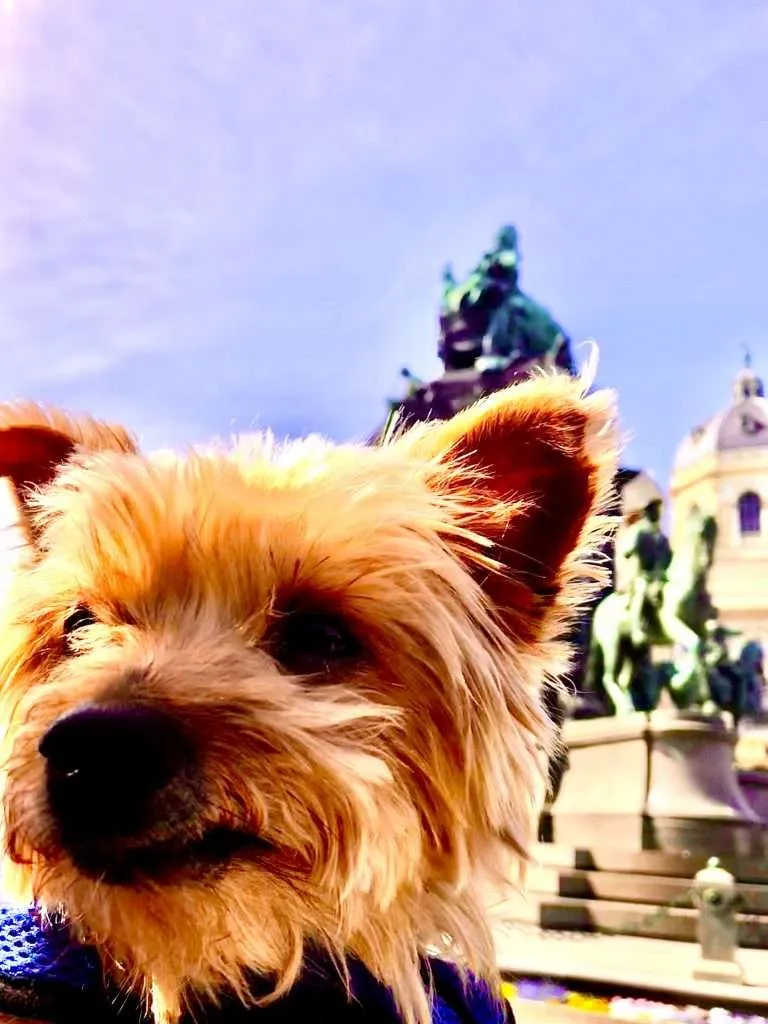 Last Updated 1/24/22
Hallo, escapaders! Vienna, Austria is not only one of the most dog-friendliest cities in the world with some of the most advanced animal rights laws in the world, but it's also one of my favorite destinations of ALL-TIME. With dogs allowed inside restaurants and on public transportation (not to mention, free poop bags are easily accessible throughout the city), I find it easy to transform myself into a sophisticated Austrian Yorkie! Vienna is fabulously royal, indisputably clean, and cultured yet modern.
Sniff out 10 things to do with your dog in Vienna, Austria below!
#1 Mark up Sigmund-Freud Park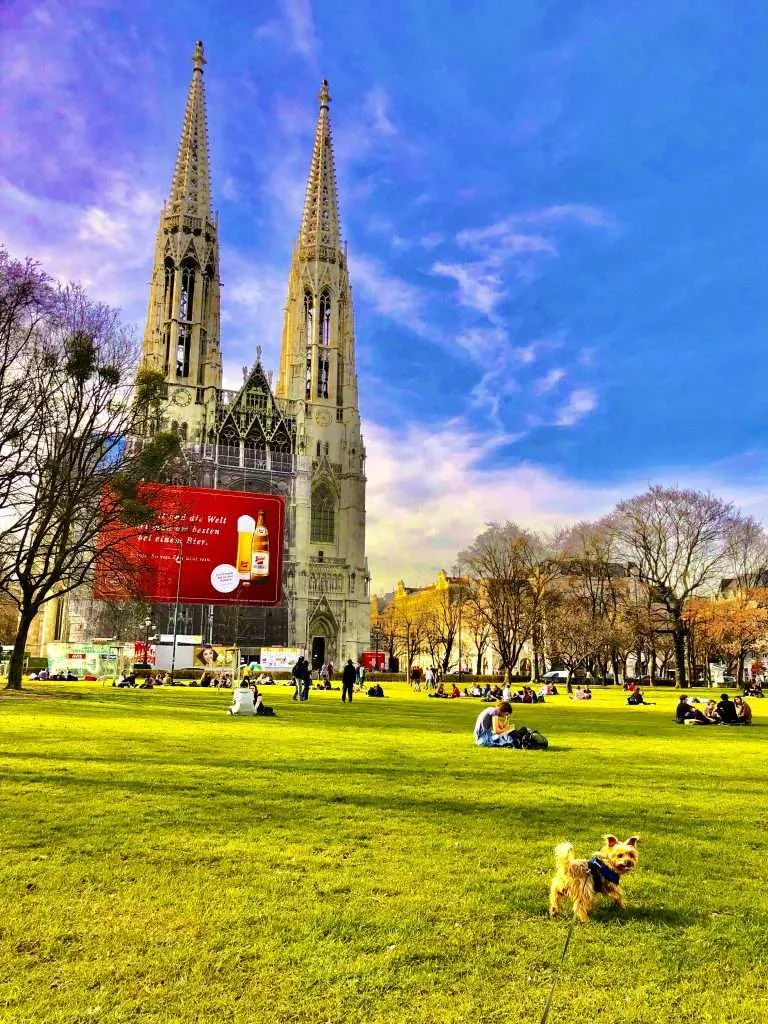 WOOF, dog-friendly parks are everywhere in Vienna but I do have my beloved ones where I tend to leave my alpha markings. Sigmund-Freud Park is MY go-to neighborhood park during my Austrian residency. With an upright tail, I find immense pleasure raking my feet and leaving TOP DOG messages to furry rivals! Sigmund-Freud is smaller than the other public parks in the city so the best part is that it's not as crowded (or touristy). Although smaller, this park is no less fantastic or beautiful; I can't help but glue my eyes to the enchanting backdrop, the neo-gothic church Votivkirche.
#2 Hang out at a bratwurst stand
A sausage made fresh typically from beef, veal, or pork, "bratwurst" is a MUST-EAT food whenever I'm in Austria! One of the top things to do with your dog here is none other than to devour a mouthwatering bratwurst or käsekrainer at a bratwurst stand! I'm notorious for scavenging for scraps around the stands even after clinging onto my very own bratwurst with my greasy paws. One of the owners even personally handed me a dog-edible bratwurst FOR FREE! WOOF, I feel so special.
Even if you're a non-meat eater or prefer to skip the meat to help out the animals (Meatless Mondays, anyone?), you can still enjoy a paw-lickin' bratwurst as most spots offer vegan options. Sniff out vegan eats in Vienna HERE.
Just a note that bratwursts are high in sodium and fat (plus spices could be added depending on the type of bratwurst) so be careful before giving your dog a bite. You can always bring a pack of treats to be on the safe side!
#3 Chomp on a schnitzel at Figlmüller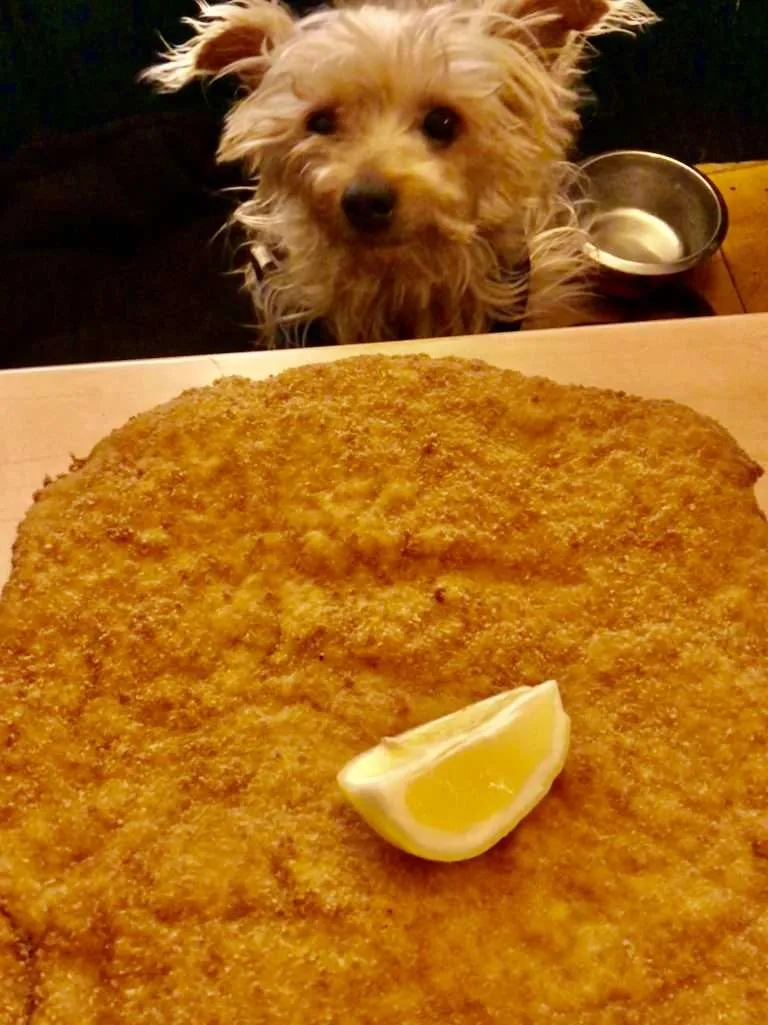 Be a tourist with your dog (yes, it CAN be fun sometimes), and eat schnitzels with other tourists at Figlmüller. A traditional Viennese dish, a schnitzel consists of a deep fried, breaded thin slice of meat garnished with a lemon wedge. Known as the home of the Schnitzel, Figlmüller is dog-friendly and accepting of furry diners just like most restaurants in Vienna (regardless of how touristy or fancy). Wag your tails to that!
*Find out how to balance your schnitzel HERE!
Since schnitzels are deep-fried and not exactly healthy for dogs, my humans ordered a plate of their refreshing "Mixed Salad" for me. As you may know, I'm NOT all about meat like my wolf ancestors. I just love tearing apart their "mixed salad," which consists of a variety of small salads of MY choice. My favorite? Paws down, the tasty carrots!
#4 Dine at Cafe Wien – Hotel Sacher
Going to the iconic Hotel Sacher is a world-class experience, and you can make it extra memorable by having your dog accompany you. Located inside Hotel Sacher, Cafe Wien is the place to be – ALL because of their famous chocolate cake known as the Original Sacher Torte that was "created" in 1832. ARF, you heard my bark right – 1832! What a historical masterpiece. During peak hours, I will even sniff lines out the door so I prefer to go during non-peak hours on a weekday. Even though I couldn't devour the world-renowned chocolate cake for safety reasons, I was more than happy to accompany my humans and ate some delicious dog treats while they tasted the cake and strudel. WIN-WIN!
#5 Explore the University of Wien
GRRR, I know exploring a university campus doesn't sound like something that would make the list of the top things to do with your dog in Vienna, but trust me on this one. I had the best time kicking my back feet on this dog-friendly campus that boasts plenty of green spaces. As the University of Wien surprisingly offers some exceptional local restaurants, I quickly became a regular furry diner here and licked my chops to a variety of Viennese (and European) dishes.
#6 Walk along the Donaukanal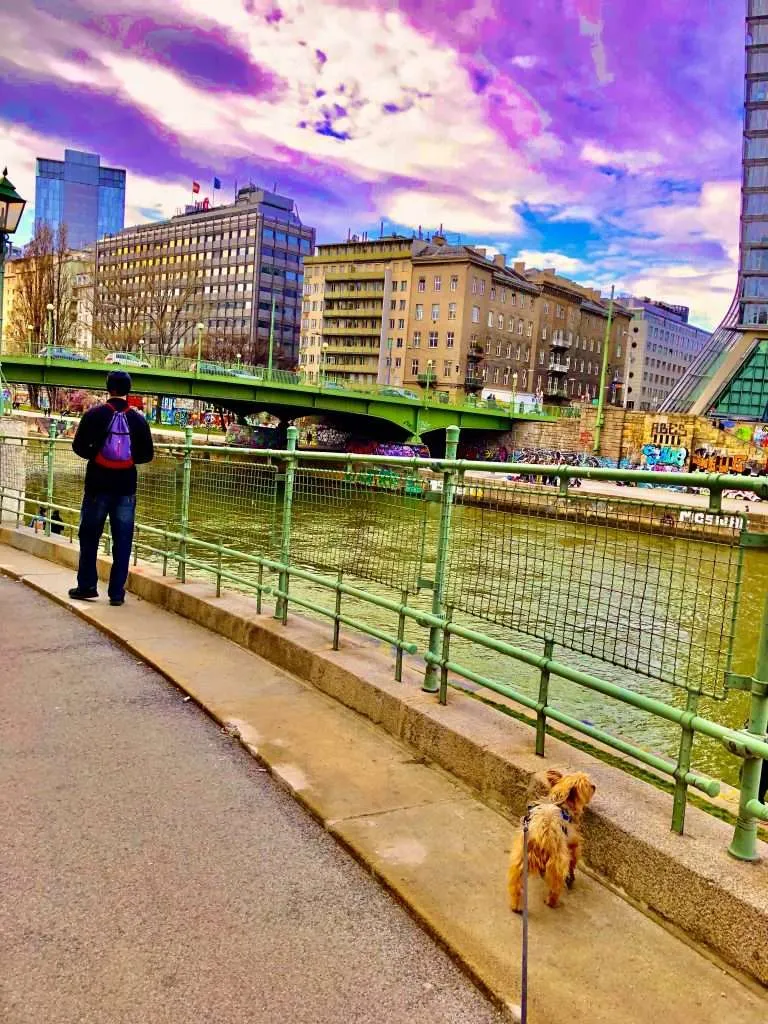 My stylish rat tail wags in excitement every time I walk my tiny furry paws along the Danube Canal! My robust wet nose can sniff out the local Viennese doggy guest book while my humans take in some pretty views of the Danube River. At times, they would lift me so I can experience the tranquil city views and get some fresh air.
#7 Experience the biergarten (beer garden) scene
Beer gardens are an undeniable FUN part of the Austrian culture. It's an exciting place for beer, sausages, pretzels, people, and oftentimes, music. With Vienna being an uber dog-friendly city, the best way to experience the beer garden culture is…with your dog! Although I cannot sip on beer like my humans, I am always amused to investigate the dynamic beer garden food and dog scene.
#8 Go to Naschmarkt
With over 120 stands at this popular market, Naschmarkt is one HAPPENING place! My wet nose went to town here as I sniffed out all types of toothsome international food, from traditional Viennese dishes to spicy Thai noodles! I finally decided on aromatic Turkish food to fulfill my little (big) Yorkie tummy – the succulent skewers and delectable falafels were to-beg-for!
#9 Sniff out The Hofburg
ARRRFF, a trip to Vienna with your dog would NOT be complete without sniffing out The Hofburg, the former imperial palace of the Habsurg dynasty. Sadly, dogs are NOT allowed inside the magnificent palace (GRRRR), but I made sure I took a long and thorough sniff of its lavish grounds. My tail would wag in excitement as I studied the Viennese dogs (and their humans) who I found to be so oh-so-intriguing (or shall I bark, faszinierend?).
#10 Mingle with Viennese dogs at a dog park
As Vienna is such a dog-friendly city, my humans and I found dog parks and FREE poop bags literally in every neighborhood. Generally speaking, I find the dog parks in the city to be clean, well-maintained, and most importantly, pawsome places for dogs. After sniffing out many dog parks in the area, I made Hundezone Schönborn my home park, where I stomped daily to show other dogs who's BOSS.
Sniff out these other sniff-worthy dog parks and dog-friendly areas (outside of the city center):
Dog Beaches – Yippee, there are dog beaches here! Time to get my furry paws sandy. Look out for the word "Hundezone," which means "dog zone." You may also see the word "Gackerlsackerl," which means poop bags (help keep Vienna clean!). This pawpular dog beach is just north of the city center on the Danube River. There's also a "Hund Beach" a.k.a. dog beach at Handelskai.
Tiefauwiese at Schwarzenberg Park
Don't forget to get your furry paws on my comprehensive guide to Traveling to Austria with a DOG!
Looking for more dog-friendly travel? Sniff out my other wet nose escapades! Don't forget to subscribe to my YouTube Channel: Wet Nose Escapades by Roger Wellington.
Markin' it up,
Roger Wellington a.k.a. The Doob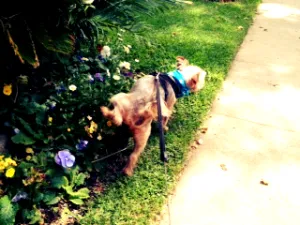 Like my post on "10 Things to do with your dog in Vienna, Austria"? PIN IT!