WOOF, does Throat Gold have any side effects? Sniffing for reviews on Throat Gold for dogs with collapsed trachea? Perk up your ears and hear my honest barks about this herbal respiratory supplement specially formulated to reduce your dog's cough and soothe the throat and trachea.
*Please note that this is NOT a sponsored post. All opinions (I mean, barks) are my own, as always. Just a BARK OF DISCLAIMER that my humans and I are NOT veterinarians, and this post is solely based on personal experiences and research. Please always consult a veterinarian for a proper treatment plan.
*This post contains affiliate links, and at no obligation or additional cost to you, my humans and I earn a small commission if you make a purchase. If you love the work that we do, you can show your support by making a purchase through an affiliate link. Proceeds will go towards feeding homeless dogs (and cats) along with improving the lives of the neglected and abused.
Posted 3/27/23
As a senior Yorkie battling a collapsed trachea for a long time, I had my worst flare-up from this predisposed condition at the end of last year. My human rushed me into the ER not once, but twice in two months to break my cough cycle. Luckily, my tongue did NOT turn blue or purple, which would indicate cyanosis, a life-threatening condition where insufficient oxygen is getting to the brain. Arf-ter two aggressive treatments involving injections of Prednisone (steroid to decrease the inflammation) and later Butorphanol (opioid to decrease the cough), I was finally brought back to stability.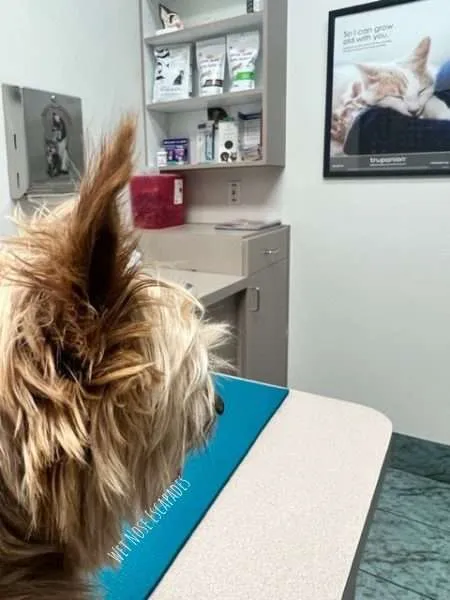 GRRR, the downside is that I could no longer escape taking opioids like Hydrocodone or Codeine regularly like I did for years prior arf-ter any flare-up. As a matter of bark, up until now, I managed to escape consistent, long-term use of any drug since my initial diagnosis in 2016. Since opioids have major sedative effects with a high risk for addiction (even in dogs), my human started looking for a more natural remedy in hopes of lessening the need for opioids.
Arf-ter much research online, she came across Throat Gold, a vet-formulated natural herbal supplement for dogs who have developed a cough from collapsed trachea, boarding, grooming, leash pulling, and irritants like cigarette smoking. It hails from Pet Wellbeing, a company that has been in business since 2001 and boasts a long line of natural supplements for dogs and cats, from cancer support to allergy support. The company is headed by two holistic veterinarians Dr. Janice Huntingford and Dr. Ronald B. Koh.
Be sure to get my favorite choke-free harness – this blue mesh harness from Gooby, designed with a choke-free X frame that offers great comfort. I like to get it one size up, so it's a little loose and easy on my neck and shoulders. Walking your dog in a choke-free harness is the easiest thing you can do to help with his collapsed trachea.
Made with human-grade ingredients, Throat Gold is advertised as a proprietary blend of the active ingredients Slippery Elm Bark, Usnea Thallus, Mullein Leap, and Deglycyrrhizinated Licorice Root Extract. Its inactive ingredients are deionized water, natural bacon flavor, and vegetable glycerin.
Unless you have a background in herbal medicine, the ingredients listed don't exactly mean much to the average dog pawrent. For dog pawrents like my human, what matters the most is that it WORKS without any serious side effects (although it's always a PLUS to know when it's ethically sourced).
ARF, here's the breakdown of their main active ingredients and advertised functions:
Slippery Elm – Contains high amounts of mucilage, used for soothing the throat
Mullein Leaf – Contains mucilage, helps break up mucus and soothe irritation in the throat
Usnea Thallus – Supports immunity in the throat and upper respiratory tract
Licorice Root – Supports the immune system, directly soothes the tissues of the throat
Carefully selected by holistic veterinarians, these demulcent herbs are known to soothe the throat, trachea, and occasional cough due to upper airway discomfort. Throat Gold is said to be 100% natural, made in the USA, certified organic, sustainably sourced, and tested for purity and quality. Heck, even their manufacturing facility is FDA-registered and every batch is tested to ensure the highest quality and purity. Sounds ARF-mazing, right?
Order Throat Gold NOW on Chewy!
Order Throat Gold NOW on Amazon!
It sure does, and I'll be honest with you – my human was so hopeful about Throat Gold that she couldn't even wait to return to the U.S. to get it (as of 2023, Pet Wellbeing products are only available in the U.S., Canada, U.K., Europe, Australia, and South Korea). Instead, she had my Auntie overnight a 2 oz. bottle to Brazil so I could use it immediately. Arf course, she ran it by my veterinarian back in the U.S. AND pulmonologist here in Brazil before purchasing it. They both gave the green light, saying it doesn't hurt to try, but don't expect it to help much.
As for the results on Throat Gold? Drumroll please…
1st Attempt: Although I should be taking 4 drops every 12 hours based on my 7-8 lb. weight, my human started me off at only 1 drop to make sure that I didn't have an allergic reaction. That morning following, I started hyperventilating like I had real trouble breathing. My human was about to take me back to the vet, but I somehow calmed down and resumed normality while en route. It could have been a coincidence that I had a bad episode, but who knows? Nothing else changed in terms of my lifestyle and diet. Arf-ter that episode, I stayed away for a few weeks before my human attempted to try again.
2nd Attempt: Again, I started with 1 drop. No side effects this time. WOOF-HOO! I then continued 1 drop for another 3 days before getting 2 drops a day for another 3 days. Aft-ter a few weeks, I finally worked my way up to the recommended dose of 4 drops every 12 hours.
Per Pet Wellbeing's Customer Service, results may vary from pet to pet, BUT Throat Gold should be used for 2-3 weeks consistently for noticeable improvement and 4-6 weeks for maximum benefits.
Week 1 of Full Dose: No changes whatsoever. Not better, not worse.
Week 2 of Full Dose: Noticeable improvement in cough. My human was very pleased and hopeful! She even ordered a second bottle.
Week 3 of Full Dose: While continuing the full dose of Throat Gold, my human lowered my dose of a cough suppressant for one day. Unfortunately, this backfired, and my cough got worse. 🙁
Week 4 of Full Dose: A few bad days, followed by a few good days.
Week 5 of Full Dose: All good days. 🙂
Week 6 of Full Dose: A few good days, followed by a few bad days.
Week 7 SKIPPED: I took a break from Throat Gold since my pulmonologist prescribed one week of antibiotics in addition to my normal meds of opioids and inhaled corticosteroids.
Week 8 Full Dose: Immediately arf-ter the antibiotics treatment, there was significant improvement in my cough. All good days. 🙂
Week 9: Full Dose: A few bad days, but mostly good days.
Throat Gold PROS
-Pet Wellbeing offers easily accessible customer service: My human hasn't tried their live chat feature or email, but their phone line (1-877-633-2401) is easily accessible during their normal business hours of M-F 8 am-6 pm PT and S-S 8 am-5 pm PT (excludes Christmas Day & New Years Day). She has spoken to a few representatives, and they've all been friendly and compassionate (although inconsistency exists – keep sniffing below for the CONS).
-The company offers a 90-day money back guarantee on all their products, demonstrating how much they stand by their product.
-Since it's an all-natural product, Throat Gold is difficult to overdose. Per their FAQ, if the body cannot absorb all of what is administered, it is generally passed through the body via the normal elimination channels. Nonetheless, it is still PAWsible that your dog could experience diarrhea or vomiting as a result, but it's not a cause for concern – at least in most cases.
-It's easy to administer, at least for me! WOOF, I love the bacon flavor taste and will happily gobble it up with my food, but my sidekick Penny Gurl was quick to turn her nose at it (so it just depends on your dog's taste bud).
-Available in 2 or 4-oz. bottle, Throat Gold lasts for a supaw long time for a small 7-8 lb. dog like me. As a matter of bark, I've calculated that my tiny 2 oz. bottle will last me 147 days (nearly 5 months) at a full dose daily! With that barked, the current price of $47.95 for a 2 oz. bottle or $76.95 for a 4 oz. bottle is actually quite reasonable. Although it may be considered expensive for many pawrents, prescribed medication can be pricier for less quantity.
-Throat Gold is widely available online – Amazon, Chewy, and even Walmart in addition to the official Pet Wellbeing website. As an Amazon prime member, my human can opt for next-day delivery with free shipping, which makes things uber convenient. At first, she was worried about getting it from Amazon, but arf-ter ordering from Chewy later, she confirmed the quality to be the same. Also, when she first ordered from Amazon earlier this year, returns were not allowed so she would have to contact Pet Wellbeing within 90 days if she wanted a refund for that order. But, the good news is that it looks like their return policy has now been updated on Amazon.
Order Throat Gold NOW on Chewy!
Order Throat Gold NOW on Amazon!
-There is no drug interaction with opioids and other conventional meds for collapsed trachea like steroids, bronchodilators, and mucolytics. My human even called several times to confirm. The only drug that potentially interacts with Throat Gold is blood thinners, which I am not currently on. Hence, if your dog is on a blood thinner, please consult a veterinarian and Pet Wellbeing Customer Service to determine the best strategy for spacing out the intake.
-Besides my very first day of intake when I started hyperventilating out of nowhere, I did not experience any other side effects. However, side effects can vary from dog to dog. My human has read reviews from other pawrents who claimed that Throat Gold caused diarrhea, vomiting, and even kidney issues in their dogs. Nevertheless, Pet Wellbeing's stance is that there are no known side effects unless your dog has a rare allergic reaction to one of the herbs.
-It can be used on an as-needed basis.
-The plastic bottle is BPA-free. 🙂
-No refrigeration required, which is a plus for travel dogs like myself.
Throat Gold CONS
-In terms of efficacy, Throat Gold didn't do much for me. I may have experienced a slight improvement, but my progress is far from consistent. I can bark with an upright tail that I'm pretty much in the same condition as I was before – I still have some bad days, but luckily, more good than bad. And yet, that's expected from a chronic condition (as my vets have explained).
Throat Gold certainly did not or cannot replace any of my prescribed medication, which was indicated in their sales pitch so I guess I can't count that against them. Regardless, it can serve as a complement – another tool to help with my cough. With that barked, I believe Throat Gold can be promising for dogs at a less severe stage of collapsed trachea.
-The drops can be hard to dispense. For instance, I'm supposed to get 4 drops OR .2 ml of Throat Gold. Squeezing exactly 4 drops can produce inconsistent results based on how much pressure my human exerts with her hand. Often, drops will come down naturally without any squeezing. On the other paw, measuring exactly .2 ml isn't much better due to tiny bubbles from the formula that can get into the dropper. Until new product changes, it may be best to use your own syringe.
-Due to the texture of the drops, the plastic bottle can get sticky over recurrent use. My human puts the bottle inside a clean poop bag so her hands don't get sticky every time she uses it.
-While their Customer Service has been great for the most part, it has also been inconsistent. During the first call that my human made to their Customer Service line, she was advised to increase the frequency to 3 or even 4x a day as each dose only lasts for 6 to 12 hours.
However, on a different call, the rep said that Throat Gold is the "only product" from the company line not recommended to increase the frequency for more than 3x a day for 3 consecutive days, or for long-term use. At first the rep couldn't recall exactly why that is, but then eventually recalled from a recent team meeting. Because licorice root can be hard on the heart and kidneys, dogs should take one week off after every 2-3 months of consistent daily usage.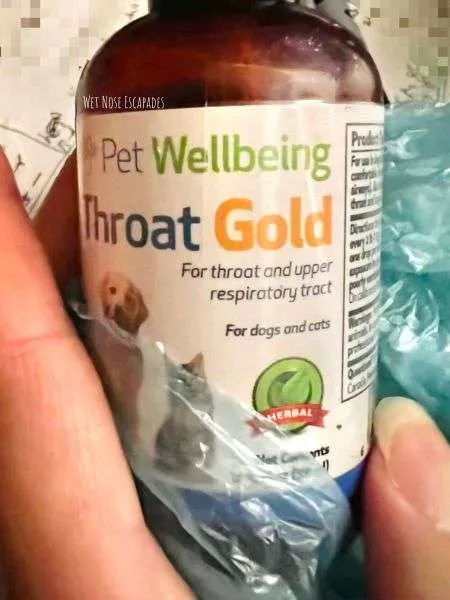 When my human called back two times afterwards to get clarification, a different rep asserted that the previous information given was incorrect, and that Throat Gold is, indeed, safe for long-term use. He went on to explain that there was a time when the supplement wasn't safe for long-term use due to the type of licorice root used, but they have since gotten a different kind. He apologized and said perhaps his colleague was still holding onto old precautions (despite referencing a recent team meeting).
To err on the side of caution, my human is sticking to giving me Throat Gold 2x a day and planning to take me off for one week every two months.
FINAL BARKS & RATING of Throat Gold:
Although my progress with Throat Gold has not been consistent, I would still rate it 3 out of 5 Stars.
Arf-ter using it for over 2 months, I can bark with an upright tail that Throat Gold is a solid product. However, it isn't the miracle drops that my human was hoping for. She really, REALLY wished it produced better results for me, but it didn't. Unfortunately, I'm still reliant on medication prescribed by my veterinarian. In terms of Throat Gold side effects, I experienced some respiratory distress in the beginning that quickly went away, but I cannot confirm that it was related or purely coincidental. Again, I believe that Throat Gold could be more effective in less severe cases of collapsed trachea like I had in the years past BEFORE my most recent flare-up (which has been the worst to date).
Should you try giving your dog Throat Gold? Do I still recommend it despite not seeing miraculous results?
My simplest bark is YES! Since it's a quality all-natural herbal supplement with a 90-day money back guarantee, I don't think it hurts to try, especially if your dog is experiencing a mild case of collapsed trachea. BUT, please get an approval from your veterinarian before doing so. And, don't forget to ease your dog's way into the recommended dose in case of an allergic reaction or adverse side effect. Be sure to share how Throat Gold worked for your dog. BARK AT ME!
Order Throat Gold NOW on Chewy!
Order Throat Gold NOW on Amazon!
Subscribe to my YouTube Channel: Wet Nose Escapades by Roger Wellington for fun dog videos!
Markin' it up,
Roger Wellington a.k.a. The Doob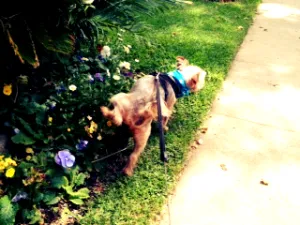 Like my post on "Throat Gold for Dogs Side Effects & Review: A Yorkie with Collapsed Trachea BARKS All"? CLICK TO PIN!