Need help finding a gym abroad? Are you traveling soon, and don't want to give up your routine workout? Do you crave sweating on the elliptical and hitting the weights even when you're on vacation? WOOF, your robust wet nose brought you to the right place. Sniff out the traveling Yorkie's guide to finding a gym abroad below!
Last Updated 7/13/23
WOOF, as a 7 lb. athlete, I always put my fitness goals as a TOP DOG priority, even when I'm globetrotting and devouring the most chops-lickin' food. ARF-ter all, I want to feel my best Yorkie self and live as long as PAWsible. So, I know how you feel – you don't want to let your travel plans or vacation stop you from staying healthy and fit or put a wrench in your routine back home. So, wherever you set those furry paws, you're on the sniff-out for a gym.
PAWS DOWN, gyms are ARF-mazing places to accomplish your fitness goals. Gym rats love going to the gym because it provides them with the a variety of equipment, resources, and most imPAWtantly, motivation to reach their fitness goals. If you're wondering how you can find a gym or fitness center while traveling, I've got you covered. Let's get our sniff on!
Sniff out 8 MUST-KNOW tips on finding a gym abroad:
#1 SET REALISTIC EXPECTATIONS FOR A HOTEL GYM
Finding a gym abroad can be tricky when traveling, and pathetically, most hotel fitness centers tend to offer the bare minimum. You may be suPAW excited to see online that your hotel features a fitness facility, thinking you're all set – there's no need to look (I mean, sniff) further. You can get your workouts in the morning before you start your day. But when you get there, you lower your tail as you're met with utter disappointment (and sometimes, even disgust at smelly, poorly maintained gyms).
REAL BARKS: Even if the hotel advertises a gym or fitness facility as an "amenity," you will likely be disappointed. From limited equipment (at some places, you're lucky to get a balance ball and one treadmill) to ridiculously early closing hours to completely closing for "maintenance" during your stay, fitness centers at hotels are often a sham for establishments to charge more for amenities. Some hotel gyms are poorly maintained due to lack of priority. Even at 4 or 5-star hotels, the fitness center can be smaller than the size of your walk-in closet or bathroom back home. GRR. Hence, set realistic expectations beforehand.
Alternatively, you can contact the hotel before your trip to obtain more information on their fitness facility. Email or call the hotel and ask questions, such as: Is it open? What type of equipment are available? Do the photos on the hotel website reflect the current state of their fitness facility? It may sound silly, but photos of the property online may be outdated – things change! If PAWsible, ask them if they can take a real-time picture of the facility and email it to you so you have a better idea of the current condition.
If your trip is for pleasure, you will have more options in terms of your hotel arrangement. If having access to a good gym at your hotel is imPAWtant to you, you should some devote time into researching and comparing hotels with fitness facilities. From my experience, hotel gyms aren't necessarily worth the higher price tag. In other barks, it's best not to make the fitness facility a factor in your hotel search. Find the hotel that you like, and stick to it whether or not it has a gym. Unless you're staying at a top notch resort with state-of-the-art fitness facility, you're better off finding a gym outside.
#2 LOOK FOR A GYM IN AN URBAN AREA
As a traveler, you often have to take what you can get. In less developed parts of the world, especially rural areas, gyms may be considered a foreign concept! Hence, your best bet is to look for a gym when you're traveling to an urban area. For instance, your chances of finding a gym in a world-class city like Buenos Aires is much higher than in small castle town Dubrovnik.
#3 DON'T LIMIT YOUR RESEARCH ONLINE
If you are looking for a better equipped fitness facility somewhat comparable to your home gym, you'll have to research to see what gym fits your needs.
ARF course, it's your first instinct to google the "nearest gym near me," and sniff out the prices, reviews, and photos online. Online research is, PAWS DOWNS, an easy way to give you an idea of the available options – definitely a good start.
Some U.S.-based gyms like Planet Fitness, Equinox, and 24-hour fitness have locations or subsidiary facilities abroad. If you're simply crossing the border to Canada, LA Fitness currently offers over 30 locations in Canada. Anytime Fitness is my human's go-to gym chain whenever we are back in Europe. And, arf course, there are plenty of smaller, independently-owned gyms.
However, it's imPAWtant to note that Google only tells you so much; beyond the typical internet search, you can get leads and insights from talking to locals. If you see locals who clearly look like they work out, don't be shy and go say hi. ARF-ter all, meeting people is one of the best parts about traveling.
So, yes – I'm telling you to go and TALK to people! You'll be surprised that most locals are friendly and willing to help. If you can speak the language (even a tad bit), you can use it as a way to practice your skills. If you literally cannot speak more than a few words, you are blessed that English is such a universal language, so use it to your advantage! But, nonetheless, it's a good gesture to attempt to communicate in the local language first). Regardless, make sure you have the Google Translate app handy on your phone in case they don't speak English or have trouble understanding you (and vice versa). It's a wonderful way to experience the local culture and get the real low-down on the gyms in town.
#4 FIGURE OUT A GYM BUDGET
Unless you're staying long-term (or indefinitely), you won't need a long-term membership. Unfortunately, this means you'll most likely pay more for a short-term membership or day pass. Hence, ask yourself how much you're willing to spend before you start your search. You may have to adjust your budget as you continue the search. Be realistic and practical about the amount based on the city or country you're in, e.g. don't expect to pay a 5 USD day pass in London. Likewise, don't overpay 20 USD for a day pass in Bangkok (unless you have lots of money to waste; in that case, please send me some treats).
If you're traveling for 3 weeks and would like to go to the gym at least twice a week, you'll need to determine your budget for those 6 visits. ARF, that leads us to the next tip…
#5 DECIDE ON THE TYPE OF MEMBERSHIP
The more visits the pass or membership allows, the better rate you'll get per visit. But, ARF course, it depends on how long you'll stay in town. Day passes are typically the most expensive, so compare rates if you can commit to more than one visit. If your stay permits, opt for a 3-day or week-long or even month-long membership.
If you're only in town for 2 nights but can get a better rate if you purchase a 5-day pass, you must do the math to see if it's worth purchasing the pass given that you're able to squeeze in more than 2 visits. Then, you can plan your workout schedule accordingly!
Besides accessing the gym facility, you may want to take a yoga or pilates class instead or hire a private instructor (boxing, anyone?). If that's the case, find out the rates for these additional features, and see if you can get a bundle package.
#6 TAKE A TOUR OF THE FACILITY BEFORE SIGNING UP
GRRR, not all gyms are created equal! Again, gyms abroad may not meet your level of expectation. Therefore, take a physical tour of the facility before committing. Don't just rely on photos and videos online, as things can look completely different in person (just like online dating). Think about what type of equipment you need to complete your workout. What exactly are you looking for? What equipment do you typically use for cardio? What type of lifting do you perform? Are you looking to swim? Play basketball? Join a particular group exercise class?
Whatever it is, visualize your workouts as you tour the facility and ask yourself if you are able to have an efficient workout. If a certain equipment or facility is unavailable, sniff out substitutes and be creative. If you cannot visualize a productive workout at the facility, you might as well pass it up. Don't waste your time and money!
#7 NEGOTIATE & ASK FOR PROMOTIONS
Besides looking for promos online, it never hurts to ask if there are "special" deals or if the friendly gym staff can simply give you a small discount for signing up. Ask for 15 % off. If they say no, ask them for 10 or 5% or if it makes a difference if you commit to a longer membership (given that your stay is longer). NEGOTIATE! You can try to bargain the rate, especially at small, independently-owned gyms where the rates are not set in stone by corporate. Talk to the right people – be kind, nice, and (a little) bold. Trust me, you'd be surprised with what they can do for you – if they want to. WOOF, I'm barking with an upright tail that my humans have done so successfully, so don't be afraid to try!
#8 LOOK FOR AN OUTDOOR GYM
If you're in a decent-sized city, chances are you'll come across some public parks or green spaces with outdoor gyms. Outdoor fitness facilities can be found in PAWpular city parks throughout the U.S., Europe, Australia, and South America, and they're free for the public to use. WOOF-HOO! From Barcelona to Rio de Janeiro, I've sniffed out outdoor gyms on some of the world's most famous beaches. Beach gyms, as they call it, are a great way to work out and experience your destination simultaneously. Although you won't find any cardio equipment or machines at these outdoor gyms, you can do pull-ups and a variety of muscle-building exercises while inhaling some fresh air and taking in the scenery.
Save time by performing a quick Google search of "outdoor gym + "the name of the city's most popular public parks,'" and see what turns up (instead of physically going to a park to look for one).
REAL BARKS: Depending on where you're traveling to, I can't promise you that you'll find the gym abroad that fits all or even most of your needs. If you're not in a major metropolitan area, you may not even find a gym within a 20 or 30 mile radius, and it's PAWbably not a practical solution, even if you have a car. The truth is you'll have to remain flexible (like a real traveler) and be open to changing your workout accordingly. Explore the city by paw, take a scenic hike, or go for a swim! Sniff out my tips on how to work out without a gym.
ARF, hope you are able to find a gym while traveling with these 8 MUST-KNOW tips! Have a productive and sweaty workout! And, don't forget to walk your dog! Want more healthy travel tips? Sniff out my post on how to stay healthy on the road.
Markin' it up,
Roger Wellington a.k.a. The Doob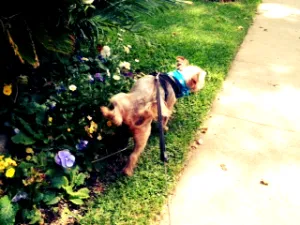 –
Like my post on "8 MUST-KNOW Tips on Finding a Gym Abroad"? CLICK TO PIN!