WOOF, wanna travel the world for FREE? With a waggin' tail, I'm barking out a very special guest post from my pal Matt Kepnes a.k.a. Nomadic Matt. This is a real treat as he's going to teach us how to travel the world for free through travel hacking!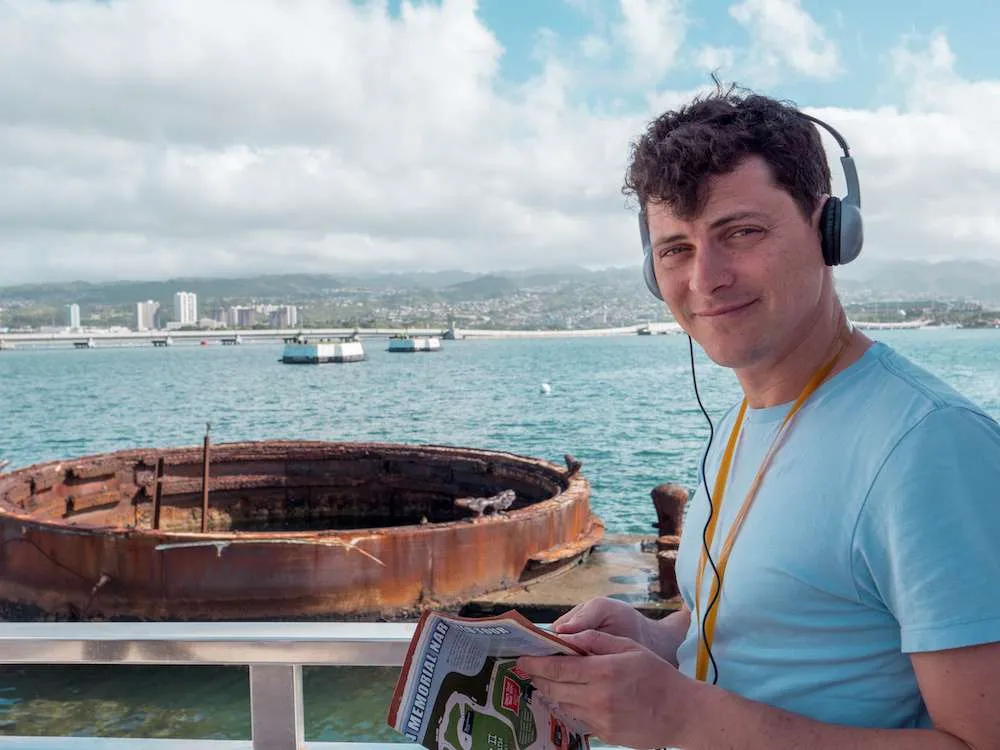 If you don't already know, Matt runs the award-winning travel site nomadicmatt.com, which helps people travel the world on a budget. He's the author of the NYT best-seller How to Travel the World on $50 a Day and the travel memoir Ten Years a Nomad. His writings and advice have been featured on CNN and the BBC and in the New York Times, The Guardian, Lifehacker, Budget Travel, Time, and countless other publications. You can follow him on Instagram at @nomadicmatt. When he's not on the road, he lives in Austin.
Posted 2/19/21, Last Updated 7/6/23
Traveling the world on a budget has never been easier. With the advent of the sharing economy, budget airlines, and blogs to help you plan better, it's more affordable ever.
But that doesn't mean it's always cheap! 
Airfares still cost hundreds of dollars. If you're traveling with family (children and/or a pet) — then it can still be prohibitively expensive. Fortunately, there's a solution that expert travelers use to get super cheap and even free flights and hotel stays. 
It's called travel hacking.
Travel hacking

is the art of collecting points and miles through your everyday spending to redeem for free flights and accommodations.
To help you save money and travel the world for free, here are a few tips to introduce you to the world of travel hacking:
#1 Figure out your goals
Before you start earning points for free travel, you need to figure out what your priorities are.
Are you looking to just earn a free flight, or do you want to prioritize free hotel stays?
Do you plan to fly the same airline regularly? Certain airlines have their own credit cards, which means that knowing what airline you will fly can help you optimize your points.
Or are you aiming for upgrades to business class or first class?
Write down your travel plans and goals so you can align them with a credit card that will serve you best. There's no single perfect card, and each has different transfer partners, so knowing your goals will help you find the one that has the best rewards and transfer partners for you and your travel plans.
#2 Get a card with a huge welcome bonus
The best travel credit cards offer a large welcome bonus. These offers are usually tens of thousands of points that get you free flights and hotel stays right away. 
Never get a card that doesn't have at least 50,000 points as a sign-up bonus. Start with those that align with your goals (see above) and that offer at least that many points when signing up.
However, to earn the welcome bonus, you will need to meet a minimum spending requirement. Usually it's a few thousand dollars (often around $4,000) over the first three months.
If you don't plan to spend that much, save your sign-up for when you need to make a big purchase. Need a new TV or computer? Planning your holiday shopping? Sign up for a card then, so you can guarantee you'll earn the bonus. 
Conversely, if you have no large expenses coming up, ask friends or family if they have any. You can use your card for their purchases, and they can pay you back. 
While travel hacking is the most prevalent in the US, if you're not from America you still have options. Here are some resources for non-Americans:
#3 Optimize your spending
Now that you have a travel card or two, it's time to optimize your spending to maximize your rewards. 
Get into the habit of putting all your expenses on your credit cards. Buying dinner? Use your travel card. Need a pack of gum? Credit card. Paying for HBO Max? Credit card. No expense is too big or too small. (Most cards give bonus points for certain spending categories (travel, restaurants, groceries, etc.). Always make sure you use the right card for the right expense.)
Additionally, use airline shopping portals to boost your rewards. Airlines, hotels, and travel brands all have preferred merchants. These companies — ranging from clothing retailers to sporting goods stores to office supply businesses and everything in between — partner with these portals. 
By ordering online through these specific shopping portals, you'll earn double or triple what you would earn otherwise. Use a platform like Evreward or Cash Back Monitor to research these offers. Simply type in the product you want, and the site will compile a list of bonuses the various point programs are offering at that moment, so can you maximize which portals to purchase from. 
For example, say you want new clothes from Old Navy. Going into the nearest Old Navy store will earn you one point per dollar spent on your travel card. However, by using Cash Back Monitor or Evreward, you might discover that by purchasing online at United's shopping portal, you will earn three points per dollar spent. So if you spend $100, that's 300 points instead of 100. Not bad!
With a little planning and organization, you can really level up your point earnings.
#4 Consolidate your points
If you have points and miles spread out over multiple accounts, remember to consolidate them into one program before your trip. This will let you maximize your rewards. 
Note that you can only transfer Chase, Capital One, Citi, or American Express points to their specific travel partners. You can't transfer points between banks or airlines. 
For example, if you're looking to fly a Star Alliance flight (let's say Lufthansa) and you have Chase points as well as American Express points, you can transfer both of those to Air Canada or Singapore Airlines (both of which are part of Star Alliance) and then use their loyalty program to book the Lufthansa flight you want. 
This is why it's important to outline a goal in the beginning. That way, you can avoid spreading your rewards too thin over too many cards.
#5 Enjoy your perks
The best travel credit cards also offer all kinds of perks, such as lounge access, free baggage checks, priority boarding, discounts on car rentals or rideshares, free DoorDash deliveries, no foreign transaction fees, free supplemental travel insurance, and more. 
Make sure you take note of all the perks each card offers, so you can enjoy them when the time comes. It's not just about earning free flights and hotel stays — it's about leveling up your entire travel experience!
***
Travel hacking is the #1 way I save money on travel. It's enabled me to visit dozens of countries, get free upgrades, free hotel stays, and free flights for my family members. By leveraging the perks and bonuses of your travel cards, you can open the door to all kinds of adventures and opportunities — without any extra spending! Don't leave money on the table. Start travel hacking today.
*Please note that this post contains
affiliate links
, and at no obligation or additional cost to you, my humans and I earn a small commission if you make a purchase. If you love the work that we do, you can show your support by making a purchase through an affiliate link. Proceeds will go towards
feeding homeless dogs (and cats) along with improving the lives of the neglected and abused
.
—
Like this post "How to Travel the World for FREE"? CLICK TO PIN!