WOOF, thinking of traveling to the Caribbean with your dog? Comprising hundreds of dreamy islands, the Caribbean is located just southeast of the U.S. mainland and north of South America. Due to mild weather, PAWfect sandy beaches with warm, clear blue-green waters, and opulent all-inclusive resorts, the Caribbean islands are heavily sought-after for honeymoon destinations, family vacations, and bachelorette PAWty trips.
From Jamaica to Barbados to Turks and Caicos, this gorgeous region with a long history of colonization comprises numerous individual islands, sovereign states, constituent countries, and overseas territories. Due to the mixing of indigenous, African, European, and Asian people over the years, the Caribbean culture is richly blended with different ethnicities and languages (from French to Spanish) along with paw-lickin' island cuisine (jerk, anyone?).
Sounds ARF-mazing, right? BUT is the Caribbean dog-friendly? Can you travel to the Caribbean with your dog? ARF, I'm barking with an upright tail that YES, you can enjoy a wonderful Caribbean vacation with your dog. To bark about dog travel to the Caribbean, I have the ARF-so-chic Amy and Emily, the two classy Yorkie girls who hail from the Big Apple and have jetsetted all over the world with their mommy Lisa.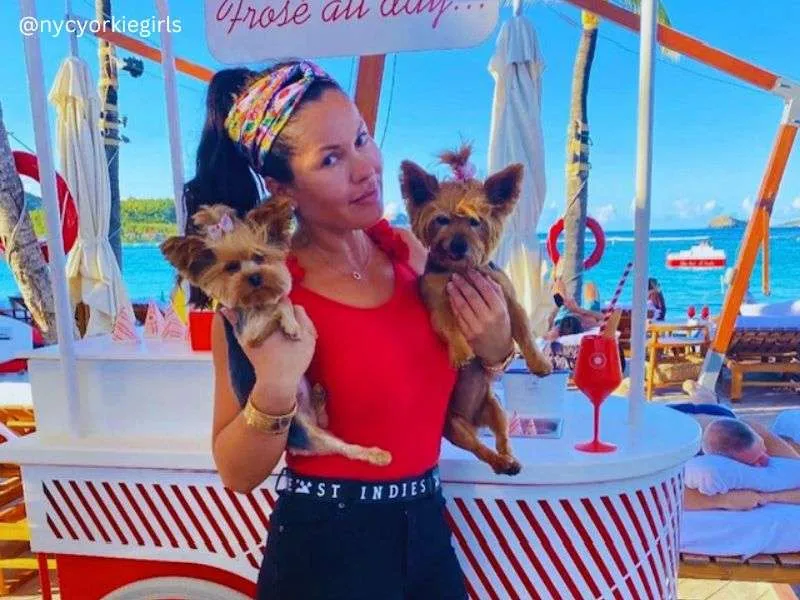 While my humans have been to more than a PAWful of islands in the Caribbean, I've only set my furry alpha paws on the Mexican Caribbean and have yet to island hop all over like Amy and Emily. These furry jet-settin' girls have already been to a WHOPPIN' 8 countries/territories in the Caribbean so far (and they don't plan on stopping there). So, let's all perk up our ears for their exclusive guide on traveling to the Caribbean with your dog! Keep on sniffing below.
*Please note that this post contains affiliate links, and at no obligation or additional cost to you, my humans and I earn a small commission if you make a purchase. If you love the work that we do, you can show your support by making a purchase through an affiliate link. Proceeds will go towards feeding homeless dogs (and cats) along with improving the lives of the neglected and abused.
Let's hand (I mean, PAW) it over to the Yorkie mommy Lisa:
ABOUT LISA
I have always loved traveling. At age 25, I lived abroad in Spain and saw a lot of Europe. I didn't get my first Yorkie until I was married and stable. And, I knew I wanted a purse dog who could travel the world with me, and that was why I decided to get Amy. I knew she would be small enough to bring everywhere with me.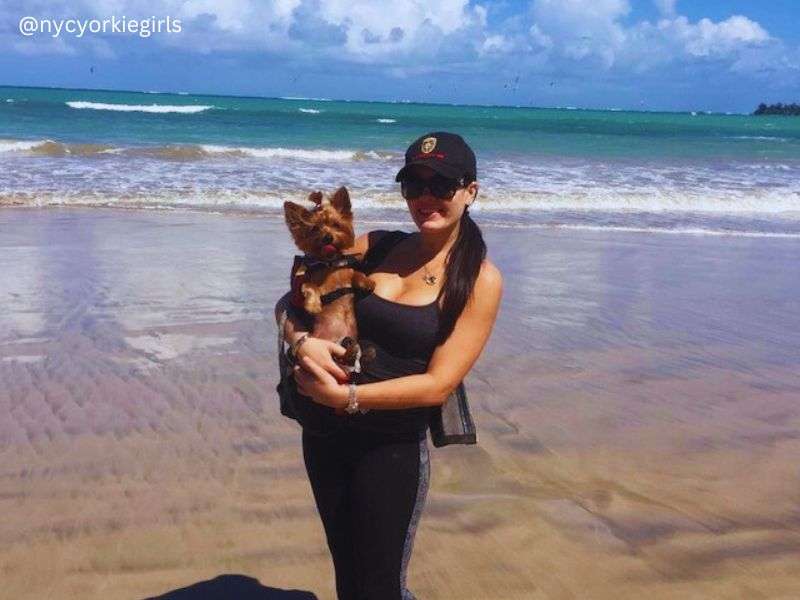 Surprisingly, I actually grew up with everything but a dog. We had cats, hamsters, mice, canaries, budgies, and even a ferret! It wasn't until I was older at age 16 with my own job that I got a dog. I saved up my money from working, and got a sweet girl Labrador Retriever named Zoe.
ABOUT AMY & EMILY, THE YORKIE TRAVELERS
REAL BARK: These Yorkie girls are so spoiled that they have more air miles than most airplanes. They have flown over 500,000 miles on United Airlines alone, and have been to over 52 countries!
Amy and Emily are both Yorkshire Terriers, who are very different but have the same interests to give love, and be loved in return. Amy is 13 years YOUNG. She is very sweet, loving, and intuitive. Emily is a 6 year old Teacup Yorkie with more of a diva personality. She loves attention and will do everything she can to make sure she gets the attention she desires. Amy and Emily are always by my side and ready for anything that comes their way. They are always ready to go on adventures, and explore new sights and smells.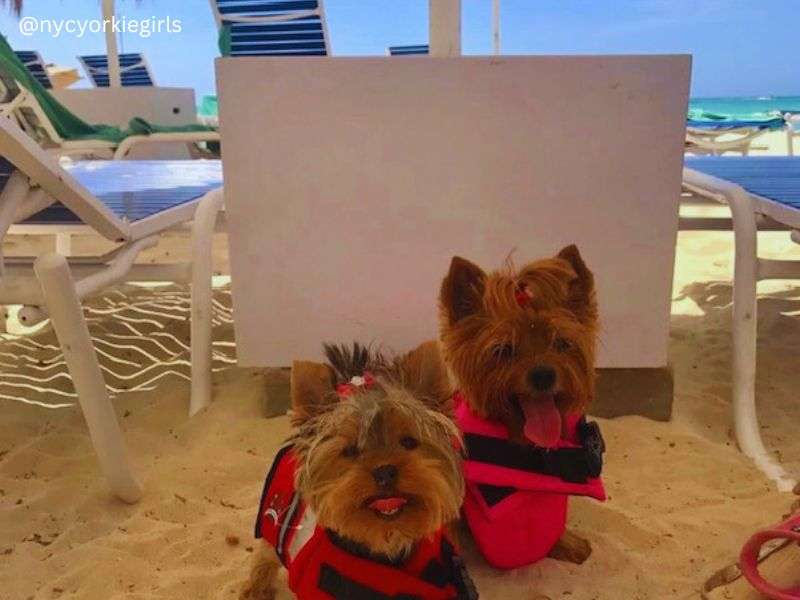 My girls prefer to travel to places with warmer climates. They are not fans of colder climates. The colder the weather, the harder it is on their small bodies, especially if there is a lot of snow. They are so tiny that they can get lost in the snow. Plus, if salt is used to melt the snow, it has a terrible effect on their paws. They also refuse to wear boots, so that's not an option.
Amy will literally eat ANYTHING, including vegetables. However, over the years, I have learned that what you feed your dog is extremely important for their health. Therefore, I cook homemade food for them to eat. Both girls eat lean white fish, lamb, and fresh cooked vegetable medley whenever we are home. When we are traveling, it becomes challenging to keep their diet clean, but we do our best (while letting them have a taste of food from around the world).
Traveling to the Caribbean with a Dog
The Caribbean has so much to offer for dog travelers since there are so many places and attractions to visit. Each island has different requirements for dog import, but all islands generally require a microchip and rabies vaccination. Many islands require Lepto, Lyme, DAPP, and import permits. I would suggest finding a veterinarian who is experienced in international travel requirements.
Amy and Emily's first visit to the Caribbean was to Aruba, which was pretty easy since we didn't need to send the vet health certificate into the USDA for an official stamp of approval. Once we landed, we were literally on "One Happy Island." Everything was a breeze when it came to inspecting the paperwork. It was just a quick glance-over!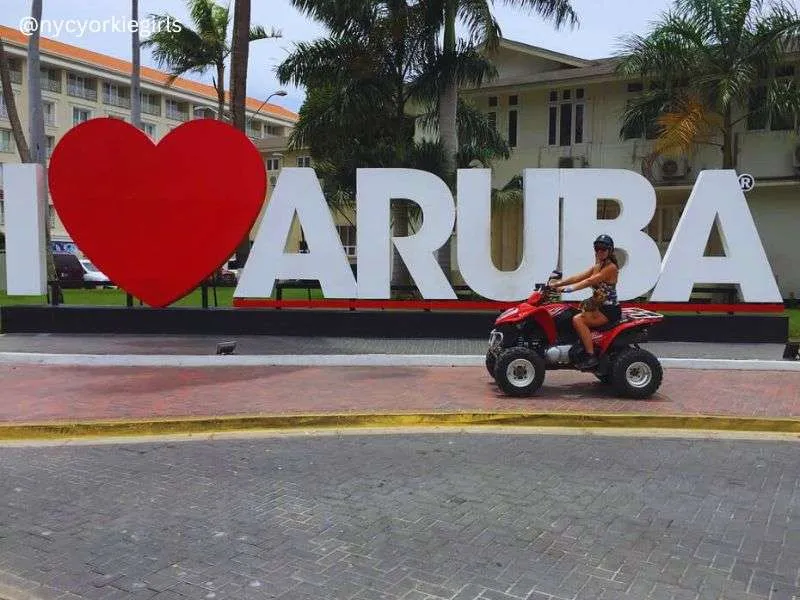 PUT A FURRY PAW HERE TO FIND OUT DOG IMPORT REQUIREMENTS FOR YOUR CARIBBEAN DESTINATION
Challenges of Traveling to the Caribbean with a Dog
Import permits can take time, especially when you're dealing with government officials living on Island time. However, not all Caribbean countries or territories require import permits. Hence, I would start your Caribbean journey by finding a country that makes dog import easier.
Since you can only fly into these islands, traveling with larger dogs to visit the Caribbean poses a challenge, unless they are trained service animals or travel via cargo. OR unless you're able to charter a private yacht or fly private – if so, may we join? 🙂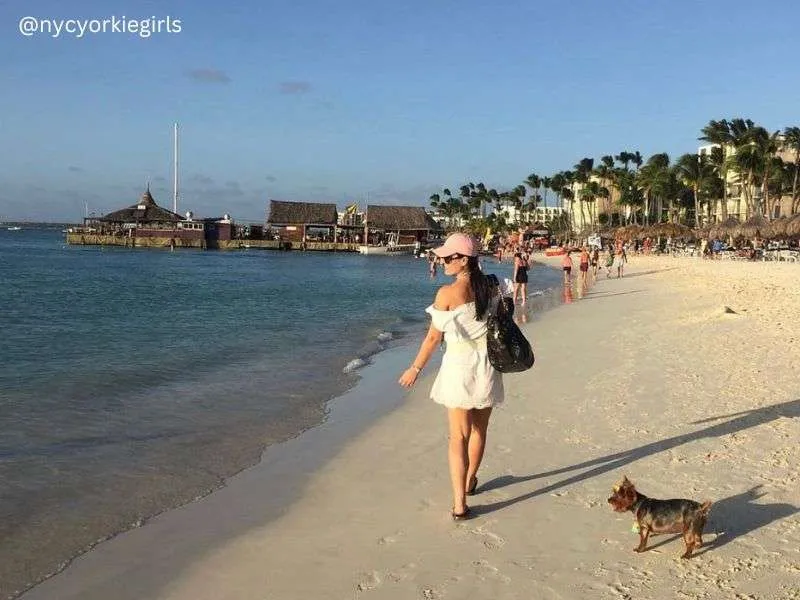 The Flight to Aruba
Our first flight to the Caribbean was from Newark, New Jersey to Aruba, which was a direct flight. It was easy for Amy (Emily wasn't born yet). She slept the whole way there, and was ready to play ball on the beach as soon as we stepped off the plane. She was a natural traveler from the start.
Find the best soft carrier for your furry traveler HERE.
Worried about your dog's first international flight? Get your furry paws on Roger Wellington's Expert Guide to International Dog Travel!
Dog-Friendly Caribbean
Aruba and Saint Barthélemy are our favorite dog-friendly islands in the Caribbean. Both are fairly easy to acquire the paperwork to get in. Because St.Barths is a territory of France, it's very accommodating to dogs, even inside restaurants.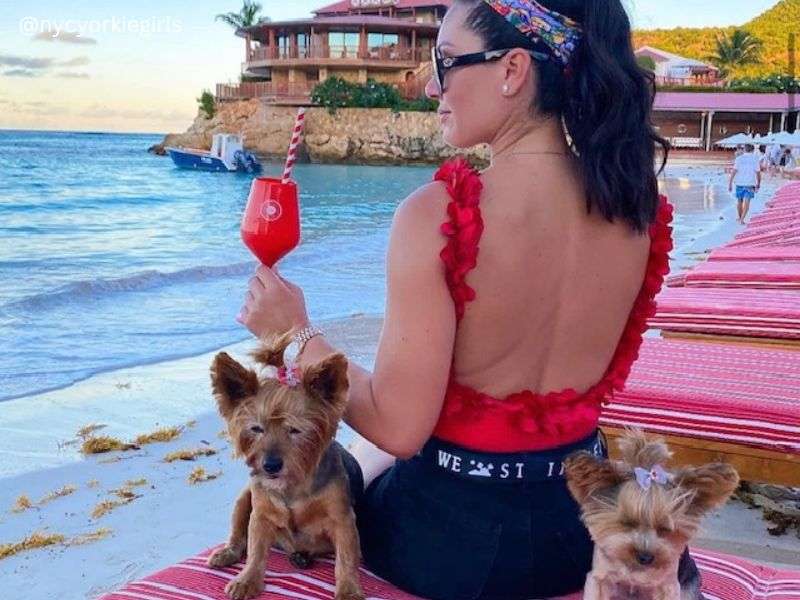 Riviera Maya in Mexico is also a stretch of Caribbean coastline, and is super easy to visit with dogs. Mexico only requires proof of rabies vaccination – no health certificate is required. The beaches are stunning, and the food and drinks are delicious!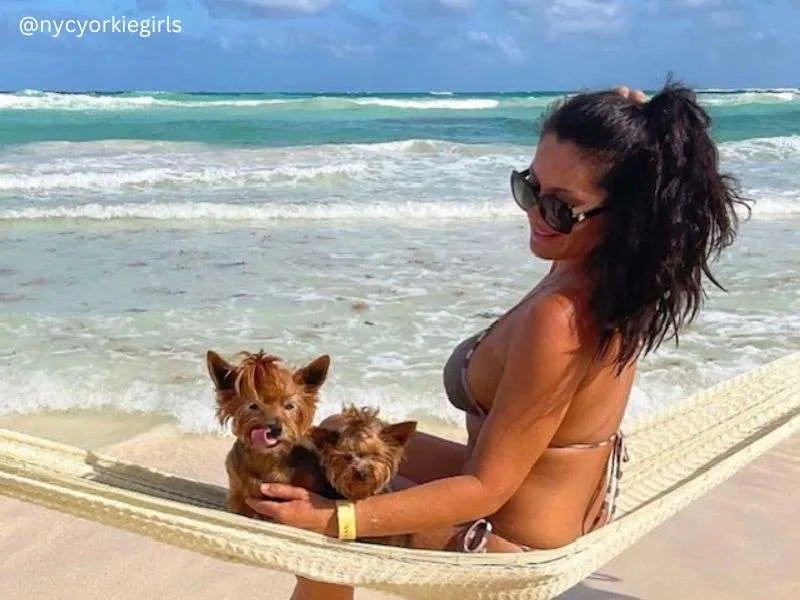 It's also easy to go to Puerto Rico and the U.S. Virgin Islands since they are both part of the United States. Both island destinations are located in the tropical Caribbean Sea. U.S. Virgin Islands has that Caribbean Jimmy Buffet vibe while Puerto Rico has more Spanish flair. As far as I know, no import permits are required for either of these U.S. Caribbean destinations. However, you should consult with your vet on up-to-date requirements, in case of any changes.
Our first time in Puerto Rico was in 2016, and we also overnighted a few times later when we flew a prop plane to St.Barths. According to our research, it appears you need a vet health certificate to fly into Puerto Rico. However, during the last few times when we had the girls' vet health certificates to fly to St.Barths from Puerto Rico, we were not asked for any paperwork (at least from what I recall). We stayed at The Ritz Carlton San Juan and the Fairmont El San Juan – both are right on the beach and very welcoming to dogs. The island is pretty dog-friendly as well.
Least Dog-Friendly Caribbean Island
Bahamas – not that it wasn't as dog-friendly as we had hoped, but it was just that the people weren't overly warm towards our girls. Also, the requirements to enter were the most work we had to do for visiting any country. We had to contact them by email, mail a money order to the Department of Agriculture by Fedex, and wait a week for our import permit to come by email.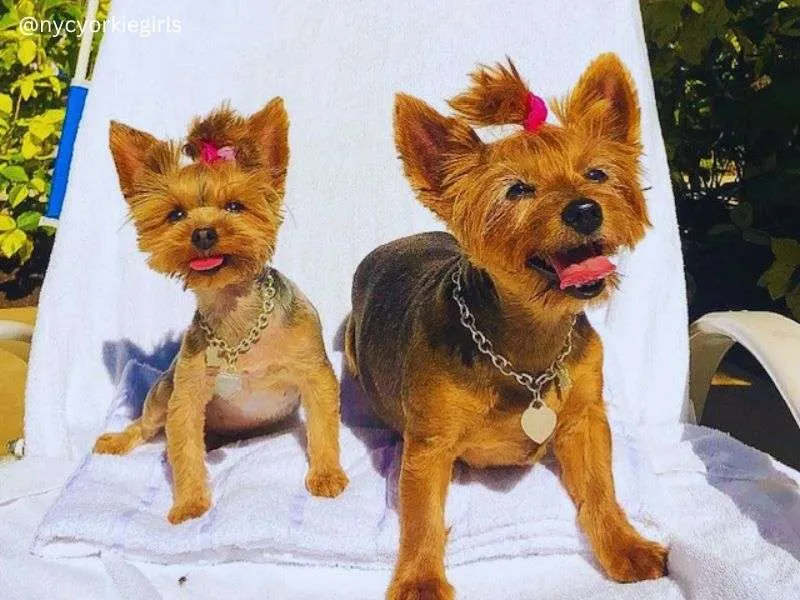 Dog-Friendly Attractions in the Caribbean
The Caribbean beaches and the warm sea water are the best dog-friendly attractions. We love to lay out in a cabana – Amy likes the shade while Emily loves to sunbathe and walk the shoreline to get her paws wet. We also love ordering some pup burgers or fish tacos for the girls.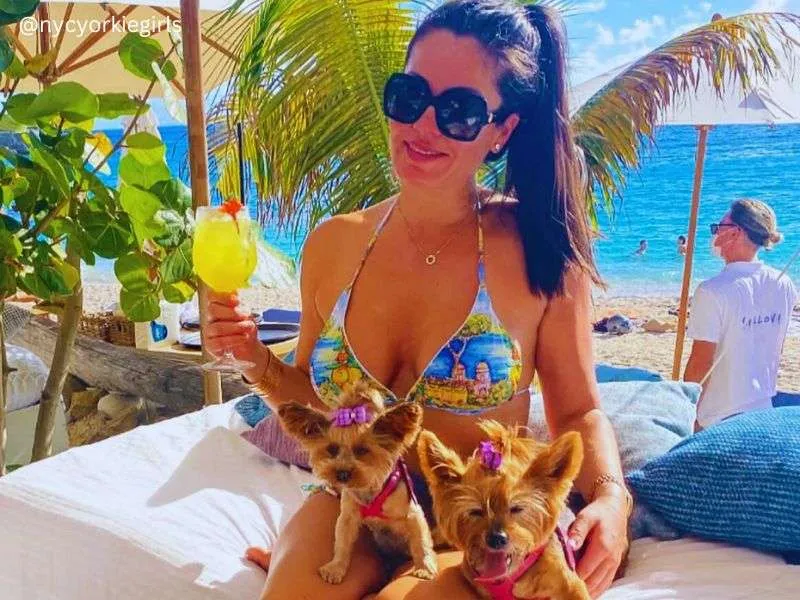 Dog-Friendly Restaurants in the Caribbean
Because the Caribbean has such nice weather, dining with your pup is easy, especially at night when it's warmer. We've never had any issues with the girls dining indoors in St.Barths, and the girls even joined us at some hot spots like Bonito, Shellona, and Sand Bar at Eden Rock. Aruba was also very kind to let us have drinks in the lobby lounge with the pups at the Ritz Carlton Aruba and the Hyatt Regency Aruba. We even dined indoors a few times.
TOP 5 things to do with a dog in the Caribbean
#1 Explore the beautiful untouched beaches.
#2 Hike the stunning natural terrains.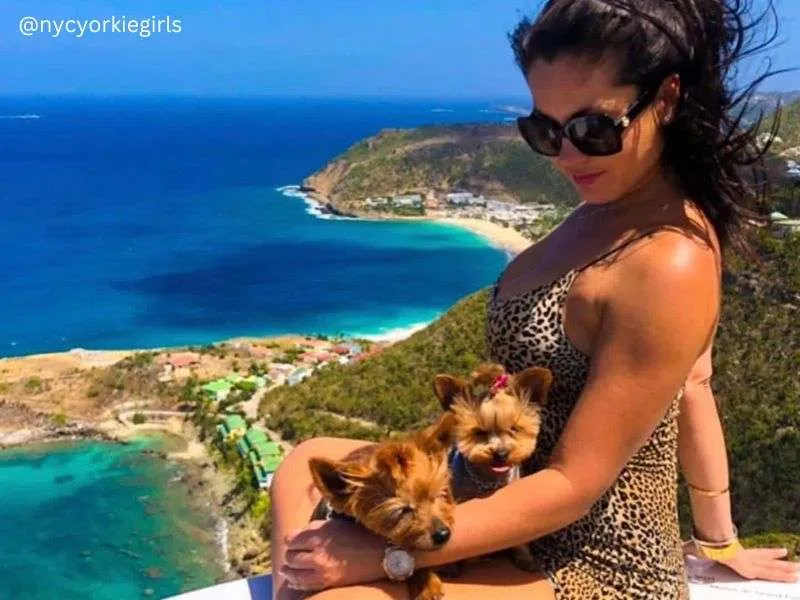 #3 Charter a boat for the day to seek out beaches only accessible by boat, but please make sure the boat is dog-friendly in advance. Sometimes these chartered boats may not allow dogs. However, we've found them to make exceptions once we explain how small and well-behaved our girls are.
#4 Try water sports like stand-up paddleboarding. In Aruba, the girls were able to join us in a Yoga SUP class.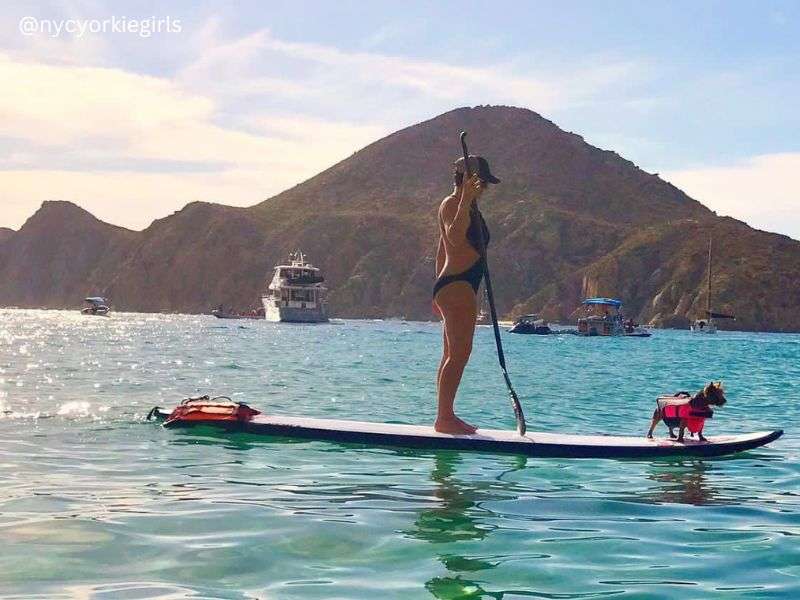 #5 Be social and mingle with local dog parents. You can learn a lot from them!
Favorite Dog-Friendly Moments in the Caribbean
So far, the girls have been to 8 countries/territories in the Caribbean – Aruba, Bahamas, St.Martin(France), Saint Barthélemy, Anguilla, St.Maarten (Dutch), Puerto Rico, and the Mexican Caribbean. They loved when we rented a Moke in St.Barths and drove around the entire island in a day. The fresh salty air on their wet noses felt like heaven! We made many stops to visit some private beaches and restaurants. The girls' favorite moment was ending the day at JoJo Burger, where they shared their burger with Jacques the stray dog. Anything involving food, beach, or the sun creates memories that will last a lifetime.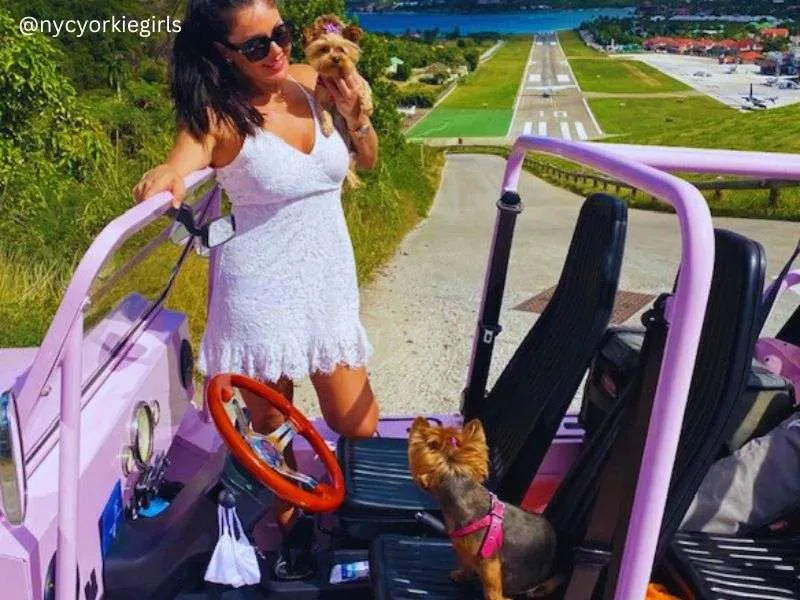 Returning Home from the Caribbean with a Dog
Since we are U.S. Citizens (plus, we are part of the Trusted Traveler Program – Global Entry), we haven't had any issues returning home. All we've ever shown was the Vet Health Certificate issued for our trip or our Pet Passport. The hardest part of returning home is saying goodbye to the warm sunny beaches.
TOP DOG Tips for Pawrents Traveling to the Caribbean with their Dog
#1 Plan ahead – You may need to plan months ahead. Some islands require blood titers or other vaccines you may not be familiar with or even heard of.
#2 Be open-minded to new locations – Although it may be daunting at first to find the perfect island getaway with your pup, you shouldn't feel the need to go to an island where they require additional vaccinations. There are many other beautiful islands to visit that may not be as challenging or require additional vaccinations. As dog parents, we should do our best to protect our furbabies against over-vaccination.
#3 Get a feel from a dog-friendly hotel search – if few dog-friendly hotels show up in the online search results, it's a heads up that the island may not be dog-friendly. For instance, we have not been to USVI (US Virgin Islands), although it's on our bucket list. Unfortunately, we didn't find many desirable dog-friendly hotels during our search the last few times. Hence, that's a tell-tale sign that the island may not be as dog-friendly.
#4 Just do it – You'll never look back and wish you traveled less with your best friends.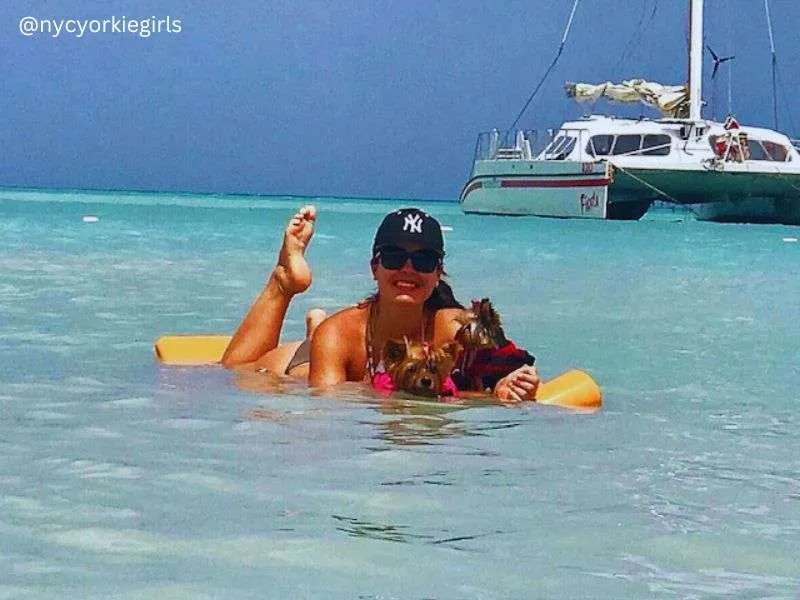 Next Up on the NYC Yorkie Girls' Itinerary
We are off to Costa del Sol – the south of Spain, part of the Andalusia region. We are looking forward to spending time in luxurious Marbella. We also have plans to visit other destinations while we are there.
–
WOOF, a BIG bark of THANK YOU to Lisa, Amy, & Emily for such a PAWtastic guide on traveling to the Caribbean with your dog. Can't get enough for the world-traveling Yorkie girls? Be sure to follow them on IG @nycyorkiegirls and their blog www.TravelingwithaDog.com to sniff out where they end up!!
Subscribe to my YouTube Channel: Wet Nose Escapades by Roger Wellington for fun dog videos!
Markin' it up,
Roger Wellington a.k.a. The Doob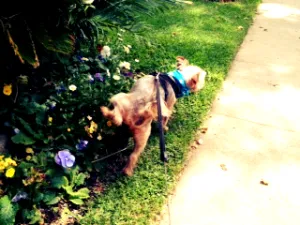 –
Like my post "Traveling to the Caribbean with Your Dog"? CLICK TO PIN!