WOOF, Is Indonesia dog-friendly? Are you thinking of traveling to Jakarta, Indonesia with a dog? Sniff out everything you need to know from Loki the Cocker Spaniel, who made the BIG move from Boston to Jakarta! ARF-my-DOG!
Last Updated 3/25/23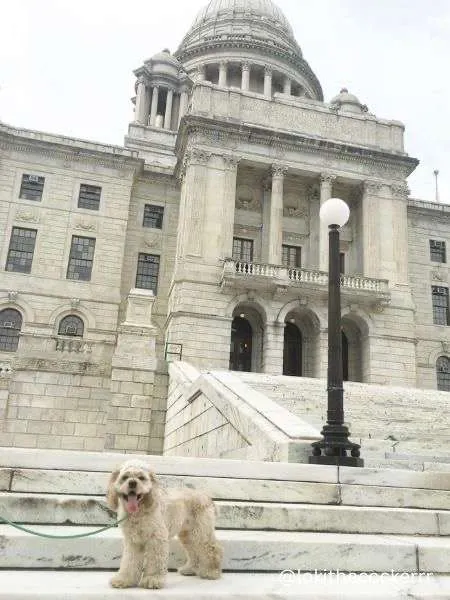 First things first, let's sniff out the world-traveling dog Loki, as told lovingly by his pawrent Olivia:
Loki is a male Cocker Spaniel that I got from New Hampshire while in college at Boston University. Since I was living with my boyfriend, Loki got to live the campus life in a Boston apartment for a while. Occasionally, I'd take him to class (one of my professors also brought his dog, so I'd bring Loki to that class to keep his dog company). When my boyfriend and I graduated (and returned to Indonesia), Loki lived with me, my parents, sister, and elderly Shih Tzu, Early, who initially hated him and he was terrified of.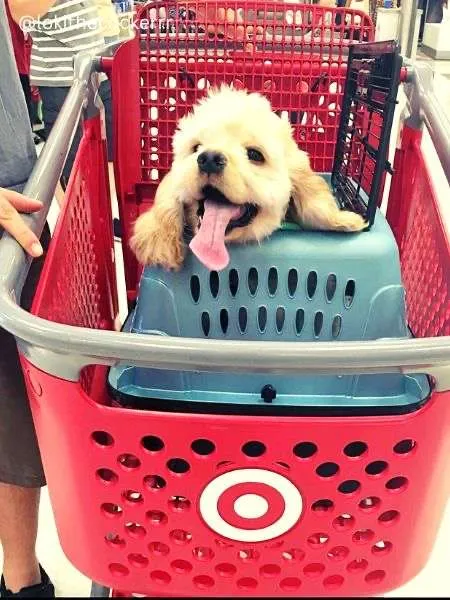 He was scheduled to be neutered in his first month back to prevent accidents. PLOT TWIST: He and Early eventually got along too well and made babies exactly one day before he was supposed to be neutered, resulting in the birth of Elmo and Milo, the two Cock-A-Tzus. I caught them in the act too late. Literally I woke up, saw that Loki's already stuck inside Early, and started screaming in panic.
For some time, he lived with his nuclear dog family. But then, we realized that Loki is more of an individualistic dog when he started pacing and acting like a stressed-out old man (at age 1) after the birth of his children. He kept barking at his puppies, which resulted in Early (the mama Shih Tzu) snapping at him. He also looked visibly distressed. When I moved out to live with my boyfriend (my fiance, at this point), my mom and I got into a custody battle over Loki. Initially, my mom won; she let me move out because she got to keep him. So, I only took Early since she was attached to me.
Loki's Family's Emotional Support System
One day, Loki was visiting my house with my mother and his puppies Elmo & Milo, and he refused to go home with them. He refused to leave when my mom called, and kept hiding behind me as if to say, "Don't let them take me!" My mom got so offended that she left Loki with us but took Elmo & Milo with her. She was very dramatic about it, screaming at Loki like a soap opera mom, "HOW DARE YOU!?" And yet, he was smiling and panting the entire time, oblivious to the scene he created. At this point, we were all reunited again – me, Early, my fiance, and Loki.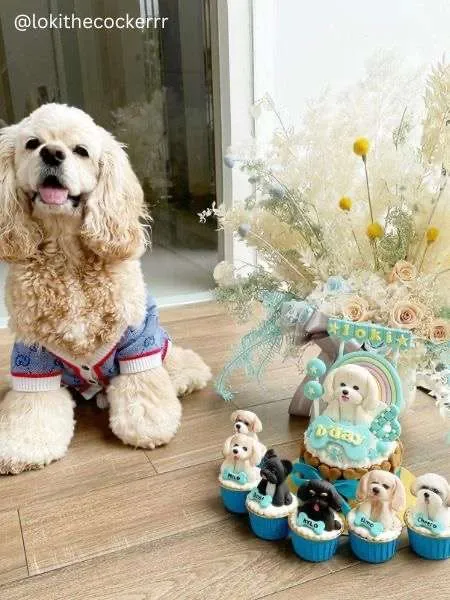 Years later, Early died from old age, and Loki seemed sad. I was devastated as well – it was incredibly painful. I had Early when I was 12 – she was my first dog. She passed away when I was 26, just a few weeks after she attended my wedding. I even made the reception at my house so she and Loki could attend.
Subsequently, I got another Cocker Spaniel from Bali to cheer up Loki and be his emotional support animal. Also, to help myself heal from the grief. At this point, it's me, my husband (married, at this point), Loki, and Kylo the new Cocker Spaniel. After a while, we realized that Kylo is a very affectionate dog. He would pet Loki with his paws and seek him a lot, and Loki would look visibly annoyed at times because he's more aloof.
One day, the ceiling on our house fell, so we had to evacuate and temporarily live with my mother-in-law. There was a stray kitten living in the garage, and Kylo got attached to that kitten. Although I never liked cats, we ended up feeding, vaccinating, and adopting the cat solely because Kylo got really affectionate with him. We named him Monel, and he now lives with us as Kylo's cat. Because Monel is younger and more playful, he gives Kylo the emotional support and affection he needs, but could never get from Loki. Since Kylo was Loki's dog, Monel is the dog's dog's cat.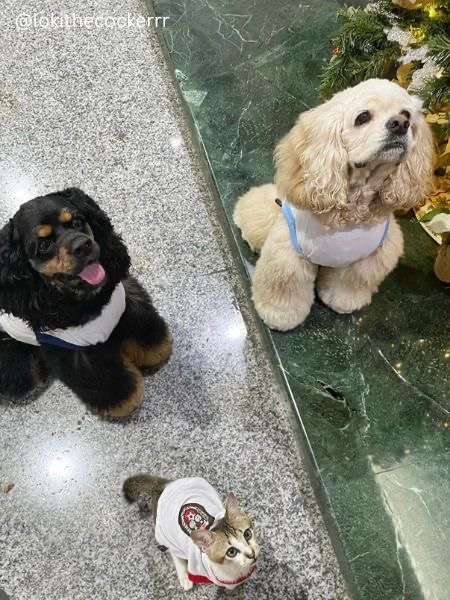 In conclusion, I run a very high-maintenance family, in which I consider Loki to be my emotional support animal. He needed his own emotional support system in the form of Kylo, but even the dog's emotional support animal needed its own emotional support animal, hence the cat Monel. 🙂
Loki's Likes
His favorite activity is definitely fetch. He can do it without getting bored for hours on end. He'd annoy house guests by persistently nudging his fetch toys at them. I love how much he loves and takes care of his toys. He always sleeps with a doll at hand, and he's very gentle with them. He likes to lick and kiss his dolls as opposed to being rough with them. This leads my husband to spoil him and buy him so many toys – because he takes care of them so well! Every time we let other dogs play with his toys, they'd destroy them within minutes. Loki has never broken a single toy in his life.
He also loves gourmet cooked dog food, which we order from a dog food catering company.
Loki's Dislikes
Spending too much time with the byproducts of his own creation: his children. Whenever he's with Elmo and Milo, he is visibly distressed. He paces nonstop, and his tail wags less. He would go to the corner and try to be alone. Also, hula hoops! He's oddly terrified of hula hoops.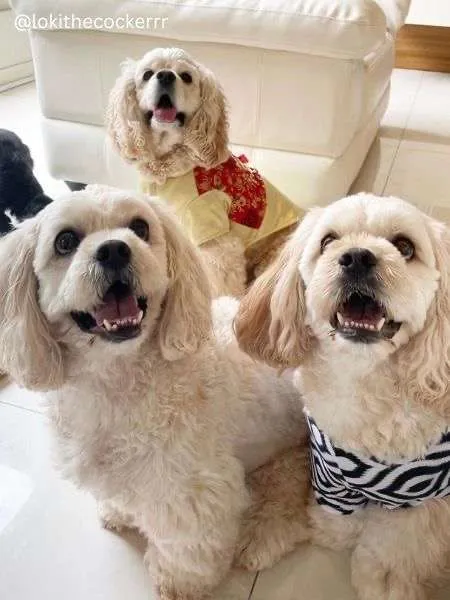 Moving/Traveling to Jakarta, Indonesia with a DOG
We prepared for Loki's move to Indonesia months in advance. We tried to do the process from Boston but ran into many challenges. The vets in Boston seemed very incompetent and unfamiliar with international dog import procedures. Hence, at the last minute, we had to shift operations to New York. Because the Boston vets forgot to mention a few things, we almost couldn't fly Loki until six months after we were scheduled to leave Boston.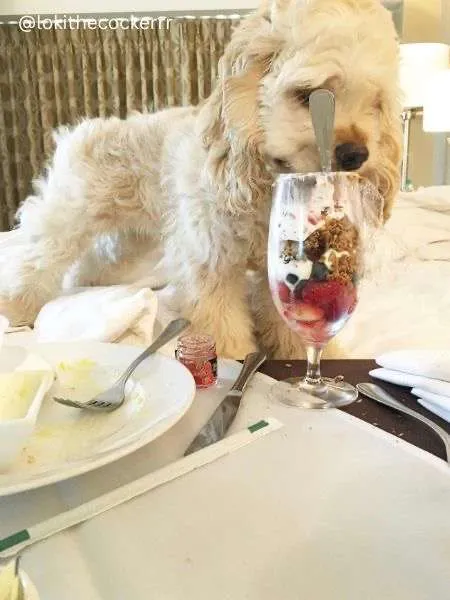 On our last night in Boston, we gave him a fancy meal with Zinfantail ("red wine" for dogs) and salmon sashimi. BAD IDEA. En route to New York, Loki had diarrhea in the car we rented. But the most impressive part was that he managed to go to the back side of the moving vehicle and maintain a squatting position while aiming his furry little butt at the cupholder to keep his poop contained. It was a very small target, but he didn't miss! In a moving vehicle, no less! Even the driver whose car he pooped in was so impressed that he didn't even get mad.
The New York vets were WAY more familiar with the ins and outs of things. I don't even remember much because they got so much handled for us. Once we arrived, the vets and dog transport service company helped with his flight on Lufthansa Airlines. Unfortunately, he had to fly via cargo due to his size.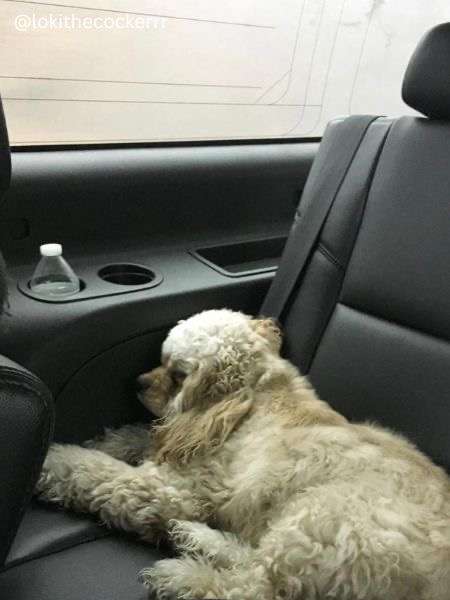 For me, it was the mental worry of "Will my baby be okay? Is he going to be scared? Will he be comfortable?" And, of course, the whole process to ensure Loki's maximum comfort was very costly at $4,000-5,000 (but worth it). The entire flight itinerary was well over 21 hours with a layover in Singapore.
Dog Import Quarantine in Indonesia
Upon landing in Jakarta, Loki went straight to quarantine, and I went to the quarantine station immediately. At the time, Indonesian regulations dictate that dogs must be quarantined for about 3-4 weeks in an airport facility. I know a lot of dogs who came out of that quarantine scarred for life, like ex-convicts. Many dogs end up with personality changes. My friend's Frenchie, whom he brought from New York, has had anxiety problems since quarantine – excessive barking and nervous peeing.
So, no, I would not recommend dogs traveling to Indonesia. Hell no.
Don't do it unless you're a philanthropist who wants to give out money as presents to quarantine immigration people. There may or may not have been monetary presents received by quarantine immigration dudes coincidentally around the time of Loki's arrival that may or may not have led to Loki only spending two days in quarantine. But this is all just speculation – I am not confirming anything.
The quarantine facility (which I was legally not supposed to visit entirely, not just those two days when Loki was there) is nothing fancy – it just looks like a regular kennel. They don't play with the dogs much. The other dogs looked thin. I was so tempted to perform a prison break and start a revolution if I were more insane.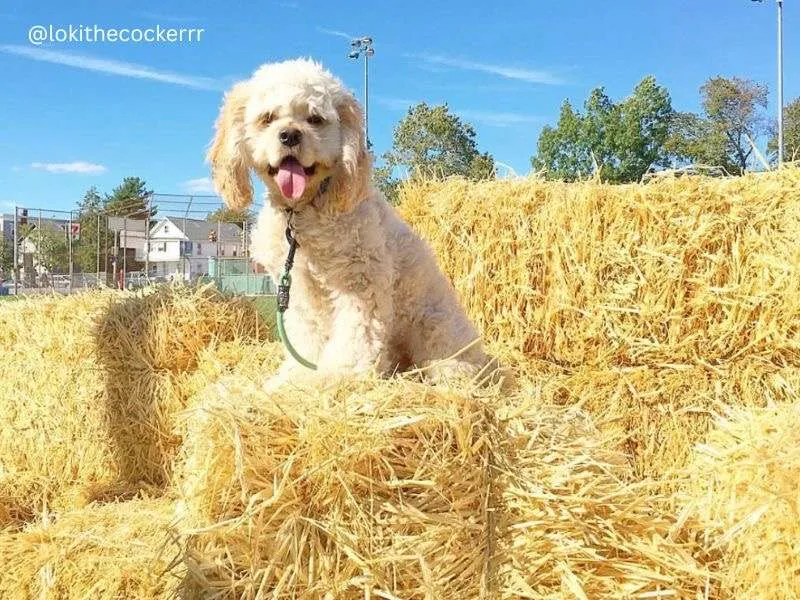 However, some things did go smoother than expected: seeing Loki in Jakarta for the first time – NOT in the quarantine facility, looking happy to see me, and not scarred for life at all.
Dog Culture in Jakarta, Indonesia
The best part about having a dog in Jakarta is that luxuries such as nanny and housekeeping services (things only the rich can afford in the U.S.) are very affordable, even for the middle to upper-middle class. Therefore, Loki and Kylo, and Kylo's cat have their very own nanny to attend to their needs whenever I'm out. Their nanny is the best! They love her, and she loves them like her own babies. The worst part about having a dog here is that Indonesia is not a dog-loving country. Indonesia is a predominantly Muslim country, so dogs are considered haram (bad in their religion). Some households that are okay with dogs still treat them as pets instead of family. In the U.S., more people see them as family. Nevertheless, there is still a community and segment of the population in major cities here who, like me, do treat their furbabies as family members.
Loki and Kylo haven't encountered any stray dogs here, as I suspect they're all at the pound since dogs are haram to the Muslims. However, there are a lot of stray and feral cats. While Loki stays away from them, Kylo is picky and only likes certain stray cats (like Monel). He is wary of others and downright hates some.
Veterinary Care in Indonesia
Indonesian veterinary care is definitely not as good. The vets here are not as high-tech as in the U.S. since they don't have the latest technology. Some vets don't have scans or offer more complicated treatments (e.g. cancer treatment). Genetic testing and pet insurance are also unavailable. Plus, it's harder to find 24-hour emergency pet care.
Dog-Friendly Parks in Jakarta, Indonesia
I haven't been to that many, but I like Woof Avenue. Because it's clean and they check for fleas, I feel safe bringing the kids there.
Dog-Friendly Restaurants in Jakarta
There's a long stretch of land by the water called The Cove at Batavia PIK. It's an open-air concept with rentable bikes and many food places. I like eating anywhere over there because it's outdoors and dog-friendly.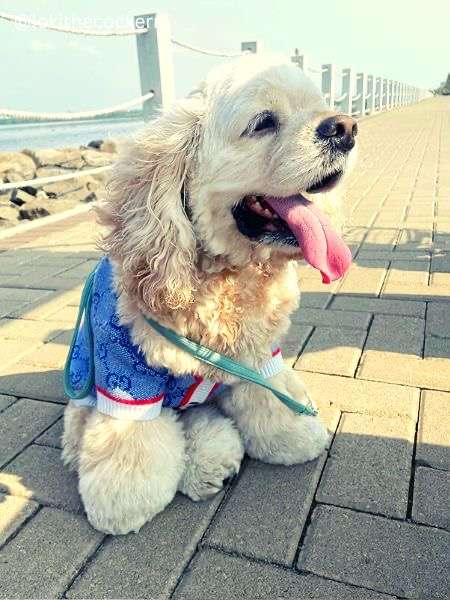 Dog-Friendly Attractions in Jakarta
There's an island beach club resort that has been on my bucket list since forever. It's about a 45-min boat ferry ride from Jakarta on the thousand islands called Asha Resort. You can do a day trip or go glamping, and it is dog-friendly with many activities like paddleboarding, kayaking, swimming, drinking, dining, etc.
Top 5 Things to do with a Dog in Jakarta
#1 Go to a rich person's dog's birthday party! These parties are sometimes ridiculously extra. We're talking about a girl's Sweet Sixteen, but LEVEL EXTRA (if the pics I see on Instagram are anything to go by). They have balloons, and doggy fine dining, goodie bags, professional photographers, and everything.
#2 Go to that beach club I mentioned – Asha Resort. Seriously, do it for me. I haven't had the time to go yet.
#3 Go to one of those dog cafes that serve fancy gourmet dog food, which looks like human food. Watch your dog eat better than most humans!
#4 Take your dog on walks (e.g. Tribeca Park). There's no winter here, so you can go out without worrying about slipping on the snow, checking the weather app, and wearing multiple layers.
#5 Take your dog to the mall. Malls like PIK Avenue Mall (Jakarta) and Paris Van Java Mall (Bandung) allow dogs. Some may require that you put diapers on your dogs to prevent accidents.
Loki's Favorite Moments in Jakarta
I think he likes walks. If I've been interpreting his barking correctly, I assume he enjoys trash-talking to the ducks at the Charles River because they always seem so angry and provoked after he barks at them. I assume that he is saying something racist or offensive because I lost count of how many times we got chased by ducks. And yet, Loki is a slow runner for some reason (for years, I thought it was a Cocker Spaniel thing, but nope – Kylo is very fast).
WOOOOF, a big BARK of THANK YOU to Olivia & Loki for this pawstastic interview! Can't enough of Loki and his family? Be sure to follow their wet nose escapades in Indonesia on IG.
Traveling to Jakarta, Indonesia with a DOG – General Requirements
ARRRF, I wished I could venture to Jakarta to visit Loki and his family, BUT like Olivia asserted, traveling to Indonesia with a dog is not so easy. Due to some strict import requirements and mandatory quarantine, Indonesia is usually paws off for dog travelers. Not to bark, returning to the U.S. with your dog can be complicated due to Indonesia's classification as high-risk for rabies. However, if you are thinking of moving to Indonesia long-term with your dog, then keep on sniffing for the step-by-step process:
#1 Microchip – The 15-digit ISO microchip is the standard for international dog travel. Not to bark, it's the best way to reunite a lost dog with his or her family.
#2 Rabies Vaccination and Certificate – Your dog must be vaccinated against rabies (killed vaccine) no sooner than 30 days and not more than 12 months before entry to Indonesia.
#3 Rabies Titer/FAVN Test – A rabies titer test is required from countries not considered rabies-free, which includes the U.S. The results of the blood test must be .5 IU/ml or above.
Countries that do not require a rabies titer test: Australia, New Zealand, Islands of Fiji, Hawaii, Taiwan, Japan, Ireland, Iceland, Bermuda, Brunei Darussalam, Sabah and Sarawak, Cyprus, Denmark, Sweden, Norway, Malta, United Kingdom, Singapore, Hong Kong and Turks and Caicos Islands.
#4 Import Permit – Obtain a permit from the USDA/Department of Agriculture by providing your passport, a copy of the vet health certificate, and your dog's vaccination records. Import Permit is valid for 30 days.
#5 Veterinary Health Certificate – The standard Form 7001 must be completed by an accredited veterinarian who must sign off on the following:
"1. I have verified the presence of any microchips listed in box 21.
2. Rabies has not been reported within the area where the animals have lived for the last 6 (six) months.
3. The animals have resided in the United States for a period of not less than 6 (six) months preceding export.
4. The animals listed in box 21 were examined by me on this date, being within 5 days of departure, and found to be healthy and free from any clinical signs of rabies and infectious/contagious diseases of dogs and cats.
5. The animals listed in box 21 are at least 3 months old and have been vaccinated for rabies, as detailed below, using a killed vaccine."
For more info, put your furry paw HERE.
#6 USDA Endorsement – For U.S. travelers: the paperwork should be endorsed by your local APHIS Veterinary Services Office for 38 USD.
#7 Mandatory Quarantine – Minimum 7 to 14 days upon arrival
ARRRFF, hope you enjoy sniffing all about traveling to Jakarta, Indonesia with a dog along with the country's dog culture. Feel free to share your experience with me. BARK AT ME!
Markin' it up,
Roger Wellington a.k.a. The Doob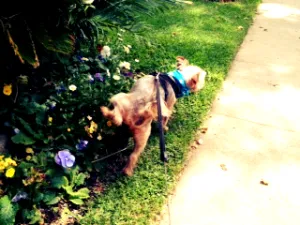 –
Like my post on "Traveling to Jakarta, Indonesia with a DOG (from the U.S.), with Loki the Cocker Spaniel"? CLICK TO PIN!