WOOF, are you traveling to Europe from the U.S. with a dog? Sniff out everything you need to know about dog travel in Europe as barked by me, the traveling Yorkie who has set his tiny furry paws and marked up all over Europe since 2016!
Should you bring your dog to Europe?
Europe is a very dog-friendly continent, even more dog-friendly than the U.S. and other parts of North America. In many European countries, you can wine and dine with your dog INSIDE restaurants, hang out with your dog at bars, and even shop for groceries with your dog. However, the answer to whether or not you should bring your dog to Europe is not always yes.
Know Your Dog – Just because YOU like to travel doesn't necessarily mean that you dog should travel with you. Even though I teach dog pawrents how to travel with their dogs, I don't always recommend it. Like humans, some dogs will simply travel better than others. Some questions to ask yourself before making the decision – Do you think they like to explore new places? Have they flown domestically before? (Your dog's first flight should not be a long-hauled international flight to Rome or Paris). Would they be better off at home with someone you trust? Do you have someone who can take good care of your dog? How do they behave when out and about? How well do they adapt to new environments? Do they tend to bark a lot? Do they have anxiety issues?
Health Comes First – Travel days are tough for everyone, including your dog. As valued family members, dogs aren't luggage to be hauled from place to place. Whether you have a senior dog like me or a 9-month-old puppy, your dog's health must come first and foremost. Make sure you get veterinarian clearance and address any pending health issues before taking your dog on an international flight.
Itinerary – Dogs need (or should be given) more time to rest and adjust. For instance, if you're planning to do a 12 or 14-day tour of Europe that includes multiple countries and many cities, then it's better to leave your dog at home with someone you trust. Traveling with your dog is certainly rewarding and fun, but it must be done so through slow travel, NOT ambitious travel where you're destination-hopping in an attempt to check off a bucket list or collect countries.
Flying to Europe with your dog from the U.S.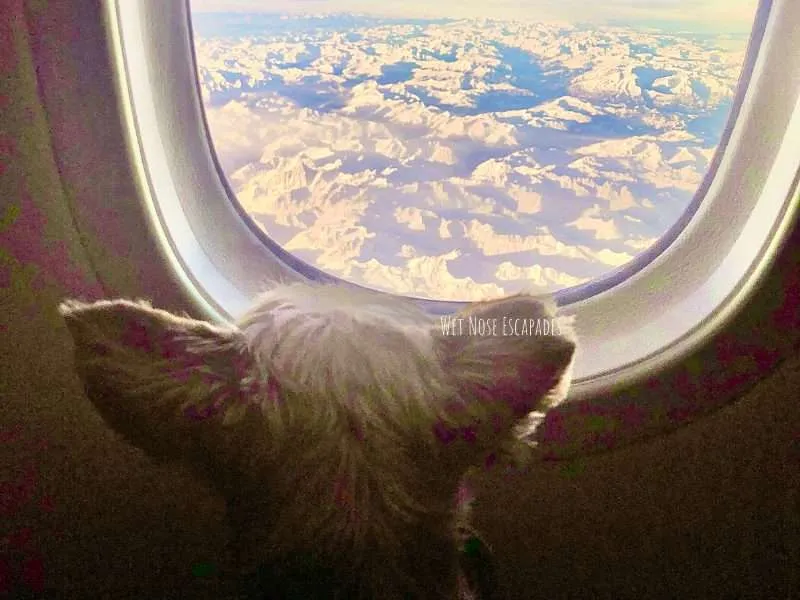 ARF, flying with your dog to Europe isn't as complicated as it sounds, but it does take planning and preparation to ensure a smooth journey. Depending on where you're located in the U.S., your flight can range from 6 hours to 12 hours direct, one-way.
First things first, you must make a flight reservation for your dog with a pet-friendly airline. In the world of dog travel, not all airlines are made equal. Some airlines will not fly dogs, whereas others will only fly them via cargo for an exorbitant fee. In the past, my humans have gotten excited over a cheap flight only to find out that the airline prohibits dogs onboard. If you have a dog under 16 pounds, then you should find an airline that allows dogs to fly in-cabin. Now I would only recommend air travel with your dog in-cabin, where you can keep an eye on him or her at all times. In the U.S., in-cabin dog travel fees to Europe are usually around USD 200 one-way.
Unless you have no choice but to bring your dog along, I don't recommend cargo transport since it can be a traumatizing experience for your dog. If you have a dog larger than 16 pounds (who's not a legitimate service dog), then your only option is cargo. ARF course, that's entirely up to you to make the decision, but I would advise against it – unless this is for a permanent or long-term move.
Once you've reserved the flight, then you must find the right carrier to transport your dog. Sniff out how to choose the BEST carrier for your furry traveler.
Carrier training takes patience, time, and lots of treats. You should invest at least 2 months in carrier training before your dog's very first flight. Be sure to put your dog's favorite toys and treats inside the carrier to entice them to go in to take a sniff. Start slow with a few minutes a day of having your dog explore the carrier and then gradually zip it up. Depending on the flight time, you'll want to train them to feel comfortable inside for at least a few hours. The more relaxed your dog can feel inside the carrier, the better they will fare on the flight.
Get your furry paws on my list of dog travel essentials HERE (Part 1) and HERE (Part 2).
Want more tips on flying with your dog? Sniff out over 10 tips HERE!
If you have a senior dog like me, be sure to perk your ears to my 25 tips on flying with a senior dog.
Required Paperwork to enter the E.U. with a Dog
For travelers coming from the U.S. and Canada, you'll need to take your dog to an accredited veterinarian for the following:
*ISO-compliant 15-digit Microchip – this is the standard for international dog travel. If you can't get a 15-digit microchip, then you'll have to bring your own scanner which sounds like a pain so just get the right microchip.
*Rabies vaccination (or proof of vaccination if your dog already has one) – Vaccination must be done at least 21 days before entry and your dog must be at least 12 weeks old. Keep in mind that the rabies vaccination must be administered AFTER your dog is microchipped, NOT before. However, the vaccination can be administered on the same day as the microchip.
*E.U. Health Certificate (non-commercial) – Be sure to print out the certificate and bring it to the veterinarian for completion. I had to make an appointment with a specific vet who specializes in travel so check with your veterinarian office.
Upon obtaining the completed E.U. Health Certificate from the veterinarian, you must then get the paperwork endorsed by  your local APHIS Veterinary Services Office (U.S.) for $38 or Canadian Food Inspection Agency (Canada) for $20. Your dog must arrive in the E.U. within 10 days from the date of endorsement. This step is VERY important! 
My humans got the endorsement done in-person in Los Angeles, and brought along my rabies certificate, copy of flight reservation, and arf course, the E.U. Health Certificate that requires endorsement. However, since the pandemic, the in-person option doesn't appear to be an option anymore. And, the LA office that we went to doesn't appear as an option anymore, leaving the Sacramento office to handle all the endorsements for the entire state of California. Nowadays, there are two main options to submit the paperwork for endorsement:
Option #1: ONLINE – Use the Veterinary Export Health Certification System (VEHC), which is submitted electronically by an accredited veterinarian. Talk to your veterinarian about this PAWsibility as it will save you time and money!
Option #2: MAIL/SHIP – Ship the paperwork to USDA, the shipping address should be the address for the Endorsement Office serving your state. Since you'll be on a bit of a time crunch, be sure to purchase an overnight return shipping label with Saturday delivery. Sniff out the checklist, in which for Italy, should only include the Health Certificate, Rabies Vaccination Certificate, payment, prepaid express return label, date of departure from the U.S., and your email address along with the veterinarian's email address. Sending incomplete paperwork will result in delays, so make sure you have everything ready before sending it off.
Once it's stamped, the E.U. Health Certificate is valid for travel within the E.U. for up to 4 months (or until the rabies vaccination expires, whichever comes first)!
*E.U. Health Certificate links to the one for France – put a furry paw here to find your E.U. destination country
OPTIONAL: If you plan on traveling frequently to Europe with your dog, then you should take your dog to an accredited veterinarian upon arrival to exchange your existing E.U. Health Certificate for an E.U. Pet Passport. The Pet Passport especially comes in handy if you plan on returning to the E.U. with your dog in the future. With an E.U. Pet Passport, you can kiss all the yucky paperwork goodbye!
A BARK OF CAUTION: Besides acquiring the required paperwork for dog travel, it's imperative that your dog gets a thorough examination from the veterinarian to ensure that he or she is healthy enough to fly.
Getting to the U.K. from the E.U. with your dog
Because dogs aren't allowed to fly in-cabin to the U.K. and the Republic of Ireland (unless they're U.K.-recognized service dogs), the best way to enter the U.K. from the E.U. is via EuroTunnel. It's just a short 35-minute crossing from Calais (France) to Folkestone (England), in which you and your dog can hang out in the comfort of your own car! Dogs can go through the tunnel for only £22 one-way. With ample dog exercise areas with poop bag stations, Eurotunnel is paws down, the best way to enter the U.K. from the E.U.
As dog import to the U.K. has stricter requirements than the E.U., you need to take your dog to the veterinarian for tapeworm treatment within 5 days of arrival to the U.K.
Using public transportation with your dog in Europe
WOOF, the good news is that it's easy to take your dog on most trains throughout Europe. In most countries in Europe, small dogs travel for free as long as they remain inside a carrier while others will charge a small fee like 7€. In some countries like Italy and Spain, rules are pretty laxed. In the Netherlands, Austria, and Croatia, small dogs can sit on their human's lap and don't necessarily need to be inside a carrier.
For large dogs, technically you will need to leash and/or muzzle them and purchase a discounted ticket at 50% of the original fare. Enforcement can be a hit or miss depending on the country or simply the train staff of the hour. If you're crossing borders, don't forget to bring your dog's paperwork or E.U. Pet Passport. Make sure the paperwork is up to date. And, arf course, your dog must be well-behaved and not disturb other passengers. 
However, not all trains in Europe are pet-friendly, notably Eurostar which doesn't allow dogs unless they're assistance dogs as defined by the E.U. Sniff out the best dog-friendly trains HERE.
Going to Spain with your dog? Find out if dogs are allowed on public transportation in Spain!
My 10 favorite dog-friendly activities in Europe
#1 Roaming around the Louvre Palace in Paris, France
#2 Conquering the Colosseum in Rome, Italy
#3 Shopping for groceries in Florence, Italy
#4 Getting tapas in Barcelona, Spain
#6 Getting Belgian waffles in Bruges, Belgium
#7 Exploring Old Town in Dubrovnik, Croatia
#8 Devouring the world famous Sachertorte in Vienna, Austria
#9 Boat watching at the canal in Amsterdam, The Netherlands
#10 Hanging out a ruin pubs in Budapest, Hungary
Keeping your dog safe in Europe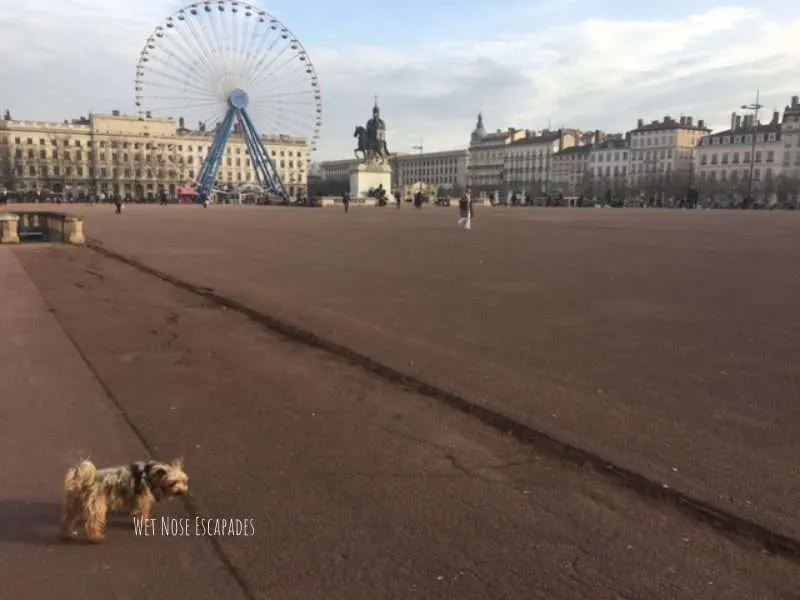 Socialization – In Europe, not as many people neuter their dogs compared to the U.S. so there is likely a lot of growling, barking, and back leg kicking when two alpha dogs meet. If your dog is an alpha male, then you'll have to be careful when socializing to avoid confrontation – the best is to learn the language so you can have a quick check-in before letting them sniff each other.
Pollution – Second-hand smoke is almost unavoidable in many parts of Europe. Not only is second-hand smoke dangerous to humans, but also your dog. Precovid, my humans and I would try to sit indoors vs. outdoors when dining out. But, that has changed thanks to the pandemic. My suggestion? Try to skip the peak hours during walks to avoid pollution from second-hand smoke and vehicle traffic.
Touristy or Busy Areas – Even though you've brought your dog all the way to Europe, you don't necessarily have to take your dog everywhere. In fact, it's best that you don't bring him or her to busy places where there's a lot of foot traffic. Imagine your dog trying to walk through Times Square in NYC – it can be very stressful and dangerous for your dog. So either skip the peak hours or leave your dog at home.
Emergencies – Always locate a vet before your trip in case of emergencies! This can save lots of time in the event of an emergency.
Outings – Always pack a bottle of water and to-go bowls so your dog can have water and food breaks when necessary.
Stay Longer – Again, dogs need (or should be given) more time to rest and adjust. Since dogs thrive on routines, staying longer is probably the best thing you can do to keep your dog healthy abroad.
Potential extra costs you could incur while traveling with your dog
Transportation – Flights, trains, ferries, cruises – whatever form of transportation you may be taking with your dog. As barked earlier, you may incur charges when traveling with your dog on the train although this can be a hit or miss depending on enforcement.
Accommodations – Europe has many dog-friendly accommodations, but not all will allow your dog to stay for free. Sometimes it'll cost an extra 10-20 euros a night for your dog's stay and other times it'll be a weekly fee or just a flat rate. My humans avoid pet fees as much as possible – learn how they do it HERE.
Emergency Vet Visits – Emergencies can happen anywhere, anytime. Nonetheless, the risks could be higher when you're traveling. The good news is that except for the U.K., vet costs are generally cheaper in Europe than the U.S., especially if you're used to those high prices in NYC, Los Angeles, or San Francisco where my American home bases have been.
Dog Food – WOOF, this is obviously for long-term stays only. Depending on which part of Europe you're in, you may or may not have access to the same dog food back home so you may need to get food shipped internationally) or have your family send it over. Or to avoid extra costs, you can make delicious, home cooked food for your dog.
Returning to the U.S. from Europe with a Dog
Generally barking, you'll just need a valid rabies certificate to enter the U.S. from most countries in Europe with a dog. Since most countries in the E.U. are classified as rabies-controlled by the U.S., a rabies vaccination is usually all it takes to enter the U.S. However, there may be additional requirements depending on which state you land in. Also, be sure to check for any dog export requirements from the European country of departure.
Hope you enjoy traveling to Europe with your dog! Feel free to share your experience with me. BARK AT ME!
Markin' it up,
Roger Wellington a.k.a. The Doob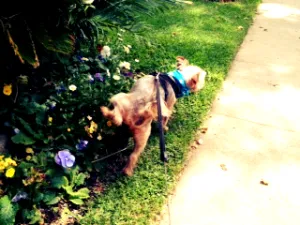 —
Like my post on "Traveling to Europe from the U.S. with a Dog"? CLICK TO PIN!