WOOF, is Prague dog-friendly? Are you interested in traveling to the Czech Republic with a dog? Let me first bark that the capital city of the Czech Republic is an uber-fun destination for you and your dog traveler. Sniff out everything you should know about traveling to Prague, Czech Republic with a dog NOW.
First posted 9/9/20, Last Updated 4/15/23
*Please note that this post contains affiliate links, and at no obligation or additional cost to you, my humans and I earn a small commission if you make a purchase. If you love the work that we do, you can show your support by making a purchase through an affiliate link. Proceeds will go towards feeding homeless dogs (and cats) along with improving the lives of the neglected and abused.
As the world traveling Yorkie, I can bark with an upright tail that Prague is one of the most dog-friendly cities in the world. From dog-friendly restaurants and bars to dog-friendly parks and attractions, Pragues has a plethora of fun activities for you and your dog. As a matter of bark, it's one of my favorite dog-friendly cities that I've ever marked up. PAWS DOWN. ARF-ter spending too much time markin' up Western Europe, I wagged my tail as my four paws hit the grounds of this much cheaper city in Central Europe.
One with an alluring medieval past, that is. From Old Town Square to Charles Bridge to Vltava River, Prague is the ultimate Castletown. WOOF, I only spent many weeks here in "the City of a Hundred Spires" slurping up knedliky (bread dumplings) and bramborak (potato pancake) while leaving my alpha marks on their picture-perfect (I mean, PAWfect) pedestrian bridge.
Sniff out everything you need to know about traveling to Prague, Czech Republic with a dog NOW:
Since the Czech Republic is part of the European Union, your dog will enter the country as he would in any E.U. country.
To meet E.U. dog import requirements from the U.S. or Canada, you'll need a visit to an accredited veterinarian for the following:
E.U. Health Certificate
Rabies vaccination (or proof of vaccination if your dog already has one)
ISO-compliant 15-digit Microchip (rabies vaccination must be administered after your dog is microchipped, NOT before)
Besides acquiring the required paperwork for dog travel, it's also imperative that your dog gets a thorough examination from the vet to ensure that he is healthy enough to fly. If you have a senior dog like me, be sure to sniff out my 25 Tips on Flying with Your Senior Dog.
Once you've obtained the E.U. Health Certificate from the veterinarian, you must then get the paperwork endorsed by your local APHIS Veterinary Services Office, either in-person or by mail.
Expect to pay anywhere from $125 to $200 USD ONE-WAY for your dog's in-cabin flight. Before you book the flight for your dog, sniff out my exclusive guide on international dog travel.
BARKWORTHY TIP: Once you and your dog arrive in Prague (or anywhere in the E.U.), you can take your dog to an accredited veterinarian to exchange your existing E.U. Health Certificate for an E.U. Pet Passport. The E.U. Pet Passport is considered the GOLDEN TICKET in the world of international dog travel and comes in especially handy if you plan on returning to the E.U. with your dog in the future.
Wanna know more about getting a passport for your dog? Sniff here for my E-Book!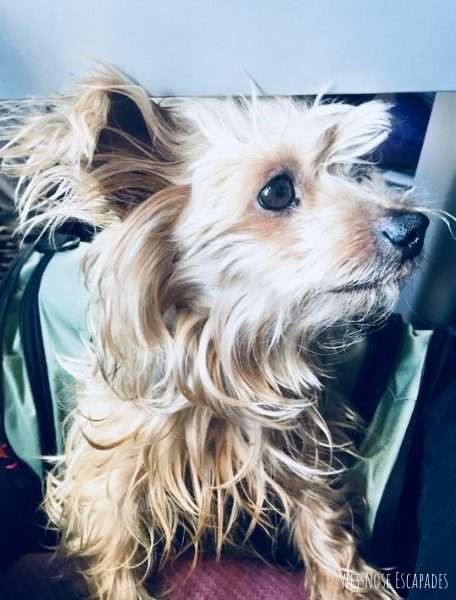 My fabulous green carrier has been in more countries than most humans on Earth!
Returning to the U.S. from the Czech Republic with a DOG
Generally barking, to return to the U.S. from the E.U., your dog must appear healthy and enter with a valid rabies vaccination certificate. However, there may be additional requirements based on the state you're flying into, which may be stricter than federal regulations. Be sure to check the APHIS website for the latest info.
THE YORKIE BOSS TRAVELS TO PRAGUE, CZECH REPUBLIC:
As for me, I would always leave a few marks in Western Europe before slowly making my way to the historical capital of Bohemia. On my most recent trip, I hopped on a train from Bratislava, Slovakia (also part of the E.U.) to Prague. A born furry traveler, I never fail to impress my human by sleeping through most of the 4-hour train ride. As with most trains in the E.U., the train to Prague is, indeed, dog-friendly and accepted my furriness with open paws. WOOF! Without being charged a dog ticket, I relaxed inside my carrier and occasionally came out to demand treats (and hid comfortably under my blanket).
As a boss dog, I must sneak out for a breather or two. I also like to look out the window for some greenery. Grr..too bad some humans were already sitting there, so I was stuck in the middle seat. Any-howl, I'm happy to bark that coming out for a breather was no pawblem even though small dogs like me should technically remain inside the carrier.
DOG-FRIENDLY RESTAURANTS & BARS IN PRAGUE
When it comes to dog travel, it's very imPAWtant to know where dogs are allowed to wine and dine with their humans. AWOOOO, what makes Prague such a TOP dog-friendly destination is that most (if not, all) of the restaurants here are dog-friendly. OK, they may not offer any fancy doggie menus like in Los Angeles, BUT I've never been rejected by any restaurant or bar in Prague. Whether indoor or outdoor, most food and drink establishments allow dogs INSIDE without hesitation. That's right – no nasty glares, questions, or fuss over your furry diner. I've also gotten free treats from the wait staff. However, I must bark that restaurants in Prague weren't always so welcoming to dogs. I mean, it wasn't that dogs weren't allowed, but indoor smoking made dining particularly harmful to both humans and dogs, especially a Yorkie with collapsed trachea like myself.
After several visits to Prague over the years, I wagged my tail when indoor smoking at restaurants was finally banned, making dog travel safer and more worthwhile. As we all know, second-hand smoke generates detrimental effects on both humans and dogs. Nevertheless, I am hopeful the ban will extend to bars in the future. Sniff out how to avoid second-hand smoke in Europe.
DOG-FRIENDLY PUBLIC TRANSPORTATION IN PRAGUE
With an extensive public transportation network, Prague has bragging rights to one of the BEST and most reliable transportation systems in all of Europe. Generally barking, trains, trams, and buses in Prague and the Czech Republic are dog-friendly. Most importantly, small dogs are welcome to board as long as they remain inside a carrier or travel bag (dimensions are maxed at 50 × 60 × 80 cm). Dogs who are small enough to be transported in a "closed up box" up to 25 x 45 x 70 cm) can travel free of charge.
If the passenger has a valid multi-trip ticket or short-term ticket valid for 24 hours (not valid on trains), the dog can also travel for free. As a small dog, I love reaping the benefits by riding for FREE inside a carrier. Prague also seems pretty laid-back with the carrier rules, at least from my experience. As barked earlier, I've spent plenty of time outside my carrier on trains with no problems (or shall I bark, pawblems).
Larger dogs, on the other paw, will likely need a ticket on certain trains, depending on the region. There's a one-time transport fee for dogs traveling in a "box" larger than 25 × 45 × 70 cm, or a dog without a "box" is CZK 20. In the case of bigger dogs, they must be leashed and muzzled (although enforcement can be a hit or miss). The ticket for your dog is valid for a maximum of 300 minutes.
According to the official website of Dopravní podnik hl. m. Prahy, akciová společnost (DPP), the city's main operator of public transport (metro, trams, buses, and trolley buses), dogs may be transported without the use of an animal carrier if they're on a short leash and properly muzzled. However, "the consent of the vehicle's driver is required and the dogs must ride in the related designated area of the vehicle."
On regional trains, riders with a Prague Integrated Transport (PID) ticket for Prague (zones P, 0 and B) can also transport their dog for free, except on non-metro trains.
DOG-FRIENDLY UBER IN PRAGUE
My tail is wagging as my robust wet nose reports that I did NOT run into any issues with Uber in Prague! I sat on my human's lap throughout the ride from the train station to our hotel in New Town. Unlike other parts of the world where my human felt the need to hide me inside the carrier to avoid potential issues (or pawblems) with the driver, my rideshare experience here has been pleasant, to bark the least! With dogs generally allowed inside restaurants here, it's no surprise that riding Uber with your dog is hardly an issue (although it ultimately depends on the individual driver). If you're concerned, you can message your driver in advance to ask for permission or give a heads-up (although my human didn't feel the need to do so at all).
DOG-FRIENDLY ACCOMMODATIONS IN PRAGUE
WOOF-HOO! I'm dropping my jaws to an open-mouth smiley face as I sniffed that dog-friendly accommodations are easy to find in Prague. However, my humans had to pay an extra daily fee for me (under 10€ daily, which isn't bad compared to those outrageous dog fees at U.S. hotels). Although most visitors flock to Old Town, I like to stay in New Town, where it's less congested with more space to walk around. Plus, the hotels are slightly cheaper. During my most recent stay, I rested my furry paws in a pretty hip room with a large comfy bed, dining table, and kitchenette. Don't expect luxurious welcome doggie packages or plush beds at the hotel, but DO expect a few pets along the way.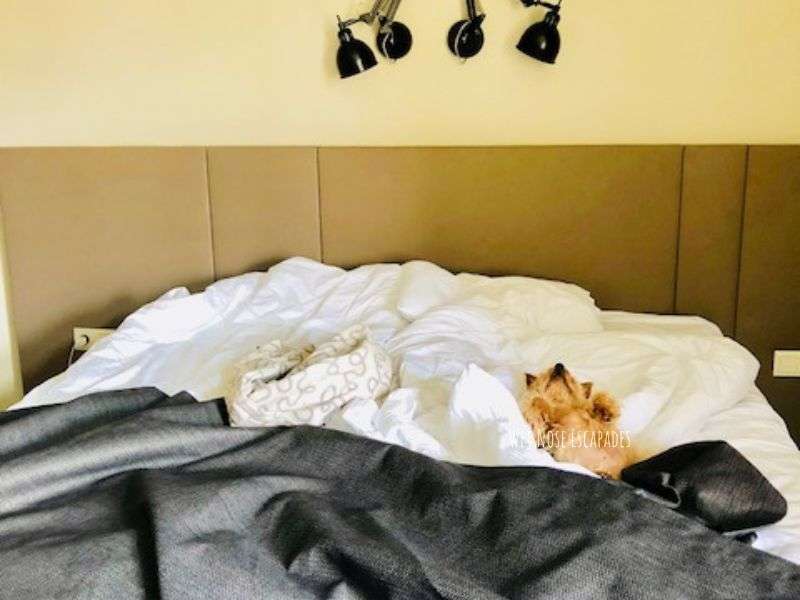 Here are a few barkworthy dog-friendly hotels:
Stages Hotel (next to O2 Arena and the Metro)
4-star hotel
Českomoravská 19a, 190 00
One dog 20 lbs. maximum allowed per room
500CZK Non-refundable fee per room per night
MeetMe23 (in New Town)
4-star hotel
Washingtonova 1568/23, 110 00 Nové Město
Dogs are welcome in selected rooms
Hotel Adeba (near Wenceslas Square)
3-star hotel
16, Pernerova 11, Karlín, 186 00
Dogs are allowed for an extra charge of EUR 4 per pet, per night
Extra sniffs:
Sniff out my expert tips on finding and saving money on dog-friendly accommodations HERE.
Sniff out what I use to find dog-friendly hotels HERE.
Sniff out what I use to find dog-friendly apartments HERE.
Are Czechs dog lovers?
AWOOOO, I'm dropping my jaws down for an open mouth smiley face just thinking about the dog-lovin' Czechs! My stylish undocked rat tail is wagging as I found that the Czech people are supaw dog-loving. During a long outing, my human accidentally spilled the entire water bottle she had packed for my water breaks. Seeing that I was thirsty, she panicked and hurried into a nearby convenience store/souvenir shop to buy new water for me.
Although she didn't have any cash on her at the time because we were departing the next day (and unfortunately, the store didn't take credit cards), the store owner gave her FREE bottled water as soon as she mentioned that it was for her thirsty dog a.k.a. ME! The sweet store owner quickly motioned in English, "Just take it!" No questions asked. He didn't even verify that she had a dog because I was outside with my other human. Now, that's some real compassion for animals. WOOF, a high paw for that!
Besides the barkworthy example above, I can bark with an upright tail that the Czechs generally love dogs – so expect to be stopped for some head scratches and gentle strokes wherever your dog goes.
DOG-FRIENDLY PARKS IN PRAGUE
WOOF, there are a whoppin' 100 green parks in the city, and most of them are dog-friendly (which makes traveling to Prague with a dog worthwhile)! Keep your dog on a leash unless you're in a designated off-leash zone. And, of course, don't forget to pick up after your dog – be a respectful visitor (and dog traveler)! While dog-friendly parks are virtually everywhere, Petřín Hill, Kampa Island, Letna Park, and Stromovka Park are very pawpular green spaces to take your dog for a stroll. Sniff out my go-to spots for some butt-sniffing and back-leg kickin':
–Petřín Hill: PAWS DOWN, Petřín Hill is the most popular (I mean, PAWpular) park in the city. It's located on a hill with winding paths and gardens. The 30-minute climb up to the summit is a fun dog-friendly trek featuring ARF-mazing panoramic views.
–Stromovka Park: Located in the Bubeneč district of Prague, this English-style park is considered the Central Park of Prague. Formerly a royal game reserve, this massive dog-friendly urban greenery spans over 95 hectares with a pond, castle, two restaurants, and endless dog-friendly paths..
–Kampa Island: Resting in the Vltava River in Central Prague, this cute island with a museum is connected by Charles Bridge and separated from Malá Strana by the Devil's Stream channel. This island has dogs GALORE!
–Letná Park: Built on a plateau along the Vltava River, this dog-friendly oasis boasts grassy fields, ample shade, and head-tiltin views of the city.
–Vyšehrad: Right next to Prague Castle, this 10th-century fort was built on a hilltop above the Vltava River. It houses the Basilica of St. Peter and St. Paul along with a famous cemetery. Dogs can run loose in the meadow at the Tabor Gate and under the Brick Gate.
–Vítkov Hill: A short walk up this green hill in the Žižkov neighborhood with your dog will lead you to the 16.5-ton statue of the Czech military leader Jan Žižka and some jaw-droppin' panoramic views. Be sure to take a break with your dog at the dog-friendly Café Vítkov.
*Be sure to keep your dog on-leash unless in areas specified where off-leash is allowed.
DOG-FRIENDLY SHOPPING IN PRAGUE
Even though my human and I are no suckers for material goods (as we prefer experience over things), it's nice to know that I can join a shopping spree, should I choose. In addition to outdoor malls and shopping centers, dogs are allowed in most indoor shops, boutiques, and department stores. The best streets for some good ol' fashion window shopping and strolling are Wenceslas Square and the ARF-so-ritzy Pařížská Street, where I can walk my paws into designer stores and cute boutiques. For more of a shopping mall experience, be sure to sniff out the shopping centers at Palladium, Nový Smíchov, and Kotva.
Now…for 10+1 of my Favorite Dog-Friendly Activities in Prague, Czech Republic:
#1 Explore the grounds of Prague Castle
WOOF! This MUST-VISIT landmark is ARF-mazing! Although dogs are not allowed inside the castle, I've seen plenty of my canine friends stroll and sniff around these impressive grounds.
TOP DOG barks: Built in the 9th century, Prague Castle is considered the largest ancient castle in the WORLD. Heck, it only covers an area of a whoppin' 750,000 square feet (at 1,870 feet in length and 430 feet in width). This Baroque-style castle with a medieval past attracts over 1.8 million visitors annually. ARF yeah, it's also the official office of the President of the Czech Republic.
#2 Sniff out Old Town
My humans and I quickly became regulars at Old Town Square, especially in the LATE NIGHT when the square is still relatively lively with locals (and the tourists are sleeping from the day's exploration).
TOP DOG barks: In the Czech language, Old Town is called "Staré Mesto." Like any Old Town in Europe, the roads are made of cobblestone, making long walks tough on my paws. Therefore, it's best to explore Old Town and walk along the city walls slowly without all the foot traffic. The medieval architecture here is incredible and takes me back to fairytale times of me being a brave Yorkie knight in my home away from home Dubrovnik. ARF, I made sure I left an alpha mark near the Astronomical Clock (3rd oldest in the world) located at Old Town Square.
#3 Chill at Charles Square
One of the largest squares in the world, Charles Square in New Town is, PAWS DOWN, my favorite square in Prague. Once New Town was founded back in the 14th century, this square emerged and became one of the largest town squares in medieval Europe. I love posting up with my humans while keeping my eyes and nose alert for those cute furry Czech ladies. HAH, I'm always ready for the chase! Be sure to snap selfies with two of the most impawtant buildings here – New Town Hall and the Church of Saint Ignatius.
#4 Try traditional Czech food
Mmm mmm, this is what traditional Czech food looks like! I can only promise you that it smells and tastes even better. Since most (if not, all) restaurants in Prague are dog-friendly, I've always had the option of sitting my furry butt inside OR outside. Again, I've never got a single nasty look from the wait staff or diners, which shows just how dog-lovin' the Czechs are. WOOF-HOO!
Be try to lick your chops to some of my favorite Czech goodies:
Guláš – A pawpular dish throughout Central Europe (originated in Hungary), the goulash is a thick stew made with succulent beef, onions, and spices. YUM! I can never leave Prague without getting a little lick.
Knedliky – Like rice for the Asians, Czech dumplings are a staple food for the Czechs. Made with flour, yeast, egg, salt, and milk, "knedliky" is usually served on the side of traditional dishes, including Vepřo knedlo zelo, which consists of Czech roast pork, dumplings, and sauerkraut.
Česnečka – Garlic soup is the TOP DOG prevention against illness, according to the Czechs! That's why it's also called the Hangover Soup. 🙂 Perhaps, the best (and cheapest) remedy after a long night of Pilsners!
Řízek – ARF-my-DOG, the Czechs have their own version of schnitzel! The Czech schnitzel is a ½ inch slice of tenderized pork coated in flour, eggs, and breadcrumbs that is then deep-fried.
Sniff out some of my favorite dog-friendly restaurants in Prague:
Švejk restaurant U Karla (Křešínská 155, 104 00)
Pivovarský dům Benedict (Ječná 511/16, 120 44 Nové Město)
Pivovar Národní (Národní 8, 110 00), and
for the homesick Americans, James Dean Restaurant (1, V Kolkovně 922, 110 00 )
#5 Devour Vietnamese food
ARF, Vietnamese food in Prague? You betcha! As a Native Californian, I can sniff out authentic Vietnamese food with my robust wet nose from miles away! So, trust me when I bark that I know my Vietnamese food like the back of my paw. Much to our surprise, Prague boasts some of the best pho (beef noodle soup) and bun (vermicelli) that I have ever licked our chops to. That's right, it's time to lick those noodle soup bowls clean! Our go-to spot is Pho Vietnam in Praha 2 (15, Anglická 529), where you can order at the counter and devour a big bowl of delectable authentic pho in a matter of minutes.
#6 Cross the Charles Bridge
Crossing the Charles Bridge is one of those MUST-DO touristy things in Prague. After all, it connects Prague Castle to the city's Old Town. It is the oldest standing bridge over the Vltava River and the second-oldest bridge in the country. AWOOOO, I can howl and bark with an upright tail that this spectacular bridge is NOT overhyped!
With such unforgettable views across the Vltava river, head-tiltin medieval architecture, and fascinating statues, this historic arch-stone bridge built in 1357 is one cool place to explore by the paw and get some wet nose investigative action. Despite the short distance of the bridge, my humans and I took our time to take in its magnificence, stopping our noses at each statue. Arf yeah, you can best avoid heavy pedestrian traffic for your dog's sake by going early in the morning or later in the evening.
#7 Roam around Nové Město a.k.a. New Town
The newest and largest of the five independent towns of Prague, New Town was founded back in 1348 by Charles IV. Despite being outside the city walls, New Town is a buttload of FUN! There are plenty of spots to sniff out, including gothic and baroque churches and Wenceslas Square, a long boulevard with many retail shops and the neoclassical National Museum building. Known as Prague's main commercial district, New Town is where I like to rest my furry paws at night. WOOF, my PAWsome home away from home boasts barkworthy restaurants, bars, museums, theaters, and historical buildings.
#8 People and dog-watch at Wenceslas Square
As barked earlier, Wenceslas Square is one happenin' place! All I can bark is that this square is one cool SPOT. Located in New Town, Wenceslas Square is one of the central squares in the city. With many community events held at Wenceslas (including protests and demonstrations), I've spent many afternoons sniffing it out and taking in the exuberant Prague "scene."
In addition, it is the site of seasonal markets, like the annual Christmas and Easter markets. And, even without any event going on, Wenceslas Square always has a few food stands selling tasty authentic Czech food. The top part of the square is dominated by the neoclassical National Museum building (while fashion stores and brand names dominate the lower part).
#9 Relax at Malá Strana (Lesser Town)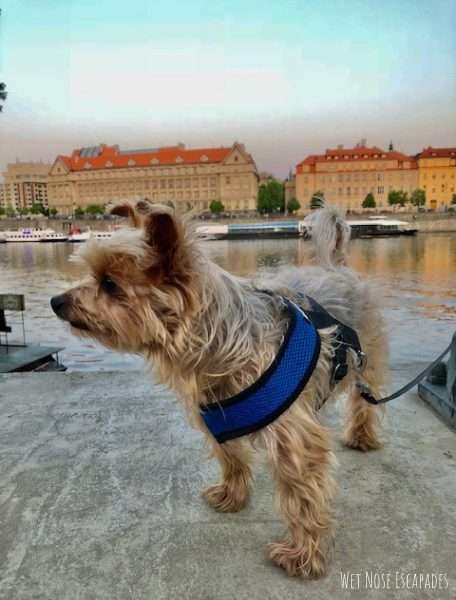 Even though New Town is my hood, I'd have to bark that Malá Strana has a very special place in my little Yorkie heart. This gorgeous hillside neighborhood is where I set my paws to slow things down and relax. Malá Strana is not only less touristy compared to Old Town, but it also offers splendid views across the Vltava river to Old Town. I love taking water breaks along the river and giving my alpha paws a rest from a long day of roaming (and marking).
#10 Admire Powder Tower (Gate) + Municipal House
WOOF, it's Selfie Time at Powder Tower! Dating back to 1475, Powder Tower is one of the original city gates, separating Old Town from New Town. In medieval times, it was one of the 13 gates for the people of Prague to enter the Old Town. With such mesmerizing medieval architecture, it's hard not to look up, tilt your head, and be amazed by this gigantic Gothic monument (after you cross the Charles Bridge to enter Old Town).
Historically, the coronation processions of Czech kings entered Old Town through the Powder Tower, which is part of the "Royal Way" to the Prague Castle. The pawbulous Municipal House is right next to the tower. Don't forget to take some extra IG-worthy photos here.
BONUS: Sniff out the Lennon Wall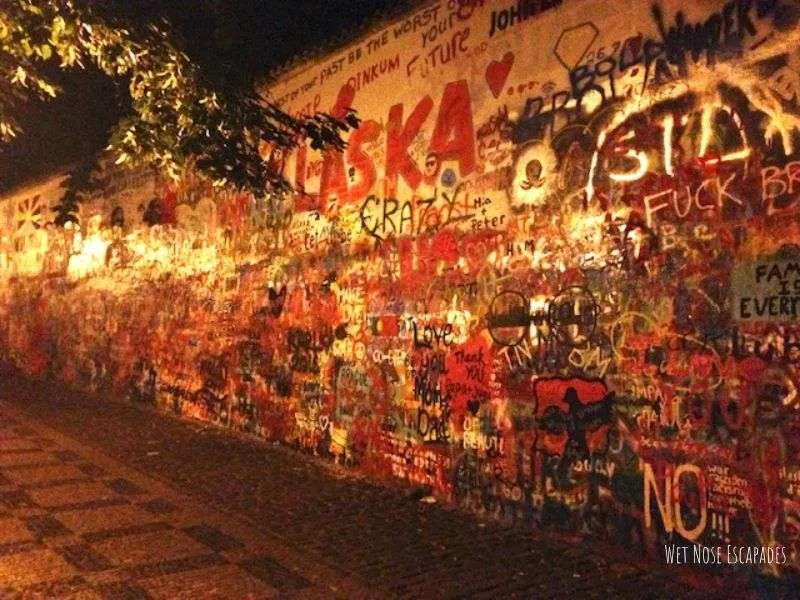 For those hard core Beatles fans, be sure to check out the graffiti-ed Lennon Wall that has been standing since the 1980s. Dedicated to the legendary John Lennon, the Lennon Wall is filled with lyrics, designs, and poems related to Beatles' songs as well as local and global causes. Located across from the French Embassy, the small square where the wall stands is, indeed, dog-friendly. It's a unique place to visit and take pictures with your dog in Prague, especially if you're a fan.
WOOF, hope you enjoy traveling to dog-friendly Prague with your dog! Sniff out other dog-friendly places I've conquered with my alpha paws.
Don't forget to subscribe to my YouTube Channel: Wet Nose Escapades by Roger Wellington.
Markin' it up,
Roger Wellington a.k.a. The Doob
—
Like my post on "Dog-Friendly Prague: A Yorkie's Guide to Traveling to Prague, Czech Republic with a DOG"? PIN IT!