ARF, traveling with a dog to Paris? Hear the barks from a nomadic dog who has not only flown from Los Angeles to Paris regularly since 2016 but also made this dynamic city one of his home bases. Sniff out this comprehensive step-by-step guide on traveling with a dog to Paris below!
Posted 4/25/21
*Please note that this post contains
affiliate links
, and at no obligation or additional cost to you, my humans and I earn a small commission if you make a purchase. If you love the work that we do, you can show your support by making a purchase through an affiliate link. Proceeds will go towards
feeding homeless dogs (and cats) along with improving the lives of the neglected and abused
.
Bonjour, escapaders! OK, so there's no bark about international dog travel without barking about taking your dog to Paris. Oui, Paris – the City of Lights, home of the iconic Louvre, PAWS DOWN the most romantic city in the world, and arguably the most dog-friendly city in the universe! As most dog travelers can attest, Paris is a MUST-SNIFF, MUST-MARK destination. If you haven't taken your dog to Paris, then you haven't experienced a true "dog-friendly" culture. After marking up over 20 countries (only temporarily pausing due to GRRR, the pandemic) and racking up tens of thousands of miles in the air, my pawfectly groomed rat tail still wags to Paris, my very first international destination as a dog traveler.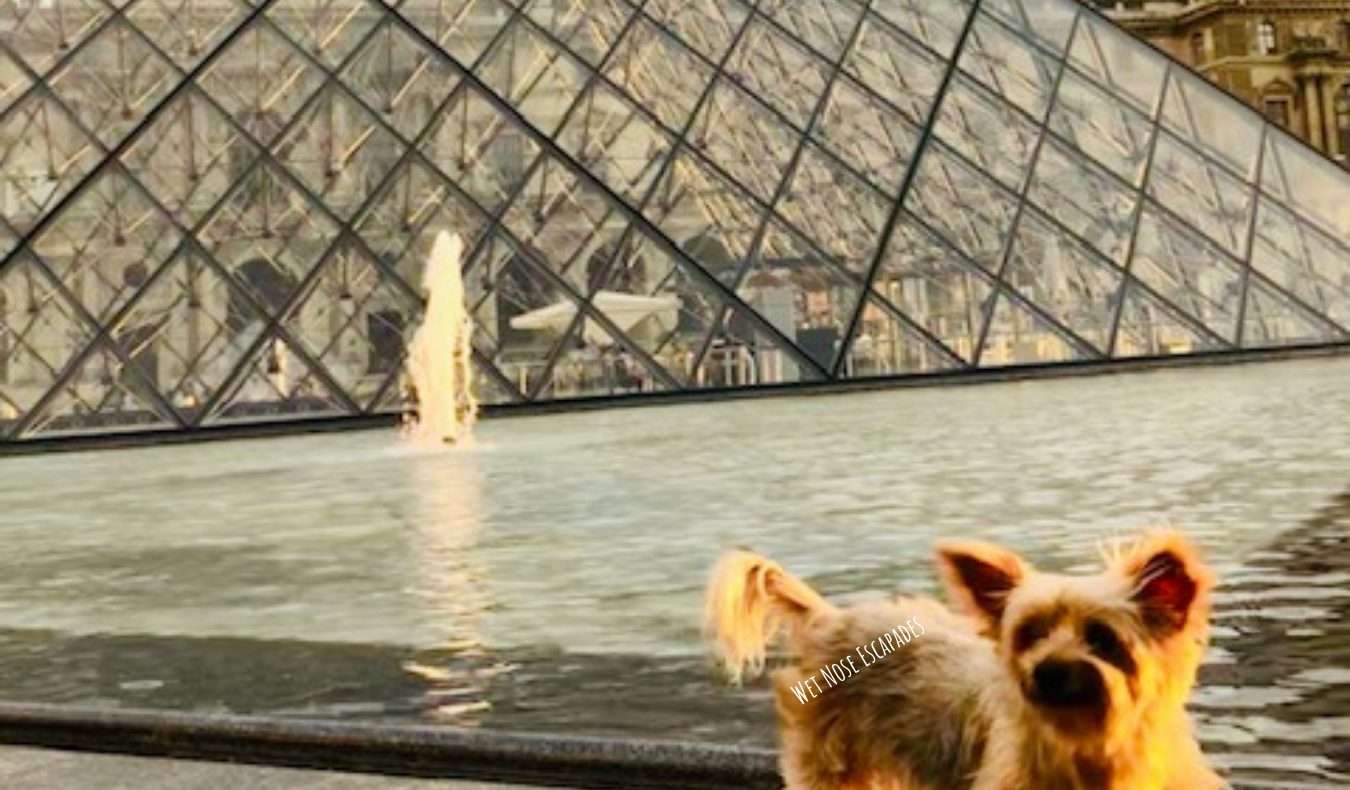 WOOF, this city of café culture sure has a sweet (or shall I bark doux) spot in my little BIG Yorkie heart. Even though my humans had set foot in Paris many, many times before I licked my first ARF-so-savory crepe in the Latin Quarter, they had to research a few extra steps (not to mention, add a few swipes on their credit card) to land my furry butt safely at Charles de Gaulle. After several long-term stays in Paris and transforming into a furry Parisian, I can only bark on behalf of them that all was worth it! Now, it's my turn to show you the ins and outs of traveling with a dog to Paris. Keep sniffing me out!
TRAVELING WITH A DOG TO PARIS, FRANCE FROM THE U.S.
Things to consider:
ARF, it's not as hard or complicated as you think BUT it does require time and some money. Before you commit to it, I want you to make sure that you really do WANT your dog to come along. If you're going for a weeklong or two stay in Paris, then you have to ask yourself if the time and money are worth it. And, most importantly, how do you think your dog will fare with international travel? If it's a relatively short international trip, do you think your dog will be better off at home? Sorry, I know that many people who work the traditional 9-5 may only have 3-4 weeks of vacation a year so a 2-week vacation isn't necessarily considered "short" in their eyes. However, you're talking to a nomadic Yorkie who typically doesn't change destination until after at least a month-long stay. With that barked, if you plan on visiting Europe frequently with your dog in the future, then totally – why not?!
Depending on where you are flying from in the U.S., a direct flight to Paris can range anywhere from just right under 8 hours (from the East Coast) to nearly 12 hours (from the West Coast). Unless you have no choice but to book a flight with a layover, I always recommend flying DIRECT/NON-Stop with your dog.
Size does matter:
You must consider the size of your dog as in-cabin flights are generally a small dog's game. Small dogs like myself make the best travelers because we can stay comfortably inside an airline-approved carrier that fits under the seat in front of you. Although every airline may differ on flight regulations, the generally accepted weight of a dog to fly in-cabin is capped at 16 pounds or 20 pounds for the combined weight of both the dog and carrier. I once flew an airline that capped it at 11 pounds for me AND the carrier. ARF-my-Dog!
If you have a bigger dog, then you'll have to consider flying him or her via cargo. Despite countless stories of success, I do not recommend transporting your dog in cargo due to potential risks. My humans have always asserted that if I couldn't be with them throughout the flight, then I'm better off staying at home where I'm safe and well-taken care of by my extended family. Of course, that's a decision YOU need to make for your precious furry family member. Ultimately, is it a MUST that you travel with your dog to Paris?
Keep in mind that not every airline is pet-friendly, whether in-cabin or cargo. Therefore, just because you've found the pawfect flight doesn't necessarily mean that the airline accepts furry passengers. And, if it does, you'll have to confirm that your dog can fly in-cabin with you.
Grab my comprehensive guide on How to Travel with Your Dog Internationally NOW!
Age also matters:
To enter France, your dog must be at least 15-weeks-old or older. *Pets less than 15 weeks old that were either 1) not vaccinated for rabies or 2) vaccinated for rabies less than 21 days prior to entry into the EU are NOT ALLOWED.
Roger Wellington's Step-by-Step Guide to Traveling with a Dog to Paris, France: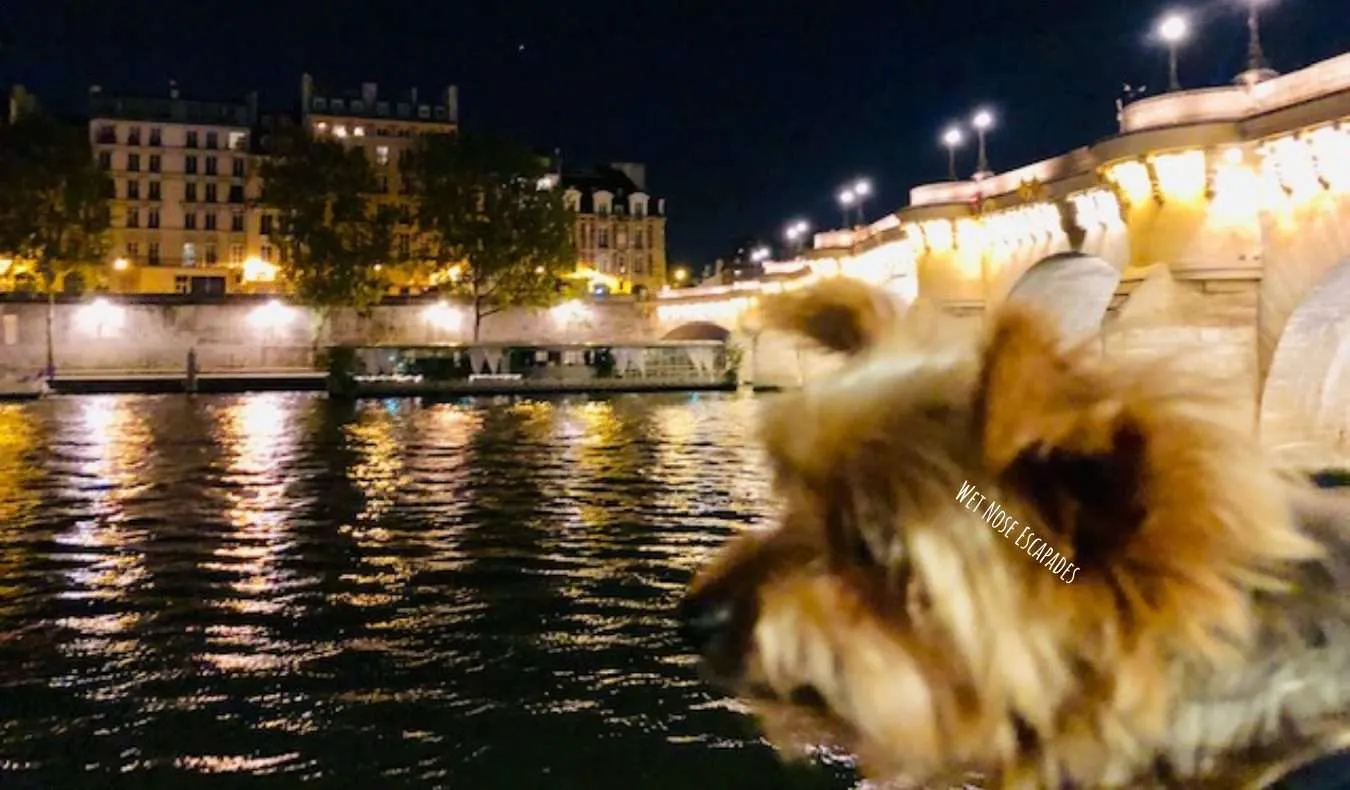 #1 Book a flight to Paris! Make sure the airline is pet-friendly prior to booking.
#2 Add a flight reservation for your dog IMMEDIATELY as most airlines only allow 2-4 dogs per flight. Prepare to pay a fee each way for your dog's flight. You can either add the reservation online or by phone.
#3 Unless your dog is a seasoned traveler like me, start carrier training to prepare your dog for the flight as soon as possible. Get an airline-approved carrier if you don't already have one. Make sure the dimensions comply with the airline's policy (every airline may have slightly different dimensions).
Get carrier training tips and learn how to fly with your dog internationally!
My fabulous green carrier has been in more countries than most humans on Earth! Get yours HERE!
#4 If you and your dog are flying from the United States, you will be entering France as you would in any country in the E.U. (European Union). For dog import requirements, you'll need a visit to an accredited veterinarian for the following:
*ISO-compliant 15-digit Microchip (rabies vaccination must be administered after your dog is micro-chipped, NOT before)
*Rabies vaccination (or proof of vaccination if your dog already has one. Vaccination must be at least 21 days prior to entry)
*E.U. Health Certificate (non-commercial) – Be sure to print it out and bring it to the veterinarian for completion. Get instructions HERE.
*Besides acquiring the required paperwork for dog travel, it's imperative that your dog gets a thorough examination from the vet to ensure that he/she is healthy enough to fly.
#5 Upon obtaining the completed E.U. Health Certificate from the veterinarian, you must then get the paperwork endorsed by your local APHIS Veterinary Services Office. Your dog must arrive in the E.U. within 10 days from the date that the USDA Accredited Veterinarian signs the health certificate.
Once it's stamped, the E.U. Health Certificate is valid for travel within the E.U. for up to 4 months! WOOF-HOO!
#6 OPTIONAL: If you plan on traveling frequently to Paris or E.U. with your dog, then you should take your dog to an accredited veterinarian upon arrival to Europe to exchange your existing E.U. Health Certificate for an E.U. Pet Passport. The Pet Passport especially comes in handy if you plan on returning to the E.U. with your dog in the future. With the passport's expiration date of a whoppin' 10 years, you can kiss all the yucky paperwork goodbye!
Side Note: After all the work and money involved, the immigration officer hardly even glanced at the paperwork! He didn't ask to see it either, but my humans showed it to him upfront. Even though we've heard similar stories, it's best to have all your paperwork in line for the sake of your dog.
HOW TO RETURN TO THE U.S. FROM PARIS, FRANCE WITH A DOG:
Typically, to return to the U.S., your dog must appear healthy and have a valid rabies vaccination certificate. However, there may be additional requirements based on the state you're flying into, which may be stricter than federal regulations.
Check HERE for additional info.
ESTIMATED COSTS
ISO-Compliant Microchip – The 15-digit ISO microchip is the international standard for pet travel and costs anywhere from $25 to $80, depending on your veterinarian.
Completion of E.U. Health Certificate – Anywhere from $150 to $400 depending on your veterinarian (e.g. the number of visits required to complete the form may vary – some vets will do it on a single visit while others may require multiple visits, such as in my case. Guess it didn't help that my go-to vet is in a rather expensive zip code in Los Angeles). The completion of the form usually requires a health check and office visit; therefore, my estimate breaks down to roughly $300 for form completion (for me, it took 2 visits) + $100 cost of a standard health check, but of course, the price can be significantly lower depending on your veterinarian. Also, this does NOT include the costs to address any pending or new health issues, which may require additional visits or treatment.
Rabies Vaccination – Well, only if your dog doesn't already have a vaccination AFTER being microchipped. I wasn't microchipped initially so I had to get another shot (luckily, it was pretty close to the expiration date) after being microchipped. The cost of a rabies vaccine ranges anywhere from FREE to $50, depending on your veterinarian along with the length of vaccine duration, e.g. 1 year vs. 3 years.
Flight reservation – $125 to $200 each way for your dog (not including your own flight reservation).
USDA APHIS Endorsement of E.U. Health Certificate – $38 for the stamp (since France only requires a vaccination, the fee is $38 per certificate regardless of the number of animals on the certificate per the official USDA APHIS website).
Airline-Approved Carrier – $25 to $100 (Sniff out my tricks and tips on how to select the BEST carrier or travel bag for your dog)
E.U. Pet Passport (optional) – $20 to $100 (depending on which E.U. country you get this done in AND whether or not they charge an office visit in addition to the passport).
Dog-Friendly Accommodations – $0 to ??? While some places will gladly accommodate your dog for free, others will charge a daily fee. Price varies.
Total Estimate Costs: $383 to $868 (NOT including extra hotel fees, additional transportation costs, other dog travel essentials, and gas to complete the paperwork)
**This range is so wide because veterinary costs differ from region to region, depending on reputation and quality of care. Having visited vets all over the world, I can bark with an upright tail that the vets in my U.S. home bases of NYC, Los Angeles, and San Francisco tend to charge an exorbitant amount of money. :/
Dog Travel Essentials: Part 2 – Make sure you grab everything you need for your travel dog!
Parisian Dog Culture: Where can you take your dog in Paris?
Restaurants/Bars/Cafes/Bakeries – WOOF, the rumors are true, dogs can wine and dine with humans in Paris! Cafes, brasseries, bistros, boulangeries, patisseries – YOU NAME IT! No matter how fancy or upscale, dogs are usually allowed inside. My furriness has never been denied entry inside any establishment that sells food!
Sniff out my favorite food in Paris & where to get them!
Watch me find the BEST food in Paris!
Markets & Grocery Stores – Generally NOT allowed, but most will surely look the other way if you're in and out really quick. Check for signs!
Accommodations – YES, often without extra charge! For the most part, dog-friendly accommodations are relatively easy to find. Some places may charge an extra 5 to 10 euros per day (or even more if it's a higher-end place) while others will welcome your dog traveler to stay for FREE.
Public Transportation – Public transportation in France is dog-friendly! In Paris, dogs can ride Metro/RER and buses! Small dogs can even ride FOR FREE or discounted rate on all types of public transportation – given that they're carried inside a travel bag. My humans paid 7€ for my train ticket from Paris to Lyon a few years ago. It's also common to see small dogs sitting on their human's lap or standing next to their human.
WOOF, dogs are allowed on SNCF's TGV, Intercités, and TER trains (France's National Railway). The limit is TWO dogs or animals per passenger, which is a refresher from the commonly found one pet per passenger policy throughout Europe. Dogs are allowed on all trains in France except Eurostar, which is notorious for prohibiting dogs onboard. Small domestic animals traveling in a closed bag or basket, muzzled dogs, and guide dogs for the blind are ALL welcome on board – well, provided that your fellow passengers do not object. The catch is that you do have to pay a ticket for your dog depending on the weight. If your dog weighs less than 6 kg and travels in a bag or basket no larger than 45X30X25 cm, then the fare is only €7. Your dog and carrier must also be placed on your knees or at your feet. However, tickets for small dogs inside a carrier are rarely checked. Regardless, I usually show my ticket to the train staff to be on the safe side. I'm not sure if there's more of an honor system for small dogs or if it's solely due to the fact that a carrier can pass as baggage.
For dogs larger than 6 kg, you must pay 50% of the original fare as calculated using the standard rate per kilometer. Per their policy, you must also muzzle them throughout the entire ride and keep them by your feet (although rarely enforced). Guide dogs are always exempt from the muzzle and fare. You should also travel with your dog's paperwork and health documents and ensure good behavior.
Uber/Rideshare – YES and NO. It ultimately depends on the driver. I've had some VERY bad experiences with Uber drivers here, notably the ones of a certain religion who may have beliefs about dogs being unclean. 🙁 On more than several different occasions, they've refused to let me and my humans get on! GRR. Hence, it's always best to contact the driver ahead of time OR simply put your dog inside a carrier (if small enough like me) to avoid potential issues.
Parks – As of January 2019, dogs are finally allowed in many of Paris' public parks! Dogs must be leashed, kept on paths, and stay away from children's playgrounds. ARF, I don't like kids anyway so I'll happily stay away from them. 🙂  
Churches – No, dogs are not allowed in places of worship. 
Museums/Indoor Tourist Attractions – Generally NO, but I've heard of Parisians sneaking their dogs into some museums with a dog carrier. However, I do NOT recommend this. Aside from breaking the rules, it's just not a good experience for your dog to be hauled around (unless you have absolutely no choice).
Is The Louvre dog-friendly? Find out HERE!
Shops & Boutiques – Mostly YES, but check for signs that indicate otherwise!
Au revoir! Hope you enjoy my guide on Traveling with a Dog to Paris. Hope your dog enjoys the Parisian life as much as I do! 
Subscribe to my YouTube Channel: Wet Nose Escapades by Roger Wellington for more fun dog travel videos!
Markin' it up,
Roger Wellington a.k.a. The Doob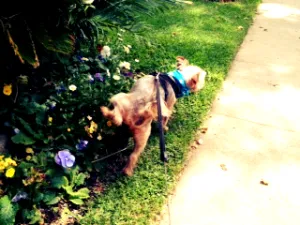 Like my post on "Traveling with a Dog to Paris, France: Step-by-Step Guide + Costs Breakdown"? CLICK TO PIN!