WOOF, thinking of traveling with your dog on trains in Europe? Keep the tail upright and sniff on!
Posted 8/5/22
In many European countries, you can wine and dine with your dog inside restaurants, hang out with your dog at pubs, and even shop for groceries with your dog. It's no surprise that Europe has a much dog-friendlier culture than America. Taking your dog to the Colosseum in Rome or the Louvre in Paris often sounds like a far-fetched dream to many dog pawrents, but it doesn't have to be complicated. Once you're IN the E.U. (sniff out my step-by-step guide HERE), traveling throughout Europe with your dog is easier than you think.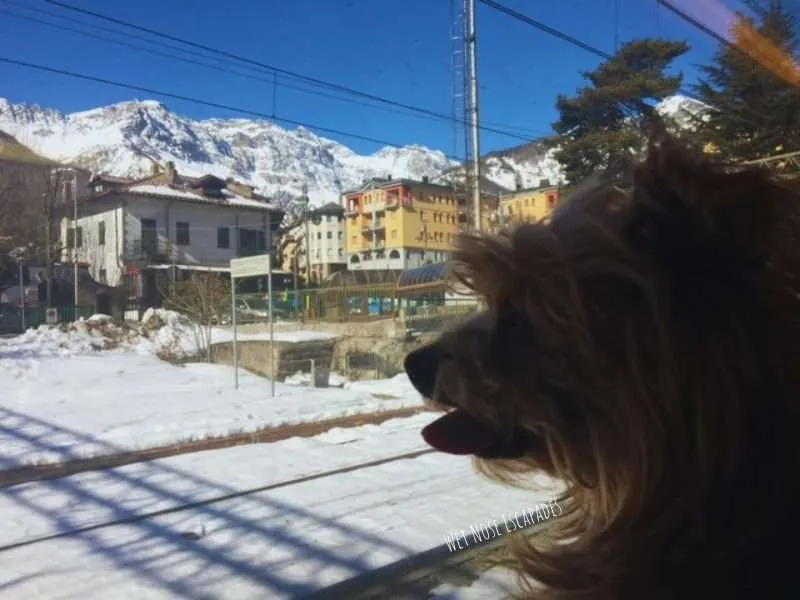 The good news is that it's SUPAW convenient to take your dog on most trains all over Europe. While not all trains in Europe are dog-friendly, most are. And, since most trains in Europe tend to accommodate furry passengers, traveling by train can be a fun, wanderlust experience for you and your dog. Not to bark, trains are much safer for larger dogs who must travel via cargo on planes. Plus, taking your dog on the train is not only less stressful, but also generally cheaper than air travel. Sniff out everything you MUST know before you go!
10 Tips on Traveling with Dogs on Trains in Europe
#1 Always bring your dog's paperwork onboard, including the Vet Health Certificate or Pet Passport and any vaccination records. My humans like to keep both electronic and hard copies on them. I've always been surprised by how infrequently the train staff checks my paperwork, but having it handy is never a question, especially if you're crossing borders.
#2 Do a short "test" train ride with your dog before committing to a longer journey. Just like flying, your dog's first train ride should NOT be a 10-hour overnight train from Barcelona to Paris. Start slow with a quick 30-minute train ride to see how your dog fares with the motion before working up to a 2-hour train ride.
Like humans, dogs can experience motion sickness. This is especially the case for puppies who may not have their inner ears fully developed and experience imbalance. Symptoms include lip licking (when no food is in sight), whining, drooling, and vomiting. If this is a concern, be sure to discuss with your vet about remedies or prescribed medications like Cerenia for motion sickness.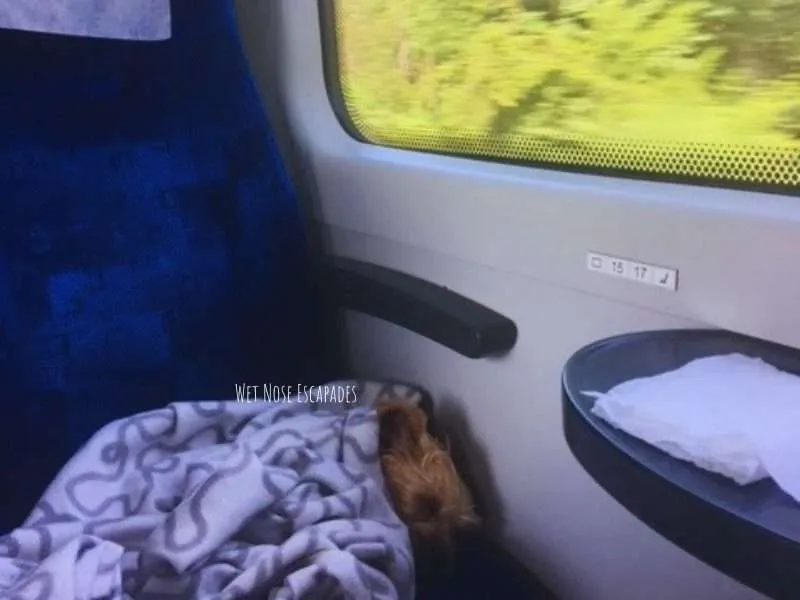 #3 Break up a long journey so your dog can take breaks. For instance, if the trip is 6+ hours one-way, try making a quick stop after 3 hours. That way, your dog gets a breather and potty break. A few minutes of fresh air can work miracles!
#4 Get to the train station AT LEAST 30 minutes before departure, in case any issue arises with your dog's admission. Be sure to purchase tickets online whenever possible to save time. A A BARK OF CAUTION: At the kiosks, you may often find suspicious people lurking around who will offer to "help" you in attempts to pickpocket or steal your change. GRRR. Ignore them or kindly decline their offer – BEWARE!
#5 Carry your dog on the escalators to avoid potential injury. Unless your dog is an expert escalator rider, it's best to carry your dog up and down the escalators at the station.
#6 Find a quiet spot away from passengers and other dogs on the train, if pawssible. ARF, dogs are social creatures! Even though I would love to sniff out another furry passenger on the train, it's pawbably best for the sake of other passengers to keep those barks low. While riding through the Alps, I sniffed out a Jack Russell fella sitting across from me and barked HELLO from inside my carrier.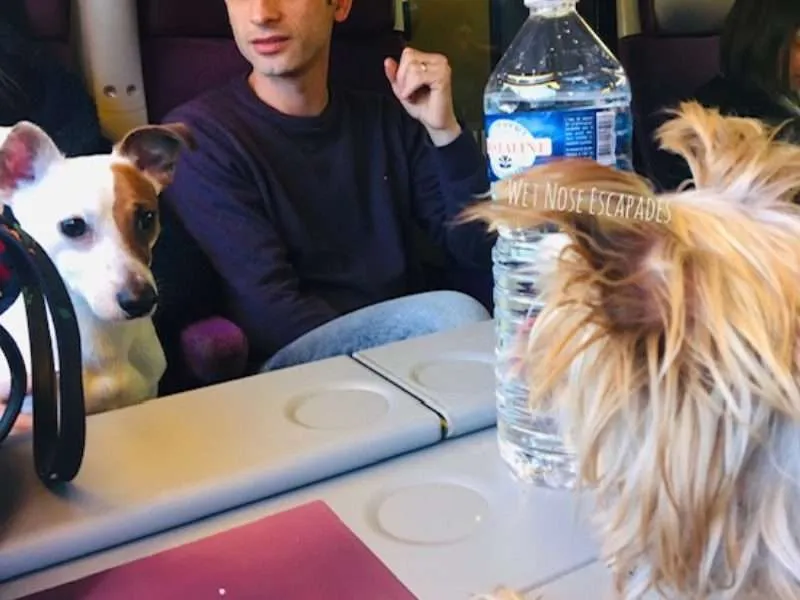 And, he immediately barked back! We got out of our carriers to meet – WOOF, dog travel talk! Although our barks were minimal, nondisruptive, and did not generate any complaints, you should try to avoid sitting near another dog. In this situation, we had assigned seats so there wasn't much we could do about it. However, if you're on a train with unassigned seats, you should certainly try your best to find a more isolated spot.
#7 Don't allow your dog to block the aisle on the train. ARF course, this applies to larger dogs who do not fit in a carrier. Keep the aisle clear by having your dog stay right next to you, as close as possible.
#8 Pack water, to-go bowls, food, and treats – keep them easily accessible inside your carry-on. Like in air travel, be strategic with food and water intake to balance feeding your dog and preventing accidents on the train. I usually recommend feeding a light meal at least 3 hours before heading to the train station to allow time for digestion and relief.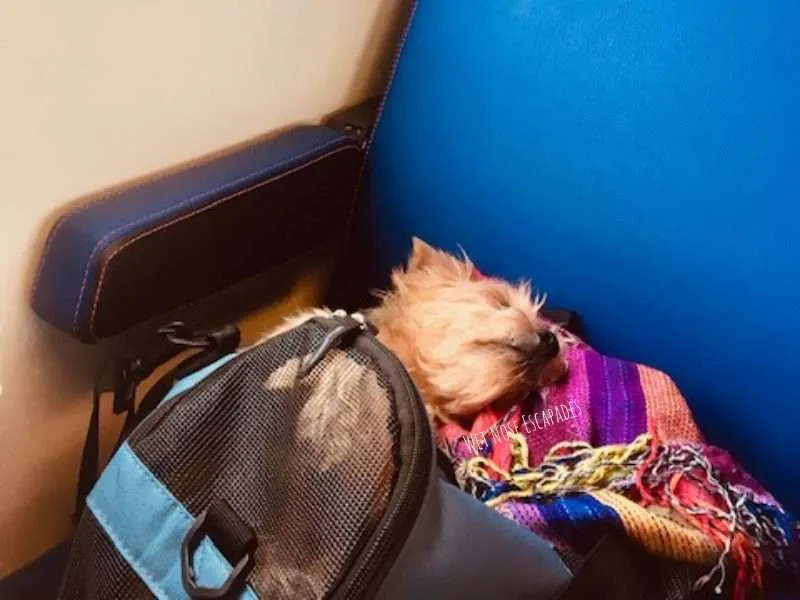 #9 Exhaust your dog's energy before a train ride. Whether the train ride is 1 hour or 6 hours long, make sure your dog has peed, pooped, and exercised for a more comfortable journey. The more your dog can sleep throughout the train ride, the smoother the journey.
#10 Pack cleaning supplies for easy and quick clean-up, in case of accidents. ARF, ARF! My honest barks – I've never had an accident on any of the countless train rides I've set my furry paws on! BUT my human is always equipped with poop bags, paper towels, pee pads, dog wipes, and sanitizing wipes (for humans) – staying ready to clean up my mess without commotion.
#11 Bring a muzzle – most likely, you won't need it if you're traveling with a small dog, but it's smart to have it handy if you have a large dog.
What to know BEFORE traveling with dogs on trains in Europe
#1 Dogs may not be allowed in certain carriages like first-class cars, dining cars, and sleeper cars, even if you have reserved a ticket for yourself.
#2 Eurostar, the main train that connects England and France, does NOT allow dogs unless they're assistance or guide dogs. It often comes as a major shock and inconvenience to people trying to get their dogs into London from Paris or vice versa. The easiest way to get your dog into France or England is through the Eurotunnel, which starts at £22 per dog, each way.
#3 E.U. and U.K-recognized service dogs are always allowed to ride for FREE regardless of the size and do not need to follow carrier or muzzle rules. Keep in mind that U.S.A-defined service dogs are not recognized UNLESS they've been trained by an accredited organization.
#4 Dogs are not supposed to occupy a seat, no matter how small in size. However, in some countries like Italy and Spain, the enforcement seems more laxed. In the Netherlands, Austria, and Croatia, small dogs can sit on their human's lap and don't necessarily need to be inside a carrier.
#5 Small dogs can usually travel for free or a small fee like 7€, as long as they remain inside a carrier. Larger dogs must be muzzled and/or kept on a leash can travel for a reduced rate (e.g. 50% of the original fare).
A quick "BARK DOWN" of 8 Dog-Friendly Trains in Europe: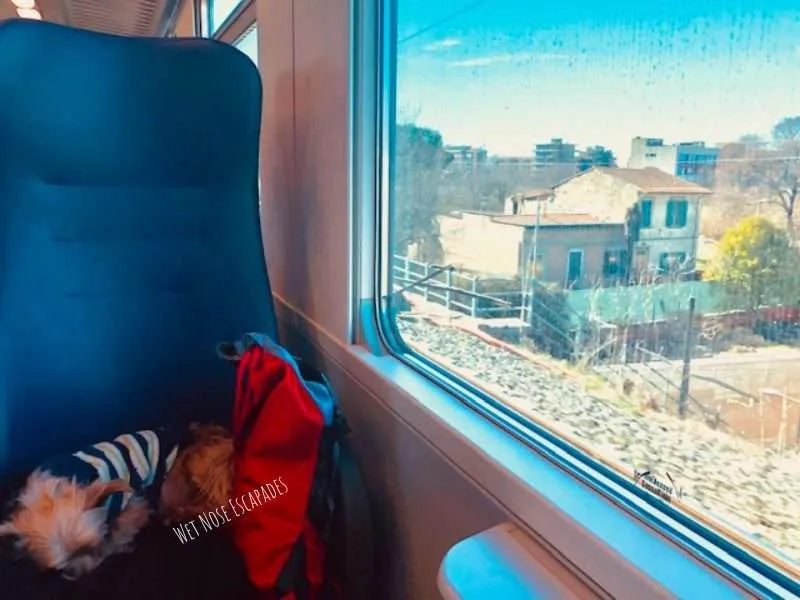 #1 CERCANíAS (Spain)
On RENFE (Spain's national railway), dogs travel for FREE on all Cercanías trains. WOOF-HOO! There are currently no limitations on weight, and dogs do NOT need to travel in a crate or carrier as long as they're on a lead. No tickets are needed for your furry traveler. ARF-mazing!
Now, barking about international routes, dogs can travel with their humans for only €15​. However, dogs weighing more than 10 kg are NOT allowed on board. All dogs weighing 10 kg and under should be transported inside a crate or carrier (max dimensions: 60x35x35 cm). One dog per passenger.
#2 TRENITALIA (Italy)
Ciao! Small dogs like me can travel for FREE in both first and second class on all trains and in Executive, Business, Premium, and Standard service levels. AWOOO, the only catch is that they must remain inside a carrier with max dimensions 70x30x50 cm. Large dogs (of any size) are also allowed onboard – as long as they are muzzled and leashed. They are, however, prohibited during rush hour time of 7-9 am Mondays thru Fridays. Large dogs are also welcome on Espressi (Express), IC, ICN, Frecciabianca, Frecciarossa, and Frecciargento trains in both first and second class for a reduced ticket price of 50% of the original fare. One dog per passenger.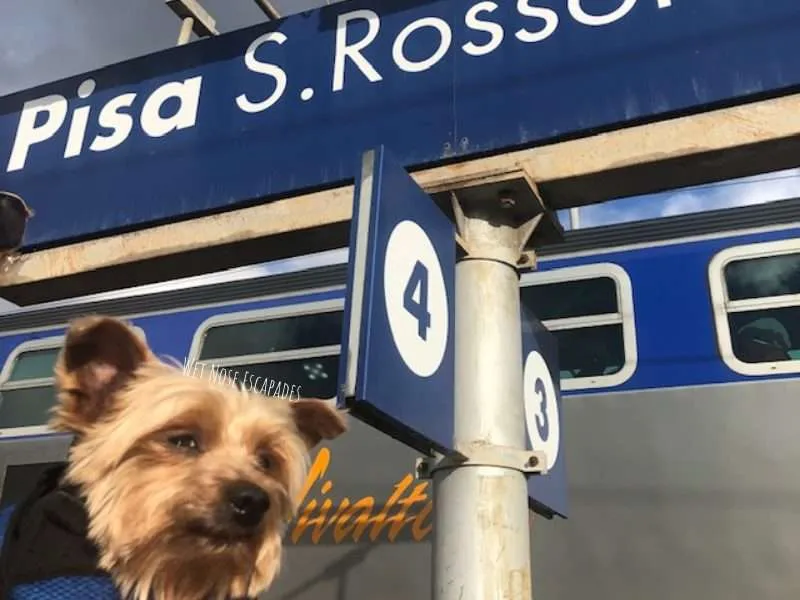 #3 SNCB (Belgium)
Dogs of all sizes are welcome on board via Pet Supplement ticket for only €3 one-way, which can be purchased online. Once again, it's a small dog's game here – small dogs like me can travel for FREE as long as we can fit in a basket, cage, or travel box no larger than 30x55x30 cm. Muzzling your dog is only "recommended," but not required. 🙂
#4 Nederlandse Spoorwegen (Netherlands)
WOOF, small dogs can travel for FREE as long as they're in a bag, basket, or able to sit on your lap. If you are traveling with a larger dog, you can purchase a "dog ticket" for €3.30 online. This "dog ticket" is mandatory for larger dogs and is only valid in domestic NS and Arriva trains. Large dogs must also be leashed.
#5 ÖBB (Austria)
As long as your dog is deemed "small and harmless" and can travel in carriers, he can travel for FREE on most lines. If your dog is larger in size and cannot be transported as hand luggage, then you must pay a fare, which varies based on the journey. You can get an estimate of your dog's ticket online before booking. Your larger dog must also be muzzled and on a leash. Please confirm your travel plans before booking since their tickets are non-exchangeable and non-refundable.
#6 SNCF (France)
With a PAWSOME limit of TWO dogs per passenger, this French train is a blessing in the dog travel world. Again, dogs are allowed on all trains in France (including SNCF's TGV, Intercités, and TER) except Eurostar. Both small dogs in a closed bag or basket and larger muzzled dogs are welcome on board. You must pay €7 for dogs weighing less than 6 kg and traveling in a bag or basket no larger than 45X30X25 cm. For dogs weighing more than 6 kg, you must pay 50% of the original fare as calculated using the standard rate per kilometer. Be sure to muzzle your larger dog and keep him by your feet (though not always enforced).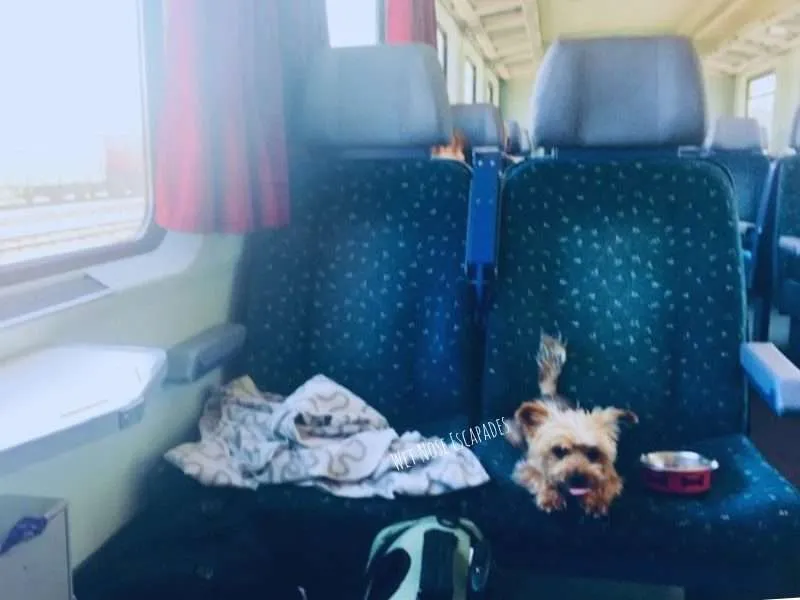 #7 National Rail (Great Britain)
Since you can take up to three items of personal luggage for FREE, you can take your dog on board for FREE if you don't exceed the luggage allowance. If you've exceeded the luggage allowance, you must pay 50% of the adult fare of the journey. Dogs must either be kept inside a carrier OR on a leash and harness. On sleeper trains (Caledonian Sleeper), dogs can go onboard if you pay the heavy-duty cleaning charge. Like in France, two dogs per passenger are allowed.
#8 Hrvatske željeznice (Croatia)
Like on other trains in Europe, small dogs like me can travel on trains for FREE as long as they remain inside a carrier or transport box. Although there is no weight limit, they have a height limit of 30 cm (or 11.81 in). The good news is that a carrier or transport box is not needed if your dog is able to sit on their human's lap (like in my case). As for dogs taller than 30 cm in height, they must be microchipped, leashed, muzzled, and travel with vaccination records/veterinary booklets. You must also purchase a discounted ticket at 50% at the cash register. On a sleeper coach, you must reserve and purchase a bed in the section for your dog (but your dog technically cannot touch the actual bed purchased. GRR). One dog per passenger.
WOOF, hope you enjoy sniffing out everything you need to know about traveling with dogs on trains in Europe! Be sure to share your dog traveling experience with me. BARK AT ME!
Markin' it up,
Roger Wellington a.k.a. The Doob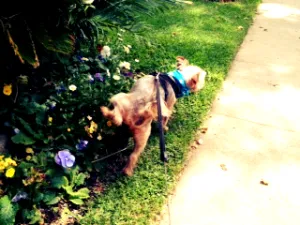 –
Like my post on "Traveling with Dogs on Trains in Europe: What to Know Before You Go"? CLICK TO PIN!