ARF, thinking of traveling with your dog to the Greek Islands by ferry? Should you take your dog island-hopping in Greece? Sniff out the buttocks of Roger W., the world traveling Yorkie who was a former furry Greek Island beach bum!
First Posted 8/18/20, Last Updated 7/12/23
*Please note that this post contains affiliate links, and at no obligation or additional cost to you, my humans and I earn a small commission if you make a purchase. If you love the work that we do, you can show your support by making a purchase through an affiliate link. Proceeds will go towards feeding homeless dogs (and cats) along with improving the lives of the neglected and abused.
WOOF, let me first bark that traveling with your dog to the Greek Islands is not only easy peasy but also worthwhile! Just think about the exquisite beaches, dashing coastlines, blue and white villages, historic windmills, and paw-lickin' Mediterranean food – all of which can be enjoyed with your dog! ARF, that is more than enough to get my tail wagging and drop my tiny jaws open to a smiley face! From Santorini to Mykonos to Crete, the iconic Greek Islands are world-famous and attract visitors from all over.
If you've already sniffed out my post on dog travel in the capital city Athens, you know that Athens can be quite dog-friendly despite its noticeable stray dog population (I mean, PAWpulation), which is, unfortunately, prevalent throughout Greece. As the birthplace of Western Civilization, the capital city Athens was once a major powerhouse, making it one intriguing place to visit. ARF-ter all, you gotta sniff out some ruins. Yet, it's still bustling today as Greece's largest city.
BUT when it comes to dog-friendly travel, the Greek Islands WIN over my little BIG Yorkie heart on many grounds. The Greek Islands are cleaner, more chill, and less densely populated than Athens, which makes for a more relaxing visit (especially for a senior dog like me). ARF, did I bark about those breezy beaches with crystal clear waters and suPAW fine sand? I mean, who doesn't want to bum it up while gazing at the serene sunset over the Aegean Sea? ARF, ARF! *Bark Translation = ME, ME! The best part about visiting the Greek Islands is that you can take your dog along.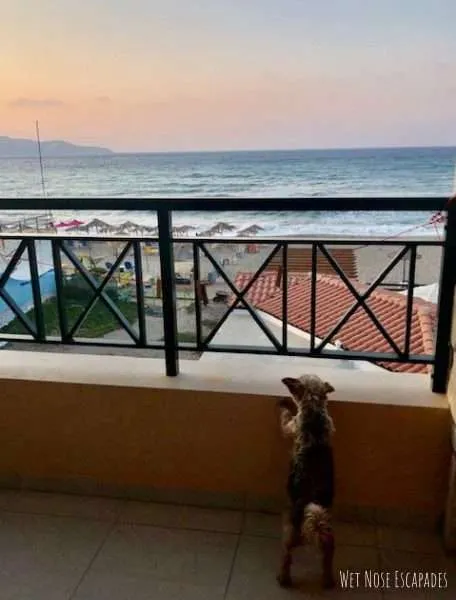 First bark first, there are MANY islands in Greece. And, when I bark many, I don't mean like 10 or even more than I can count with all my claws. I mean THOUSANDS! ARF-my-DOG! But here's the real bark – only 220 islands are inhabited, and some are certainly more developed and PAWpular with tourists than others. If this is your first time in Greece, don't spread yourself too thin by attempting to visit as many islands as PAWsible and resorting to day trips or one-night visits to each one. Take it slow and enjoy the breeze by spending 3-4 nights minimum on each island. 
Keep on sniffing if you need help deciding on one to visit with your dog, but first, let's bark HOW to get your dog to a Greek Island. 
PAWS DOWN, the best way to get to any Greek Island is to take a FERRY (hence the name of the post). Like most travelers, I started in Athens before hopping onto a ferry to my very first Greek Island. This means you and your dog should already be in the ancient city before hopping on a ferry. However, if you want to skip the grunginess of Athens OR if your dog is prone to motion sickness, you can try flying with your dog.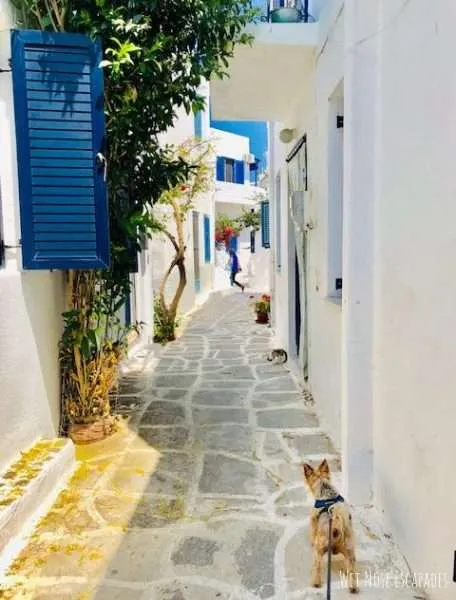 Besides missing out on a scenic ride on the Aegean Sea, the catch is that not every Greek island has an operating airport. And, even if it does, it may not be international, meaning you must already be in Greece to fly to and from. If you are looking to island-hop on Greece's most popular islands like Santorini, Mykonos, and Crete, then yes – air travel is certainly a viable, faster option as most airlines accept small dogs in the cabin for a fee. 
But a bark of caution that even with an international airport, the island will likely only offer direct flights within Europe, which means this is not a plausible option if you're coming from the U.S. or Canada. If you're traveling directly from the U.S. or Canada, there is no way to avoid Athens before getting those paws over to a dreamy Greek Island.
However, once you do get to Athens, there are many flight options to get to the islands (both international and domestic), including the busy airports of Santorini, Heraklion (Crete), Mykonos, and Paros. The largest Greek Island even has two main airports, Chania (CHQ) and Heraklion (HER) plus a smaller airport Sitia Vitsentzos Kornaros (JSH). 
Nonetheless, unless your dog is prone to motion sickness (thankfully, I am not), there's no better way to experience Greece than to hop on a ferry or two and cruise around the neverending bluish Aegean Sea, in which its geographical significance played an undeniable role in ancient Greek history. Over the last few years, I've set my alpha paws on many islands by ferry and become quite the expert Greek ferry dog traveler.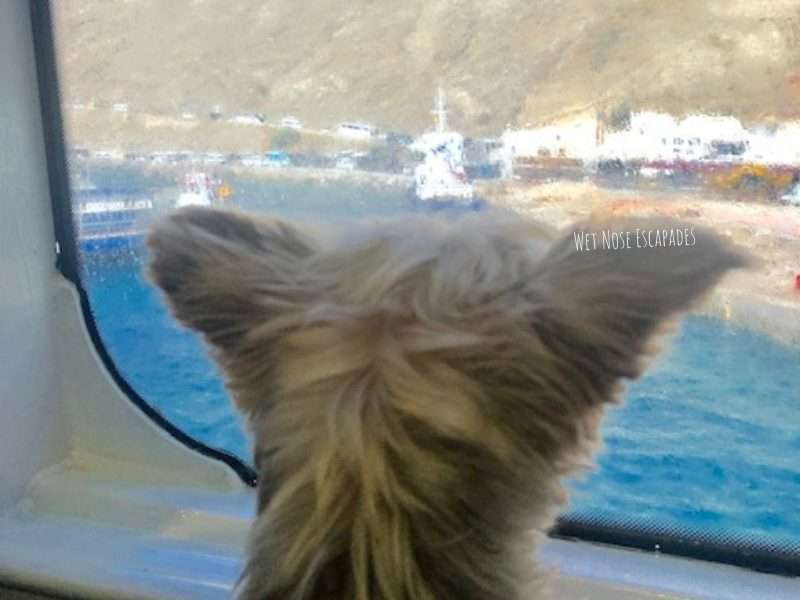 If you would like to travel with your motion sickness-prone dog to the Greek Islands by ferry, talk to a veterinarian before making plans (instead of knowingly bringing your dog onboard to suffer). Cerenia, the medicine that I was prescribed (for off-label use) to control my cough from the collapsed trachea, is actually a motion sickness medicine (which may or may not be suitable for your dog). Ask your veterinarian about treatment options to prevent motion sickness on your dog's ferry ride.
Which Greek Island is the most dog-friendly? Honest barks – they're ALL dog-friendly, meaning dogs can usually dine at restaurants (even indoors at many restaurants), prance around on the beaches, and shop alongside their humans at souvenir and boutique shops. Finding dog-friendly accommodations is also not difficult, and I've never had to pay any extra dog fee (if you look in the right places).
However, with that barked, the less frequented Greek Islands will make a more relaxing and less stressful visit for your dog. Due to their PAWpularity, Santorini and Mykonos are flooded with tourists, which means it's hard to find areas to walk your dog without picking him up every 5 minutes to avoid getting stepped on. Now, I know it's hard to skip the tourist-congested Santorini or Mykonos (and PAWbably not realistic if this is your once-in-a-lifetime trip to Greece).
Hence, if you choose to go to a PAWpular Greek Island, opt to go during the off-season when there are fewer visitors. Plus, the weather will be more tolerable in the Spring or Fall, and you'll find some sweet hotel deals, which is a game changer, especially in Santorini where prices can be astronomical due to the demand.
So far, my human pack and I have marked up Santorini, Naxos, Paros, Mykonos, Crete, and Ios (and we've either returned or had extended stays on several islands). Let me bark about each one:
Santorini – Thanks to its stunning rugged landscape from a 16th century volcanic eruption, Santorini is most PAWpular Greek Island. If this is your first visit to the Greek Islands, chances are you PAWbably can't pass up Santorini. Their two towns Fira and Oia boast ARF-mazing views that overlook the Aegean sea and tiny nearby islands, making them ideal destinations for honeymooners.
The sunset at Oia is arguably one of the TOP DOG things to do in Santorini (or on the Greek Islands in general) due to its lush cascade of white buildings, blue-domed churches, and windmills. ARF-ter sunset, the buildings set off warm tones in pink, orange, and yellow. My honest barks: Sunset in Oia is, PAWS DOWN, beautiful, but I've had more enjoyable sunsets elsewhere. Why? Because I'm not surrounded by throngs of unruly tourists with their annoying selfie sticks and iPhones.
If you're taking your dog, be sure to go during the off-season without the crowd (chances are there will still be one, but smaller), which can be overwhelming for your dog traveler. Another downside of Santorini is that other islands offer much better beaches. 
Crete – WOOF, I'll admit that I'm a bit biased when it comes to Crete. ARF-ter all, I only spent over a month here, making myself a recognizable furry beach bum in Heraklion. From pink sand beaches to the alleys of Chania's Old Town to eclectic nightlife in Malia, Crete is the largest Greek Island (by land and inhabitant) with lots to explore. Hence, it's no surprise that Crete is also one of the most frequented Greek Islands.
It's imPAWtant to bark that Crete is not just a dreamy island destination – Ancient Crete is credited as the birthplace of the Minoan civilization, one of the most flourished civilizations known for its Bronze Age cities, magnificent palaces, and trade. This means Crete surely doesn't fall short of ancient ruins – as a matter of bark, it has the most out of all the Greek Islands, including the Minoan Palace of Knossos.
Mykonos – ARF, Mykonos is PAWTY island! With its beach clubs with spinning DJs, vibrant LGBT community, and happening nightlife in Chroa, Mykonos is pawbably the most visited Greek Island. But Mykonos isn't all about PAWtying – they have famous sandy beaches like Elia and Psarou that are PAWfect for sunbathing. Not to bark, there are numerous 4 and 5-star properties to get a taste of luxury at night. But if you plan on hitting the dance floor or getting wasted, leave your dog back at the hotel for safety reasons.
Naxos – If you want to chill and relax with your dog on the Greek Islands, Naxos is a great option as it's not nearly as touristy as its neighbors Santorini and Mykonos. Known for long sandy beaches like Plaka and Agios and gorgeous scenery, Naxos is just as PAWbulous as other Greek Islands although less frequented. What my humans love about this island is its plethora of ancient sites and ruins like the Temple of Apollo.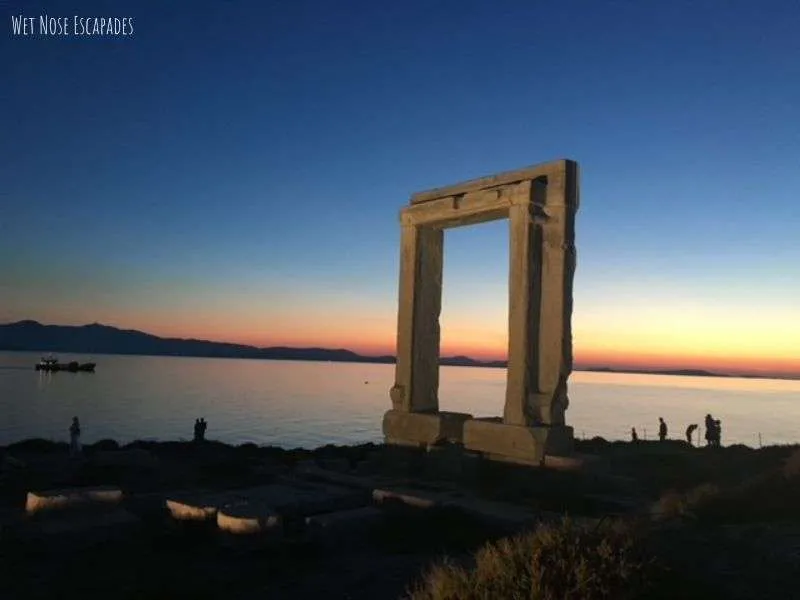 Just a bark that archaeological sites in Greece are generally NOT dog-friendly. As for me, I love to fill up my Yorkie belly with paw-lickin' gemistas, in which the ingredients are locally grown on the island – a major PLUS. Besides being able to walk your dog at ease, you can also make your dollar stretch more here.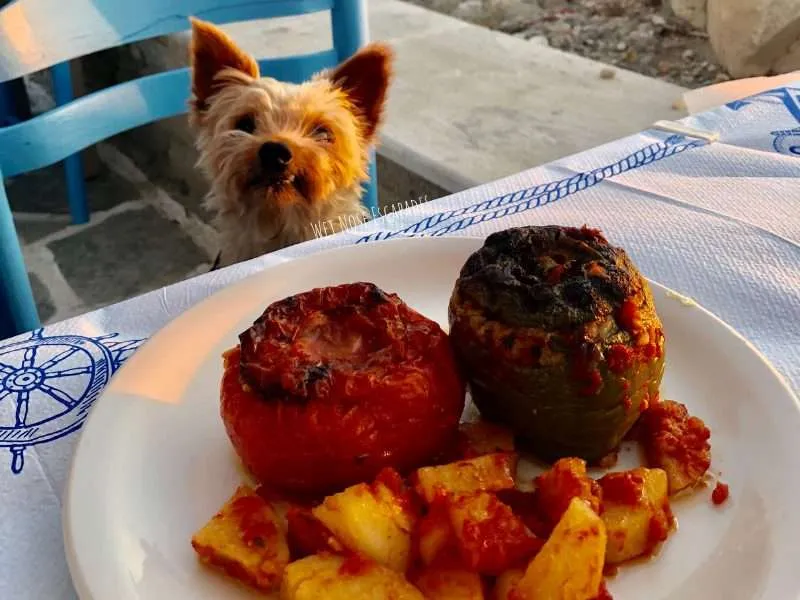 Paros – If I had to choose a favorite Greek Island, I would bark Paros! ARF, ARF! At Paros, you get a more traditional Greek Island atmosphere with traditional Cycladic cubic, whitewashed architecture, small historic villages, and rugged beaches. Like in Naxos, Paros has long sandy beaches with clear blue waters. While it's not nearly as crazy as Mykonos, this island still boasts an exuberant nightlife with its fair share of trendy bars and clubs at Naoussa and Parikia.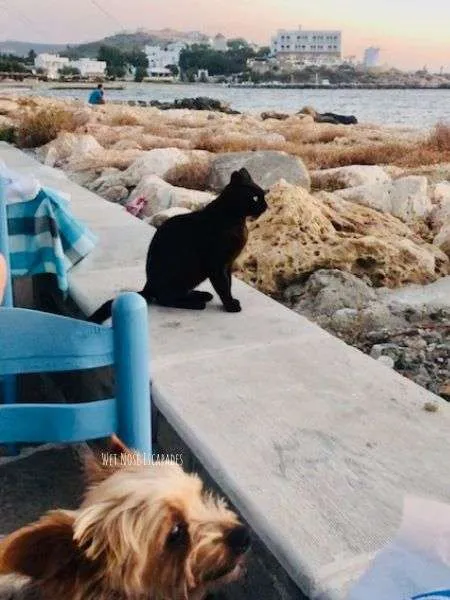 Hence, Paros is a Greek Island that seems to have it all through a rich blend of modern and traditional elements. It's the PAWfect Greek Island to visit with your dog – it's laid-back, but not boring. It's authentic and traditional, but comes with some modern charms. Most imPAWtantly, you won't find throngs of tourists here that may overwhelm your dog.
Ios – Despite its rising PAWpularity in recent years, Ios is still cheaper than Santorini and Mykonos since it primarily draws college students and backpackers. Thanks to the younger crowd, Ios is home to plenty of nightlife, but with a laid-back vibe (diverting from the Mykonos scene). During my short stay here, I quickly realized that Mylopotas Beach is the sPAWt to be with cabanas, beach chairs, umbrellas, and Greek eateries. Ios also has bragging rights to secluded coves and beaches, the winding streets of Chora, and most interestingly, the tomb of Homer (author of Odyssey abd Iliad). My real barks on Ios? It's nice to visit if you have time, but skip it if you don't.
Get my tips on how to find and save money at dog-friendly accommodations here. And, sniff out WHERE I find dog-friendly apartments and dog-friendly hotels on the Greek Islands.
If you're still having trouble deciding on which Greek Island to visit, put your furry paw here!
Sniff out my tips and info on traveling with your dog to the Greek Islands by ferry:
BOOK IN ADVANCE
Due to my small size, I've always been able to hop on the ferry for FREE. Some ferry lines may charge a small fee to transport dogs (regardless of their size), but it's usually NOT a problem (I mean PAWblem). If you want to be on the safe side, you can ask at the time of booking. OR you can do what my humans did, and wing it on travel day, and see what happens (which was ARF-solutely nothing as I hopped aboard numerous times without any issues. BUT that's risk you are willing to take).
Regardless of the size of your dog, remember to book your tickets in advance – at least a few days before departure. Since my humans and I had the luxury of time as nomads, we stayed in Athens for 3-4 weeks before finally making our way to the Greek Islands. Hence, we didn't secure our reservation with the booking agent at the Port of Piraeus in Athens until two days prior. If you are on a strict itinerary, you may want to look into online bookings ahead of time (although the seats rarely sell out, so there's no need to lower that tail of yours). We took the subway from our apartment in the city center to Piraeus, which took no more than 20-30 mins.
PREPARE
Arrive at the port at least 20-30 minutes before departure time! Although the ferry staff (pre-board or onboard) has never asked my humans for my paperwork (e.g. health certificate or E.U. Pet Passport), I suggest keeping it handy and easily accessible, just in case. Know exactly where you put it so you don't scramble when it's needed. Since you must leave heavier baggage at the luggage storage area as you enter the ferry (located downstairs/bottom level), you should pack all your dog's essentials inside a carry-on to bring onboard.

Remember to pack a water bottle, an adequate supply of food and treats for the ride (and the day in case something happens to your luggage), and to-go bowls. While you'll want to keep your dog inside the carrier as you get on and off board for safety reasons, you should have your dog harnessed at all times (and the leash should be easily accessible). Also, don't forget to pack a toy and his blanket – whatever he needs to feel comfortable on the journey. And yes, food and water ARE allowed onboard, whether for humans or dogs.
Get all my recommended travel essentials Part 1 and Part 2!
LARGER DOGS
If you travel with a large dog, you may need to muzzle him as indicated in most guidelines (always check your ferry line for the most up-to-date information). Although I haven't seen a single muzzled dog, I think it's best to play it safe by at least bringing along a muzzle – if you're traveling with a dog who doesn't fit comfortably inside an airline-compliant carrier.
Unfortunately, large dogs may also need to be kept in the outside kennel area where you should attend to their well-being and ensure they have enough food and water throughout the ferry ride. Due to the scorching hot summer heat that Greece is notoriously known for, I do NOT approve traveling with your large dog during peak season (summer months) if you must leave him outside locked in the kennel area.
INSIDE THE CABIN
Without any "special" status, I ride in-cabin using my usual airline-compliant carrier. I also got out of the carrier for frequent breathers and water or food breaks without condemnation or nasty stares. Generally barking, the ferry staff members do not seem bothered by dog travelers – and I've hopped on over ten ferries around the Greek Islands to date. Despite its laxed environment, I play it safe by not exploring too far away from our assigned seats. Nevertheless, I am allowed in most common areas, including the dining area. My human and I have also hung out quite close to the refreshment stands without any PAWblems. 
YOUR DOG'S WELL-BEING
Whether you keep your dog inside or outside a carrier, check on your dog at least twice every hour to ensure he's comfortable, cool, and hydrated. While strategic water intake is KEY to prevent accidents, dehydration can be extremely dangerous, especially over the summer when it heats up unbearably in Greece. It is imperative to balance keeping your dog hydrated and preventing accidents. Don't forget to feed your dog a light meal or a few treats on ferry rides longer than 3-4 hours.
My fabulous green carrier has been in more countries than the average human on Earth! Get yours HERE!
CARRIER TRAINING
Even though ferries aren't nearly as strict as planes, your small dog should still have some level of carrier training before traveling by ferry. Again, I've spent a lot of time on ferries outside the carrier without any issues, but the rules can change without notice (or you may get a power-trippin', dog-hating ferry attendant who wants to give you a hard time). Hence, it's best to have your dog somewhat carrier-trained.
Sniff out my carrier guides NOW:
How to Choose the BEST Small Dog Carrier
How to Make Your Dog Feel Comfortable inside a Carrier
OVERALL DOG-FRIENDLY EXPERIENCE
My stylish undocked tail is wagging as I bark that my experience on Greek ferries has always been dog-friendly and very PAWsitive! Since I ride inside the cabin, I feel comfortable and at ease being next to my humans the entire time. I also have access to clean water, delicious food, and yummy treats! Luckily, no motion sickness, strange looks, or rude remarks (from staff or other passengers). I'd snore my way through most of the trip. So ARF, traveling with your dog to the Greek Islands by ferry IS A GO!
On the Greek Islands:
BEACHES
AWOOO, Greek Island beaches ARE dog-friendly! From Santorini to Paros to Crete, it's FAIR GAME for furry beach bums. On every island I've set my furry paws on, I've seen many dogs frolicking on the sand, in the water, and at beachfront restaurants. Yet, these are NOT necessarily stray dogs (but I see them around town as well). Plus, I've never been asked to leave or given nasty looks. WOOF-HOO! Be a respectful visitor and resPAWsible dog pawrent by picking up after your dog's poop to keep the beach clean for everyone.
THE STRAY SITUATION
The sight of stray/feral dogs and cats is painfully inevitable no matter where you visit in Greece. Because the interaction between your dog and a stray or feral animal may be unpredictable, I recommend keeping your dog at a safe distance from strays. If you're like my human whose heart melts for animals in need, you may find yourself going around the island everyday to help these poor, neglected souls who were abandoned and abused by humans. If you choose to do so, please leave your dog at the hotel for safety reasons.
ONE LAST BARK: THE DONKEY SITUATION
Besides stray dogs and cats on the Greek Islands, you may also come across donkeys who are enslaved and consistently beaten to haul tourists and their heavy luggage, especially on the most famous Greek island of Santorini. I beg you to please do NOT support such animal abuse and cruelty. As long as the demand exists, donkeys will be abused and exploited for tourism. Sniff out other ways to help animals while traveling.
WOOF, I hope you enjoy all my tips and info on traveling with your dog to the Greek Islands by ferry! Regardless of which Greek Island you choose to visit, I bark with an upright tail that you and your precious dog traveler will have a PAWsome time!
Sniff out my other posts on Greece:
Taking a DOG to Greece from the U.S.A. & Canada: A Yorkie's Comprehensive Guide
Dog Travel in Athens, Greece: A Yorkie's Dog-Friendly Athens Guide
Want more of my wet nose escapade to the Greek Islands? Watch my video by pressing PLAY with your furry paws:
Markin' it up,
Roger Wellington a.k.a. The Doob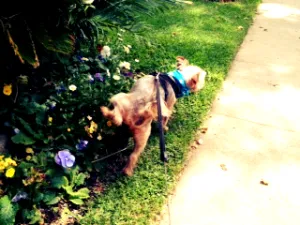 —
Like my post on "Traveling with Your Dog to the Greek Islands by Ferry"? CLICK TO PIN!