WOOOOF, escapaders! Are you traveling with your pooch? Whether you and your furry buddy are off on a weekend road trip or long-haul flight, remember to pack some of these delicious treats for him to enjoy on the road! It's easy (and cheap) to put together a PAWSOME treat bag for your dog to lick his chops as he tackles the travel day (or really, ANY DAY). Here are my 10 FAVORITES (most are also human-edible snacks!):
#1 Cucumbers
My favorite treat of ALL TIME. Cucumbers are fresh, crunchy, and refreshing. Grab an organic cucumber and slice it up into pieces for a healthy and hydrating anytime low-calorie snack. As cucumbers are dirt cheap to buy (even if you go for organic), they are affordable and accessible snacks that provide a variety of amazing benefits for dogs (antioxidants, anti-inflammatory benefits, vitamins B & C, potassium, and magnesium, fiber, and the list BARKS ON). Heck, they even freshen my breath, which means less teeth-brushing! WOOOF-Hooo!
#2 Sweet potatoes
My wet nose can detect the aromatic smell of cooked sweet potatoes from miles away. I will gladly devour them in all forms – baked, boiled, chopped, or mashed. Sweet potatoes are oh-so-flavorful and moist. They are high in fiber (hence, it aids with digestion so I won't get any tummy problems), vitamins B and C, and are low in fat. And, WOOOF, more bark-worthy findings: a couple chunks or slurps will quickly fill up my yorkie belly!
As an alpha dog, I walk around with an upright tail and get whatever I want, whenever I want. Whenever I sense the presence of these paw-lickin' chicken-tater fillets (even if they're buried deep somewhere inside my carry-on), I give my humans the guilty stare of the century until they give in (and yep, I KNOW they will). These tasty fillets are lasting chews that I happily tackle throughout any long flight or ride.
Get your pack HERE!
#4 Carrots
As a veggie lover, I sure have a thing for carrots. They give me a good crunch, improve my eyesight, and clean my little yorkie teeth! My vet tells me that eating carrots will also improve my coat color and skin so YIPPEE, a total PLUS. Grab a whole organic carrot and shred or slice it yourself OR get a pre-shredded bag – either way, carrots are inexpensive veggies with a long shelf life (well, when properly stored).
The sound of any crumbling bag makes me think of Merrick's beefy power bites! Within seconds, I'll magically appear by my humans' feet in hopes that they have that 6 oz. bag of heavenly goodness to feed their highness (a.k.a. ME). These star-shaped bites are simply yummy – succulent, chewy, AND grain-free! As they're especially soft and moist, these tasty treats are a pure indulgence for my tiny teeth.
Grab your bites HERE!
#6 Blueberries
Blueberries are not only considered SUPER FOOD for humans, but they also provide the same wondrous benefits to dogs! They boast antioxidants, fiber, vitamins, and minerals – hence, making them a delectable healthy snack (again, as long as a large quantity isn't consumed). As a "toy" dog, I appreciate their bite-size; no need to chop or slice – just rinse them a couple times and I'll start chomping away.
#7 Edamame
My tail always wags to to the sight or smell of steamed edamame! These Japanese green beans supply protein, fiber, manganese, calcium, and phosphorous along with omega 3, making them a very health-conscious snack that helps dogs (and humans) conquer weight-loss! Although they can be cooked in different ways, I love them steamed as the beans come out both juicy and crunchy. GRRRR, gimme my edamame NOW!
#8 Cheese
ARRRFF, I'm a sucker for all types of cheese! Will do ANYTHING for cheese. Sure, I'll roll over and shake that human hand of yours but you better hand over the cheese! And yes, I really do know the word "cheese" – it's a fact. As long as your dog isn't lactose intolerant, you can offer him cheese as an occasional treat. It's beyond paw-lickin', high in protein, and safe for dog consumption (as long as it's not excessive).
HAH, can't believe my humans somehow figured it out! Whenever I outsmart them and get away from brushing my teeth, I'll actually be rewarded with a Clean Me Dental Chew. Yep, perk your ears now – I'll get my tiny paws and mouth on these luscious yet lasting cheesy chews when I'm NOT forced to brush my teeth. Not only do they clean my teeth (and prevent tartar buildup), but they also freshen my breath for all the ladies! No brush, no problem!
Get your paws on some dental chews NOW!
#10 Zucchini
Although zucchini slices pack a refreshing crunch like cucumbers, they have a much softer and smoother interior that will melt in my mouth. A bite will give me a host of nutrients (ranging from potassium to Vitamin C), antioxidants, and anti-inflammatory benefits. Like carrots and cucumbers, they are cheap and accessible in most parts of the world. And yep, I munched on lots of zucchini slices as I set my paws all over Italy! YUM, YUM!

That's it, escapaders! Hope you make a mouthwatering treat bag for your furry traveler next time you guys hit the road. You may even get a bite or two if he's willing to share! 
FYI – I don't like to share. 🙂
Sniffing for more dog travel tips? Hear my barks NOW!
Markin' it up,
Roger Wellington a.k.a. The Doob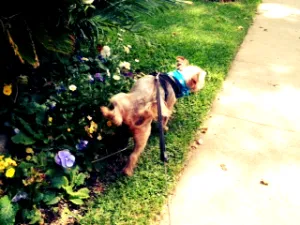 *Please note that this post contains affiliate links, and at no obligation or additional cost to you, we earn a small commission if you make a purchase. If you love the work that we do, you can show your support by making a purchase through an affiliate link. Proceeds will go towards feeding homeless dogs (and cats) along with improving the lives of the neglected and abused.
—
Like my post? PIN IT!