ARF, ready to teach your Yorkie some tricks? Keep on sniffing! 
First posted 5/31/20, Last Updated 7/16/23
First bark first, Yorkies are SMART. Like really smart. Did you know that a 4 lb. Yorkie girl named Smoky served in combat during World War II? AWOOO, it's true. Smoky even parachuted from 30 feet in the air, out of a freakin' tree!. ARF-my-DOG! What a sexy beast. 
While there is no need for any Yorkie to transform into war dogs or learn such outrageously dangerous tricks, teaching your Yorkie easy, safe tricks can be a fun and rewarding experience that deepens the bond between you and your furry best friend. As a senior Yorkie, I love being mentally stimulated by new tricks. During the pandemic when walkies were limited, daily trick training sessions were ARF-solutely crucial. Otherwise, I would have gone MAD. And yes, contrary to PAWpular belief, old dogs CAN learn new tricks – I'm still learning new ones as I BARK. I even learn just as fast (if not, even faster) as my younger sidekick Penny Gurl.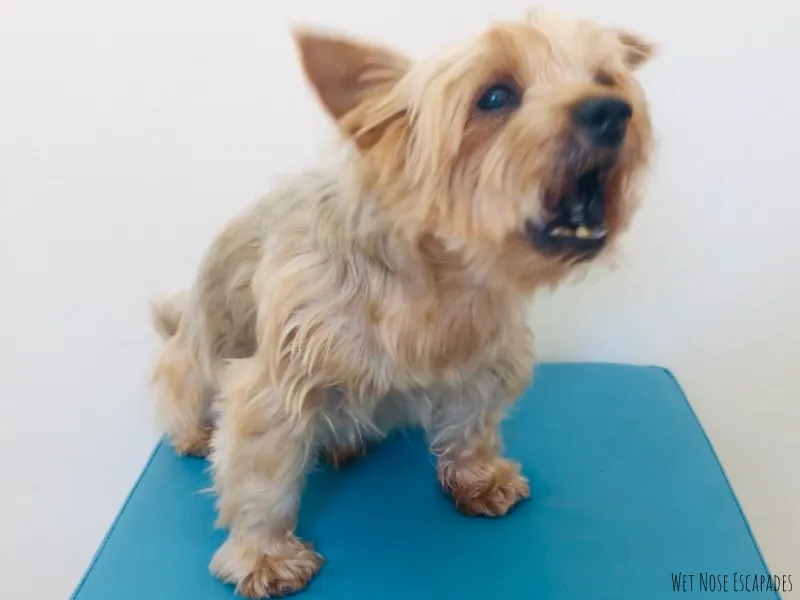 OK, that's enough barks. Wanna teach your Yorkie some tricks? ARF, let's get started!
EASE YOUR WAY IN: First, decide on the trick you want to teach your Yorkie. Start out with simple ones like Sit, Lay Down, and Shake before graduating your Yorkie to Sit Pretty, Stand, and Roll Over. 
A BARK OF CAUTION: Whatever trick you want to teach your Yorkie, be sure to leave any unrealistic or unreasonable expectations behind. Your Yorkie is an irreplaceable beloved family member, NOT (or should not be) an abused circus animal expected to perform outrageous tricks to "wow" the crowd. Remember the reason why you want to teach your Yorkie tricks, and that is to deepen the bond between the two of you and stimulate your Yorkie's mind. 
Teach your Yorkie tricks so he can have fun. Do NOT do it for money or an IG-following. Although teaching your Yorkie tricks should be lighthearted and harmless, ethics often become an issue when humans take it too far and use cruel, inhumane training techniques to coerce dogs into doing ridiculous acts. 
As long as you have your Yorkie's best interests in mind, it'll be a positive (I mean, PAWsitive) experience for you and your Yorkie. 
15 Tips on Training Your Yorkie to Do Tricks
#1 Make sure your Yorkie is in a safe, comfortable environment
Before your Yorkie starts any type of training, he must be in an environment conducive to learning and success. This means it's your responsibility (or shall I bark, resPAWsibility) to provide a place where he feels safe, comfortable, and at ease. The "training grounds" can be near where he sleeps at home or his stomping ground where he takes his daily walks, like the neighborhood park. It's best to train your Yorkie in multiple environments where he feels comfortable. If he's only trained to do tricks in a single environment, he may not do the same tricks elsewhere due to location association.
#2 Conduct training sessions in between meals, preferably after your Yorkie's nap
If you want a higher chance of success, choose a training time that works best for your Yorkie, not necessarily yourself. Training your Yorkie in between meals works best because you'll find that he's willing to work hard for those treats!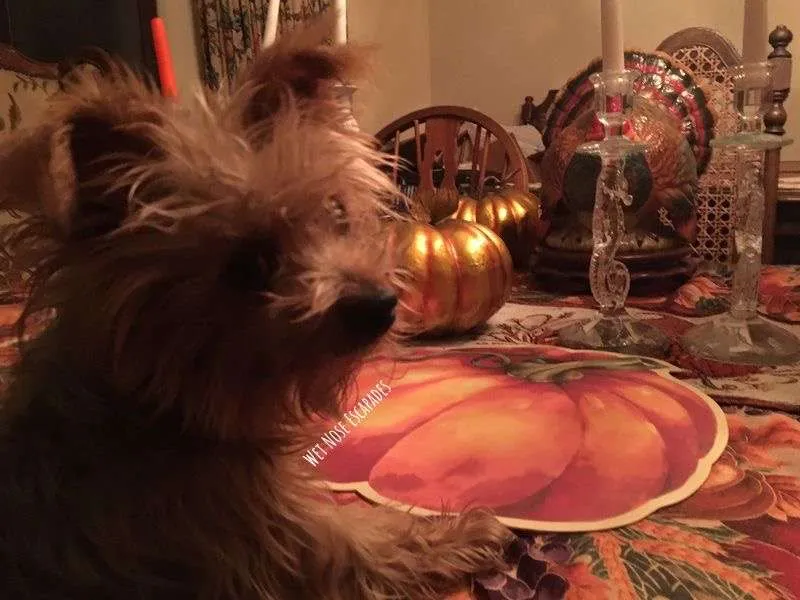 However, please NEVER ever starve your Yorkie for the sake of a trick, and that is why I don't suggest training in the morning before breakfast when he hasn't eaten for hours on end. On the other paw, don't train your Yorkie during his usual nap time or after a long walk because he might be too tired to entertain your human shenanigans. 
#3 Make sure the "trick" is a
natural
behavioral act of your Yorkie
Like all dogs (and humans), Yorkies don't like to do anything that's not in their nature. I mean, who does? An unnatural act can cause discomfort or even pain for your Yorkie, like doing a backflip, spinning around in circles (at high speed), or walking on hind legs. Therefore, I beg you NOT to force your Yorkie into awkward positions for a trick done purely for your enjoyment. To ensure safety and lightheartedness, make sure you've seen the specific action exhibited by your Yorkie at some point before training. 
For instance, please do NOT teach your Yorkie to walk on his hind legs! Despite the recent social media popularity (I mean, PAWpularity) of dogs walking on hind legs, dogs should NOT walk on two legs. Why not? Because it is simply unnatural for dogs to do so. Think about it – dogs are born to walk on four legs, just as humans are born to walk on two legs. Can you imagine walking on fours (like crawling) for longer than 10-15 minutes? Depending on your age and health condition, your knees will start aching sooner or later!
While having your Yorkie take a few steps on his hind legs may not cause any real harm, the effects on a dog's body can be detrimental when forced to do so long-term. Besides health risks, the big issue with such outrageous, unnatural tricks is that abusive and cruel training practices are typically used. Why? Because no four-legged dog would "naturally" do something like that (unless he were injured). 
Instead of training your Yorkie to do head-turning, abusive tricks, find humane alternatives! For instance, teaching "STAND" (as seen in my video at the end of the post) is a good alternative to having your Yorkie walk on his hind legs. Your Yorkie can stand up for a second, and get back down to all fours versus walking on two legs, which can cause pain. The key here is to never force them into awkward and unnatural positions for a long time because, again, it can harm their bodies. Allow them to go back to their normal position immediately.
Listen to me howl like a wolf!
#4 Let your Yorkie train YOU
WOOF, this may sound like a weird tip, but those who embrace it will be much more successful than those who don't. Listen to your Yorkie, humans! Dogs have their way of communicating what THEY want to humans. Whenever I want a treat from my human, I'd do random tricks to see what catches my human's attention. The moment my human sees what I'm doing (whether it's "KICK" or "STRETCH"), she immediately identifies the trick by saying it out loud several times. She then rewards me with verbal praise and a delicious treat. Her reaction to my specific action solidifies all the "training" efforts she had put in previously for the trick.
#5 Catch your Yorkie in ACTION 
In addition to setting aside the time and place for "training," try catching your Yorkie doing the act or the "trick" naturally and rewarding him with verbal praise and treats. During each time, repeat the command (e.g. Lay Down, Roll Over, Kiss, Shake, etc.) until your Yorkie finally learns to associate the specific action with the reward. 
So here's the deal: I've gotten a few comments from readers that this post doesn't teach you how to train your dog to do the actual trick. NEWS FLASH: This is because I'm suggesting to catch your dog in the specific action that you want a.k.a. the trick, and start praising and rewarding him for his natural act. Once you've seen him do it once, you must recreate similar situations that will lead him to repeat the same action. 
For example, training a Yorkie to KICK is easier than you think, especially for Yorkie boys like me! Whenever I see carpet on an entryway (say during a walk in a mixed residential-commercial neighborhood), I'll kick my legs and rake my furry paws on the carpet. My human then starts praising me verbally (e.g. "KICK, KICK – GOOD!), followed by a few treats. She'll then take two actions: 1) Take me back on the same route the next few days so I do the same thing to the carpet, and 2) Bring home a new carpeted floor mat to encourage me to start kicking. 
The same goes for barking on command. Find out what makes your Yorkie barks, and start praising him verbally every time he barks, e.g. "SPEAK – GOOD!" He will soon associate the verbal command of (speak) with the action (bark).
#6 REPEAT by using positive reinforcement and positive reinforcement ONLY
Without a doubt, Yorkies (and all dogs) learn best through positive (oops, PAWsitive) reinforcement. PAWsitive reinforcement is unquestionably the most humane AND effective way for any dog training. Offer rewards through verbal praise, mouthwatering treats, and gentle strokes to demonstrate that you applaud their behavior or action. While Yorkies are obsessed with treats, many will wag their tails to verbal praise. Therefore, remember to diversify the rewards during training sessions. 
#7 Train one new trick at a time
Don't overwhelm your Yorkie by throwing a bunch of tricks at him and expect him to "get it." Work with him on one new trick at a time, and only move on when he has graduated from that particular trick. ARF course, you also don't want him to lose his bag of "old tricks." Hence, it's a good idea to do a trick review at the beginning of every training session to set the tone for him to learn a new trick. Once he has successfully learned three tricks, he'll get used to the groove of things. 
#8 Take BREAKS
Resetting works MIRACLES. If you feel your Yorkie is "not getting it," please stop and take a break. Please don't overwork your Yorkie by making the training session too long – find a balance just right for your Yorkie. On the other paw, don't make the session too short either – commit yourself to at least 15 minutes a day!
Don't forget, tricks should be FUN and stimulating for your Yorkie! As a Yorkie who gets goodies for simply showing up and pawing at my human, I can bark with an upright tail that dogs would much rather NOT do anything to get treats. So relax, take your time, and don't overdo it.
 Find out how to potty train your dog without a crate!
Watch how dogs can train humans!
#9 REPEAT, REPEAT, REPEAT (in different environments)
Repetition is KEY to success! However, don't make the mistake of training your Yorkie at the same place over and over. Again, he may start associating the "trick" with that specific place and may not do it anywhere else. 
For example, if you're trying to teach your dog to "Sit," take him to a dog-friendly restaurant. As you look at the menu and order your food, chances are he will sit naturally. When he does, immediately give him verbal praise followed by treats!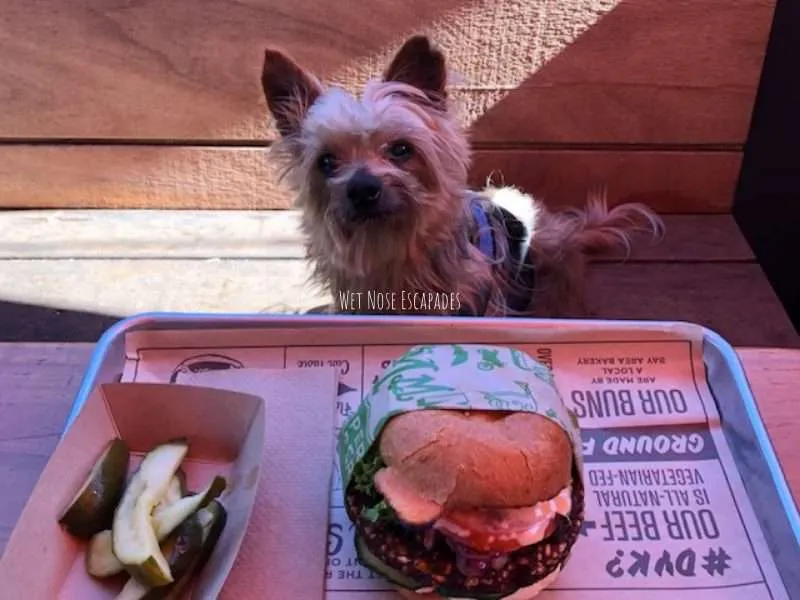 #10 Be Patient & Hold YOURSELF Accountable
Humans, PLEASE understand that it takes time to train your Yorkie, from a brand new trick or potty training. It's all about repetition and rewards to solidify any trick or "desired" behavior. No one is PAWfect, including yourself. It takes time for Yorkies to understand what YOU want or what YOU deem as desirable. Don't give up on your Yorkie even if success seems impossible. As long as the trick is a "natural act" of your Yorkie, you should be able to train him to do so on command. 
Remember to take accountability for your actions and results – is there something YOU are not doing right to train your Yorkie? Are you spending enough time with your Yorkie? Grr, don't be one-sided! Is the "trick" a natural behavior for your Yorkie? Unfortunately, most unnatural tricks often cross the line into animal abuse.
#11 Be Confident & Consistent
Yorkies will not listen to a human who lacks self-confidence. If you're being wishy-washy about your command, you will fail miserably as a dog trainer! However, the flip side is that you should never yell or scream at your Yorkie. Be confident and firm, but not feared. Be heard, but there's no need to scream. 
Don't ever cross the line into animal abuse, either emotionally or physically. Animal abuse is morally wrong and cruel. Not to bark, it's illegal in many parts of the world. As barked earlier, only a coward would abuse an animal PERIOD. Please understand that there's no "right" or "wrong" in a Yorkie's world. When you praise and reward them for the desired action (or in your eyes, "right"), they learn to associate the specific action with something positive (PAWsitive). Screaming at or hitting your Yorkie is a cruel, ineffective, and outdated way to train, as it only creates FEAR and CONFUSION.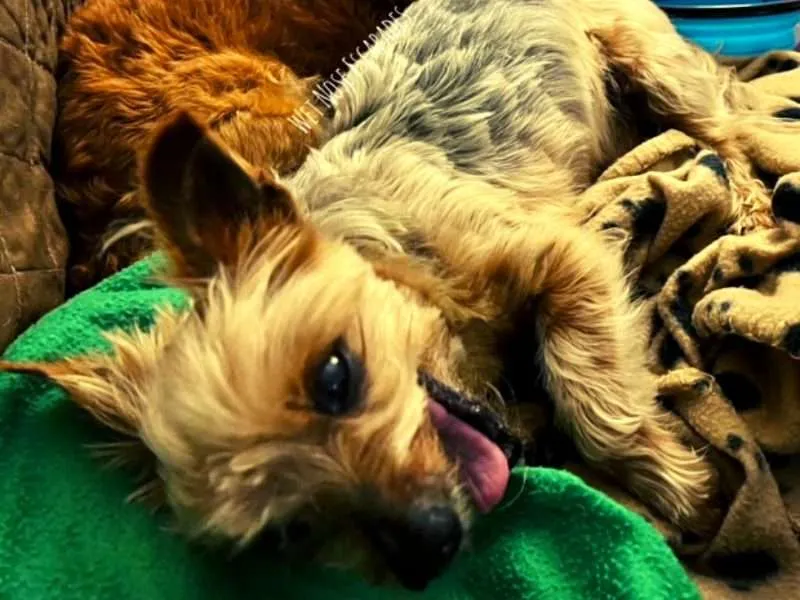 Also, if you are inconsistent with either the command or reward, you will not only confuse him, but also make yourself frustrated (because you think he's not "getting it" when you're the problem). Whether it's "lay down" or "sit pretty," use the same words and hand gestures. Keep it consistent to avoid confusing your dog. 
#12 Know your Yorkie
Yorkies are NOT robots, but sentient beings with their own wants and needs. As all Yorkies are individuals, understanding your Yorkie is a prerequisite for success. Know what your Yorkie is driven by – some may want verbal praise more than others. If your Yorkie loves beefy treats, training him with cucumber bits won't cut it. If your Yorkie has suffered from an abusive past, he may react negatively to certain verbal commands and hand gestures. Be patient and figure out what works best for your Yorkie. 
#13 Always have a bag of treats handy 
Since training should be done in different "safe" environments, you should stay ready to train your Yorkie with a bag of treats.
#14
Put SAFETY first
Never jeopardize your Yorkie's physical safety and emotional well-being for a "trick." Make sure the tricks or desired actions are free of hazards, potential dangers, and emotional abuse (e.g. teasing, bullying, coercing, etc.). While tricks are great ways to stimulate a Yorkie's mind and deepen their bond with humans, tricks are ultimately done for humans. Dogs live the happiest lives when they feel safe and secure as loved members of the family. Therefore, please provide the safest environment for your furry family member at all times, especially during training sessions. 
#15 Have your OLDER dog train your NEW dog
ARF, this is PAWbably the easiest trick in the book! Have your older dog train your new dog. If you've brought a new dog home and want to teach him the same tricks taught to your old dog, simply have your old dog showcase the bag of tricks to your new dog. Surely, your new dog will start following once he realizes all the rewards he gets from doing those tricks. You won't need to start from scratch when you have a seasoned dog in the house!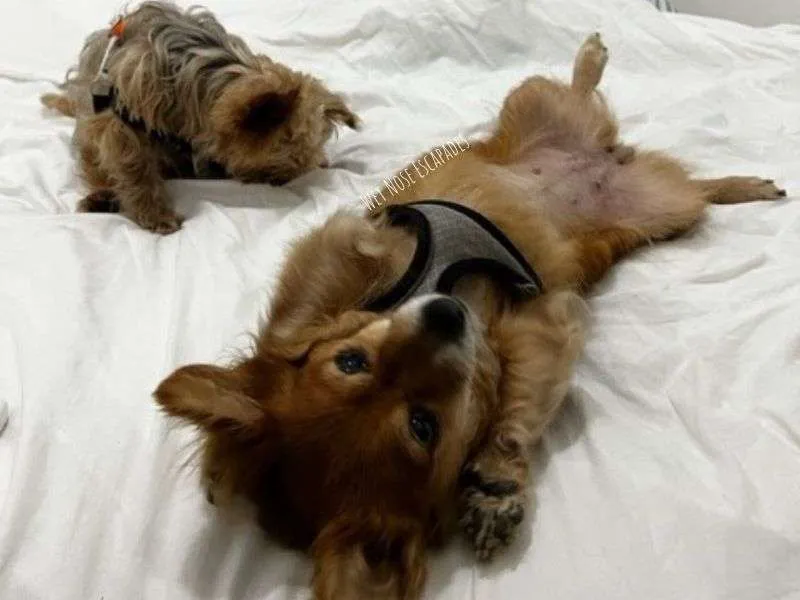 LAST BARK: WHAT IF YOUR YORKIE DOESN'T RESPOND TO THE COMMAND?
Take a break! Change the environment. Reset your Yorkie. Don't keep repeating the same verbal command if he fails to respond after three times. ARF-ter that, he may start guessing what you want. Whether he's ignoring your command on purpose or truly doesn't know what you're asking for, his lack of response means it's time to reset. 
Find out why you should never tether or chain your dog.
6 things you should ALLOW your dog to do!
Perk up your ears, tilt your head, and sniff out my exclusive video "The Tricks of a Yorkie," showcasing over 15 of my greatest tricks! From the classics like "LAY DOWN" to the seemingly strange ones like "MER-MAN," I have a "No treat, No trick" policy, as should ALL dogs. ARF yeah, a special shout out to my boy HaChi, a PAWbulous Shih Tzu from Romania, for inspiring me how to "SHAKE"! Be sure to watch the final trick in the video – it's one of my BEST trick to date!
WOOF, hope you enjoyed watching "The Tricks of a Yorkie" and sniffing out my Yorkie training tips! If you have additional Yorkie training tips, feel free to share. BARK AT ME! 
Don't forget to subscribe to my YouTube Channel: Roger Wellington for my latest videos!
Markin' it up, 
Roger Wellington a.k.a. The Doob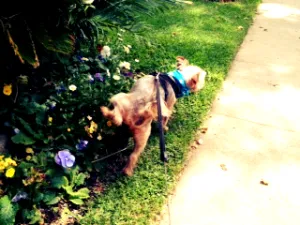 Like my post on "The Tricks of a Yorkie"? PIN IT!