Looking for things to do on the Upper West Side with your dog? Perk up your ears!
Posted 12/22/21
WOOF, I may be an East Side boy, but that doesn't mean my little BIG Yorkie heart doesn't have love for the West Side. Arf-ter all, it's just a few paw-steps across Central Park. The hip eateries, upscale shops, expensive real estate, trendy fashion, food markets, the Hudson River, and ARF-mazing parks make the UWS one TOP DOG hood. While both the Upper East Side and Upper West Side are prestigious and sought-after neighborhoods, the UWS has way better access to public transportation, which means it appeals more to ultra-cool yuppies and hipsters who prefer an easier commute (can't blame them, right?). From 59th Street on the south to Central Park on the east, 110th Street on the north, and ARF course, the Hudson River on the west, the Upper West Side is a pretty big neighborhood in NYC. But, what's there to do on the Upper West Side with your dog? Is the UWS dog-friendly? What are the best dog-friendly activities on the UWS? ARF, I've got all your answers below!
Explore Central Park West
ARF-my-DOG! I love Central Park. I mean, who doesn't? The most famous urban park in the world, Central Park separates the two paw-bulous neighborhoods, Upper East Side and Upper West Side. With 843 acres filled with lawns, woodlands, streams, winding paths, athletic fields, skating rinks, lakes, and trees GALORE (well, only 18,000 of them) Central Park boasts one of the best dog-friendly experiences my wet nose has ever sniffed out. And, trust me – I've left my alpha mark in quite a few places. With abundant dog fountains and off-leash hours (6:00 am– 9:00 am and 9:00 pm–1:00 am), Central Park is like Disneyland for dogs! On Central Park West, I love traversing around the Reservoir and The Lake, sniffing out the Shakespeare Garden, chillin' at the Ladies Pavilion, and walking my furry paws across the Bow Bridge.
Sniff out the "official" dog rules in Central Park, as barked on the city's website:
-Dogs must always be under the control of their "owner." (GRR, I prefer the term "pawrent")
-Dogs must have a NYC license tag and valid rabies tag.
-Dogs must not dig, chase, or harm wildlife; damage Park property; or interfere with other Park users.
-Always clean up after your dog, including dog hair that you brush off in the Park.
-Please respect signs, fences, and red flags that may indicate temporary closures due to restoration, maintenance, or weather conditions."
Get your paws on more information on a dog-friendly visit to Central Park HERE, including locations where dogs are NOT allowed.
My last bark about Central Park:Even though dogs are allowed on horse-drawn carriages at Central Park, I beg you to skip the ride. Horse-drawn carriages can put horses in danger through overload hauling in extreme temperatures and dodging car traffic. Walking is the BEST way to explore Central Park!
Watch me protest against horse-drawn carriages at Central Park West:
Wander around in Lincoln Square
ARF, Lincoln Square is, PAWS DOWN, one of my favorite parts of the Upper West Side. Named after the former President, Lincoln Square stands on Broadway and Columbus – between West 65th and West 66th streets. Let me first bark that this is one GRAND plaza – Top Dog style! Hosting twelve performing arts companies, it's home to Lincoln Center for the Performing Arts, the Opera House, Hearst Plaza, David H. Koch Theater, and Damrosch Park. And YES, dogs are welcome to explore the exterior grounds of this magnificent cultural center. In addition to being a "real" square, Lincoln Square is also an electric neighborhood in the Upper West Side, between West 59th and West 72nd Streets AND the Hudson River and Central Park. This neighborhood sets itself apart from the rest of the UWS thanks to its arts and cultural center with enchanting fountains, flocks of Juilliard and Fordham students, and ARF course, the nightly theater ticket holders passing through.
Slurp on ramen & udon
Set your paws on the Upper West Side, and you must get your chops lickin' and paws greasy! NYC is known for the best international cuisine ever, and UWS has no shortage of TOP DOG restaurants to offer. And, don't worry – if your dog is a foodie like me, you don't need to leave him or her behind! Foodie dogs are welcome to dine with their humans as many restaurants offer dog-friendly sidewalk seating. My human's go-to spots for food here are ramen and udon joints, which I helped find with my robust wet nose. From Zurutto (142 W 72nd St) to Momoya Upper West (427 Amsterdam Ave) to Jin Ramen (462 Amsterdam Ave) – just to bark a few, the UWS has some of the BEST Japanese food I've ever gobbled. Side bark: Jin Ramen is a TOP Dog recommendation with ample dog-friendly outdoor seating with a daily happy hour from 5-6:30 pm!
Stroll along Riverside Park
WOOF, no visit to NYC with your dog is complete without sniffing out the Hudson River! Yet, Riverside Park is the place to MARK IT UP on the UWS. Spanning over 4 miles with a short width (100 to 500 feet), this supaw pawpular dog-friendly park goes from 72nd St. to 129th St. with spectacular views of Jersey City across the Hudson. Dogs ARE welcome to walk, stroll, jog, or run along the scenic park with their humans as long as they're on a leash (well, technically not exceeding six feet). Some park areas also allow dogs to go off-leash until 9 am and from 9 pm to close. On top of having a dog-friendly walkway, Riverside Park also boasts not one, not two, not three, but FOUR dog runs at 72nd, Hudson River Greenway, West 87th, and West 105th. Bark about dog-friendly! Keep in mind that dogs are never allowed on athletic fields, children's playgrounds (kids stress me out anyway), and passive-use lawns. As usual, don't forget to clean up after your dog.
For more info, put your furry paw HERE.
See coveted architecture
WOOF, it's no secret that New York architecture is world-class! Now, for you first-timers, the Upper West Side is the ideal place to begin some architecture-sniffing. As no shortage of historical structures exists here, the Upper West Side has bragging rights to some of the oldest buildings in the city. I love roaming around the block to do some investigation with my little wet nose! Here are my highlights (a.k.a. what made me tilt my head in awe): brownstone-style family homes with iconic stair entrances, luxurious doormen-type apartment/condominium high rises (e.g. the Beaux-Arts Dorilton, San Remo, and the Art Deco Majestic), cultural institutions (e.g. the Art Deco Beacon Theatre, the brownstone Nicholas Roerich Museum), and places of worship (e.g. the neo-classical Congregation Shearith Israel). ARF course, dogs are generally NOT allowed inside but can always get a sniff or two outside the exterior grounds and snap a few Instagrammable pics.
Get your drink on
Exploring the UWS often means a mark or two on Amsterdam Avenue, the neighborhood's PACK LEADER street for a good ol' time for young working professionals, Columbia students, and the occasional tourists who make it out of midtown. The best spots to grab drinks on the UWS are usually on the vibrant Amsterdam Avenue, where dog-friendly sidewalk seating is the norm. Going out and about on the Upper West Side with your dog is A MUST!
At Fred's (476 Amsterdam), this half bar, half American joint's motto is "Come! Sit! Stay!" This pawsome dog-friendly spot with ample outdoor seating and a dog-themed decor pays tribute to a black Labrador Retriever who was bred to assist the blind but found "unfit" for the job. The owners of the bar then adopted her and became her furever pawrents!
At the local watering hole on Columbus Avenue (which runs parallel to Amsterdam) Bob's Your Uncle, dogs are even allowed INSIDE the bar and greeted by dog-lovin' bartenders with water bowls. On any given night, it can be a real furry pawty with doggies next to your feet!
Another cool spot to pawty with your dog is at Amsterdam Ale House (340 Amsterdam), where they offer a wide selection of world-class beers, American pub fare, and most importantly, dog treats and water for your pooch.
Shop on Columbus Avenue
Even though I'll always be an East Side boy, I can never pass up shopping (or shall I bark, window shopping) on Columbus Avenue on the West Side. AWOOO, here's the real howl – Dogs are not allowed to enter the pawpular Sunday Grand Bazaar (previously known as Greenflea Market) due to it being on the grounds of the Department of Education, BUT furry shoppers can still stroll through lovely Columbus Avenue for their charming boutiques, designer stores, and even a few retail chains (from the high 60s to 80s streets). ARF-ter all, sidewalks are public property! And, I think it's safe to bark that most of the shops are dog-friendly, from Eileen Fisher to Peruvian Connection to Patagonia to Moleskine. Just don't walk any muddy paws in!
Sometimes, I'll find a few stands on the sidewalk which are worthy of some sniffing..
Mingle at Theodore Roosevelt Park
Sure, Theodore Roosevelt Park is such a tiny park compared to nearby Central Park, BUT it's still supaw sniff-worthy. Why? For one, it surrounds the American Museum of Natural History, which has a mesmerizing architecture that never fails to make me tilt my head and drop my little Yorkie jaws. Heck, it's even rated as one of the TOP 5 Small Parks in NYC. Honoring the youngest President of the U.S., this park has dog-friendly paths and grassy areas – pawfect for a nice picnic or change of scenery from Central Park. The best part is their spacious Bull Moose Dog Run! Seriously, any dog run with a name like that wins my Yorkie sniff of approval. This recently renovated dog run has pebbled grounds with dog water fountains along with two separate dog areas. It's time to rake my feet and show them who's BOSS.
Hit up Morningside Park
Although Morningside Heights is technically a different neighborhood, it borders the UWS at 110th Street, which means it's supaw near. The biggest draw for dogs here is Morningside Park, which is fun local park spanning 30 acres/13 blocks on Morningside Drive with plenty of dog-friendly trails. I love walking up a few blocks to sniff out the furry New Yorkers at Morningside Dog Run, nestled between 114th and 119th Streets on Morningside Avenue. Built on a hill (ARF, gotta walk those steps!), this small dirt dog run has water, bountiful trees for shade, and separate enclosed areas for big and small dogs. The dog-lovin' volunteers do such a pawsome job in hosting dog-friendly events ("Yappy" Hour, anyone?) here and keeping this dog run clean and well-maintained for visitors and their dogs, who come from the UWS, Morningside Heights, Central and West Harlem, and nearby neighborhoods.
WOOF, hope you enjoy exploring the Upper West Side with your dog! Feel free to share your experience with me. BARK AT ME!
Markin' it up,
Roger Wellington a.k.a. The Doob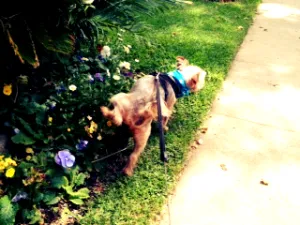 —
Like my post on "What You MUST do on the Upper West Side with Your DOG"? CLICK TO PIN!