Heelllooooooooo, escapaders! Let's head to the fairy tale land of Edinburgh, Scotland, and eat some… vegetarian food? Yes, vegetarian food. My tail may wag like crazy just for scraps of a Sunday roast, but I will beg for hours to get some cucumber slices. And zucchini slices. AND carrot sticks. Mmmm. Must have those veggies! Being a dog gives me this supernatural ability to adapt to an omnivore diet – yep, I don't find vegetarian food disgusting; in fact, I am a veggie lover and proud of it! Plus, sometimes I just feel like giving animals a break. I know it's tempting, but you don't always have to order fish and chips or a Sunday roast while in the United Kingdom; really, there are plenty of vegetarian options that will make your foodie experience just as worthwhile.
In Scotland's capital city of Edinburgh, there are TONS of vegetarian eats that are worthy of licking your chops, ranging from traditional pub food to Brazilian fast food. One of Edinburgh's most popular local cuisines is Indian due to its prominent ethnic population; and lucky for us, Indian cuisine is widely known to have a fantastic variety of vegetarian options – gotta LOVE that curry. Nonetheless, you are in luck whether you are a vegetarian or just feel like skipping the meat when visiting the city. Here are 10 irresistible vegetarian eats in Edinburgh:
#1 Vegetarian Food in Edinburgh: Wild Shroom Pie with Garlic Mash – Scotch Hop (114 Causewayside)
Oooooo mushroom pot pie. Yum! The wild shroom pie at Scotch Hop is like an awesome Christmas gift you didn't expect. No, not that stuffed animal from your aunt when you were 15-years-old (seriously, what was she thinking???). I had no idea what to expect, but it was so warm, fresh, and delectable; it's not too heavy, not too salty, but just freakin' right on point with a flaky outer layer. And to accompany this awesomeness: mash, mash, and more mash (yep, whatever mash you like). I usually get garlic mash with my pie, which always leaves an incredible taste in my mouth.
#2 Vegetarian Food in Edinburgh: Mushy Peas – Any pub
Ah yes, this U.K. tradition is a true delight. Lightly seasoned and "mushy" as advertised; it's kinda like the mashed potato of green peas. Enjoy it as a tasty appetizer or small complement to your hearty meal.
#3 Vegetarian Food in Edinburgh: Baked Potato – The Baked Potato Shop (56 Cockburn St)
You know it's time to have fun when you get to design your own baked potato. And what I mean by design, is that you get to pick your own toppings! It's sooooo exhilarating and flippin' delicious. ALL toppings are vegetarian with many vegan options available. Even a "small" potato is gigantic so this is going to be ONE filling meal. My favorite topping is the chili (on the right), which is vegan minced meat with a little kick. The hummus topping (on the left) is also tasty, tasty, arrrrf-tasty.
https://wetnoseescapades.com/coolest-places-in-budapest/
#4 Vegetarian Food in Edinburgh: Marquerita Crepe – Tupiniquim (Green Police Box, Lauriston Place)
Brazilian fast food in Edinburgh? Arrrrffff, you heard it right. Tupiniquim is a small fast food stand that serves up the most mouth-watering Brazilian crepes, making a huge mark in the city (hah, they are MARKIN' IT UP!). Made-to-order savory vegetarian crepe with goat cheese and/or mozzarella, sun blush tomatoes, cherry tomatoes, avocado, spinach, and basil.
https://wetnoseescapades.com/best-food-budva-top-10-picks/
#5 Vegetarian Food in Edinburgh: Vegetarian Pad Thai – True Thai Cuisine (49-51 Causewayside)
The city's Thai food scene is growing, which gives us occasional meat-skippers more vegetarian options to choose from. My favorite dish is the colorful vegetarian pad thai, which consists of tofu, carrots, cauliflower, bean sprouts, corn, and green onions that are stir fried with pad thai noodles and sauce. It's a little tangy, which is so pleasing to my little tummy. The dish is served with a lemon wedge (for a refreshing balance), a side salad (yay for more veggies), and ground peanuts (the crunch is addicting so I use LOTS of them).
_______________________________
And, now…IT'S INDIAN FOOD TIME IN EDINBURGH!
#6 Vegetarian Food in Edinburgh: Vegetable Biryani – Kebab Mahal (7 Nicolson Square)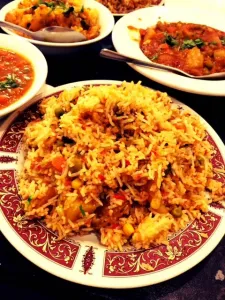 Ahhhh, biryani time at Kebab Mahal, my favorite Indian restaurant in the city. The Muslims in India were onto something when they created biryani. I absolutely LOVE this Indian mixed rice dish! I may not be in India, but Edinburgh almost makes me feel like I'm right there (minus the Taj Mahal). I like to order the vegetable biryani, which consists of green peas, carrots, and potatoes that are stir fried with basmati rice and spices. Not to mention, you get a side of vegetable curry with your dish. What a deal!
#7 Vegetarian Food in Edinburgh: Aloo Gobi – Tikka Mahal (53 Clerk St)
Starring an unlikely main cast – Cauliflower and Potato. Throw in the supporting cast members: Pepper and Onion, cooked in a plethora of aromatic spices with the stars Cauliflower and Potato. Oh yea, don't forget the extra on the set: Fresh cilantro, who has been chopped up one too many times. Now that brings you an Oscar-winning performance on a low-budget movie called Aloo Gobi.
#8 Vegetarian Food in Edinburgh: Vegetable Vindaloo – Kebab Mahal (7 Nicolson Square)
Back to THE Kebab Mahal for another vegetarian dish: the veggie vindaloo. Although vindaloo, which was originally derived from the Portuguese in Goa, is traditionally made with pork, the toothsome vegetable vindaloo always leaves me lickin' my plate clean. Green peas, carrots, and potatoes cooked with olive oil, onions, garlic, ginger, and a host of spices make this one fiery curry dish.
Flying with a Yorkie: 10+1 Tips on How to Travel with a Yorkie or Small Dog
#9 Vegetarian Food in Edinburgh: Aloo Chana Palik – 10 to 10 in Delhi  (67 Nicolson St)
Let's power up, escapaders! Aloo chana palik is a dish filled with my two favorite power foods: chickpeas and spinach, which are mushed together in this gravy-looking dish. It is best when eaten with fresh naan and a salad. Trust me, I know it may not look like it, but this is one HECK of a dish!
#10 Vegetarian Food in Edinburgh: Turkal Daal with rice – The Codfather Part II (3-5a Sciennes)
I'm not a huge fan of the texture of lentils, but these cholesterol-fighters are growing on me (I hate to admit it)! Turkal daal is a beautifully crafted Indian dish with spiced garlic lentils smashed with ginger, onions, and tomatoes served over a bed of basmati rice.
Wooooof! With my 10 favorite picks, you will enjoy being a fabulous vegetarian (or like me, the occasional meat-skipper) in marvelous Edinburgh. Don't forget to walk and get movin' before and after each meal. Check out my post on where to mark your territory in the city.
 Markin' it up,
Roger Wellington a.k.a. The Doob