Ciao tutti! Is Venice, Italy dog-friendly? Are you thinking of traveling to Venice with a dog? Perk up your ears to this post and sniff out everything you need to know about taking your dog to Venice, Italy.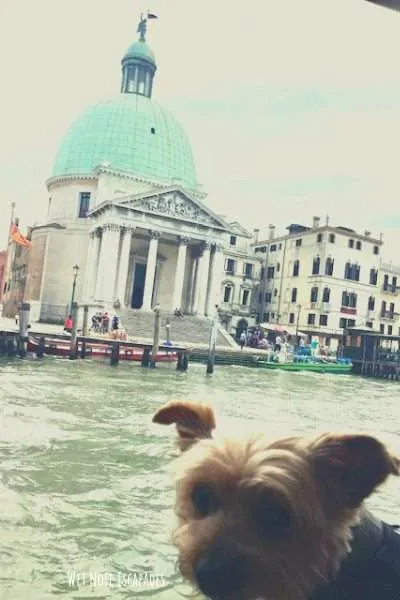 *Please note that this post contains
affiliate links
, and at no obligation or additional cost to you, my humans and I earn a small commission if you make a purchase. If you love the work that we do, you can show your support by making a purchase through an affiliate link. Proceeds will go towards
feeding homeless dogs (and cats) along with improving the lives of the neglected and abused
.
As a former furry resident of Italy, I can bark out with an upright tail that Italy is one of the most dog-friendly countries in the world. From Milan to Florence (my Italian home base) to Rome, I've chomped on too much fresh tagliatelle and stuck my little wet nose into aperitivo lines. As I made my way around the country, I knew I had to mark up the famous capital of Veneto a.k.a. Venice (well, before this fairytale city sinks for good). This roadless, carless 1200-year-old city built on water consists of over 100 small islands connected by colorful canals and centuries-old bridges.
If you don't already know, Venice is a top wanderlust destination that attracts tourists of all ages around the globe, from Brazil to Japan. Since the tourist population has taken over the dwindling residential population over the years, one can only imagine the city's overwhelming pedestrian traffic congestion, which may make it NOT so dog-friendly.
ARF-ter spending over two weeks here from late May to early June (just right around the beginning of peak season), here's what I've sniffed out about traveling to Venice with a dog:
Do NOT visit during peak season
With cruise ships stopping there daily, Venice is a tourist-flooded town pretty much year-round. Of course, you'll get a break from tourists during off season, non-summer months (especially over the winter months), but the truth is that the tourists will always be there. Since the city center notoriously lacks a plethora of grass areas and parks found in other major destinations across Europe, traveling to pedestrian-heavy Venice with a dog poses a bit of a challenge – ARF, only when it's congested.
During my furry visit in May (right before the summer peak season), the crowds were already visible although walking around on my four paws was still manageable. For the most part, I didn't have to worry about any clumsy human stepping on my tiny paws. However, then came June (just the beginning of peak season), and the crowds were noticeably bigger and louder. Hence, I can only imagine how busy it gets deep into the summer months of July and August. If you cannot avoid summer travel to Venice, then it is best to leave your dog with someone you trust.
Do NOT walk your dog during peak hours
Unless you're traveling to Venice with a dog during the ultra quiet winter months, you're better off walking your dog earlier in the morning and later in the evening – at least in or near the city center. Tens of thousands of tourists from daily cruise ships flood the city during the day, but depart in the evening. By 8 or 9 pm, the city is a bit calmer with only overnight visitors and locals roaming around. While marking up the heart of the city San Marcos, I would take my morning walk around 8:30/9 am and evening walk around 9 pm (and/or even later) with several potty breaks on the hotel grass area in between walks. The good news is you can find some less busy, dog-friendly areas to walk your dog during the day – keep sniffing to find out below.
SKIP the heat
Besides the annoying crowds and overpriced hotels, another reason to skip peak season or the summer months is the heat, which can climb up the 80s Fahrenheit range (or even higher). Although I'm not barking about utterly deadly 90s to triple digit temperatures, the heat can still be dangerous for dogs to walk outside, worsening for those with long coats, collapsed trachea (like myself), or pending health conditions. Even when I set my furry paws there in May, the temperature was already hitting the low 80s! Thank goodness I got a stylish summer cut to combat the heat before my flight from Dubrovnik to Venice.
10 Tips for Summer Travel with Your Dog
Dogs are ALLOWED inside restaurants
As the world traveling Yorkie, my favorite part about traveling is none other than to eat paw-lickin' food. Like the rest of Italy, dogs are allowed INSIDE restaurants in Venice. Mmmm…Italian meals are not only delicious but they also quickly fill up my little Yorkie tummy. Get ready for antipasto (starter), primo (first course, usually pasta), secondo (second course, usually a meat or seafood item), contorno (side dish, e.g. sauteed spinach), insalata (salad, e.g. tuna salad), and dolce (dessert, e.g. gelato)! Don't forget to order an ice-cold Spritz to accompany your meal. WOOF, it's time to get those furry paws greasy!
Get my 8 tips on how to dine with your dog!
Dogs are ALLOWED on water transportation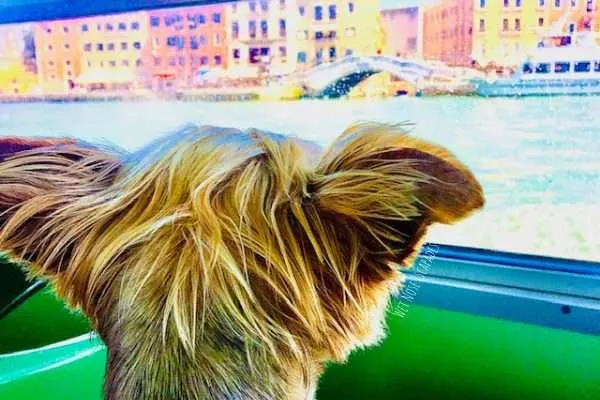 When you're in the city that's built on 118 small islands, the only other way to get around besides by paw is by water transportation. From water taxis to water buses to gondolas, dogs are always welcome aboard free of charge. For ACTV water buses known as vaporettos, dogs must be leashed or muzzled per the rules. However, I've never sniffed out a muzzled dog, whether small or large on these "buses." With Italy being such a dog-friendly country, I am not surprised that the rules are pretty laxed in enforcement. As for me, I've always relaxed next to my humans or on their laps WITHOUT a muzzle. Heck, I even put my paws near the window for a front-row lookout of Rialto Bridge!
Most hotels ARE dog-friendly
Yep, dog-friendly hotels in Venice are easy to find, and many won't charge extra for your dog's stay. WOOF-HOO! BUT, nevertheless, get ready to PAY UP as Venice is notoriously known for overpriced hotels. After all, it is a tourist town.
There ARE parks in Venice
Tilt your head to this one – Venice does have some parks, contrary to popular belief! Although the parks and open green spaces aren't big, they do exist. Here are a few that I recommend:
Giardini Papadopoli (30135 Sestriere Santa Croce) – A little over 2-acre park in non-touristy Santa Croce with a beautiful garden
Parco Savorgnan (Calle Pesaro, 427) – A semi-hidden, small 2.3-acre park in the city center with benches and picnic tables
Parco delle Rimembranze (Parco Rimembranze S.Elena) – A scenic park with calming water and monument views away from the hustle and bustle
So is Venice, Italy dog-friendly? Well, yes and no. If you're able to avoid the crowds and heat, then YES, absolutely! Are you ready to take your dog to dog-friendly Venice? Now sniff out my list of fun things to do with your dog in Venice below!
Dog-Friendly Things to do in Venice, Italy:
People-watch at San Marco Square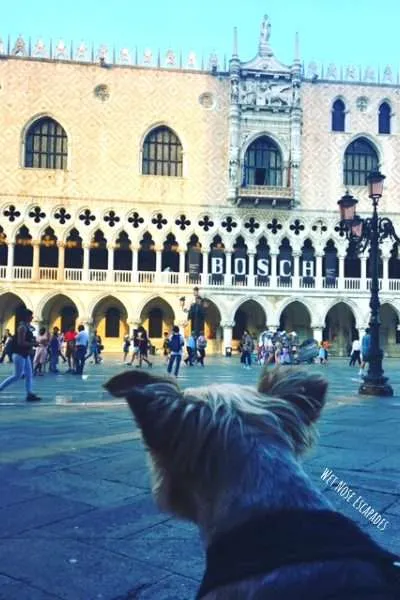 Known as the heart of Venice, San Marco is a touristy public square that you should visit at least once with your dog. Remember to avoid the massive crowds by going earlier in the morning or later in the evening. But, don't worry, there will still be plenty of action even during non-peak hours. From the Italo-Byzantine St. Mark's Basilica to the Gothic Doge's Palace to the white limestone Bridge of Sighs, you and your dog have plenty of iconic Venetian architecture to tilt your heads to along with the tens of thousands of wanderlust tourists who pass through each day. Look at me being mesmerized by the open balcony and arcade of pointed arches at the Palazzo Ducale a.k.a. Doge's Palace, constructed in the 1300s for the elected Venetian ruler or "doge."
Picnic by the canal
Pick any canal to post up and picnic with your dog! Regardless of which canal you choose, the colorful storybook backdrop with blue-green water will surely make your friends back home envious of your IG post. From Neapolitan pizzas to fresh pastas like my human's favorite Spaghetti Pomodoro Basilico, you'll find a myriad of "take away" options. Unless you're willing to share those Italian goodies, remember to pack dog-safe food and delicious treats for your dog. Oh yea, don't forget a water bottle and to-go bowls as well.
Watch the gondolas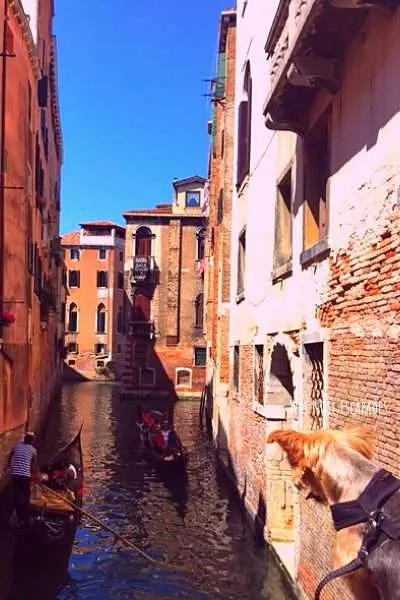 As barked out earlier, you CAN take your dog on a gondola, which is Venice's famous light flat-bottomed boat used to travel on the canals. Nonetheless, keep in mind that a gondola ride typically starts at 80 euros for a mere 25-30 minutes. WOOF, I'd prefer not to put my furry paws into such an overpriced tourist trap. Instead, I like to relax my tiny furry paws by the canal and watch the strong-armed gondoliers and Rick Steves tourists pass by beneath me.
Hop on a vaporetto
Forgo the gondolas and take a water bus or vaporetto instead for only 7.50 euros one-way (good for 75-minutes in one direction) or a one-day travel card for 20 euros! Again, dogs travel for FREE but should be leashed and muzzled per the rules (although rarely enforced). Don't forget to validate the tickets by the gate before hopping on.
Eat in Dorsoduro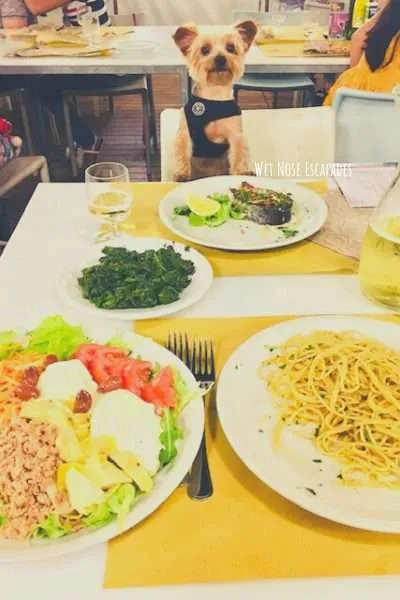 Paws down, Dorsoduro is my favorite of the six main sestieri in Venice by far! OK, I may be a bit biased since this was my main home away from home in Venice. Nevertheless, this southwestern side of town facing the water to Giudecca island has its own bragging rights; as the city's university district covering the Grand Canal waterfront and Ponte dell'Accademia or Accademia Bridge, Dorsoduro boasts a more refreshing residential feel as this is where most University of Venice students live.
As your dog leads you westward away from tourist central, you'll find a less touristy vibe with local bars and cheaper, more casual eateries. Since this neighborhood is flooded with students, I love sniffing out the best and most authentic Venetian restaurants without ridiculous tourist price tag or copertos (cover charge). 
Take pictures in front of Rialto Bridge
Rialto Bridge is the oldest and most widely recognized bridge extending across the Grand Canal. With a history dating back to the 12th Century, this stone arch bridge connects the sestieri of San Marco to San Polo, the exuberant district centering around the Rialto Bridge and Rialto Market. To avoid the crowds, I love setting my alpha paws here late at night (around midnight when the crowds drastically thin out) or during sunrise.
Explore Santa Croce
While Dorsoduro is the best neighborhood to dine with your dog, Santa Croce is my neighborhood of choice to saunter with your dog. Although it borders the Grand Canal to the north, Santa Croce is one of the least touristy areas in Venice, setting off a very unpretentious, local vibe. Located in the northwestern corner of the city near Piazza Roma, Santa Croce is not short of bark-worthy attractions as it's home to centuries-old cathedrals and the graves of Galileo and Michelangelo. Since this sestieri has significantly less foot traffic, I can walk around and mark it up easily without the stress of all those humans! And yet, its sereneness sets off the "real" Venetian feel.
GET LOST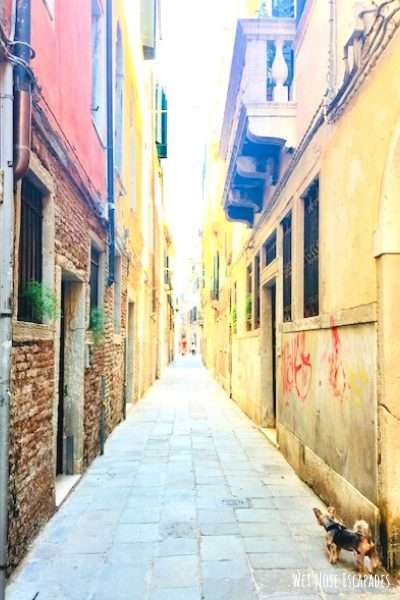 I'm not the first to bark out that Venice is a "maze" city – WOOF, take one wrong turn and you may get lost for hours. Venice may only be a 160 square mile in size, but with over 400 pedestrian bridges, it's ARF-so-easy to get lost. All the twists and turns and narrow streets or calles without visible signs can get you lost within a few minutes even if you paid close attention and rely on your Google Maps app.
And, don't expect to Uber or Lyft back to your hotel. Regardless, don't fret! Remember, your travel buddy has the BEST sense of directions! Like most dogs, my tiny wet nose is so robust that I rarely (or dare I bark, never) get lost. While my human desperately squints her eyes to find the right street to make a left (as directed by her iPhone), I'm marching around with utmost confidence and slyly leading her to the right path home.
Enjoy the beaches at Lido di Venezia
Just a quick few minute vaporetto ride from San Marcos, Lido di Venezia is a barrier island separating the Venetian Lagoon from the Adriatic Sea. Staying here instead of Venice will not only save you a buttload of money (which means more treats for your dog) but will also give you unlimited access to sandy beaches.
Besides hosting the Venice Film Festival, Lido attracts visitors with 11 km of stunning public and private beaches overlooking the Adriatic Sea. Despite designated areas for dogs, it's a common sight to see local dogs ruffing around almost everywhere on the beach. As a former Greek Island beach bum, I love chasing those sandy furry Venetian butts and getting my paws and nose sandy. 
Hope you enjoy visiting dog-friendly Venice! Venice is dog-friendly, after all – if you take all the necessary precautions. Feel free to share your furry Venetian experience with me. Subscribe to my YouTube Channel: Wet Nose Escapades by Roger Wellington for dog travel videos!
Markin' it up,
Roger Wellington a.k.a. The Doob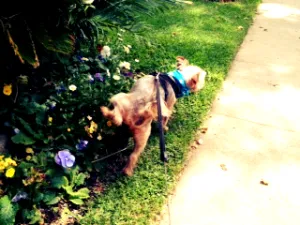 —
Like my post on "Is Venice, Italy Dog-Friendly? A Guide to Traveling in Venice with a Dog"? PIN IT!