WOOF, wondering how veterinary care in Brazil compares to the U.S.? Keep on sniffing!
Posted 3/23/23
Unfortunately, I know first paw about veterinary care in Brazil because I've only been to the vet over 10 times in the last 5 months in Rio de Janeiro, including 3 emergency visits and 2 hospital stays (with the last one caused by the hospital's treatment plan. GRR). Due to respiratory distress from collapsed trachea (a condition I was born with, like many Yorkies), I was first admitted to the ER, a specialty veterinarian hospital that my human carefully selected online based on reviews. Despite currently being monitored by a pulmonologist here, my journey with veterinary care in Brazil has had more downs than ups.
PROS of Veterinary Care in Brazil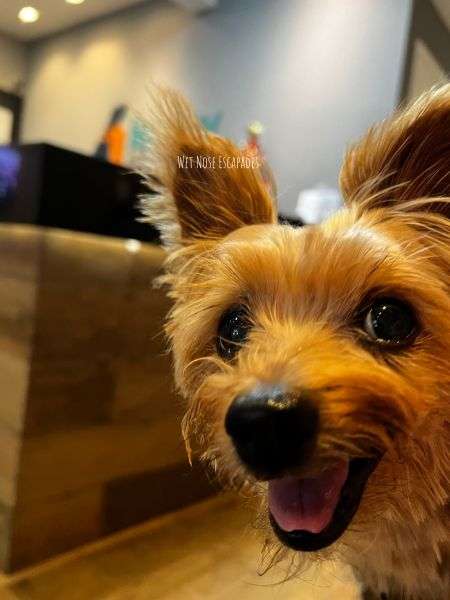 BUT first, I'll bark out some pawsitives! For one, vet care is accessible and widespread, at least in major cities like Rio de Janeiro. I've sniffed out veterinarian clinics attached to pet supply stores, which makes things supaw convenient. If your dog is sick, you don't have to travel far to seek help, even with 24-hour emergency care. In Zona Sul or the South Zone, veterinarian clinics are often located within walking distance of one another. Second, vet care is affordable in Brazil, even in relatively more expensive cities like Rio. For instance, sniff out how much my human paid for veterinary services at a specialty hospital (prices in USD, as of 2023):
$38 for a regular consultation
$48 for an emergency consultation
$68 for a specialist consultation (e.g. pulmonologist)
$15 for a hemogram
$63 for an echogram (to make sure my cough was not related to my heart)
$84 for a 4-position X-ray (of my lungs and trachea)
Arf course, this doesn't include any add-ons like treatment or medicine. Located in an upper middle-class neighborhood in the South Zone, this hospital in Rio is also known to be more expensive since it's a "specialty" hospital. Needless to bark, this is still a huge bargain compared to San Francisco or Los Angeles, where a regular consultation easily starts at $90.
Third, dog pawrents can talk to the vet directly via WhatsApp, which helps get questions answered quickly without going through the front desk staff or impatiently waiting for a call back. This makes the experience feel way more personal – like you're not dealing with a superior being who doesn't have time for you. Fourth, unlike the vets in the U.S. who tend to take your dog to the "back" for any treatment, vaccine, or exam, Brazilian vets are more transparent and will do (most) things to your dog right in front of you. BUT sometimes it can be painful to watch, like the time when the vet and vet tech tried to draw blood from my hind leg. I started jerking and yelping at the same time. GRR. From that point forward, my human requested that they only poke a needle into one of my front legs.
CONS of Veterinary Care in Brazil
Now, for some negatives. GRRR. First, Brazilian vets don't necessarily have all the same medicine or in the various forms we have back home. For instance, they don't have Hydrocodone, which is the most pawpular opioid to treat collapsed trachea in the U.S. While they have Codeine, another controlled substance similar to Hydrocodone but not as potent, they are very conservative with the dosage and frequency (perhaps that explains why we have the opioid crisis back home).
Back home, I can get a prescription for the maximum dose of Hydrocodone for 3x a day, but my pulmonologist in Brazil would only prescribe 3/4 of the maximum dose of Codeine 2x a day. Although my human would only give me an opioid on an as needed basis for my cough, it's always good to have enough – just in case of a flare-up. With Yorkies all running over Rio and Brazil, I feel bad that they can never have access to Hydrocodone, which is more effective in treating cough due to increased strength (compared to Codeine).
Brazilian vets also don't have Adequan, the injectable Polysulfated Glycosaminoglycan primarily used to alleviate symptoms of arthritis in dogs through cartilage rebuilding. It is often prescribed off-label by vets to rebuild trachea cartilage. Although they have the injectable for Butorphanol (another opioid used to treat coughing), they would only administer it if I am admitted to the hospital because they would need to "monitor" me. Furthermore, while it's common for U.S. vets to use Cerenia off-label to treat cough associated with collapsed trachea or use it as a mild pain reliever, they would only use it strictly to treat nausea or vomiting.
Second, some vets here seem inexperienced. Not to bark, a few who treated me look like they're in college or just got out of college. And yet, I wasn't too far behind with my hypothesis. My human read that veterinary medicine is a 5-year bachelor's degree program in Brazil, in which students complete only half a year of clinical rotations. With no internship programs, students can go directly into a 2-year residency.
On the other paw, to become a veterinarian in the U.S., the program is much more rigorous. First, one must complete a four-year undergrad degree, complete prereqs for veterinary school admission, and then earn a Doctor of Veterinary Medicine (DVM) degree, which takes another 4 years. ARF-ter veterinary school, many new graduates will intern in general or specialty clinical training. To prepare for board certification, graduates will pursue 2 to 5 years of additional residency training before practicing.
To be clear, I don't have anything against young vets, but it doesn't help the cause when they can't perform simple tasks like a butt squeeze (anal glands express) for my sidekick Penny Gurl. The vet did a poor attempt, and claimed that they don't do routine butt squeezes in Brazil – they would only treat if it's an infection. This arf-solutely made no sense! Seriously – why would anyone wait for something to become a bigger pawblem? GRR, it was obvious that she just lacked the skills to do so.
To this day, my pulmonologist has made no note of the prescriptions he has written for me, and constantly asks to see what he prescribed the month before. Even though he's a nice guy, he openly scrolls on Instagram and checks his texts while I'm still in the exam room.
The Brazilian vets seem more concerned with side effects and prefer to prescribe inhalers and mucolytics (like Acetylcysteine) over heavy duty drugs like opioids and oral steroids, which is great – if it only worked in severe conditions. Unfortunately, their more conservative treatment plan caused me to revert to an unstable condition, which brought me to the ER the second time.
Initially, my pulmonologist did NOT want me to take any cough suppressant (Hydrocodone or Codeine) for the first 5 days while I was on Prednisone. My humans believed that the lack of cough suppressant in his treatment plan led to my quick deterioration. Even though the hospital quickly discharged me arf-ter only a few hours, I still couldn't get my cough under control for the next few days.
My cough got worse and worse, harsher and harsher. One night, I felt more agitated than ever (likely from the Prednisone and the inhaled corticosteroid Fluticasone – both prescribed to me simultaneously). I couldn't relax, pacing back and forth while coughing continuously. Even though my tongue was still pink, I was suffering more than ever. My pulmonologist advised me to return to the hospital for Butorphanol injections to break the cough cycle. He also wanted me to stay for at least 24 hours so the staff could monitor my condition.
Even though their treatment with Butorphanol injections helped break my cough cycle, I was admitted to the ER within 16 hours after discharge. That's right – not even one day arf-ter my discharge, I was admitted to the ER for the THIRD time; against my human's warning, they fed me the wrong food and triggered a horrific episode of pancreatitis.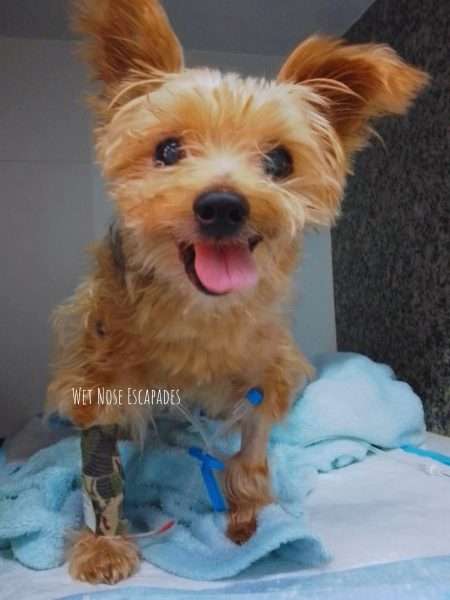 During my second hospitalization, they fed me "pasty" food against my human's warning that I had a history of pancreatitis (another awful condition Yorkies are predisposed to). When they gave my human an update, they mentioned that I had a "great appetite and enjoyed the pasty food" they served. My human then inquired if it was low-fat as I have a sensitive tummy with an episode of pancreatitis in the past. They then assured her that the food was suitable for a gastrointestinal diet.
Nonetheless, when I was admitted to the ER for the 3rd time, my ultrasound findings indicated "pasty" food in my system, which probably meant I had trouble digesting it. Thanks to what they fed me, I was hospitalized for another 4 nights for pancreatitis and an infection affecting multiple organs. My condition was so severe that a team of veterinarians monitored my progress and discussed my lab work and reports in a WhatsApp group chat, including the Director of the Hospital, ER veterinarian, primary veterinarian, pulmonologist, and gastroenterologist. And, no, they did not give any discounts on the bill.
As expected, they took ZERO accountability for what happened, which is pawbably not unique to Brazil. They said it had nothing to do with the Butorphanol injections or the pasty food they fed me. Instead, they were quick to blame on Hydrocodone by confusing it with "Hydrocortisone." Basically, they pointed the finger at the Prednisone treatment plan initially prescribed by my veterinarian back home, even though they had prescribed Prednisone themselves in addition to inhaled corticosteroids. But, it was no use arguing with them as my human was desperate to get me out of the hospital well and alive. I was placed on two types of antibiotics and pain meds in addition to Butorphanol injections (as needed), and thankfully, my labs started improving after two days of hospitalization.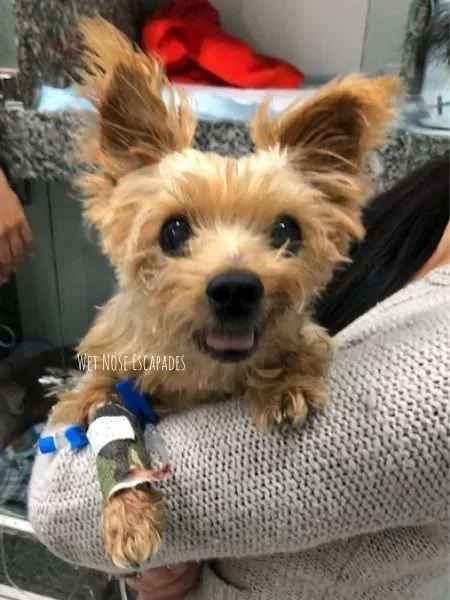 It has been over 3 months since my last discharge, and I'm wagging my tail as I bark that I've been able to avoid another crisis. Every month, I visit my pulmonologist to make sure that my treatment plan is still suitable for my condition. With approval from the pulmonologist and my vet back home (who my human was paying $70 for 30-minute phone consultations to review everything), I also started taking an herbal supplement specially formulated for collapsed trachea that my Auntie kindly mailed to Brazil from California.
Lastly, another downfall of Brazilian veterinary care is that they usually do not dispense medicine for patients to take home – not even at this "specialty" hospital. As a matter of bark, I've always gone home empty-pawed. Such practice is not the norm for me, and it is especially inconvenient if discharged later in the evening when all the drug stores are closed. To get all my prescribed meds, my human must make at least two stops – a pharmacy (for humans) and a pet pharmacy inside a pet store (like Petz or American Pet). Yet, that's on top of ordering meds through a "manipulation" pharmacy like DragoVet, which she either has to drop off the prescription in-person or meet with the courier. The upside is that medicine that IS available at the pet pharmacy doesn't require vet prescription, unlike in the U.S.
If it's a controlled substance like Codeine, DragoVet must collect the original prescription (or "recipe") signed and stamped by the veterinarian before filling the order. With that barked, DragoVet is utterly pawsome and convenient. My human can initiate the order by sending in an electronic prescription on WhatsApp and get my meds delivered within a few days for a nominal fee, usually under $2 (USD). Not to bark, they offer a complimentary pick-up of any controlled-substance prescription – yes, the courier will arrive right at your front door for free). WOOF, DragoVet is a huge time saver, but it still doesn't beat getting sent home with all the meds that you need.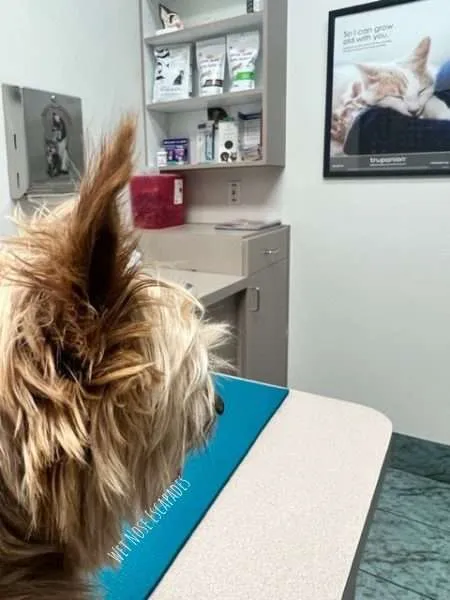 Overall, I've sniffed Brazilian vets to be very friendly, kind, and compassionate to animals. However, it's not always easy to find one who speaks English, so my human always has the Google Translate App handy on her phone. Again, they don't necessarily have access to all the medicine in the U.S. and are definitely more conservative with opioids and certain drugs. If your dog doesn't have a major health issue, then it's likely that the quality of care is more than acceptable, considering how affordable it is. However, if it's a life-threatening emergency, the quality of care may be vastly different based on their access to medicine alone.
WOOF, hope you enjoy sniffing out my experience with veterinary care in Brazil! Feel free to share your experience with me. BARK AT ME!
Markin' it up,
Roger Wellington a.k.a. The Doob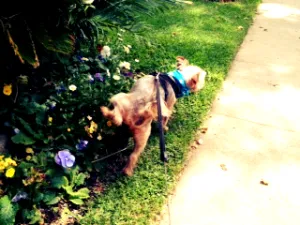 –
Like my post on "Veterinary Care in Brazil: A Yorkie BARKS Pros & Cons"? CLICK TO PIN!