Wanna visit Cinque Terre with your dog? Sniff out my guide now!
*Please note that this post contains affiliate links, and at no obligation or additional cost to you, my humans and I earn a small commission if you make a purchase. If you love the work that we do, you can show your support by making a purchase through an affiliate link. Proceeds will go towards feeding homeless dogs (and cats) along with improving the lives of the neglected and abused.
WOOF, as a furry nomad, I'm always on the sniff out for dog-friendly destinations around the world. My humans get ARF-so-excited whenever they visit a place that welcomes me with open paws. Whenever that happens, they're enticed to take me there over and over again. Yet, this is the case with Italy, my favorite country in the whole wide world. From Milan to Rome to Naples, I've sat my furry butt on countless human chairs at ristorantes, slurped up the freshest handmade spaghetti and Margherita pizzas. Heck, I even lived in the ARF-so-cultured Florence, where I learned a few Italian barks and howls (I can never get enough of le regazze). But Cinque Terre is truly the most memorable spot in the country where I left my alpha marks and paw prints.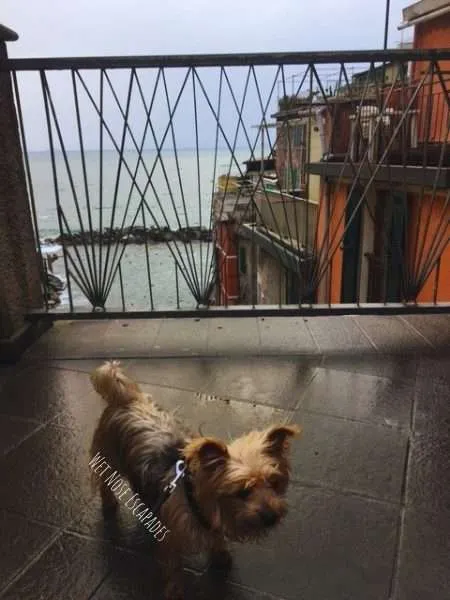 Unlike overcrowded Venice, the UNESCO World Heritage site Cinque Terre is one sweet haven for dog travelers. I ended up spending two whole weeks here – raking my feet on hikes, filling up my little Yorkie tummy with some paw-lickin' pesto (native to the Liguria region) and seafood, and tilting my head to ARF-mazing scenery that we can't find anywhere else in the world. With a whoppin' five old seaside villages that are home to only 5,000 people (RUFF, I am happy to bark it home any day), Cinque Terre boasts centuries-old history, colorful houses, steep terraces, and beautiful vineyards. Needless to bark, there's A LOT of sniffing and marking as soon my four paws hit the ground running.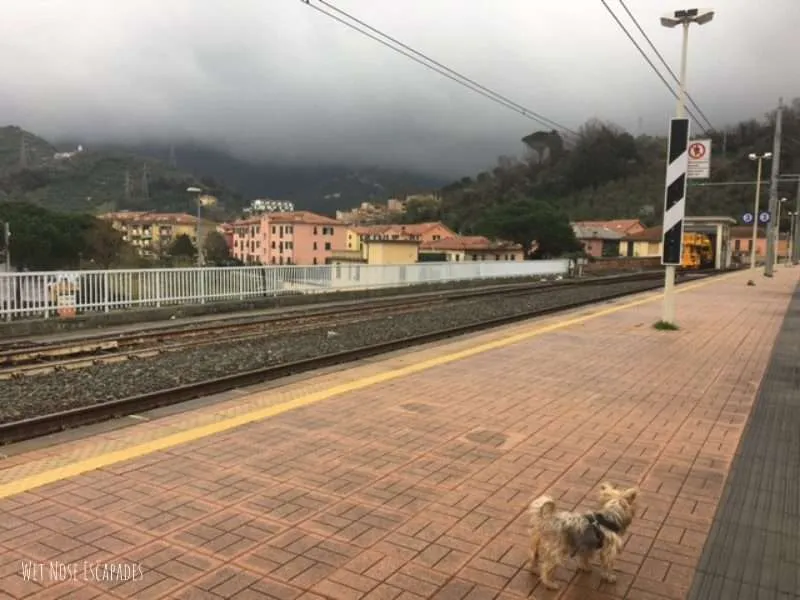 ARF-ter spending a few weeks in the global fashion capital Milan (fighting for spuntinis at the aperitivo lines in my most unforgettable Chewbacca hair), I jumped on a train and headed south to Riomaggiore, one of the five charming towns in Cinque Terre. If you don't already know, the words "Cinque Terre" literally means "five lands" in Ligurian, the language native to this region (a.k.a. Liguria). Arf, Arf – who knew that a 3-hour train ride can take me to a mesmerizing rugged coast that feels like dog heaven?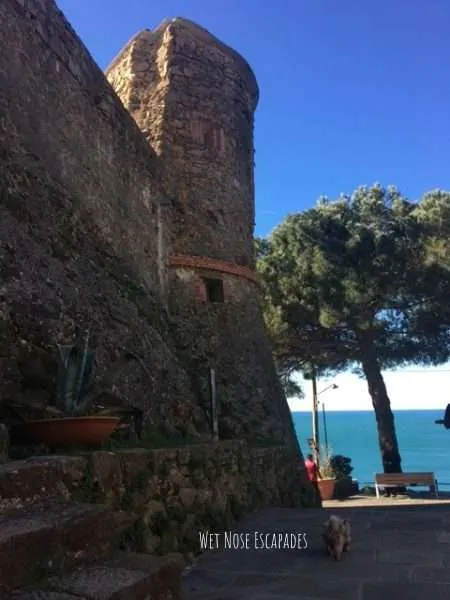 OK, so why did we choose Riomaggiore as our base over the rest of the four towns? AWOOOO, here's a quick breakdown:
Riomaggiore – In the southern end of the five villages, my home away from home is known to be the most peaceful and quiet village of the five. AWOOO, that's why my humans chose this as my base for a more relaxing visit where I don't have to battle foot traffic on walks. And, I'd have to bark that they made a good decision as the landscape here is ARF-mazing with a bunch of colorful houses built around a harbor carved out in between rocks.
Vernazza – This town has bragging rights to an amphitheater-shaped pier, making it su-paw unique and frequently photographed. Vernazza's scenery sure is stunning and picturesque – with rocky cliffs and multi-colored houses stacked on top of each other. Its downside is the lack of hotels compared to the other villages, but the bustling small piazza and cute port surrounded by colorful houses surely redeems itself.
Monterosso al Mare – This is the BIGGEST of the five towns. It is also the only town with a good-sized public beach, so be sure to get those paws sandy! Most hotels are located in the new area of Fegina while restaurants and shops dominate the old town. WOOF, it's a TOP Dog town as I would bark, but known to be less picturesque than the others.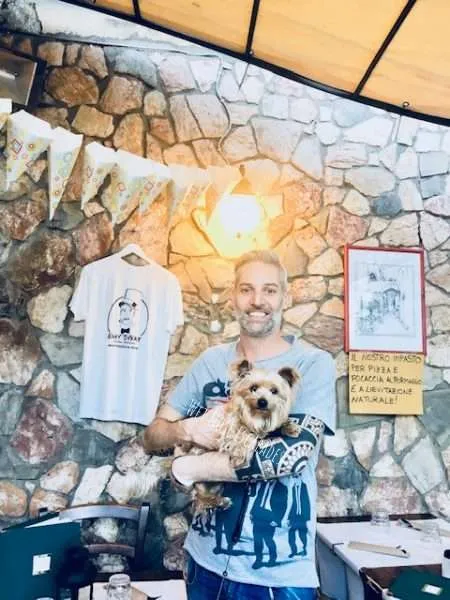 Manarola – AWOOO, this is supposedly the most beautiful village (next to Vernazza) with bright-colored houses on hills overlooking the sea and a cute piazza with charming seafood restaurants. The Gothic Church of San Lorenzo stands above the harbor across from a bell tower and watchtower.
Corniglia – Situated in the middle of five towns, this one has the least amount of tourists, whether you see it as a plus or a minus. It's also the only village without a harbor and not built on the sea! Interestingly enough, Corniglia was built on a cliff over 100 meters above sea level. ARF-my-DOG! Visitors must climb up 377 steps upon arriving by train, which could be challenging for some humans. If you're going to skip a town, this would be it.
Now, the truth is that the towns are closely located to each other, which means it doesn't really matter where you stay because you can access the other four towns by paw, train, and boat! Visiting Cinque Terre with a dog can never be easier. And, like the rest of Italy, dog-friendly accommodations are not difficult to find as most Italians LOVE dogs.
5 Things to Do When Visiting Cinque Terre with Your Dog
#1 Go on a scenic hike
Again, Cinque Terre is known for ARF-mazing hikes and wanderlust scenery! Luckily, the trails are dog-friendly so you don't need to leave your dog behind. With paved sections, numerous portions of the trail are relatively easy to walk on, making the hikes enjoyable for your dog. With that barked, it's important to note that there are also steep climbs from stone staircases and hills, which ultimately make the final TREAT (a.k.a. endpoint) more worthwhile. Therefore, be sure to bring a pet carrier or dog backpack if you have a small dog like me whose little furry paws can benefit from rest or an arm lift during steep steps. Whether you have a big or small dog, don't forget to pack to-go bowls, bottled water, and treats for breaks. Connecting Riomaggiore to Monterosso al Mare, the famous Blue Trail can take roughly 5 hours to complete the 12 km path (unfortunately, completing this entire trail may be too much for your dog). However, hiking portions of it and mixing it with train rides should be pawfectly enjoyable for your furry athlete. Remember to take plenty of breaks and don't overdo it for your dog's sake!
Here's a rough overview of the pawpular Cinque Terre trails:
Riomaggiore to Manarola – 1.5 km, 30 minutes (easy)
Manarola to Corniglia – 3 km, 1 hour (easy)
Corniglia to Vernazza – 4 km, 1.5 hours (moderate)
Vernazza to Monterosso – 3.5 km, 1.5 hours (moderate)
*Unfortunately, some trails have been closed due to landslides so please be sure to check for current closures before you go.
#2 Hit up the beach
WOOF, dogs are welcome to hit up the sandy beaches at Cinque Terre! The good news is that all five towns have blue water beaches, but Monterosso boasts the biggest one in Fegina (and a smaller one in Old Town). On the east side of the village behind the cliff, Vernazza has a pawsome stony beach. My favorite one is actually in Manarola where there isn't exactly a "real" beach but a nice harbor area for swimming and people and dog-watching. In my hood Riomaggiore, a rocky beach of boulders lies east of the town. And, if you want a more secluded beach, be sure to sniff out Guvano beach near Corniglia. A Bark of Caution: Guvano is, indeed, a nude beach, which is pawfect for me because I look great in my naked silky fur, but I cannot bark the same for the humans out there.
#3 Eat pesto
As barked earlier, pesto sauce (pesto alla Genovese) is native to the Liguria region (the capital city of Genoa, to be exact). And yet, Cinque Terre lies on Liguria's eastern coast (Riviera di Levante), which means you MUST try pesto here! OK, here's my honest bark – this rich GREEN pasta sauce made from basil leaves is NOT our favorite, but heck – when in Rome, right? The best part about dining in Italy is that you can bring your dog INSIDE restaurants. I've dined all over the country and warmed up countless human chairs with my furry butt without any disgusting or disapproving stares. In fact, I was only denied once and only once at a semi-upscale touristy restaurant in Rome. So, ARF – no need to leave your dog back at the hotel as you can devour Pesto Fusilli or Fettuccine with your furry date next to you!
*As dogs are pack animals who'd LOVE to experience meals with you, don't forget to pack a bag of treats, dog-safe food, bottled water, and to-go bowls for your dog! Don't make your dog feel left out.
#4 Village-hop by train ferries
While you've set your furry paws on Cinque Terre for a good hike and scenic panoramic views, you don't need to hike the entire five villages with your dog. Depending on your dog's size, health, and physical aptitude, it may NOT a good idea that your dog hikes the entire time. This is where village-hoppin' by train comes in! As the train rides between villages run every 15 minutes and offer some spectacular to-beg-for views, the best way to visit all five towns in Cinque Terre is, PAWS DOWN, by train.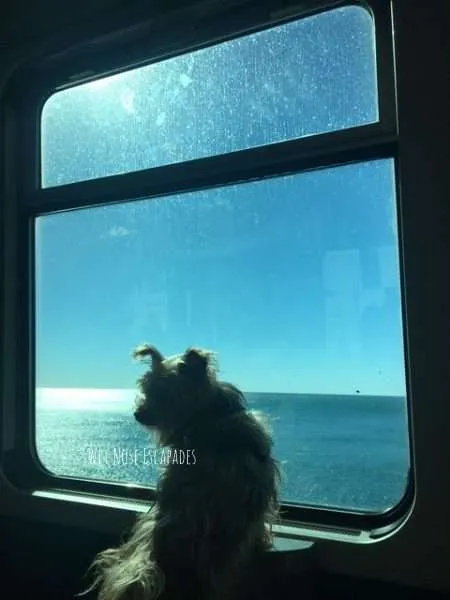 Average Train Ride Times Between Cinque Terre Towns:
Monterosso – Vernazza: 4 minutes
Vernazza – Corniglia: 4 minutes
Corniglia – Manarola: 5 minutes
Manarola – Riomaggiore: 6 minutes
Check for current pricing HERE.
Are dogs allowed on trains? The short bark is HECK YES – small dogs can travel for free while big dogs must have a reduced ticket (at 50% of the original fare)! Keep on sniffing HERE.
#5 Explore the vineyards
When in Cinque Terre, it's nearly impaw-ssible not to stumble upon a vineyard or two. Heck, many of the coastal and forest trails will somehow lead you to head-tiltin' vineyards overlooking the Mediterranean (Ligurian Sea) that could even put Napa Valley to shame. As winemaking in Italy has a long past dating back to Roman times, it's no surprise that two wines are unique to this region – the dry, crisp Cinqueterre (what a name, ARF-course) and the ARF-so-sweet Sciacchetrà.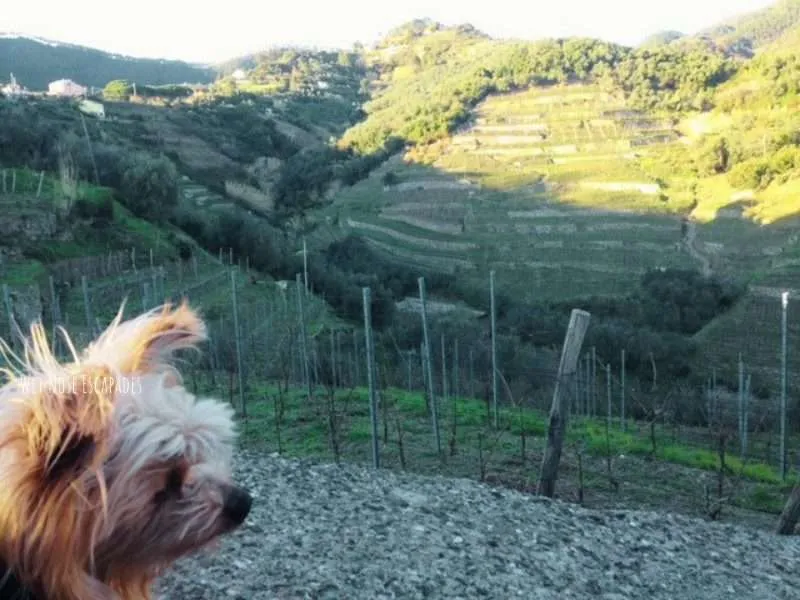 That's it, escapaders! WOOF, hope you enjoy visiting Cinque Terre with your dog! Feel free to share your dog-friendly experience with me. BARK AT ME.
Subscribe to my YouTube Channel: Wet Nose Escapades by Roger Wellington for fun dog travel videos!
Markin' it up,
Roger Wellington a.k.a. The Doob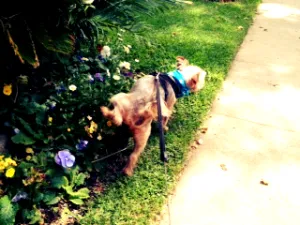 —
Like my post on "Visiting Cinque Terre with a DOG: A Yorkie's Italian Escapades"? CLICK TO PIN!