WOOF, sniff out the ultimate packing list for your wedding Yorkie! As the Yorkie who stole the spotlight at my Auntie's unforgettable wedding in Northern California (where the crystal clear blue Lake Tahoe and the snow-capped Sierra Nevada mountains create the perfect ceremony ambiance), I'm excited to bark out tips for your wedding Yorkie.
Whether your Yorkie will serve as the sassy dog of honor or an honorable furry guest, don't forget to pack the following items (in a separate bag) to ensure a smooth wedding day. Although this post is barked out for Yorkies (since that's what I am :)), my wedding dog tips can also apply to most dogs, in particular small ones.
*Please note that this post contains
affiliate links
, and at no obligation or additional cost to you, my humans and I earn a small commission if you make a purchase. If you love the work that we do, you can show your support by making a purchase through an affiliate link. Proceeds will go towards
feeding homeless dogs (and cats) along with improving the lives of the neglected and abused
.
Last Updated 11/25/22
The Ultimate Packing List for your Wedding Yorkie:
It may be the bride's highly anticipated day of her life, but it'll be the wedding Yorkie who steals the show! Sorry, but I am barking the truth! The most common way for people to incorporate their Yorkie into a wedding is by dressing him or her up in the cutest dog wedding outfit. As you pack for your wedding Yorkie, remember to store the outfit in a clean bag or wrap. If your Yorkie's wedding attire needs ironing, you should keep it on a hanger inside a lightweight plastic bag afterward.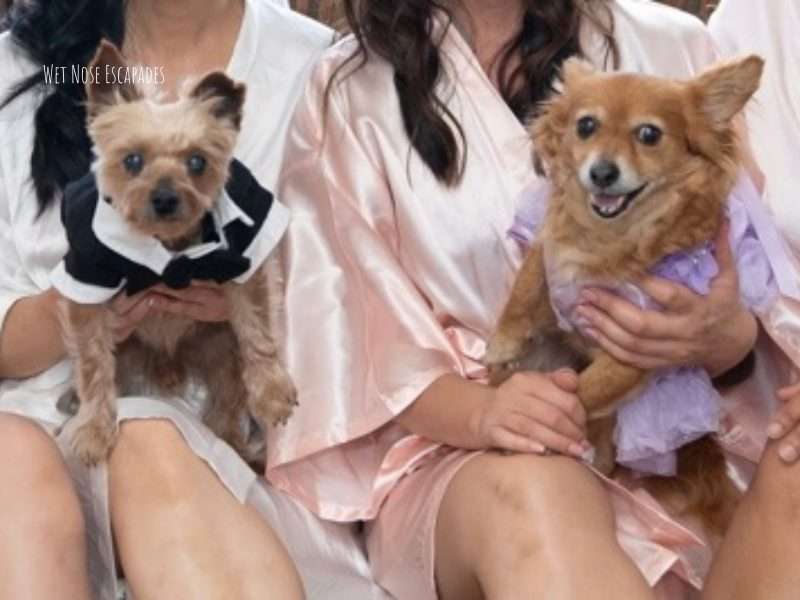 Be sure to pack all accessories affiliated with your Yorkie's role in the wedding, e.g. BEST DOG tag, wedding veil, ring bearer pillow, etc. DO keep in mind that it is amusing for humans to see their dogs dressed up in adorable wardrobes, but most dogs (myself included) rather not wear anything if they had a choice. Get my tips on how to safely choose the PERFECT wedding outfit for your Yorkie!
Ensuring that your Yorkie stays hydrated is as important as providing frequent potty breaks before and throughout the special event. ARF, even if your Yorkie is just making a quick (yet unforgettable) cameo at the wedding, you should still pack a bottle of fresh, clean water along with to-go bowls for those must-needed water breaks. I love these light-weight, collapsible bowls to save space. 
Remember to plan out meals for your wedding Yorkie, even if you plan on dropping him or her off at the hotel room after the ceremony. Depending on the duration of your Yorkie's participation, put together a chops-lickin' meal or two in a Ziplock or doggie bag. Whether your Yorkie is used to homemade organic chicken rice or expensive salmon kibble, be sure to get those tasty meals lined up.
Also, pack a bag of your Yorkie's favorite treats, which also come into good use when you're training him or her to walk down the aisle. Since the wedding day can be stressful and overwhelming for your Yorkie, you should never introduce any new type of new food before or on the BIG DAY. Plus, as we all know, Yorkies, unfortunately, have very sensitive stomachs. ARF, I hardly discriminate when it comes to food so my humans must protect my little tummy. Get my guide on how to train your dog to walk down the aisle!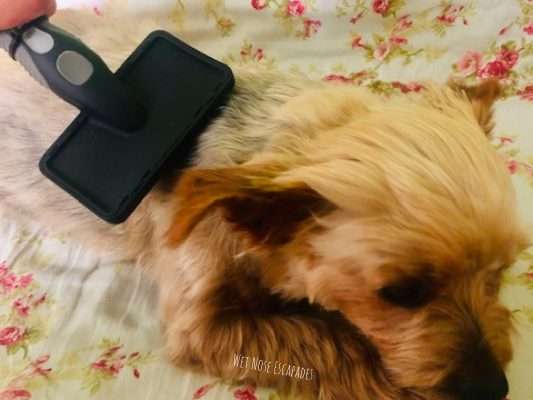 OK – just because you've already taken your Yorkie for professional grooming before the wedding (ideally at a week beforehand) doesn't mean that you can skip brushing for the event. On the wedding day, you should have a durable brush handy to soften and shine your Yorkie's hair for the ultimate grand entrance. With such a long silky coat prone to tangling, Yorkies should get brushed at least once or twice a day – wedding or no wedding. I feel so relaxed when combed that I tend to fall asleep in the middle of a grooming session!
Get over 15 Tips on How to Include Your Yorkie in a Wedding
#5 Meds and Supplements
As a senior Yorkie suffering from a collapsed trachea, I take a daily cough supplement to soothe my little throat. In the last few years, I've also had some ear infections that have required my humans to clean my ear canals at home once a week. GRR, trust me – I try to dart off as soon as I sniff that yucky stuff, BUT my humans keep telling me that I'd be worse off without them. 🙁
If your Yorkie is taking any vet-prescribed medication or dietary supplement, you should consider bringing at least the essential ones to the venue, even if it's not a daily prescription. Unless you're able to give your Yorkie the necessary doses before or after the wedding, it's crucial to pack daily medication, vitamins, and supplements.
#6
Dog Wipes
+ Pocket Tissue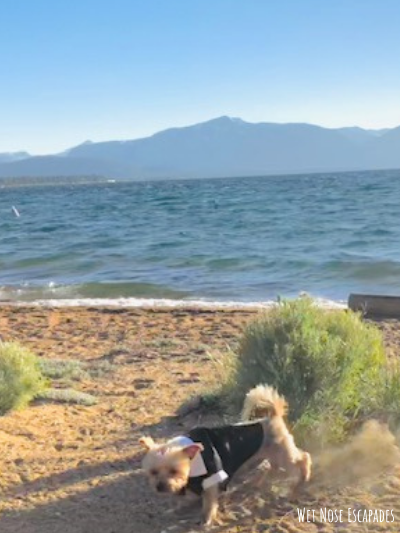 ARF, sniff me out as I kick up my feet and dig up some dirt! To avoid dirty paws potentially marking up your ivory wedding gown or light-colored bridesmaids dress, you can grab some dog-safe wipes to clean those tiny adorable paws of your wedding Yorkie. They sure come in handy right before those gorgeous wedding party photos or before your Yorkie's head-tiltin', show-stoppin' grand entrance down the aisle.
ARF-ter gently cleaning your Yorkie's furry paws with dog wipes, remember to lightly pat their paws dry with tissue to prevent wet imprints on your wedding attire. PAWS DOWN – my favorite dog wipes are Nature's Miracle Spring Waters Deodorizing Dog Bath Wipes: they're alcohol-free, safe for everyday use, and even moisturize my silky tan brown coat and skin. 
#7 Human Hand Wipes + Hand Sanitizer
As a wedding day is hectic to bark the least, the simple act of running to the restroom to wash your hands may be difficult. Hence, practice exceptional hygiene by using hand wipes and hand sanitizer, particularly after cleaning your Yorkie's paws and right before lickin' your dirty fingers to those stuffed mushrooms and juicy sliders at cocktail hour. Just make sure your hands are completely dry before touching anything or anyone – including your precious Yorkie. And, please Do NOT use human hand wipes and hand sanitizer on your Yorkie or any dog.
Just because it's your wedding day doesn't mean you can conveniently forget to take your Yorkie out for potty breaks and walks. Regardless of what day it is, your Yorkie will still have to go when nature calls! Like the saying goes: When you gotta go, you GOTTA go! Be ready by packing a small roll of poop bags for potty breaks. It's best to plan out walks and potty breaks for your Yorkie on the wedding day. Please make sure to give him or her ample opportunities for elimination before and during the event.
#9 Leash + Harness
Whether your Yorkie is walking down the aisle or chillin' on your lap as the honorable furry guest, you must pack a leash and harness. Even if you wish to put your Yorkie in your arms or next to you (I'm the best thigh warmer out there) the entire time, you should still bring the leash and harness along for potty breaks outside the wedding venue. Unless your Yorkie is very familiar with the people and the environment, it's best to keep the leash on for safety reasons. Get your furry paws on these heart-melting wedding-themed leashes and harnesses.
WOOF, give your Yorkie well-deserved comfort AND keep your hands partially free by transporting him or her in a carrier to/from the wedding venue. A carrier is extremely beneficial if you plan on having your Yorkie stay after the ceremony or attend the reception (like I did). A dog travel carrier, either soft or hard, is not only a pawsome tool to transport your Yorkie, but it also provides a safe place for them to take a nap or hide from obnoxious children (or sometimes, adults). Depending on the weather, you may want to leave a familiar soft blanket inside the carrier for extra comfort and relaxation. 
I've always been a bigger fan of soft carriers for more wiggle room. Since it was an unexpected wind-blowing day at my Auntie's wedding, I was happy to retreat to my world-traveling carrier before the ceremony. My spacious, versatile, multi-functional green carrier from PET GEAR has accompanied me to my Auntie's wedding AND more countries than most humans on Earth! Get yours HERE!
Do you have other items to pack for your wedding Yorkie or small dog? BARK AT ME. Sniff out my 17 Tips on How to Include Your Yorkie in a Wedding!
And, if you're still contemplating to include your Yorkie in the wedding, ask yourself these questions first.
Markin' it up,
Roger Wellington a.k.a. The Doob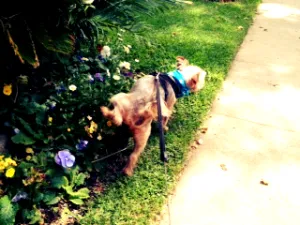 —
Like my post on "The Ultimate Packing List for your Wedding Yorkie (or Small Dog)"? Click to PIN!