WOOF, what's it like having a dog in Singapore? How dog-friendly is Singapore? If you don't already know, Singapore is a pawsome country in Southeast Asia, just off the southern tip of the Malay Peninsula. Heck, it's known for its advanced development, high standard of living, and longevity in citizens. Even though I have yet to set my tiny alpha paws on this tiny, cosmopolitan island (although my human has), I can sniff from nearly 10,000 miles away that there are plenty of furry cuties and dog lovers in this global economic powerhouse country. ARF-ter, all, I do have a mighty wet nose. As mandatory quarantine for American furry travelers has kept my alpha paws from roaming the mesmerizing greenery and urban landscape of Singapore, I'm delighted to meet someone who can share a few barks about a dog's life there. My tail is wagging uncontrollably, and my jaws are dropping down into a smiley face to introduce one of my biggest crushes on this planet, (and trust me, as the world-traveling Yorkie, I've been around the block). ARF, meet Miss Phoebe – hailing from the U.K., this gorgeous Maltese is, PAWS DOWN, one of the country's most sophisticated and classy furry chicks. She and her wonderful mommy Sue will tell us everything we need to know about having a dog in Singapore! Keep on sniffing!
Tell us a little bit about Phoebe! (e.g. background, personality, who does she live with, etc. – whatever you'd like to share)
Hi there! Phoebe is a 1-year-old Maltese girl who lives in Singapore with me (Sue) and our family. She was born in Cambridge, UK! She's a cheeky, sweet little minx who is always curious and loves exploring. Phoebe weighs 2.3 kg and is a little ball of energy who moves surprisingly fast for a little dog.
What do you love most about her? What are her favorite things to do in the world?
I love pretty much everything about her. ☺ Phoebe LOVES meeting and playing with other dog friends. She is super sociable. She also loves getting in the car and going for walkies. Everything is exciting and new to her – it's so much fun planning new adventures and living vicariously through her experiences.
What does she hate the most?
She hates, hates, HATES water!
What are her favorite foods? Least favorite?
Phoebe is very food motivated, she loves all foods! A surprising (as in I did not expect her to be this much into it) favourite treat for her is guava fruit.
She really doesn't like anything citrus.
What is the most expensive item you've purchased for her?
Haha. Insurance. And her lessons at day school. Both totally worth the money!
What's the best part about having a dog in Singapore?
We go for a lot of walks because she's so active and we both share a dislike for going to the same places over and over again. So she's really helped me to explore the country so much more. For example, we have a really fabulous park building program, which I never knew about until I got her. I also try to take her out to a new neighbourhood every weekend, fun for both me and her.
Which part of Singapore do you two live in?
We're in the South.
What are some of your favorite dog-friendly parks in Singapore? (please provide specific parks)
We have so many! Gardens by the Bay is huge so I can put the long leash on her and let her have a good wander. Labrador Park has a fabulous boardwalk over the sea. The grasslands in Jurong Lake Gardens are so much fun to explore. And we like popping into the Botanic Gardens because it's so close to us – tons of different spaces to discover.
What are some of your favorite dog-friendly restaurants in Singapore (please provide specific restaurants)? Are dogs only allowed to dine outside? Or do some places make an exception for indoor dining? If so, where?
Right now, we're loving Lucky Saigon café. It's like dining in a little urban oasis and has delicious Vietnamese food. We love grabbing a coffee at cafes like Culture Spoon and Necessary Provisions. I do think her favourite place might be Micro Bakery as they make dog-friendly off-menu scrambled eggs (basically no salt and pepper) that we share because one portion is too much for her.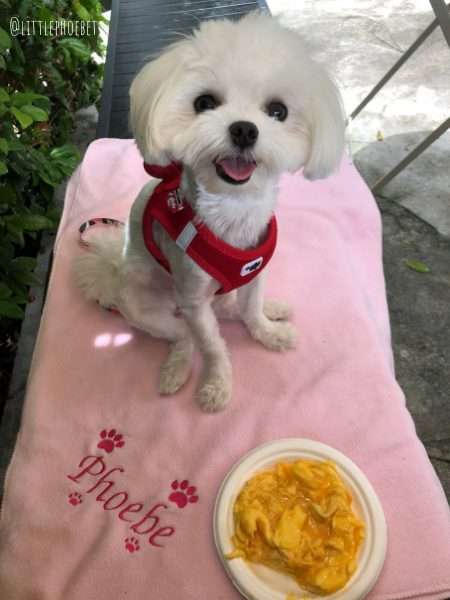 Someone on Facebook made a Google map the other day, and there are roughly 300-odd dog-friendly restaurants in Singapore. Dog-friendly means that yes, dogs are allowed to dine outside. You need to have a license to have pets on the property, and it's much stricter if you allow dogs inside. There are a few restaurants that allow dogs inside, but we haven't been to them yet.
What are some dog-friendly tourist attractions in Singapore (if any)? Any other local dog-friendly places that you'd like to share (e.g. beaches, trails, resorts, etc.)?
There are no indoor tourist attractions that you can bring your dog to, but dogs are allowed at the beaches.
We haven't been because they just reopened, but I really want to go to Haw Par Villa with her – it's an Asian cultural park covered in statues depicting scenes from Chinese mythology. It's probably one of the most unusual places where you could bring a dog!
Phoebe is very small so unfortunately we can't do some of the trails that bigger dogs can. Fun walks to do here include the Green Corridor (a converted 24km rail track) or taking a ferry to Lazarus Island (white sand and blue water). We also had our first staycation to celebrate her birthday at the Sofitel Singapore in Sentosa (she didn't understand why we were so excited about the pool and kept barking at us as if to say "Get out! Save yourselves!"). Singapore is connecting a lot of our green spaces via park connector network, so you can do some amazing long walks through jungle spaces now.
If a visitor were to ask you for your TOP 5 things to do with a dog in Singapore, what would you say?
Take a picnic over to Lazarus Island and soak up the sun
Go for a walk in one of the bigger parks. Try NOT to chase a monitor lizard!
Get an ice cream and watch the world go by on Orchard Road (Singapore's main shopping area)
Visit our favourite treat shop The Dog Grocer or toy shop Woof Living and make lots of new friends!
Have coffee at a café!
Overall, how would you describe the local people's attitudes towards dogs?
Because she's very small and cute, she does attract a fair amount of positive attention. I can't speak to what the experience of big dog owners might be like. Most people have been accepting and friendly, but we have had the odd experience where someone freaks out and screams more than once.
What are some of your favorite trips you've had with Phoebe (e.g. road trips, air travel – if any)? How well does she travel?
Haha. Singapore is tiny so road trips aren't the norm within the island. She had an 18-hour-flight over from the U.K. and she handled that really well. I'm hoping to be able to travel with her overseas when everything normalises though!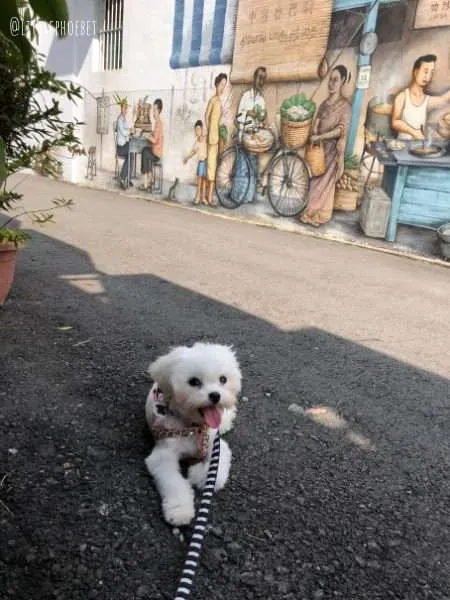 How did you prepare her for the 18-hour flight? How was it going through the paperwork process, mandatory vaccinations (if any), and quarantine? And, most importantly, how did Miss Phoebe handle all of it? 🙂
Phoebe came to me from the U.K. via my best friend who's a dog trainer. In an ideal world, I would have flown up and brought her back, but with Covid, that wasn't possible. I was very lucky as my friend was a complete star and had a full desensitization plan for her. This involved lots of crate time, playing plane sounds, and taking her to the airport to listen to planes just to name a few; she had a whole list of things to do with her. We were fairly confident that Phoebe would be fine because she wasn't fazed by any of this at all! To get a dog from the U.K. to Singapore is relatively easy as it's classified as a Cat A country, which means it's rabies-free so she didn't need that shot. It also means no quarantine time in a facility here. My lovely breeder made sure that Phoebe had all her vaccinations done (Canine Distemper, Canine Hepatitis & Canine Parvoviral infection), and my friend found a fabulous pet transporter company (Fetch a Pet U.K.). My friend also helped me sort out the paperwork on that side – I OWE her! On the Singapore side of things, I handled all the paperwork and went to pick her up. It was all relatively easy, aside from a couple of paperwork questions, but the government agencies were all quite helpful in that respect. I'd call them whenever I hit something I didn't understand, and they'd always helped me out. She flew direct on Singapore Airlines in her crate; we booked her on a flight that arrived in Singapore early in the morning so she wasn't stuck on a boiling hot tarmac – a real issue in tropical Singapore! The quarantine centre people were so nice as well. I mistakenly went straight there when I actually had to go sort out my paperwork at a different office in the compound before I could get her. But they kindly offered to let me see her before I left to get everything sorted out, which was so nice of them. Can't tell you how glad I was to see her in that big box, alive and well! I still vividly remember her coming out of the crate finally to meet me, she just shook herself and came right to me. No-fuss, no fearfulness. I was so proud of her!
Would you recommend it to someone who wants to travel with their dog from the U.K. to Singapore?
I wouldn't recommend Singapore as a holiday destination for dogs, but if you're planning to move here, I would say you're very welcome!
(CLICK HERE for more info on how to take your dog to Singapore from the U.K.)
Are dogs allowed on buses, subways, rideshares, taxis, etc.? If you have any memorable experience regarding taking Phoebe onboard, please feel free to share!
Dogs aren't allowed on public transport here (buses and trains) at all. Taxis will take them only if the driver is OK with it. We have a private car and hire service here with a pet option as well, but that can be a bit expensive.
It's a bit of a pain, to be honest! I'm lucky to have a family car that I can use.
What is the biggest challenge of having a dog in Singapore?
I wish we had more wide-open spaces for them to run in. But space is an issue in our tiny island and our dog friends come pretty low on the planning pole.
Based on your personal knowledge, would you say that people tend to buy or adopt/rescue dogs in Singapore? Do pet stores exist (where dogs and cats are sold)? Do you know how breeders are regulated?
I think it's 60:40. I know more people who have bought dogs than rescued.
This is a HUGE bugbear of mine. I'm quite vehemently anti-pet shops, I don't think the regulations are stringent or humane enough, we have farms here and pet shops bring puppies in from overseas farms as well. There is virtually no regulation for breeders. I have friends with breeding rescues and the cruelty inflicted on these dogs is despicable. Knowledge of pet farms is very low, but many charities do an admirable job of trying to educate the public.
How close is the nearest veterinarian from your house? (e.g. in miles and driving time)
The closest to us is about 2km away (4-minute-drive). Our vet is about 15 minutes drive away.
Approximately how much is a standard examination/office visit at the local veterinarian?
I think it varies. I pay about SGD60 for our vet.
How would you rate/describe the quality of veterinary care in your area?
We're very lucky as we have a ton of really good vets in our area.
What is one thing you'd like to share with us about a dog's life in Singapore?
It's a really fun life! So much to see and to smell! And, there are lots of lovely friends to make.
Why is Singapore worth a visit? 🙂
I think the perception of Singapore is that it's very urban. This is true, but we also have a ton of nature and wildlife that are worth exploring.
Thank you to Sue & Phoebe for this fantastic interview and sharing their pawsome dog-friendly Singapore life with us! Can't get enough of Phoebe? Sniff out & follow her Singapore escapades on Instagram!
Get your paws on more information on how to take your dog from the U.K. to Singapore HERE.
Wanna sniff out more about dogs in Singapore? Check out my interview with Charlemagne, the rescue Terrier who moved from the U.S. to Singapore!
Markin' it up,
Roger Wellington a.k.a. The Doob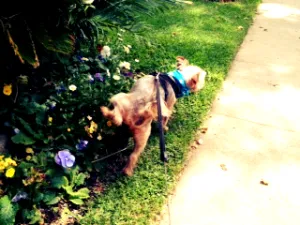 —
Like this post on "What's it like having a DOG in Singapore? With Phoebe the Maltese"? CLICK TO PIN!