Wanna work out without a gym? I've got you covered! Let's get our sniff on.
Last Updated 8/13/23
Woooooof, my healthy escapaders! Working out while traveling can be difficult, but that shouldn't be an alibi for avoiding it completely. No gym on the road? No problem! I know it's easier to be motivated when you're surrounded by gym rats putting in a honest days work, but the subsequent euphoria after a good workout is a more than sufficient reward. In addition to the motivational atmosphere, we, of course, go to the gym for the equipment (e.g. the weights, the treadmill, the elliptical, etc.) and group exercise classes (zumba, anyone?).
Much to our dismay, traveling can put our gym routine to a halt – it's challenging to find a decent gym (or sometimes any gym) on the road. Instead of dishing out more currency to stay at hotels with so-called "fitness centers," which are usually the size of a custodial engineer's closet, you can work out without a gym practically anywhere. Below are 12 easy ways to work out without a gym:
#1 Way to work out without a gym: Find a HIKING TRAIL or PARK
Feeling like Dora the explorer? Every city has public parks and some good ol' hiking trails. Take a run or walk, do taichi, or whatever you like at a local park. If you're in a beach or coastal town, you may even find free fitness facilities to use while running along the water. PLUS you get the luxury of surrounding yourself with spectacular scenery. Feeling more adventurous? Go hiking and work your way up to some of the best views you'll ever see in your life.
https://wetnoseescapades.com/coolest-places-in-budapest/
#2 Way to work out without a gym: Do JUMPING JACKS
My favorite way to get my heart rate up without ever leaving my hotel room! Want to do cardio without getting on the treadmill or StairMaster? Jumping jacks are THE answer. They're super duper fun, elementary-school easy, and undeniably effective – you'll break out a stinky sweat in no time.
https://wetnoseescapades.com/12-ways-to-get-better-sleep-while-traveling/
#3 Way to work out without a gym: Do YOGA
You don't need to be in a yoga studio to do yoga. Heck, you don't even need a mat! (More power to you if you do travel with one.) Not having a yoga mat shouldn't stop you from doing the tree pose. If I don't have my mat while traveling, I simply set a bath towel on the floor and work on my warriors. Yep, upward and downward standing dog right then and there. Namaste.
#4 Way to work out without a gym: Do SIT UPS
Brad Pitt. Fight Club. Work out your midsection and get rid of your tummy with abdominal exercises. There are numerous ab exercises that can be performed without equipment; therefore, access to a gym is not necessary to develop and maintain the midsection of a Roman gladiator. Do a couple sets in the morning for a nice flat stomach.
#5 Way to work out without a gym: Do PUSH-UPS
No weights? No worries! Work out your core, specifically your chest, with push-ups in your room. Feel and be strong! Get buff like Popeye NOW.
#6 Way to work out without a gym: Do SQUATS
Hah, gotta love them squats! Work out your lower body with this no-nonsense exercise. You can strengthen your leg muscles AND get a nice bootie. Do them everyday and you'll see some astonishing results. Bring back them jeans.
#7 Way to work out without a gym: JOG in place
Why wait for a treadmill when you can just jog in your room? Stand up and jog in place as you would be doing on a treadmill. Jog for 15-20 minutes to feel rejuvenated – pump up that heart!
#8 Way to work out without a gym: Do LUNGES
What can I say about lunges that haven't been said before? Work out your hammies and glutes with lunges. They make my legs look and feel muscular like a sexxxy furry beast!
#9 Way to work out without a gym: WALK, JOG, or RUN the town
Map out your destination and get your exercise routine down by simply roaming the town. Put on comfortable shoes, walk out that door, and start moving! What better way to learn about a new destination than by getting lost while having a good workout. Based on your needs and goals, set a daily physical activity goal for yourself, whether it's 6 miles of walking or 1 hour of running/jogging.
#10 Way to work out without a gym: SWIM
Swimming is one of the best physical activities out there – you exercise your ENTIRE body, get your heart rate up, build endurance, and feel relaxed. Take advantage of any hotel pool. OR if you're at a beach destination, enjoy a beach day and take a dip in the ocean (well, only if you're a good swimmer and please do so at your own risk). Start kicking. Blow those bubbles.
#11 Way to work out without a gym: DANCE
Woooof, wooooooof! Time to cut a rug! It doesn't need to be like You Got Served, but heck, just move to the beat! Dance the night away at a club or make your own dance floor wherever you can find music. Whether you like hip hop, salsa, tango, flamenco, or EDM, you can find places in urban areas to suit your dance fever needs.
#12 Way to work out without a gym: Do CALF RAISES
Work out your calf muscles with raises that you can do virtually anywhere, anytime (unless you're wearing high heels :p). All you need is a step to perform this exercise; a simple stairwell or a roadside curb will do the trick.
#13 Way to work out without a gym: BIKE the town
Rent a bike and cycle around the city or town. Of course, you probably have to be in a touristy area for bike rentals to be available. Nevertheless, it's an exciting and refreshing way to exercise, discover a new area, and visit stunning landscape.
Soooo…who says you can't work out without a gym? Keep up with these workouts as you travel the world! Cheers to healthy travel. Be sure to read my post on how to stay healthy while traveling! What are your ways to work out without a gym? BARK AT ME!
Markin' it up,
Roger Wellington a.k.a. The Doob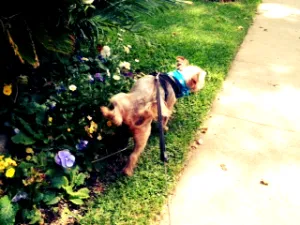 —
Like my post? PIN IT!