Wanna know more about me, Roger Wellington a.k.a. the world traveling Yorkie? My stylish undocked tail is wagging in your presence so come SNIFF ME OUT! Here are 10 random facts about the world's bossiest traveling dog!
#1 California is my HOME.
My ancestors may hail from Yorkshire in England, but I've been California dreamin' since puppyhood! Although I was born and raised in NorCal, I've also lived in sunny SoCal. Guess you can say I'm Silicon Valley AND Hollywood. My old stomping ground is the picturesque Marina Green in the City by the Bay a.k.a. San Francisco. However, since I've become nomadic in 2016, I've also made my home in many other cities including New York City, Barcelona, Florence, Dubrovnik, Paris, and Amsterdam. 
#2 I was born with a collapsed trachea.
In 2016, I was diagnosed with a collapsed trachea. The trachea refers to the "windpipe" that transmits air from the nose and mouth to the lungs. Turns out that I was born with it. 🙁 Commonly found in small dogs, the collapsed trachea condition worsens as the dog ages due to weakening cartilage (that holds the trachea open). Occasionally, I suffer from chronic coughing attacks that last for a minute. They sound like I'm trying to cough or sneeze something out. To lessen the probability of these random attacks, I should not get overly excited (or scared) or exercise in the heat (well, this goes for all dogs).
*I recommend a choke-free harness for ALL DOGS even if they do not suffer from collapsed trachea. 
#3 My first international trip was to Paris.
Yep, my first international flight was to the fabulous City of Lights, marking my first journey as a world traveling dog. I spent a whole month human and dog-watching (and sniffing) at cafes, roaming around the Jardin des Tuileries (chasing down the fancy female chiens) and chomping on beef bourguignon. Mmm mmm.
#4 I was crated most of my life before being rescued.
For those of you who have been sniffing me out for a while know that I'm a rescue (again, I urge all humans to PLEASE ADOPT, DON'T SHOP to save a life). Before adoption by my current humans, I was crated for an average of 16-18+ hours daily in the garage with the sweetest pit bull named Cleo. I had never set foot inside a warm house or slept on a comfy human bed. Now, I OWN every room I walk my paws in! Although crate-training is a personal choice and ultimately up to the dog parent, I strongly support giving your dog a crate-free life as there are more effective, humane ways to potty-train your dog.
#5 I hate brushing my teeth, but will do it for food.
I absolutely HATE brushing my teeth. ARRRGGH. With a passion. It's my least favorite thing to do in the world, but I will do it for good food, and good food ONLY. After all, I am an international foodie! Much to my dismay, my humans brush my teeth at least 3X a week. Unfortunately, my tiny teeth are prone to dental disease due to my small jaws. My vet tells me that the coughing attacks from my collapsed trachea can also benefit from brushing regularly. Guess I'll tough it out…
Get your brushing essentials HERE!
#6 I am usually THE BOSS.
I may be walked on a loose leash most of the time (for safety purposes), but I AM the boss. My humans know this too! I lead my human pack, dictate 90% of the walking routes along with the schedule, and take my time to sniff and mark. Heck, I'll be investigating the same spot for well over 10 minutes if I smell something worthy. My humans may make me do a few things that I don't agree with (like brushing my teeth, bathing and posing for pictures although I get paid with treats), BUT I really do run the show the majority of the time. At times, you'll even see me leading my humans OFF LEASH in less congested areas. Maybe I'm just an awesome human trainer. 🙂
#7 I DO eat at the dinner table, even on holidays!
Yep, contrary to popular belief, my photos with food at the table are not just photo shoots. I do dine at the table with humans as an active participant! If the food isn't "safe" for my consumption, I will get my own small plate of dog-safe goodies, from cooked veggies to unseasoned meat. Back in California, I'm always the first to sit on a fancy human-size chair and put my tiny paws on the table at a holiday dinner. Where's all the food, humans??
#8 I LOVE my veggies.
WOOOOF! I may be a descendant of the wolves, but I sure love my veggies! Grilled, baked, boiled, or raw – I love them all (or most). And yes, I know to stay away from tomatoes and onions among other veggies that aren't safe for me to eat. My favorite all-time snack is fresh cucumber slices. They're crunchy, refreshing, and juicy! Besides raw spinach and arugula, but I will happily eat most dog-safe veggies over salmon or chicken kibble any day! No meat, no PAWblem! 
#9 I have FOMO.
Maybe I sleep with perked ears or an open eye because I must know what's going on around me AT ALL TIMES (and most importantly, what kind of food the humans are eating). I don't like missing out (and of course, being left behind) and want to do everything that humans do, including sleeping on my very own king-size pillow and blanket.
#10 I am secretly afraid of my baby cat cousin Sheila.
I've known my beautiful Lynx Point Siamese cat cousin Sheila since she was a kitten, but DOG, did she outgrow me! As an alpha dog, I will hold my own even though her big blue-eyes (despite being stunningly gorgeous) actually make me quite uncomfortable. She loves to sniff and stare at me, and yet, I can't figure out what she's thinking (or if she's plotting something)!
On the other hand, my boy cousin Choo is one COOL CAT. He's a hunky Tabby who seems to have it together. Super laid-back guy. As long as I don't jump on his bed or try to eat his food, I should remain on his good side. ARRRRFFF, family dynamics. Until my next holiday visit.
WOOF, that's it for now! Hope you enjoyed learning more about me, the world traveling Yorkie. Wanna make your pooch the next world traveling dog? Put your right paw HERE for my expert guide on international dog travel!
Markin' it up,
Roger Wellington a.k.a. The Doob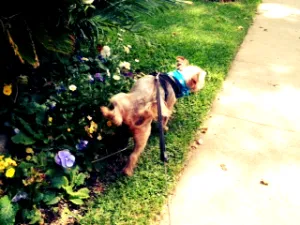 **Please note that this post contains affiliate links, and at no obligation or additional cost to you, I earn a small commission if you make a purchase. It helps me maintain the costs of running this site. If you love the work that I do, you can show your support by making a purchase through an affiliate link. 🙂
—
Like my post on "10 Facts about the World Traveling Yorkie"? PIN IT!